Those who say, that fortune can not be bought, have not realized, that puppies exist.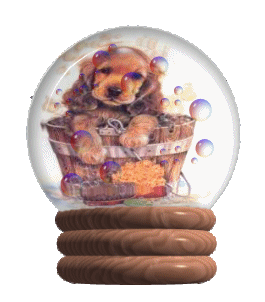 F-Litter
ex:
Diva Sugar and Spice of Lionhill
by:
Even Sweeter of the Red Flash
Owner Ellen ten Brink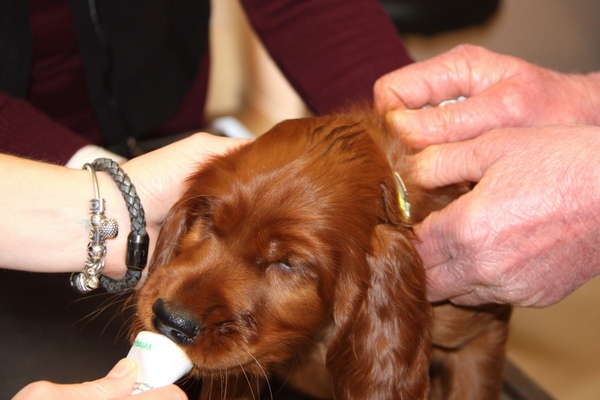 Es It goes in alphabetical order and the males comes first.
Therefore Farell George King is making a start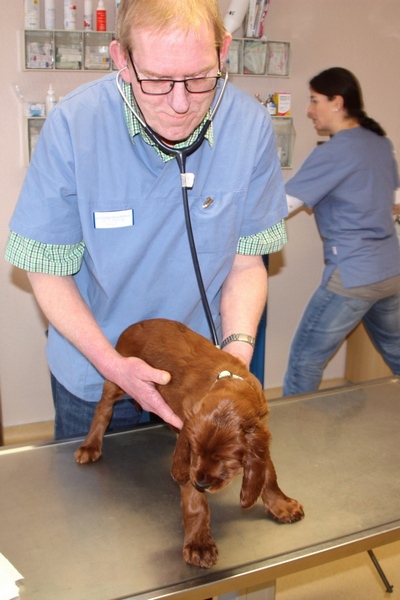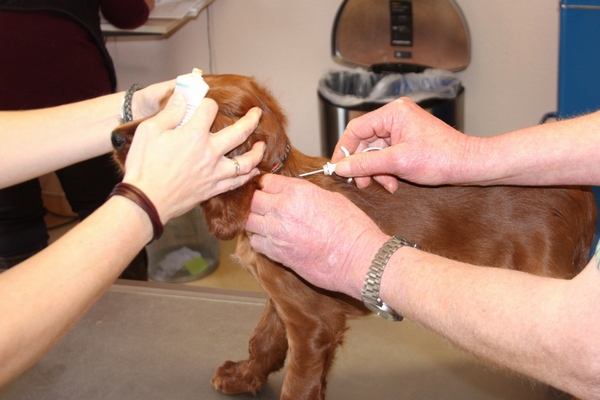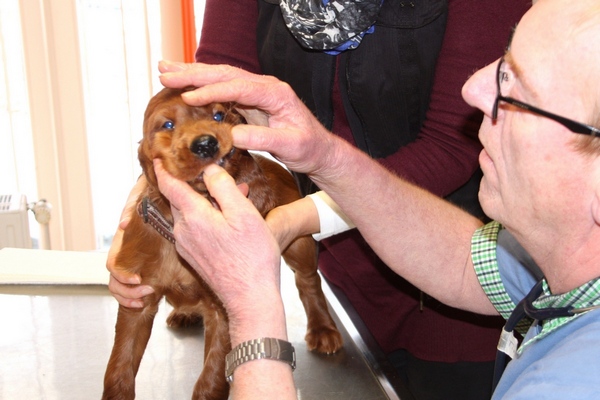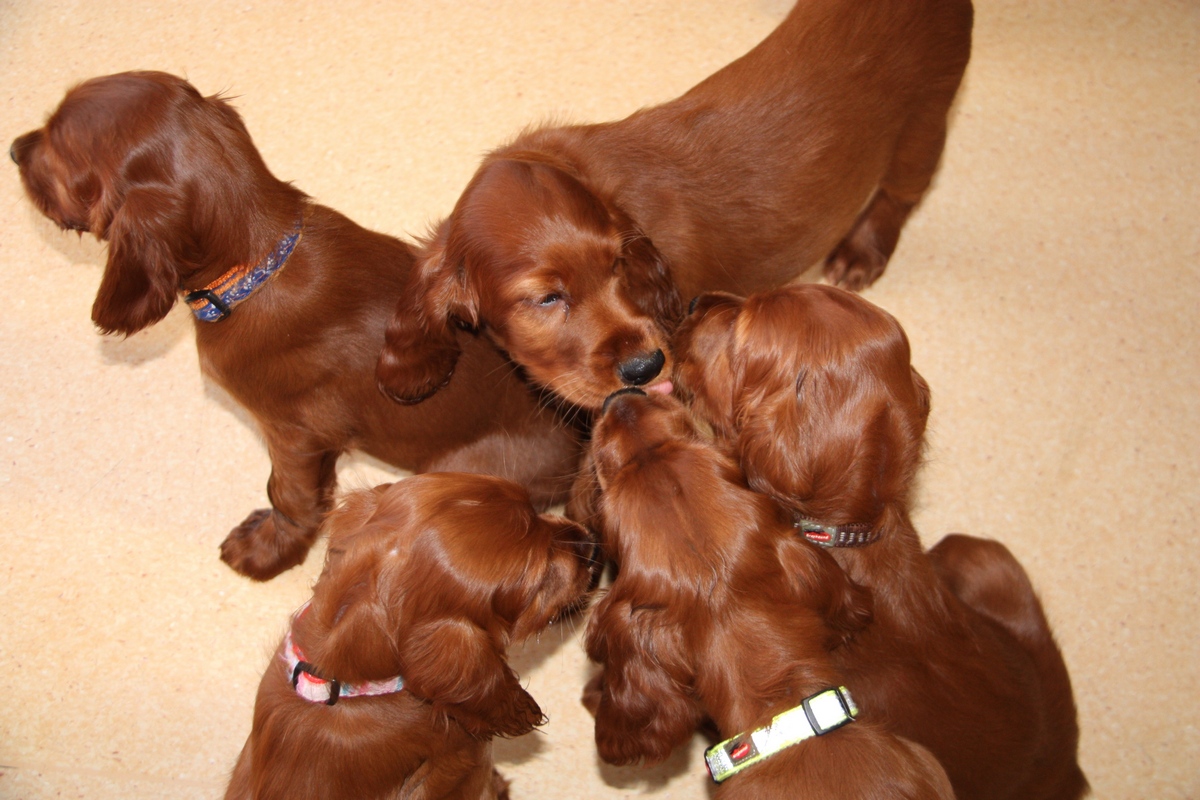 Mutual grooming after the exhausting drive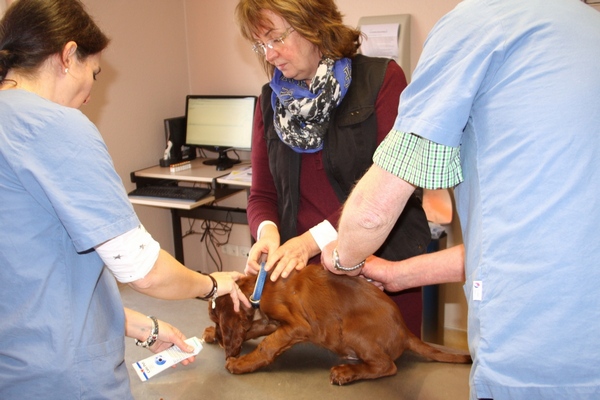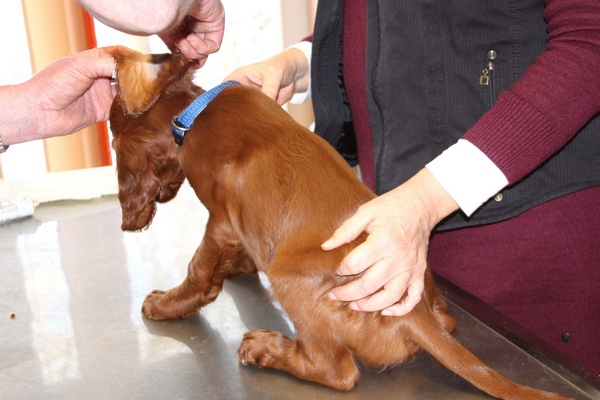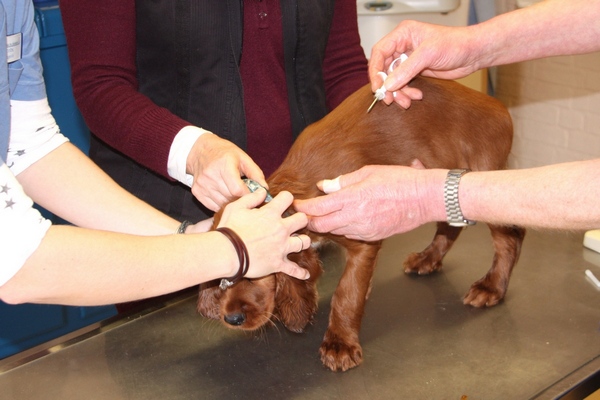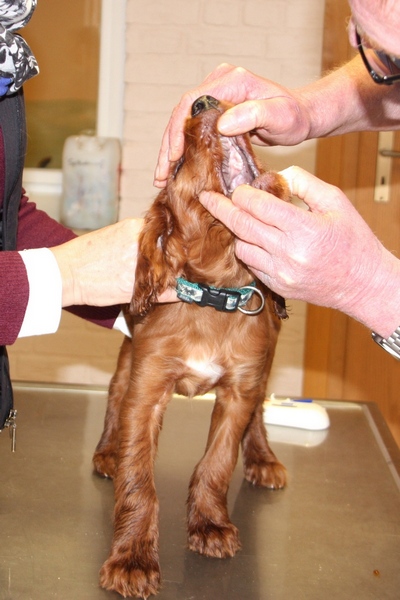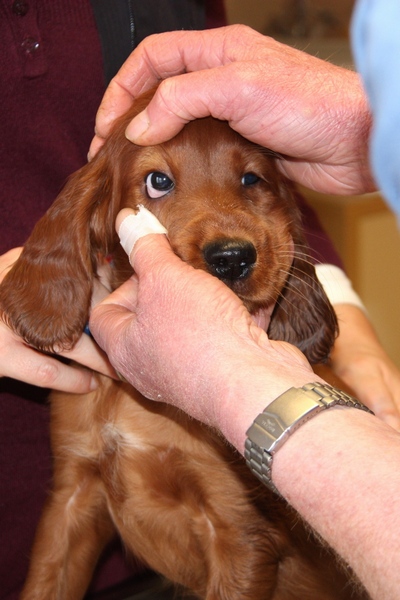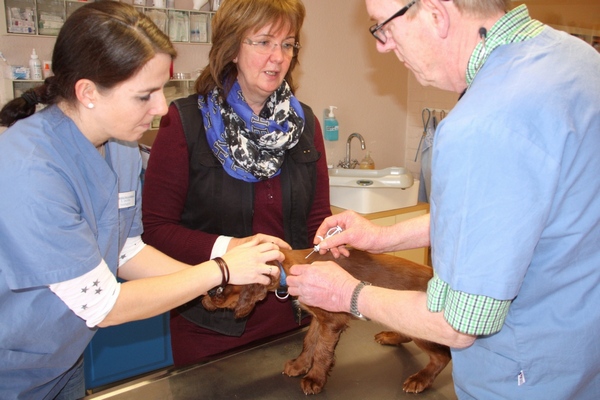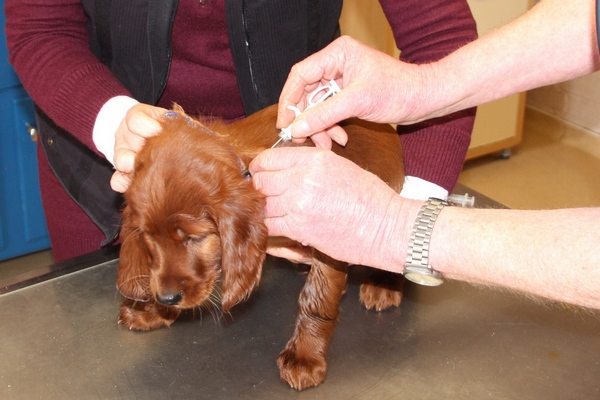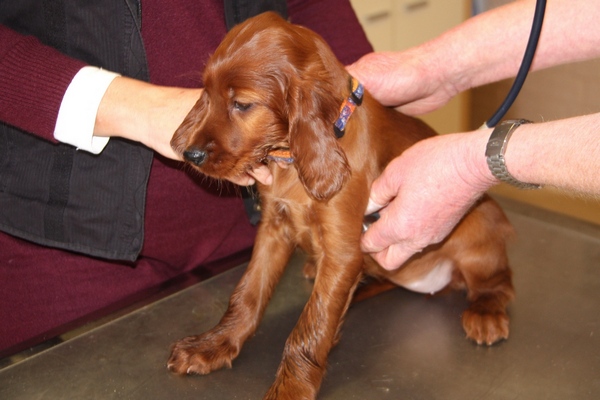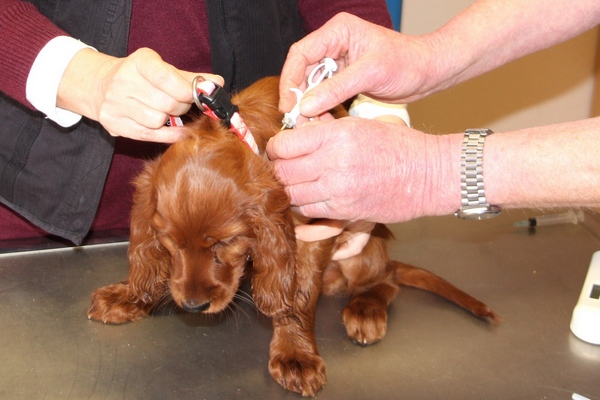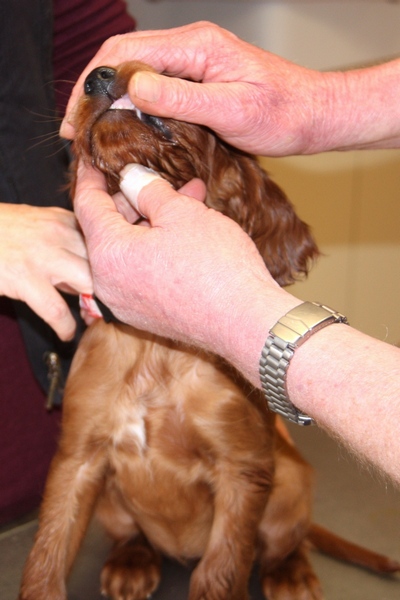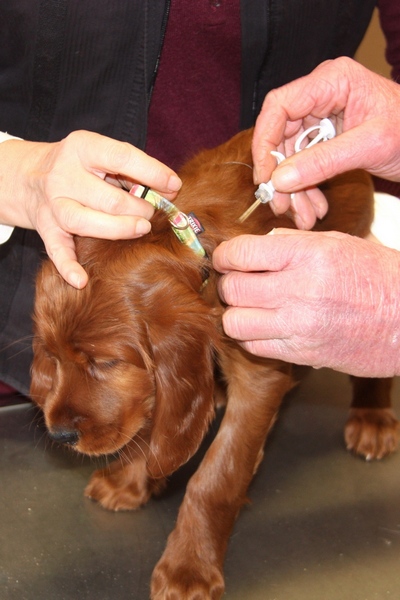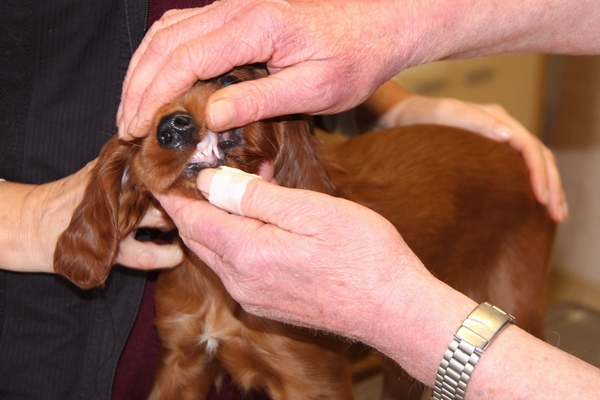 At the end all are completely exhausted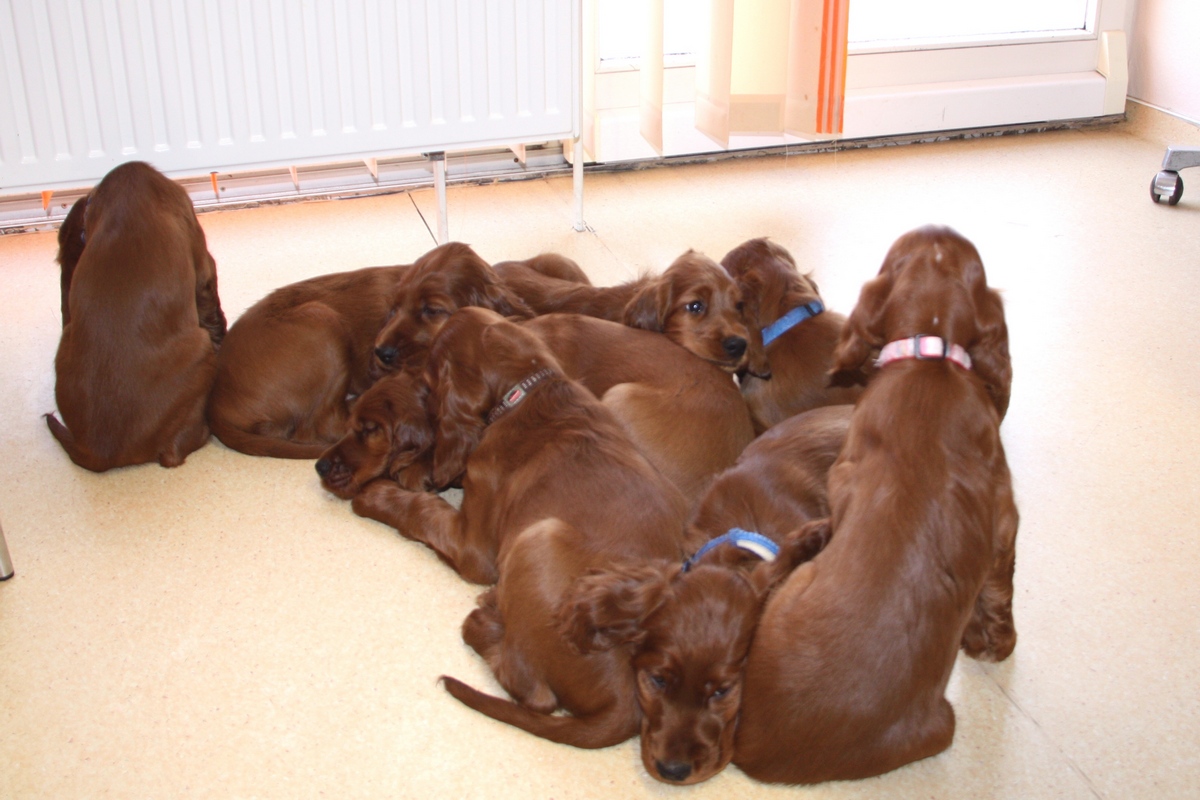 January 23, 2016, 8 weeks and 2 days old (9th week)
Tonight fell a lot of fresh snow.
Ofcourse all wanted out into the garden.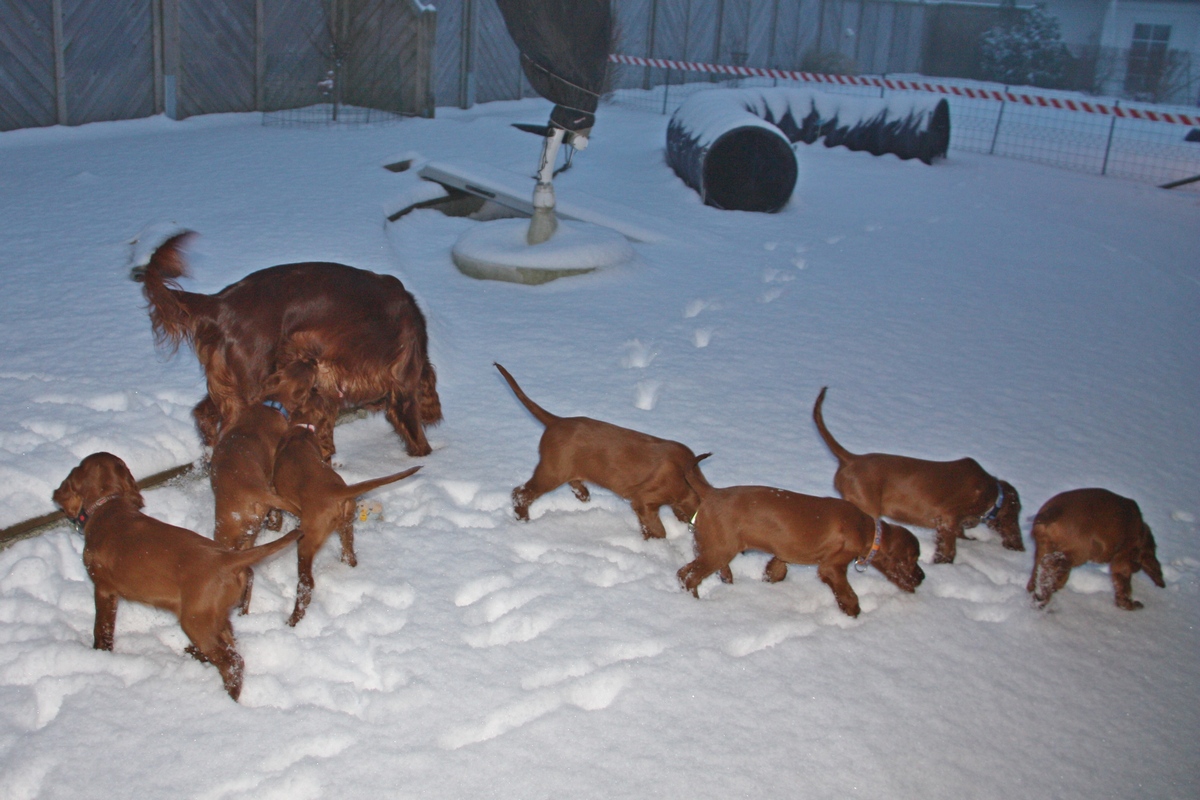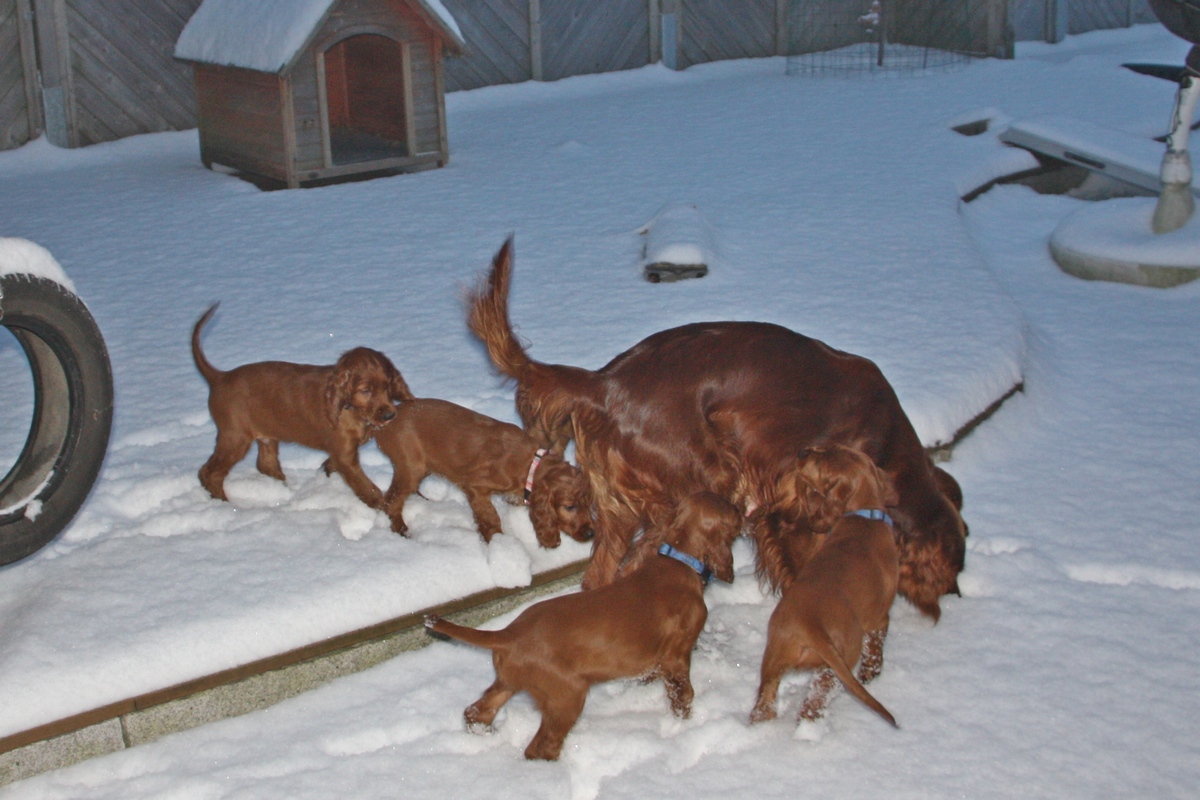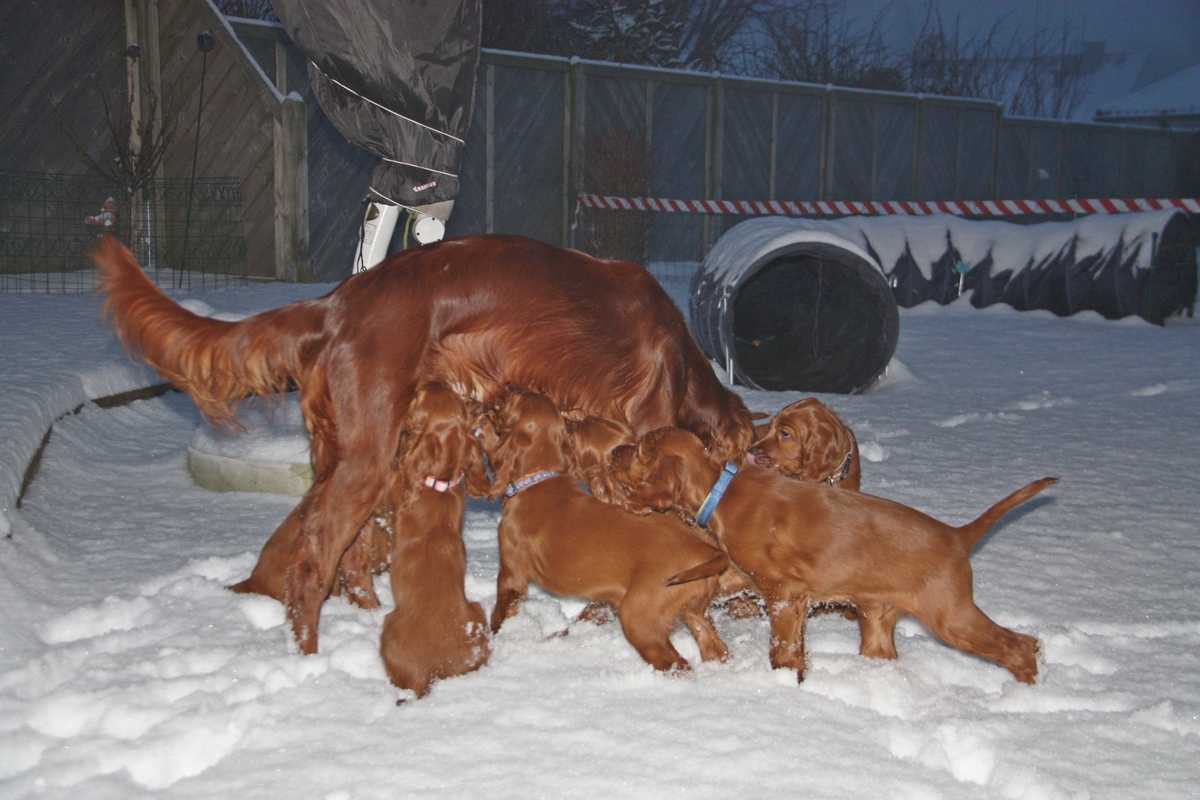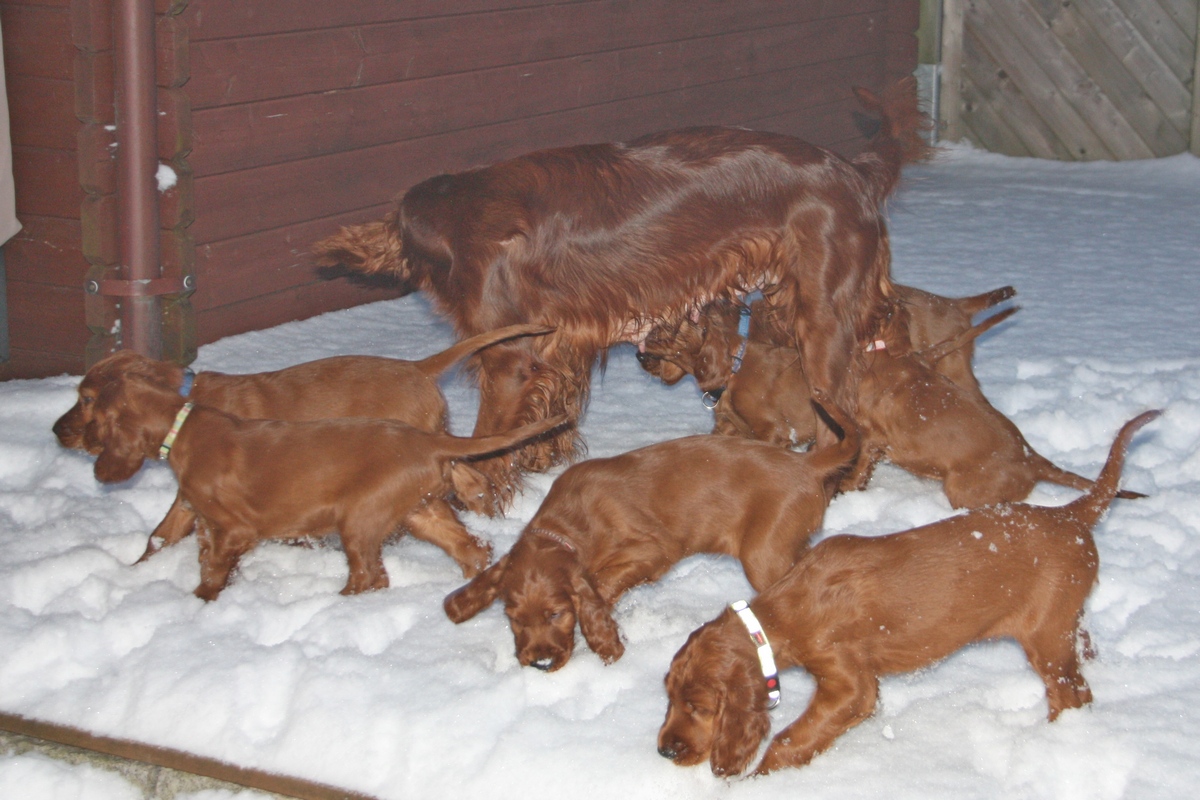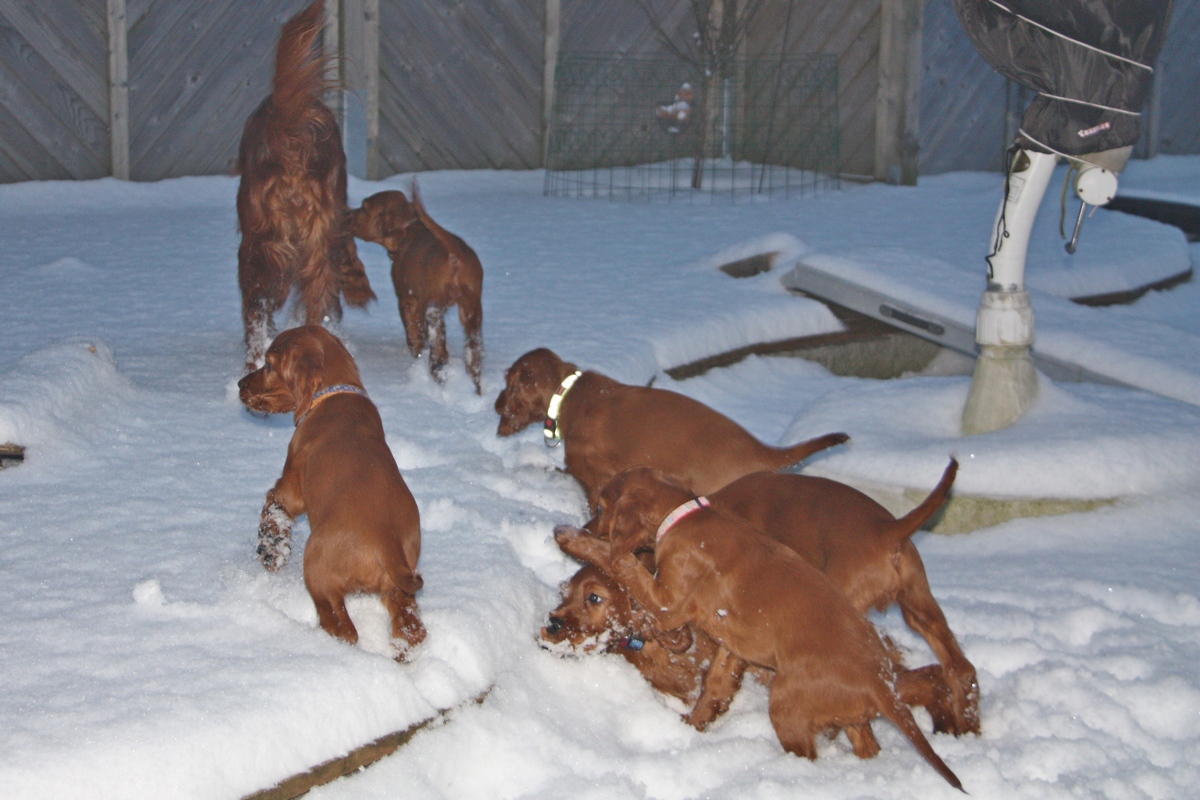 January 24, 2016, 8 weeks and 3 days old (9th week)
Gry , Tanja und Marc mit
Feeny und Diva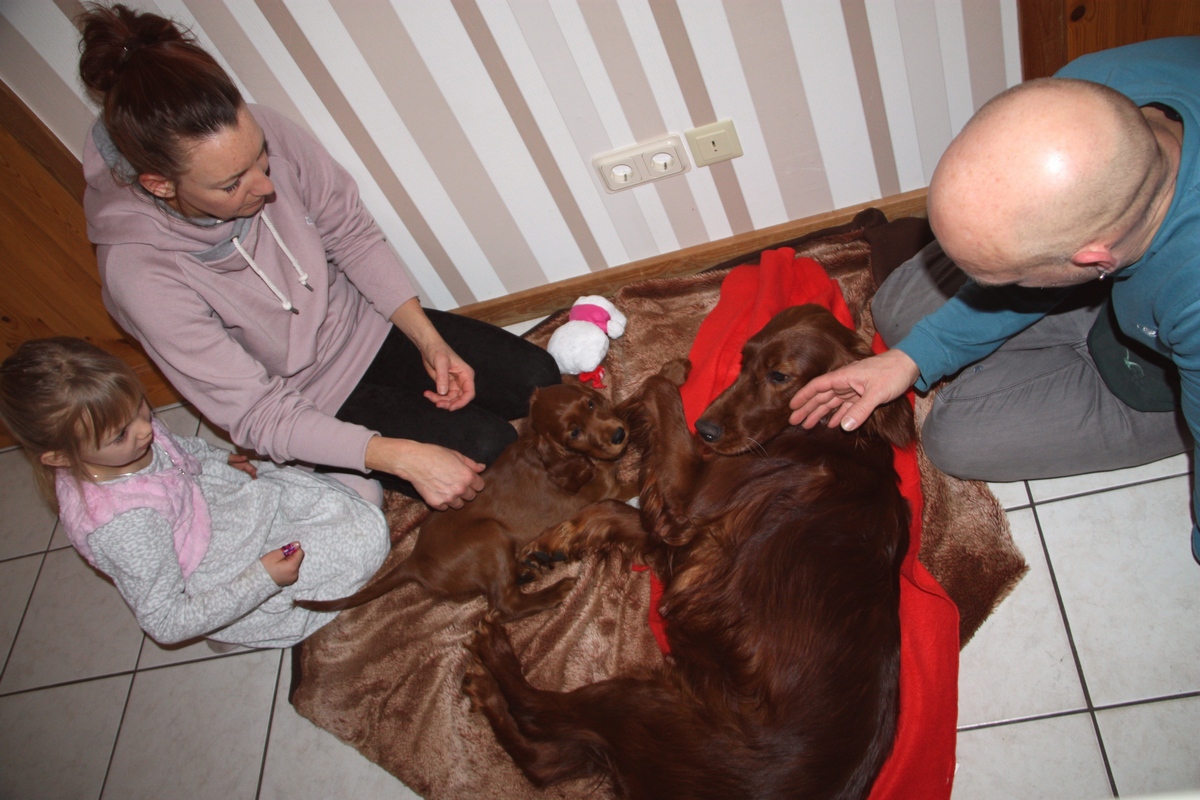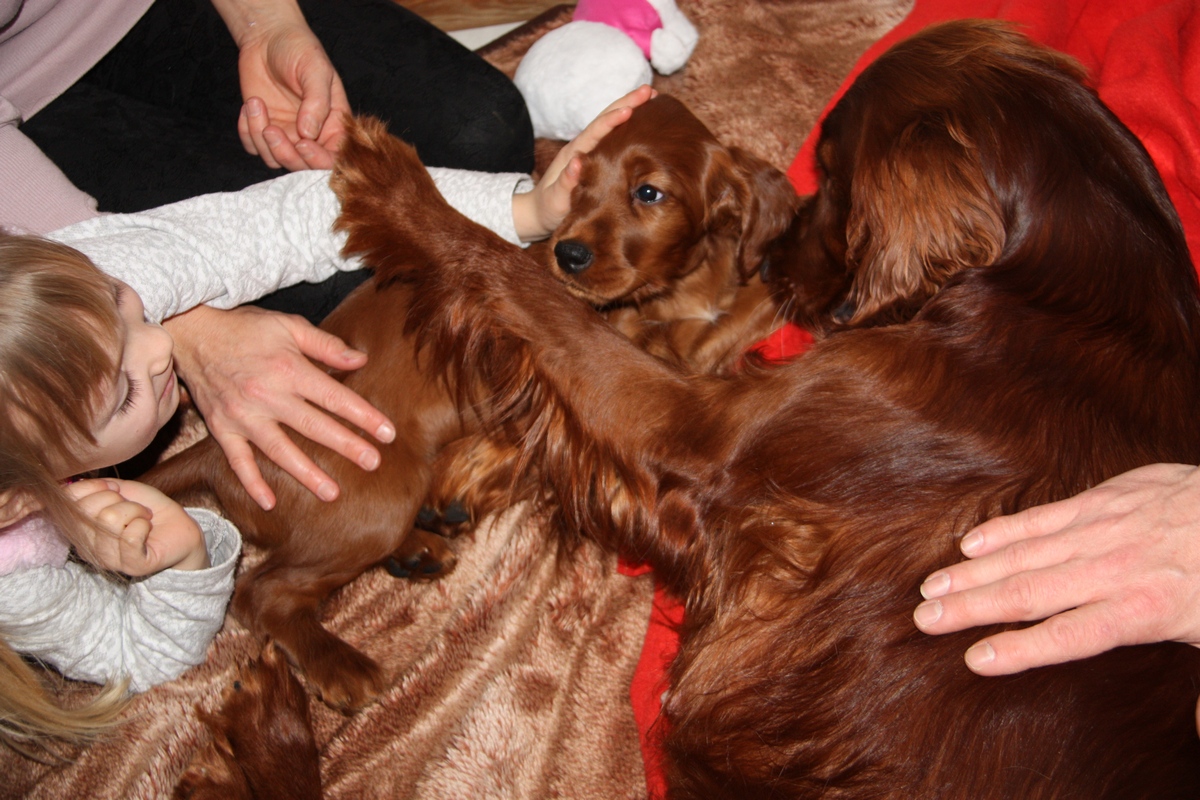 Mama Diva "nimmt Abschied"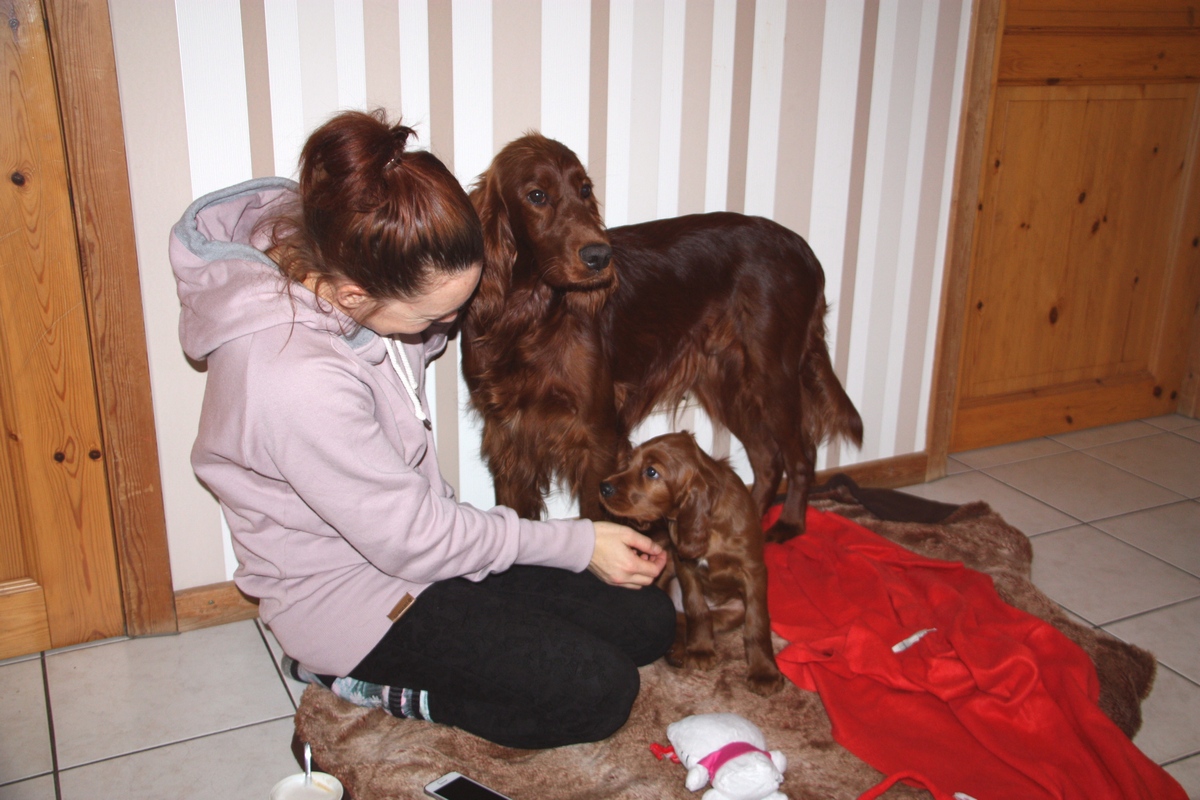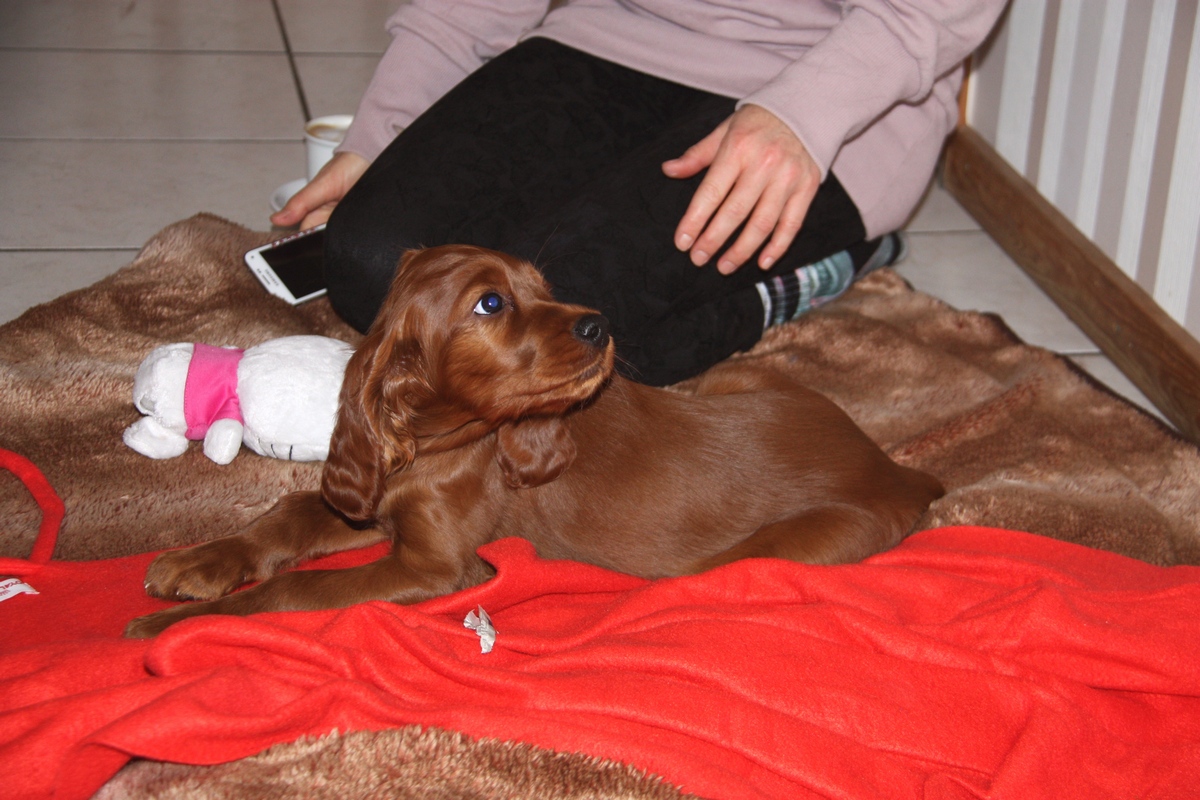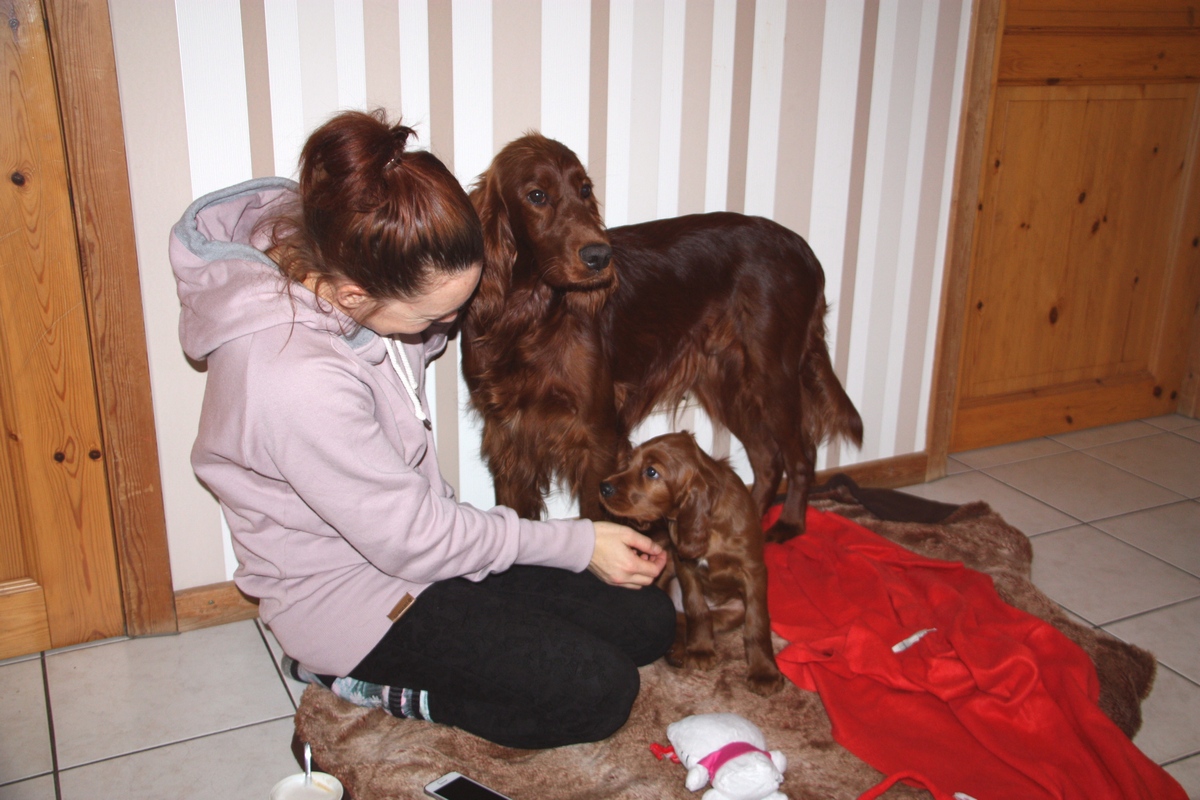 Der letzte Schritt vom alten ins neue Heim.
Wir sind völlig entspannt.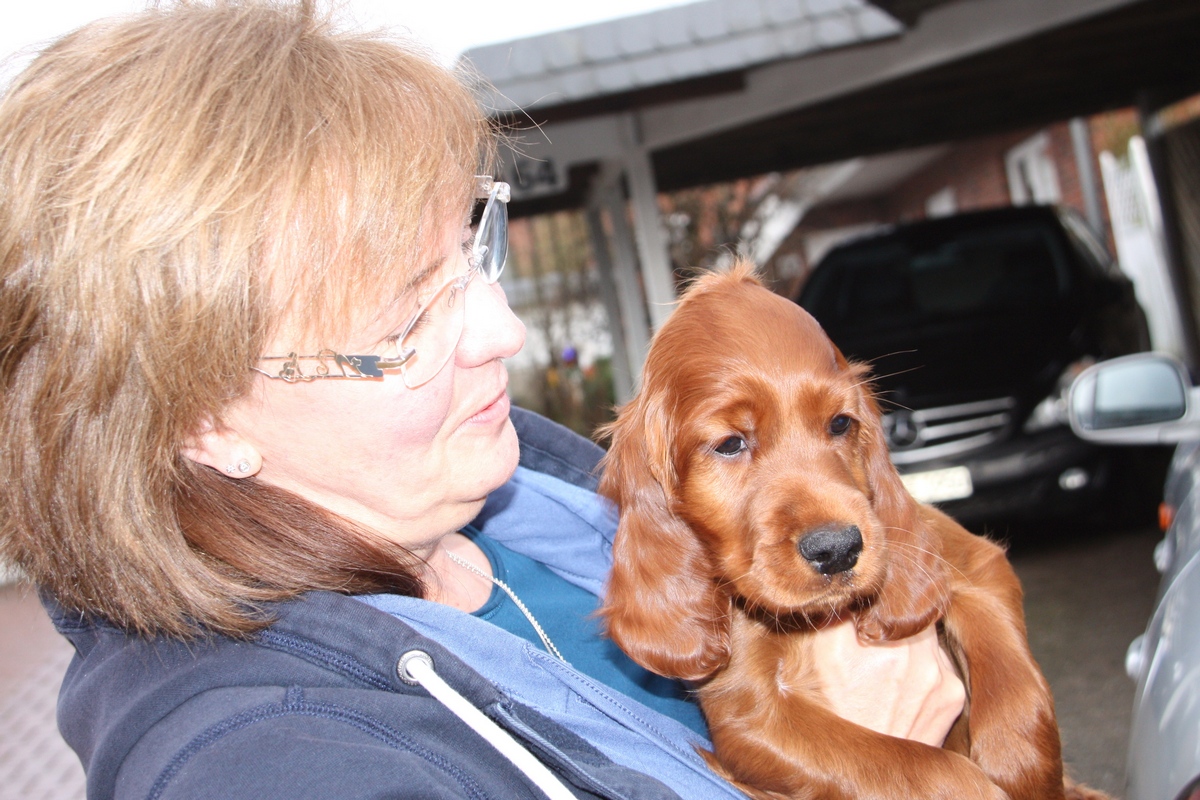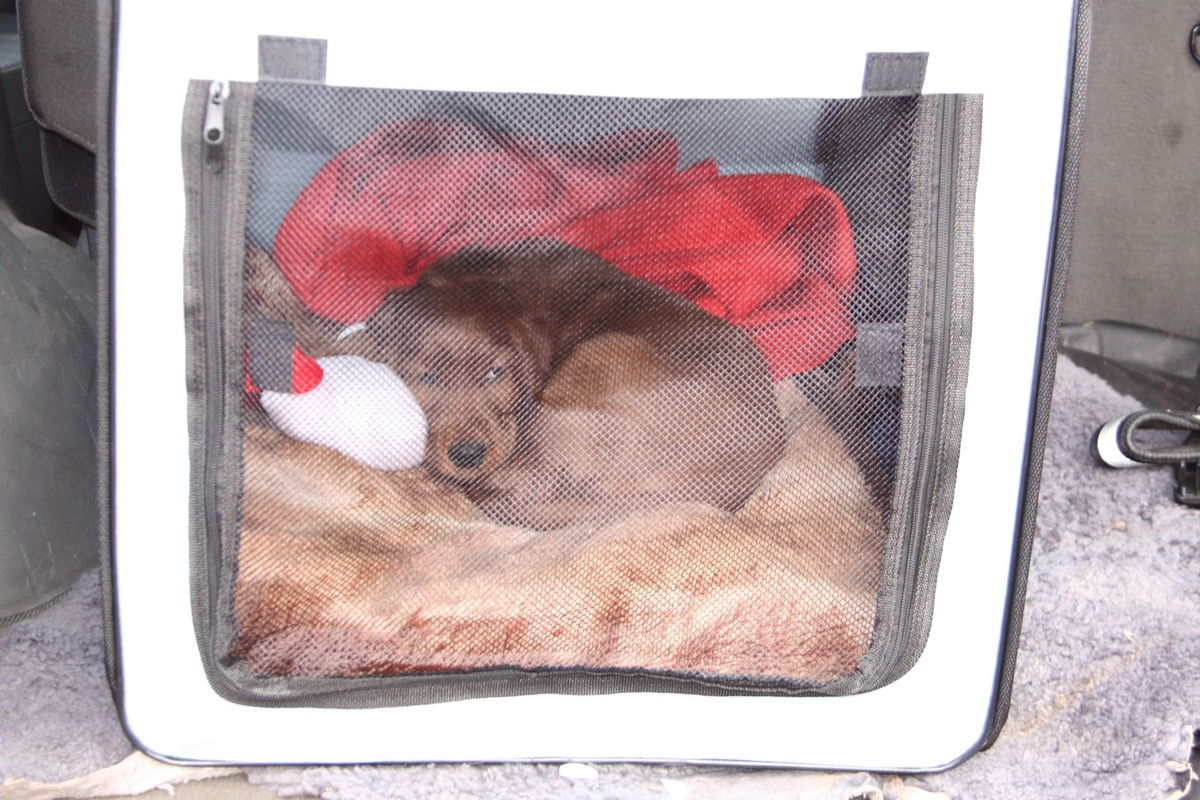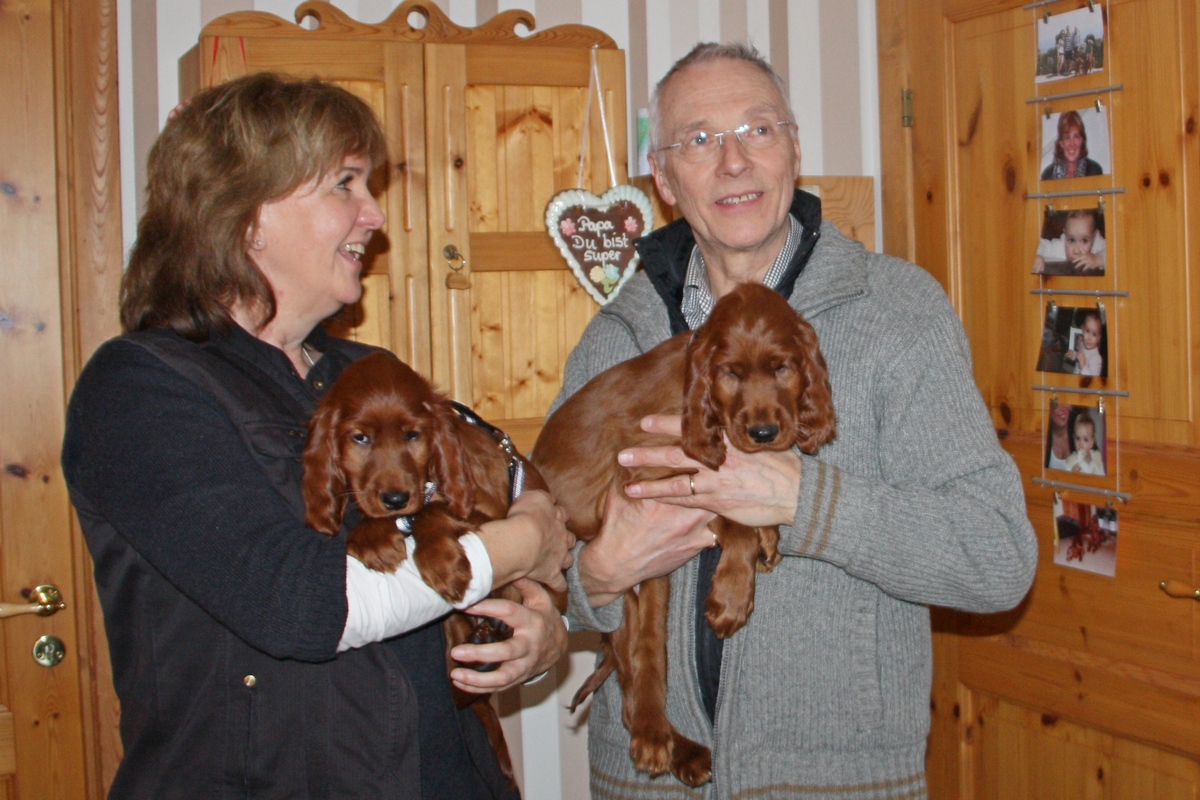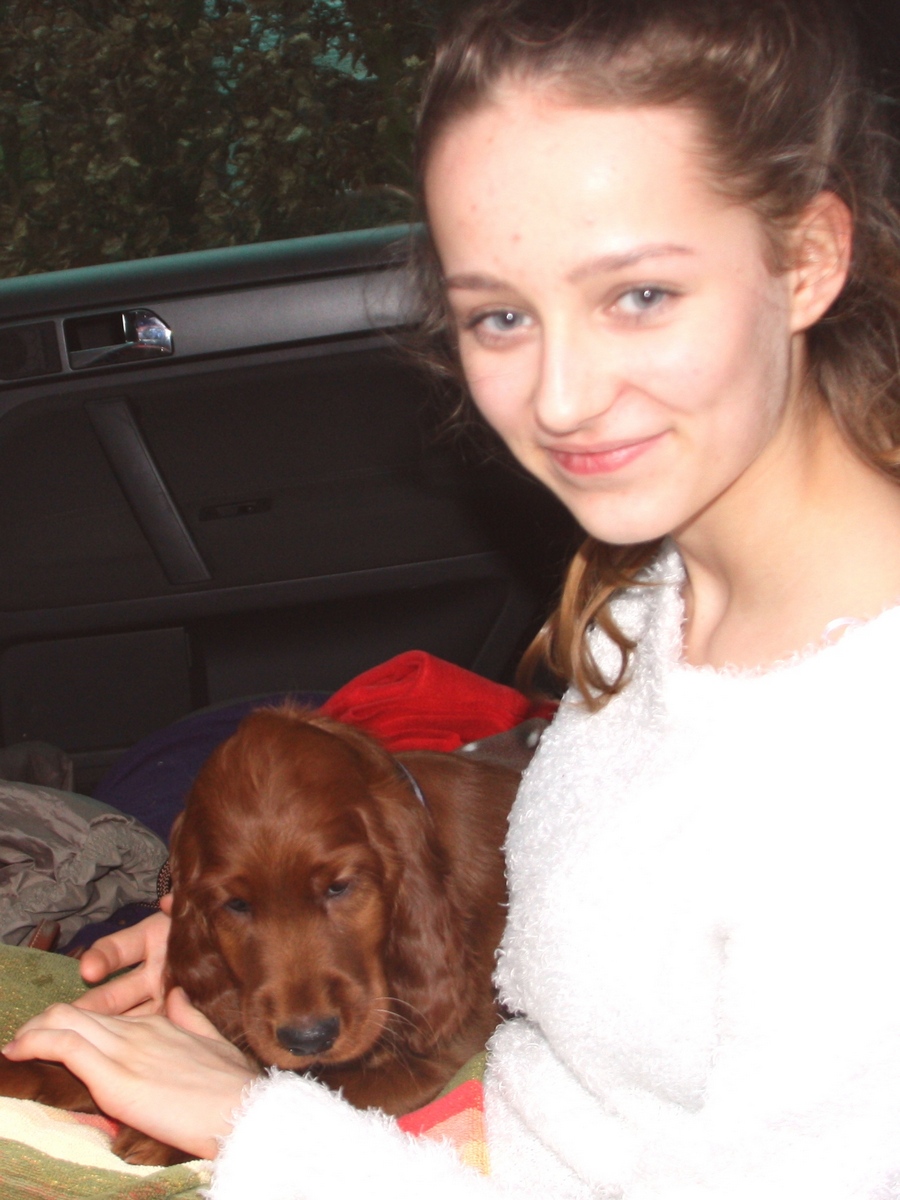 Januar 28, 2016, 9 weeks old (10th week)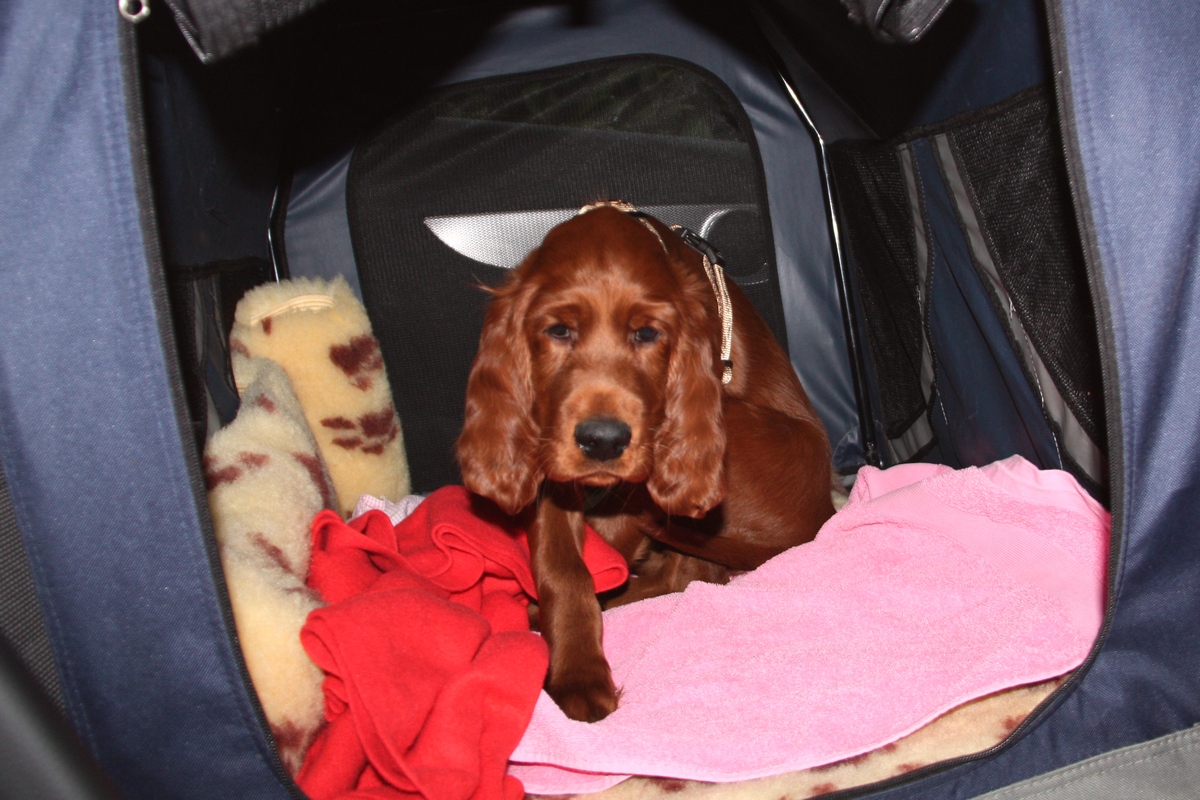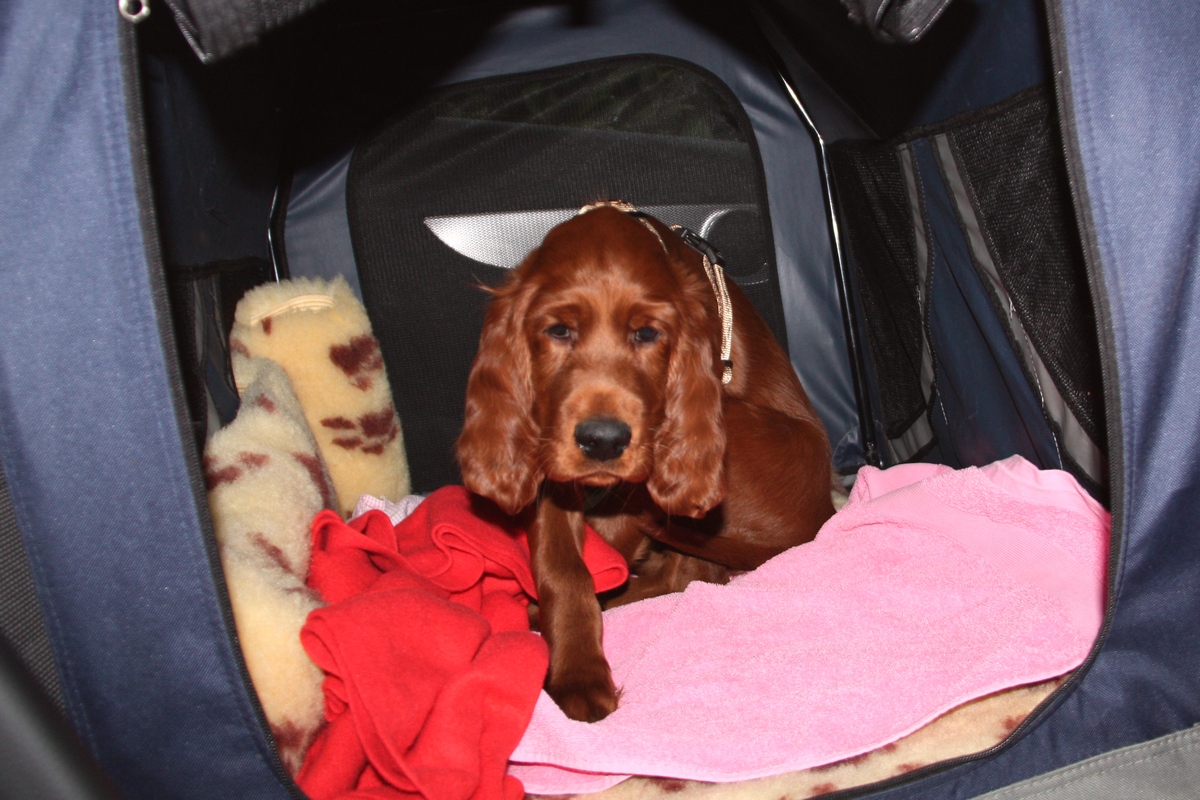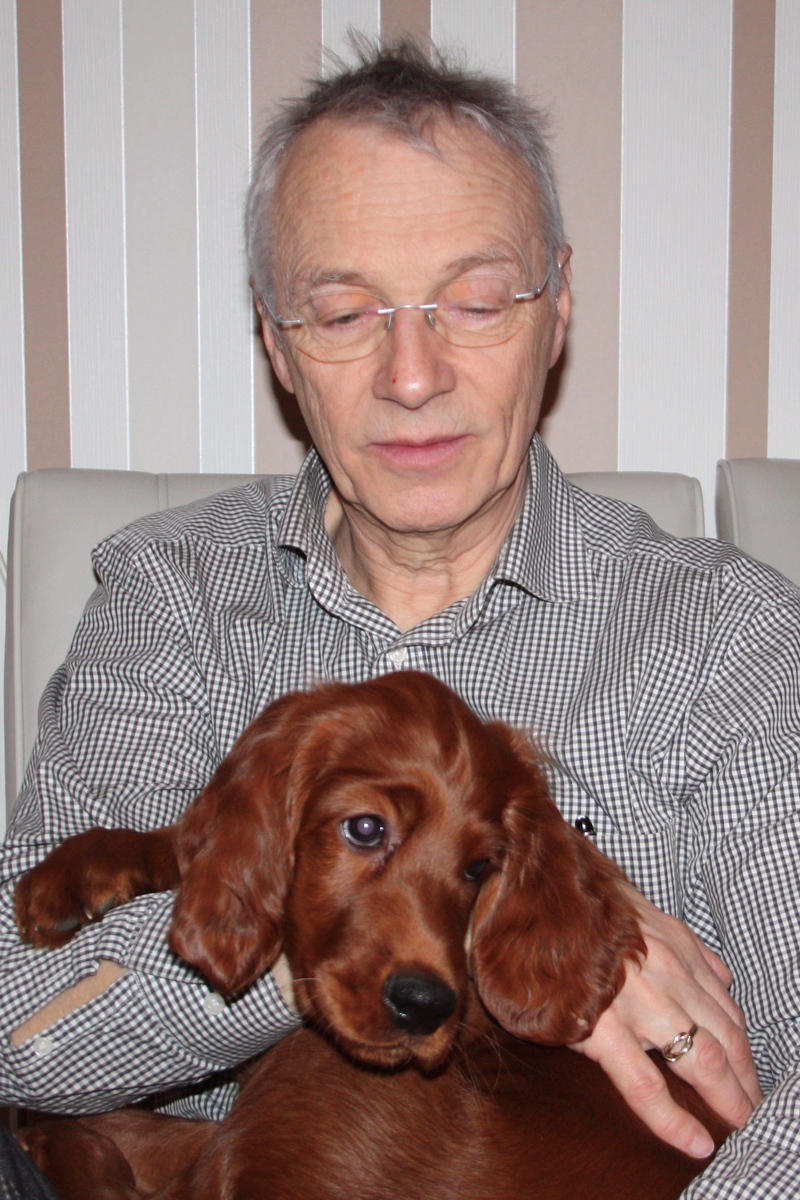 "Die "alte" und die "neue" Familie
Farell George hat den weitesten Weg vor sich:
Es geht nach München zur Familie Rieger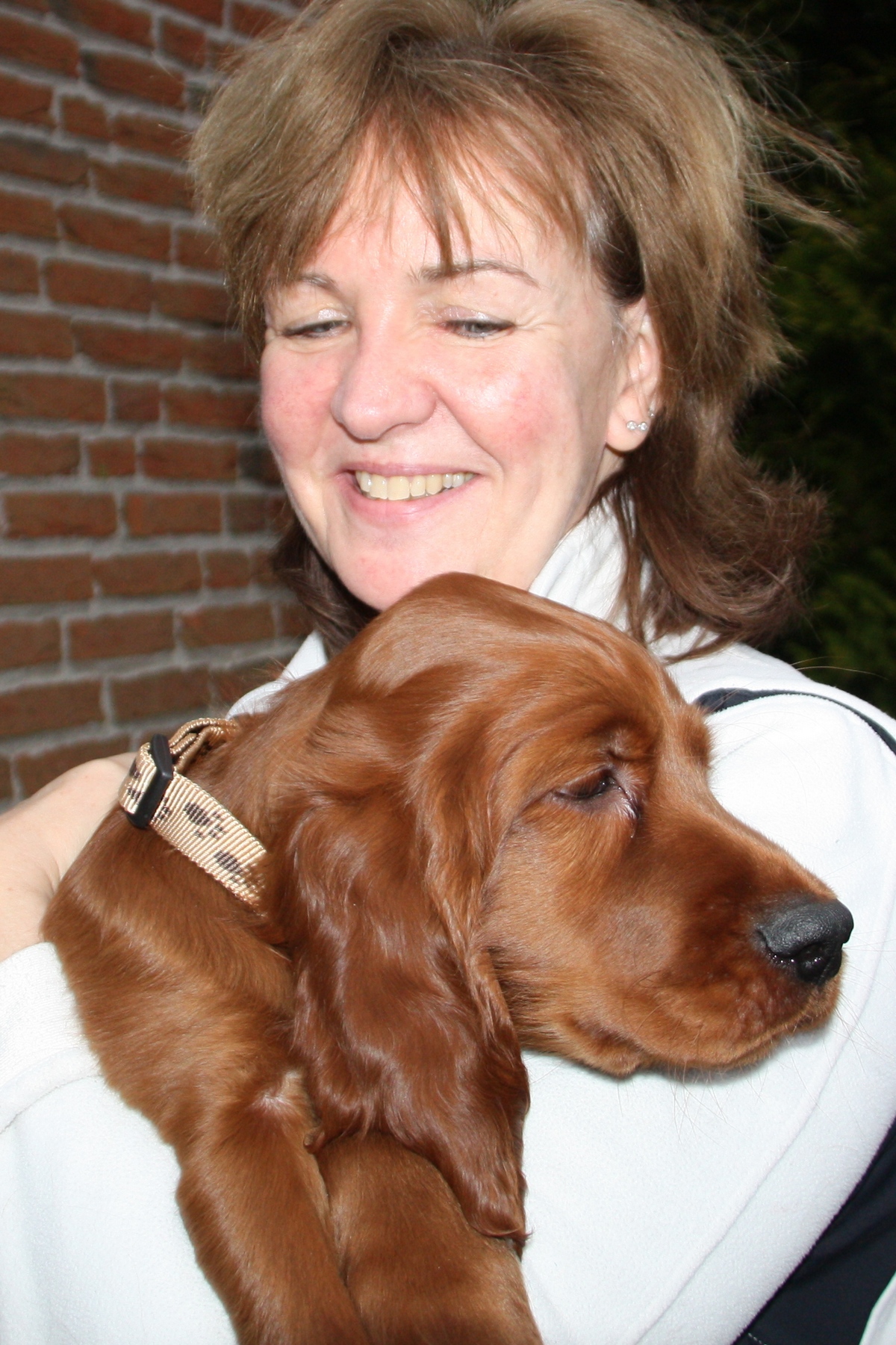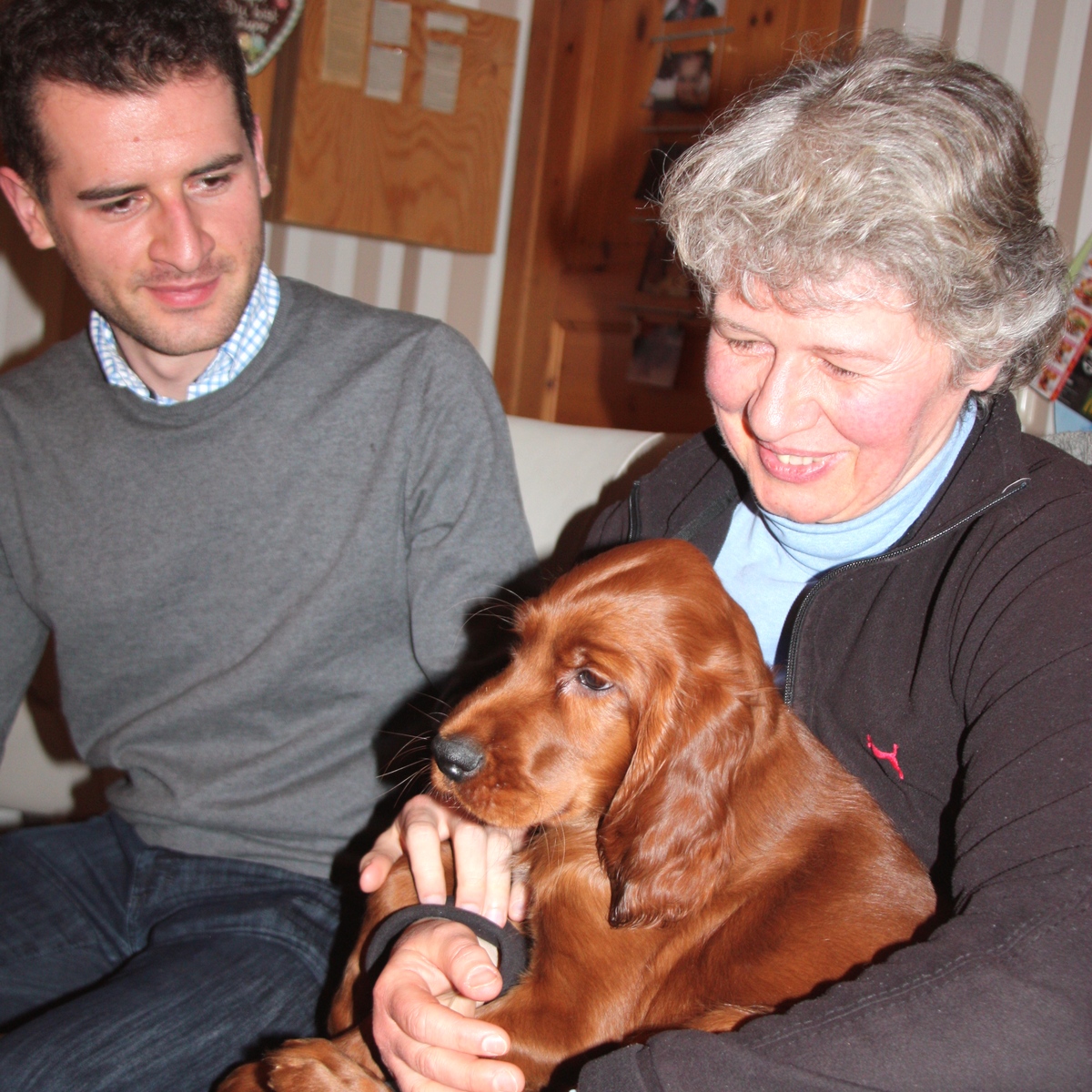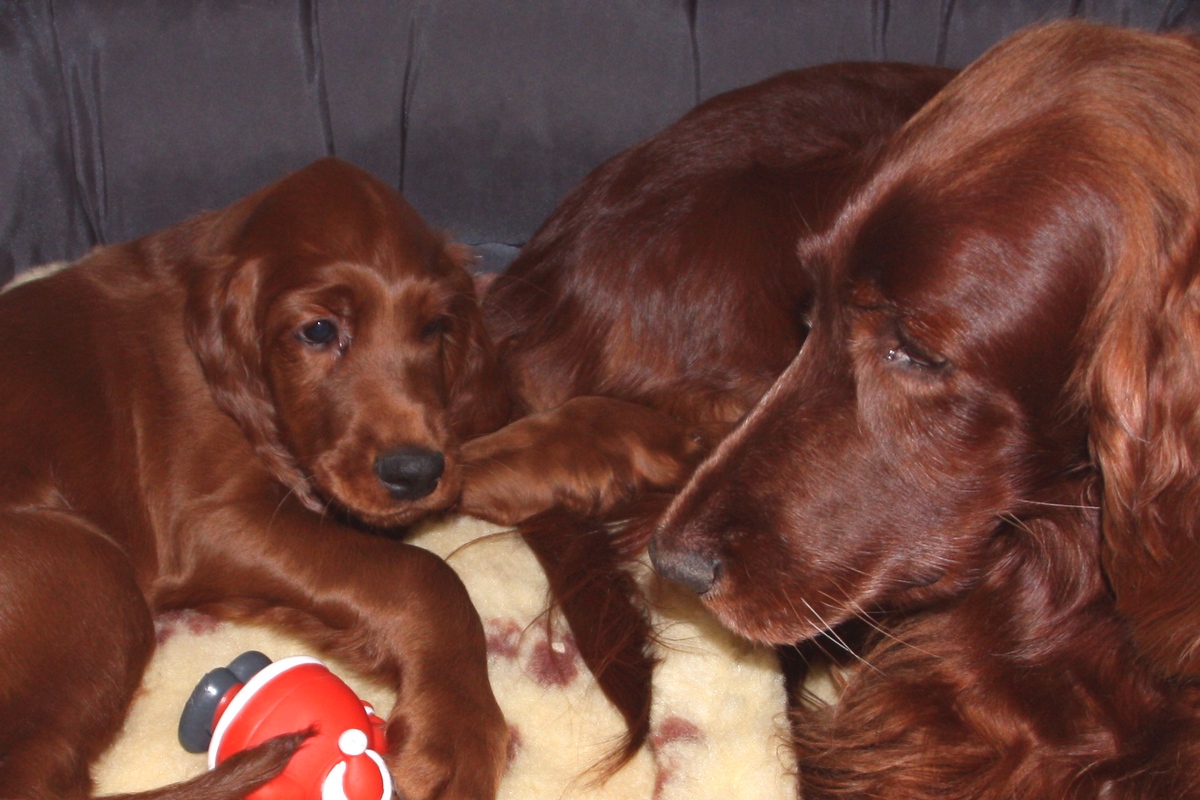 Ruhiger Abschied von Oma Anouk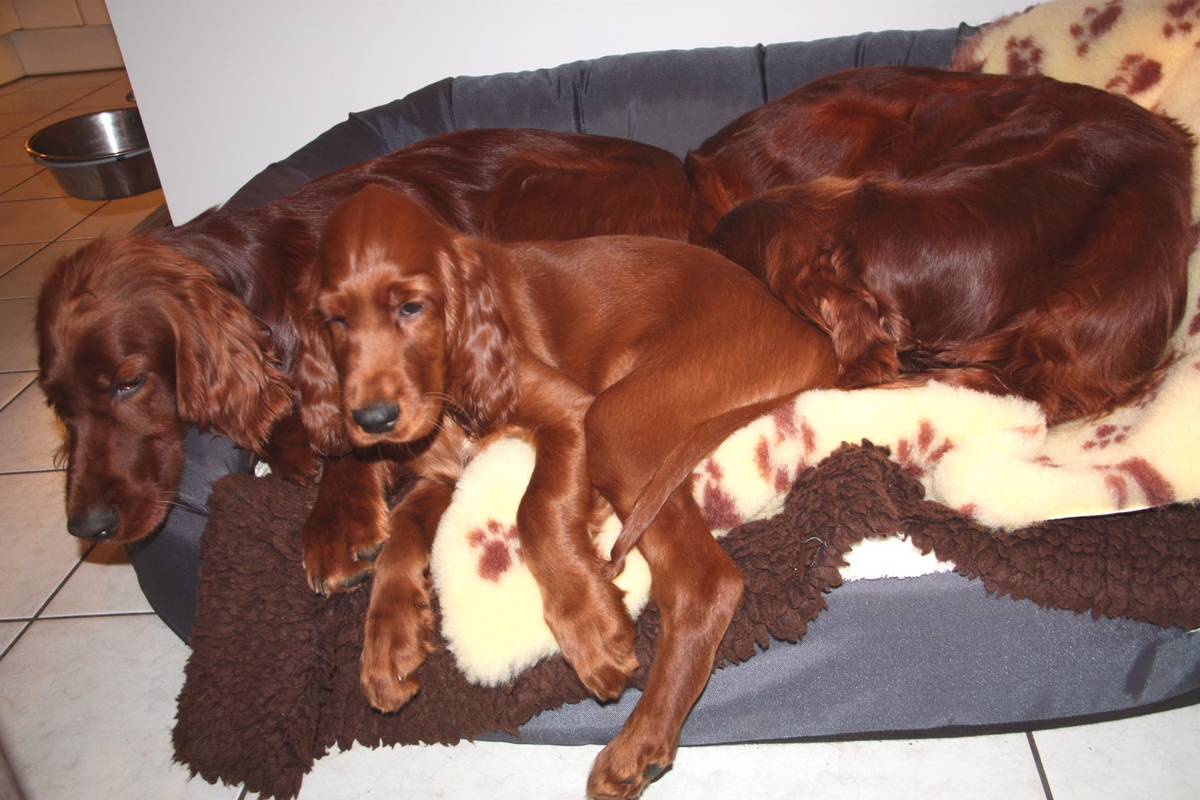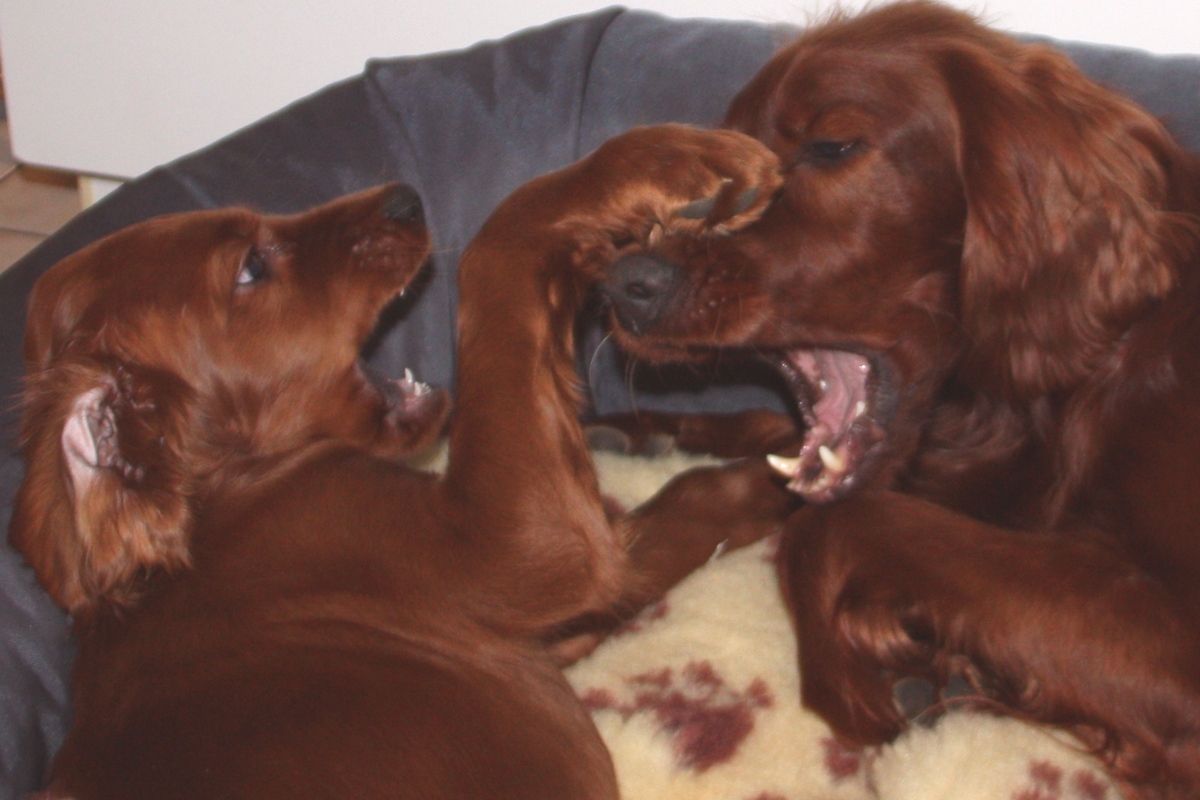 "Besinnlicher" Abschied von Mama Diva: und Oma Anouk
"Wilder" Abschied von Mama Diva
Nun verläßt uns der letzte kleine Mann: Farell George King. Er hat auch noch die weiteste Reise. Sein neues Zuhause ist in München bei Familie Rieger.
13./14. Februar 2016, 11 Wochen und 2/3 Tage alt
Photo shooting at Trixie pet supplies
Today Anouk, Diva and the 5 remaining puppies have had a photo session at the TRIXIE photo studio.
Januar 29, 2016, 9 weeks and 1 day old (10th week)
Again two puppies leave on the same day tt their new families. And never things are equal. For us also new is that two ittle-ones were picked up at the same time - by two families.

Faible My Melody, she is now called Elly hot, moves to Ferienhof "Nübbelhof" to the family Petersen. Here the television series "The Country Doctor" was filmed.

Finnegan Surprise now named Cooper, moves to family Piotter, Alianz General Agency, just some 100 meters away.

They may now remain "together" in the dog school and on many common dog walks.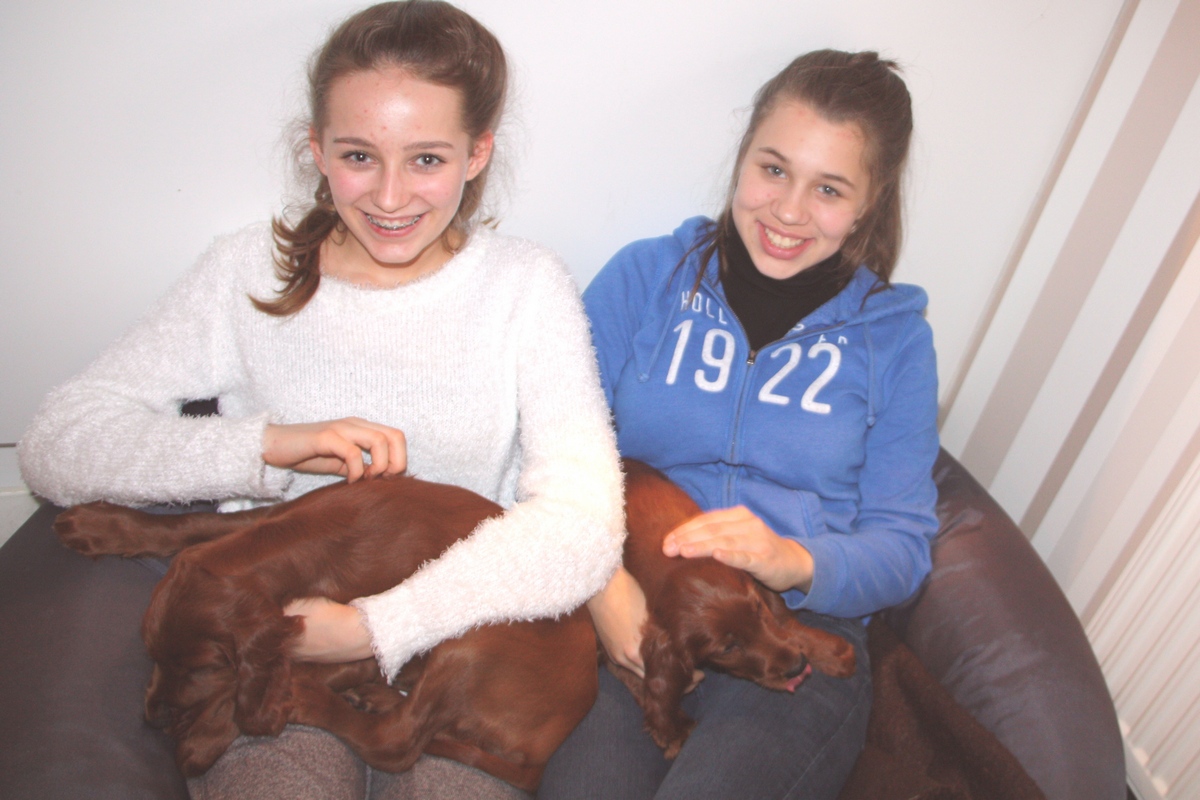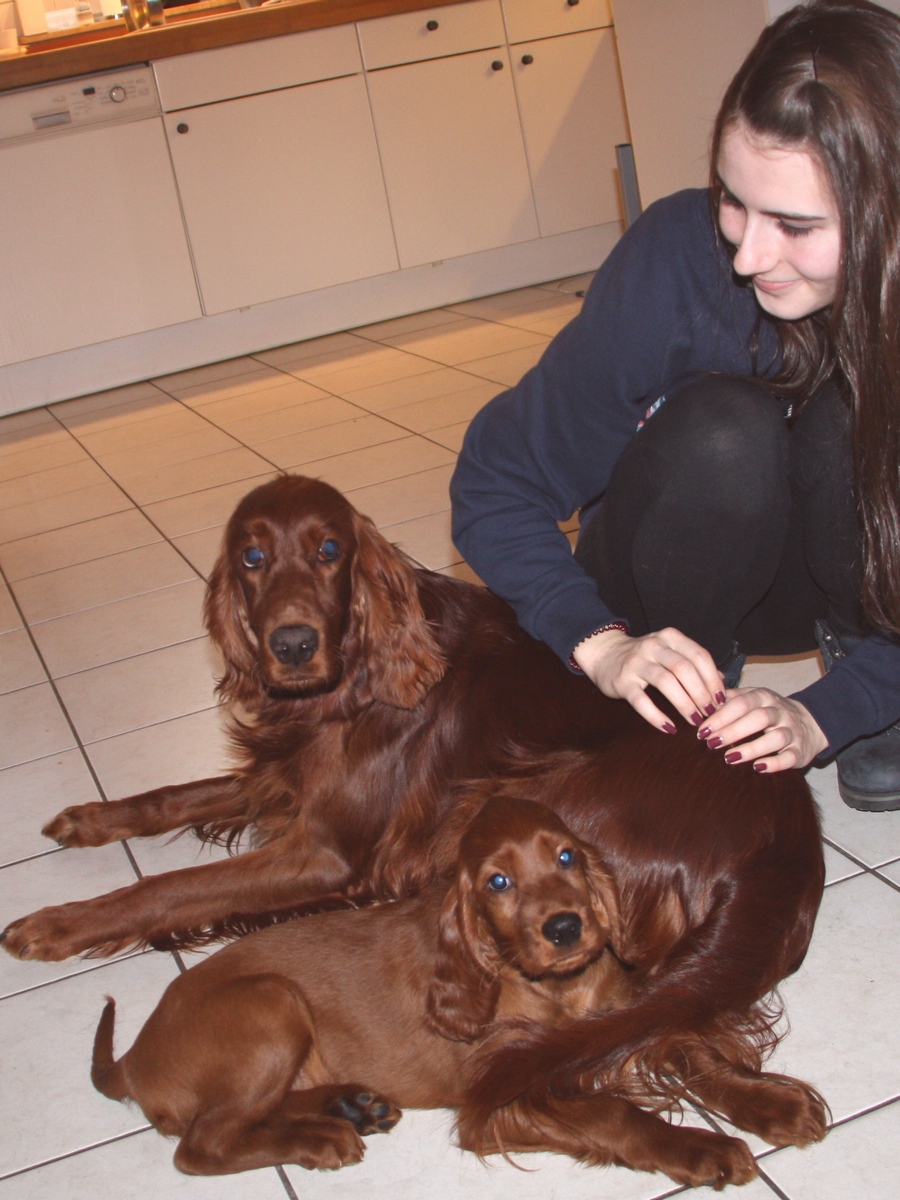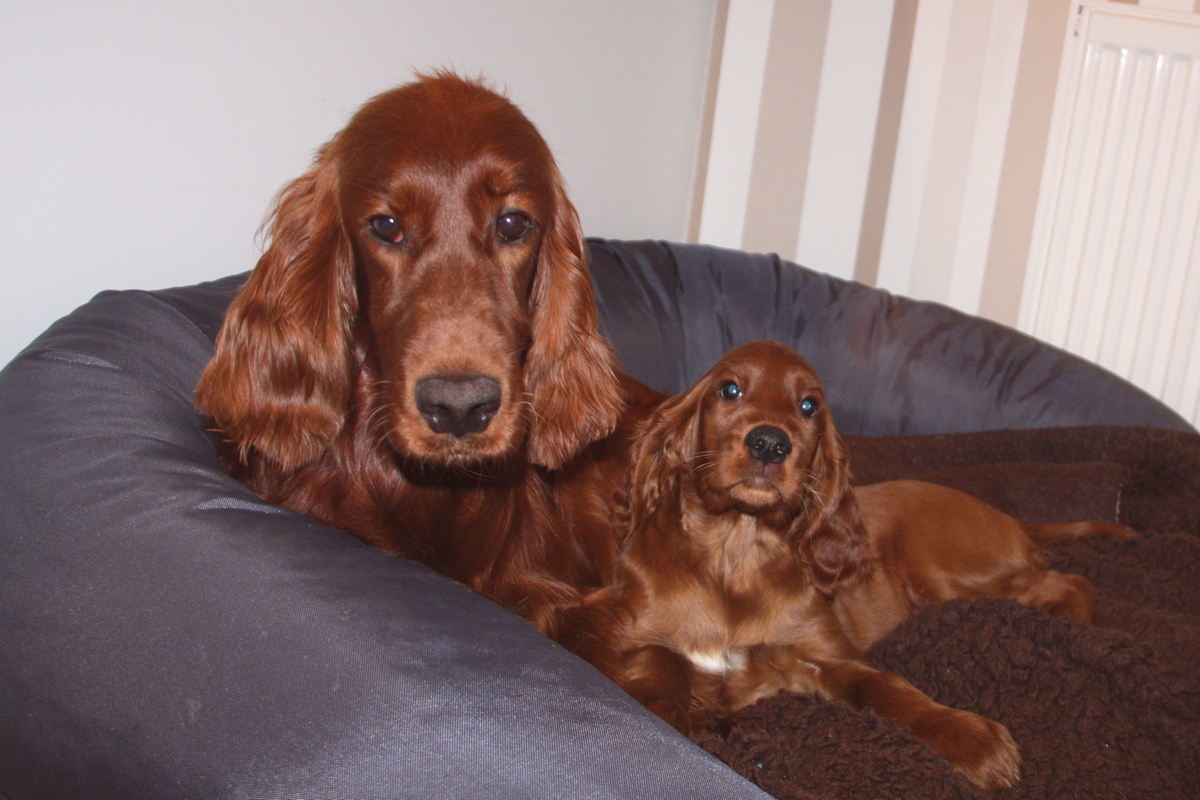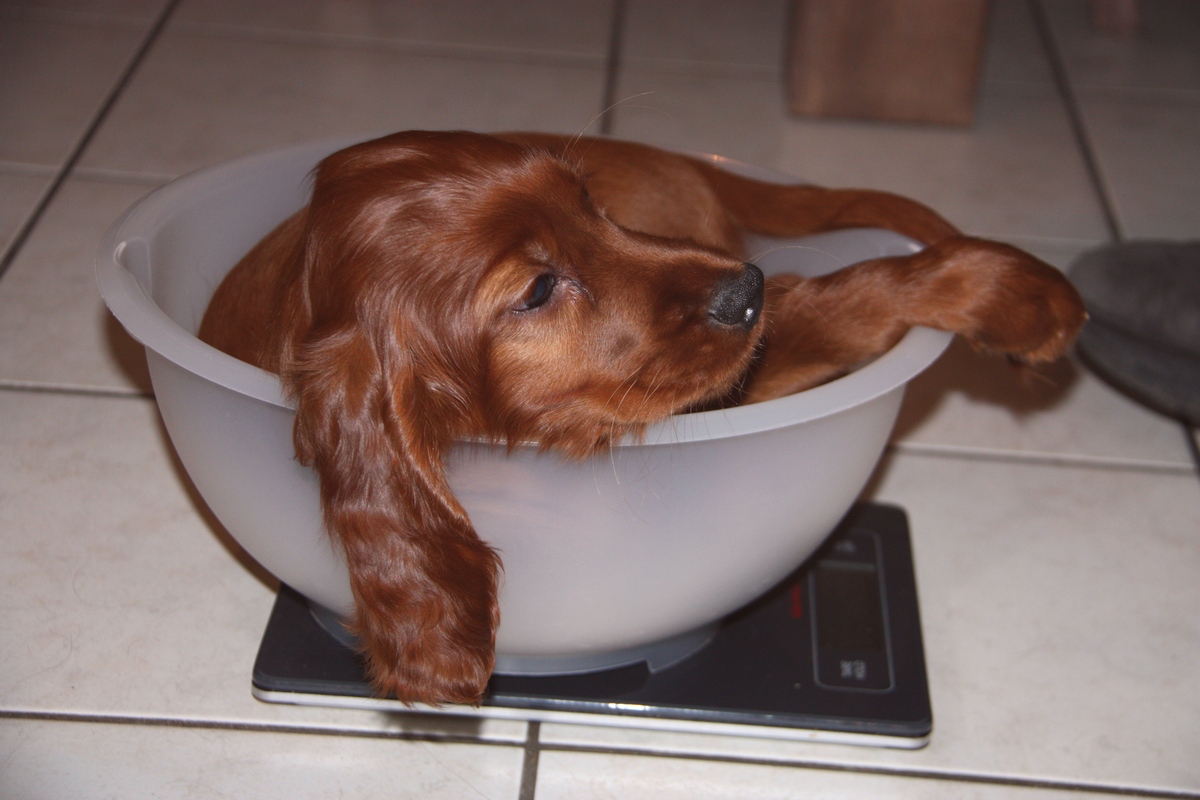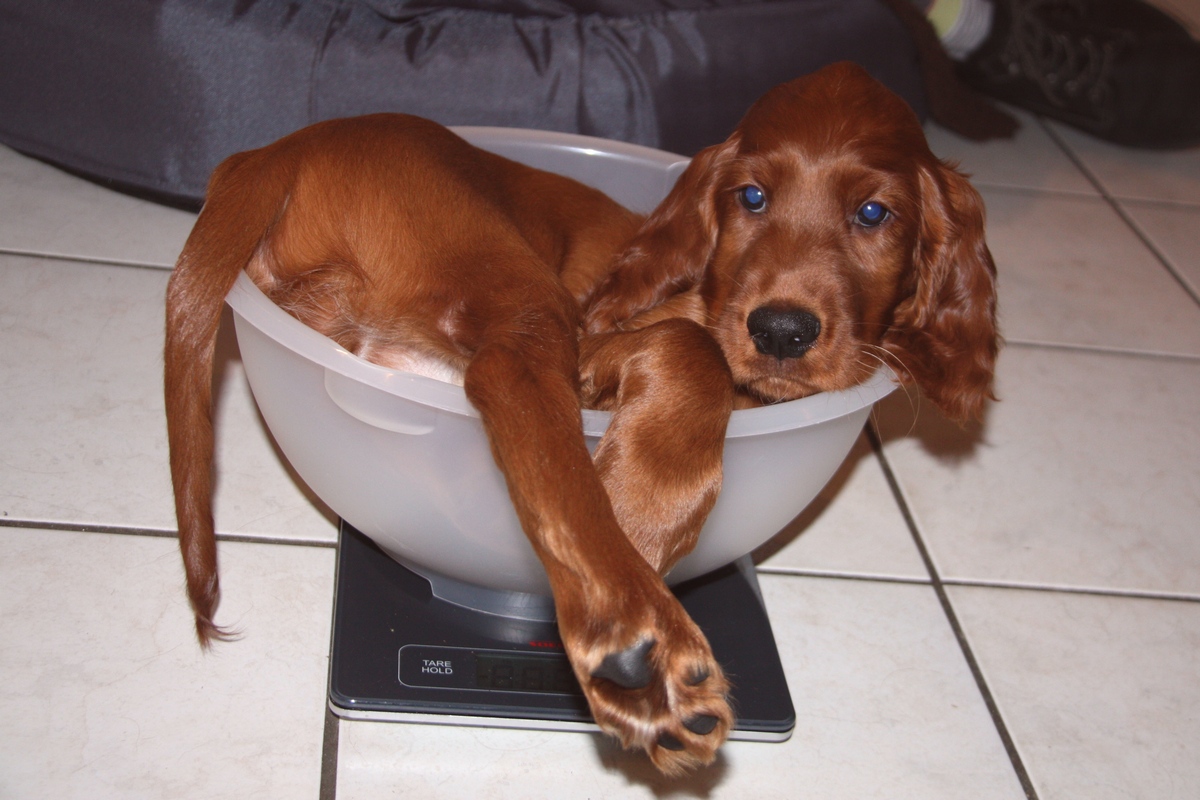 January 30, 2016, 9 weeks and 2 days old (10th week)
Nun ist für Ferris Bright Spark der große Tag gekommen.
He moves to his new home in Salzgitter to Menck Family .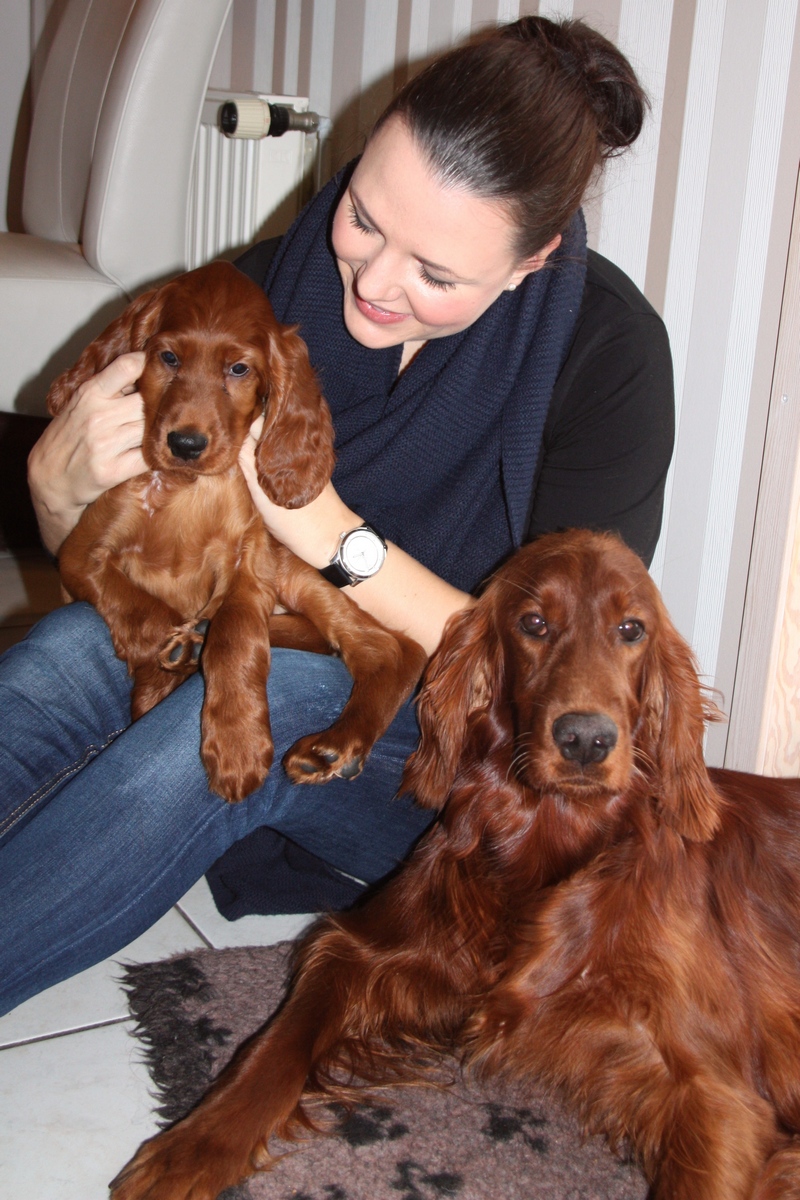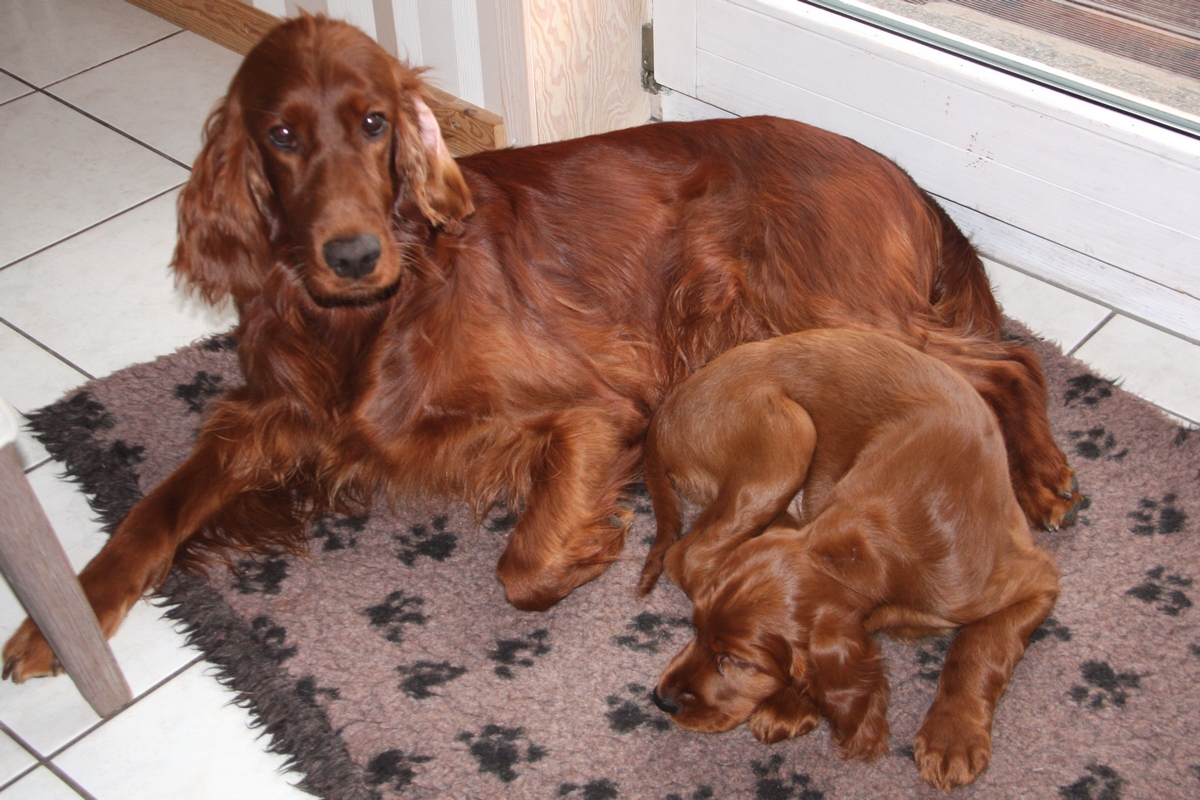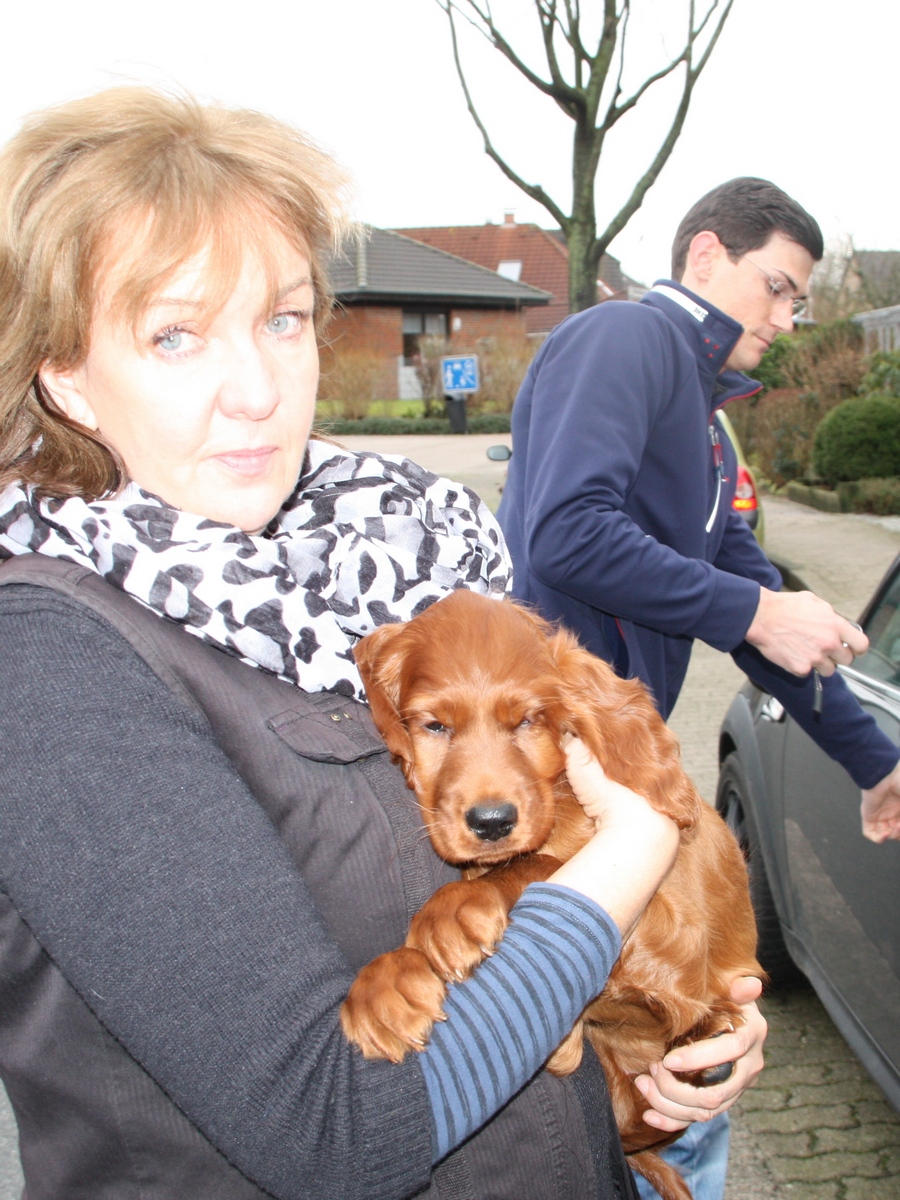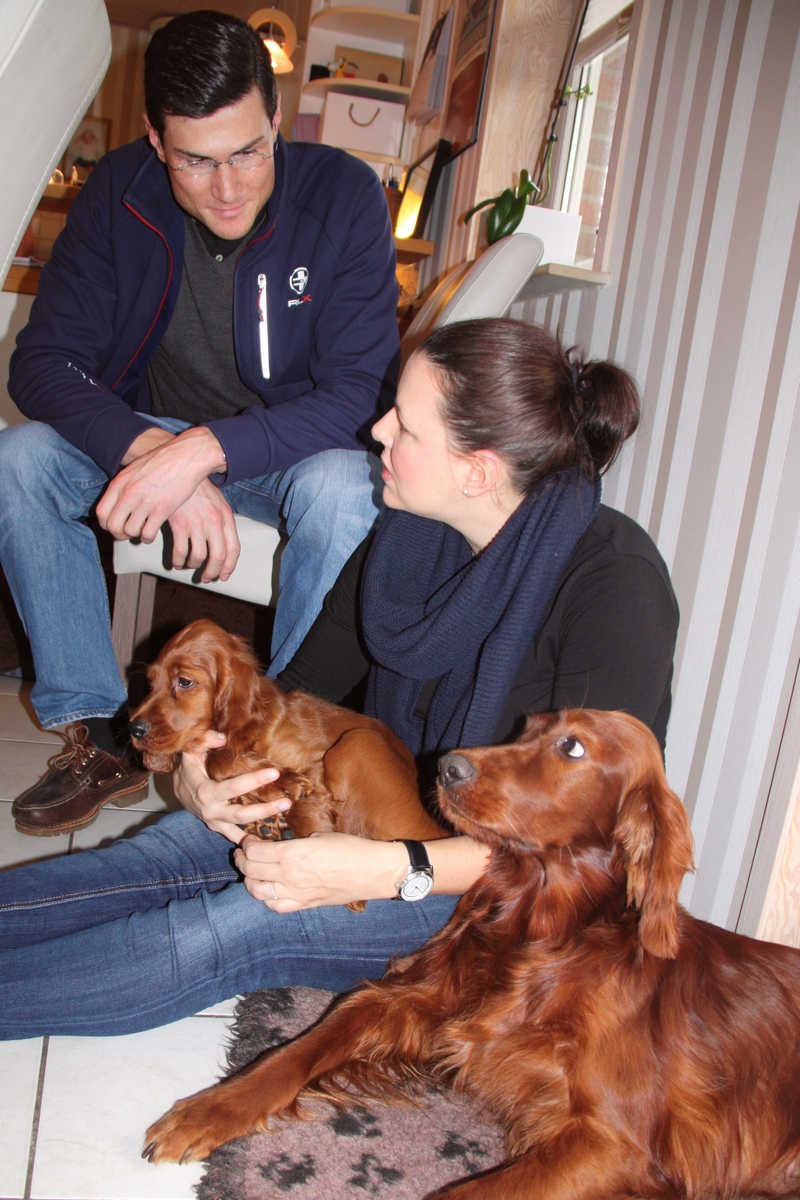 Ferris - immer schön cool bleiben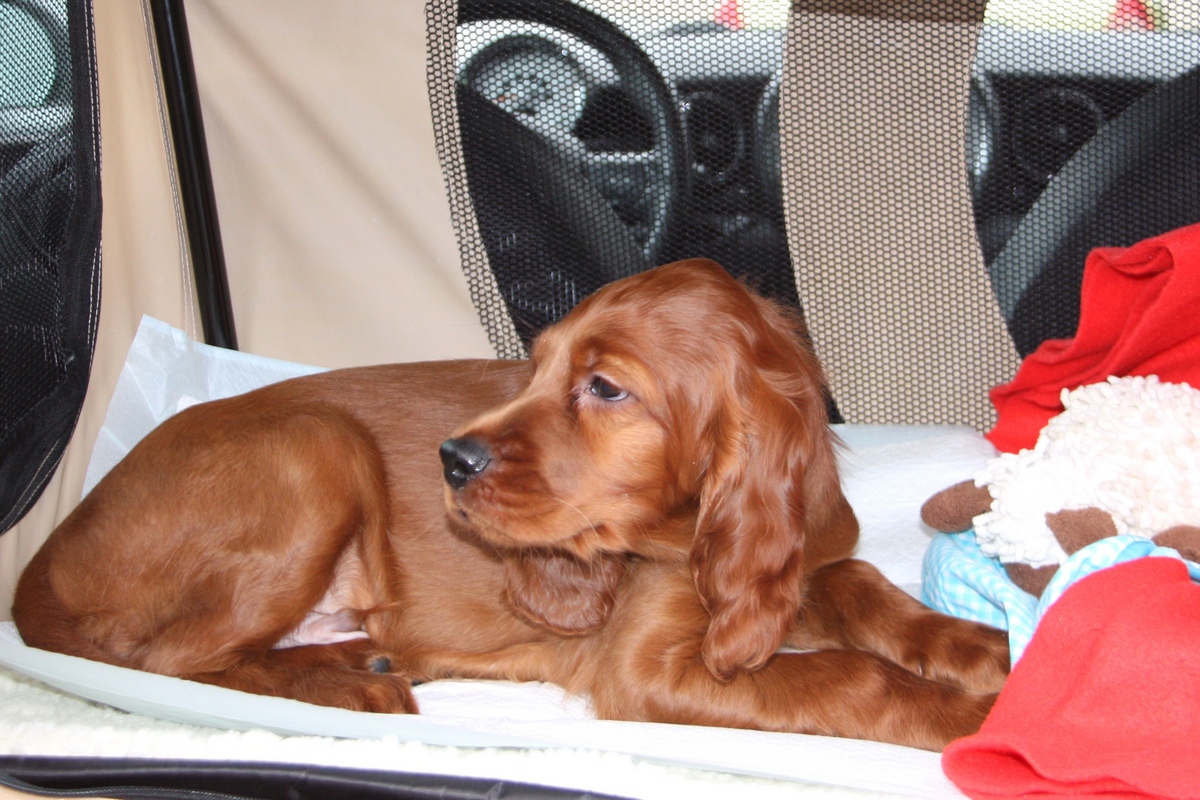 February 1, 2016, 9 weeks and 4 days old (10th week)
Today Flash True Scout moves to his new Family.
His new home is only a few kilometers away, in Wees with Voss family .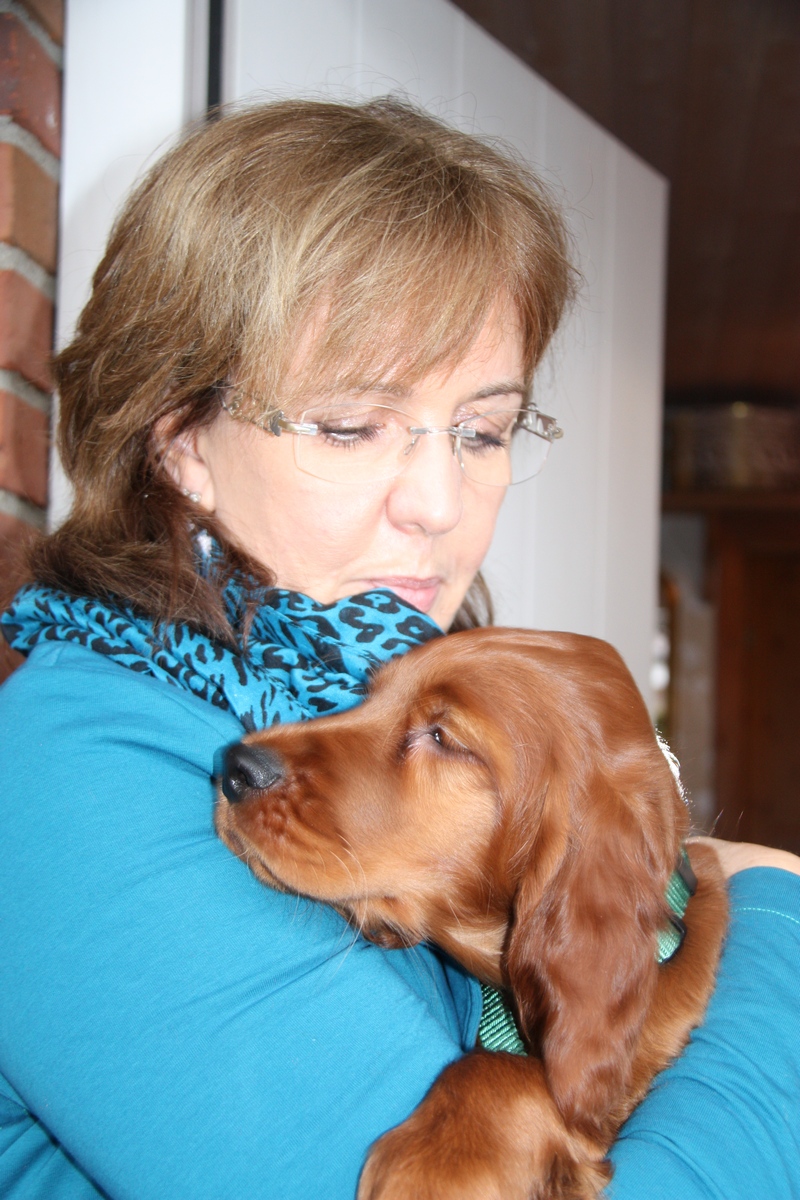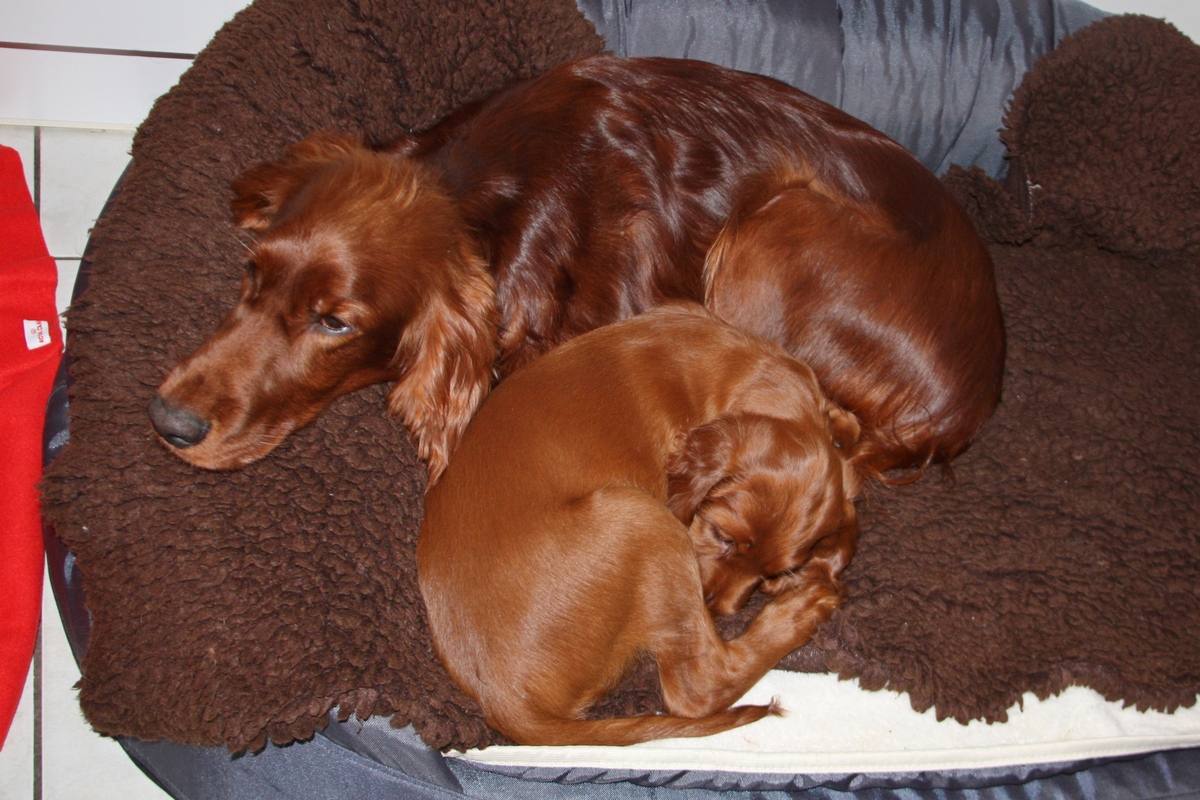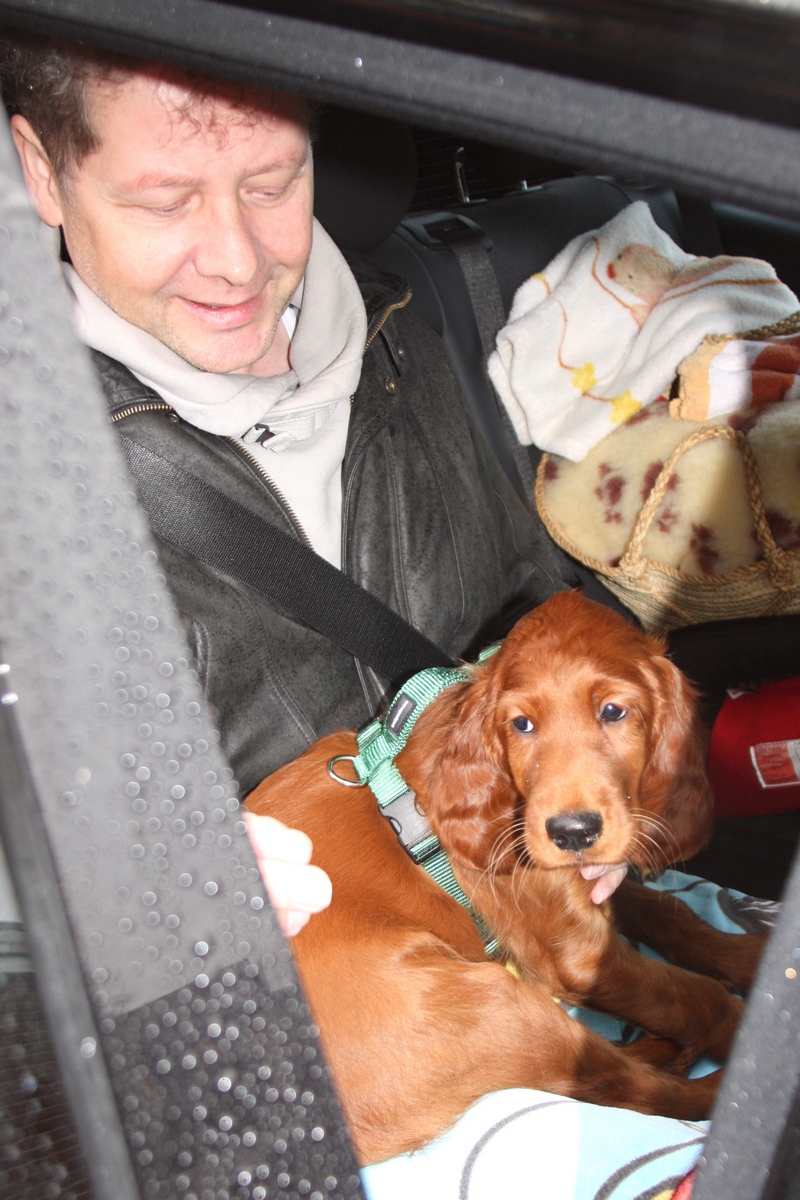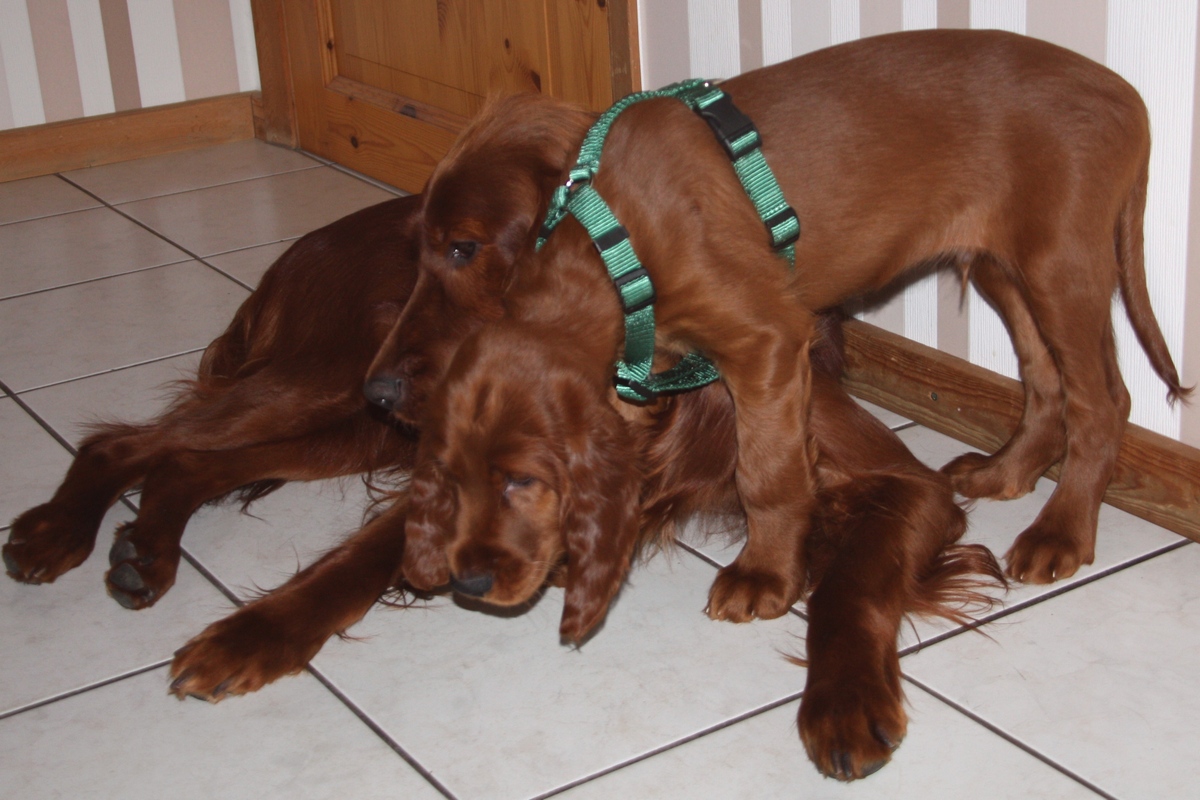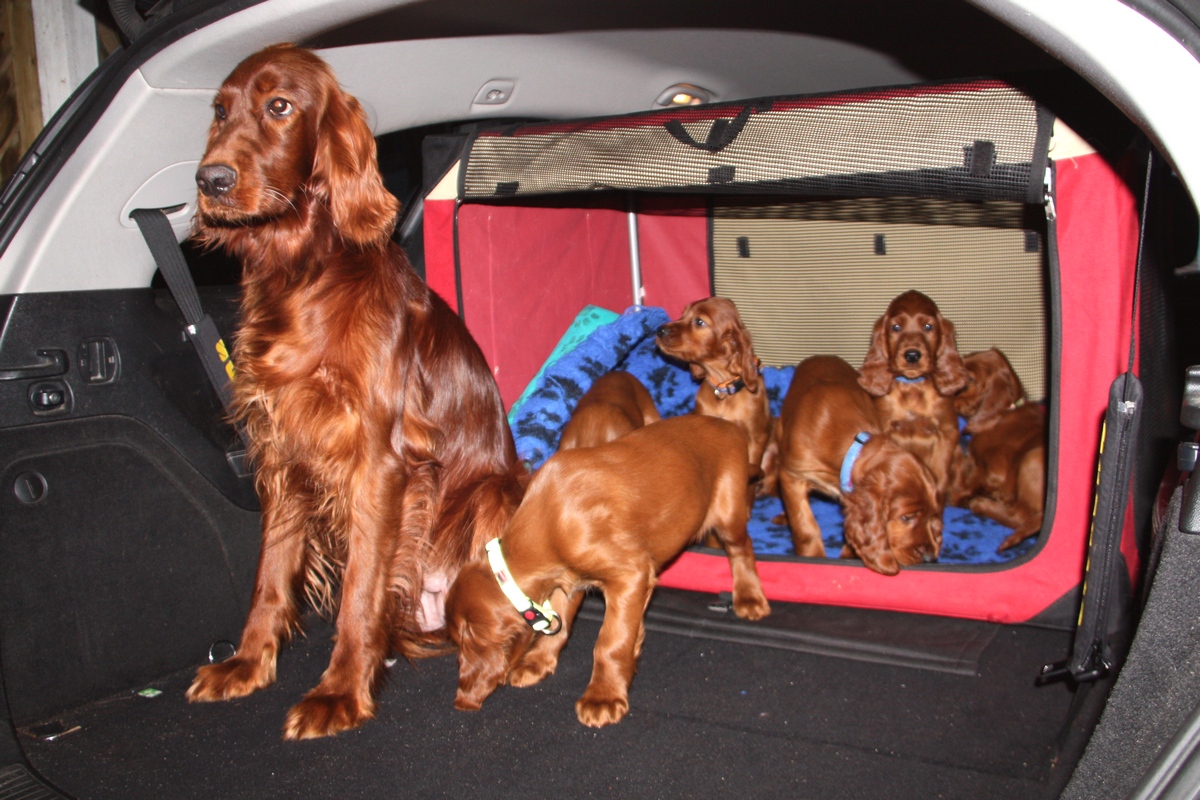 Today we had our 2nd car ride. Since it is really very cold at the time (-7 °), I"preheat" the car in beforehand, in order to make it more comfortable for the kids.

On the whole, it worked out well. They were well behaved including loading and unloading and there was very little "whining" only at the end of the 20 minute trip.

Except for one puppy all have persevered bravely. They did not tell me who once again passed his fodder through the head.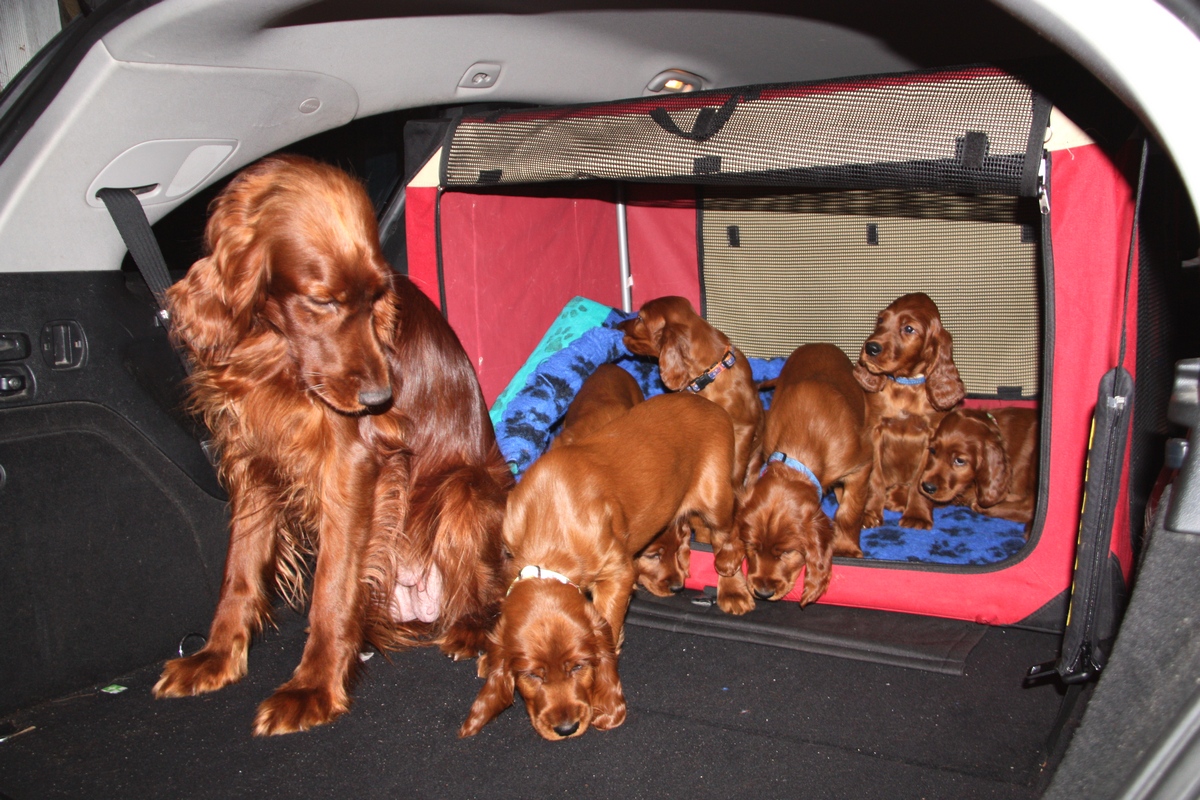 f.L.t.R.: Diva with Farell, Faible, Flash, Finlay und Feeeny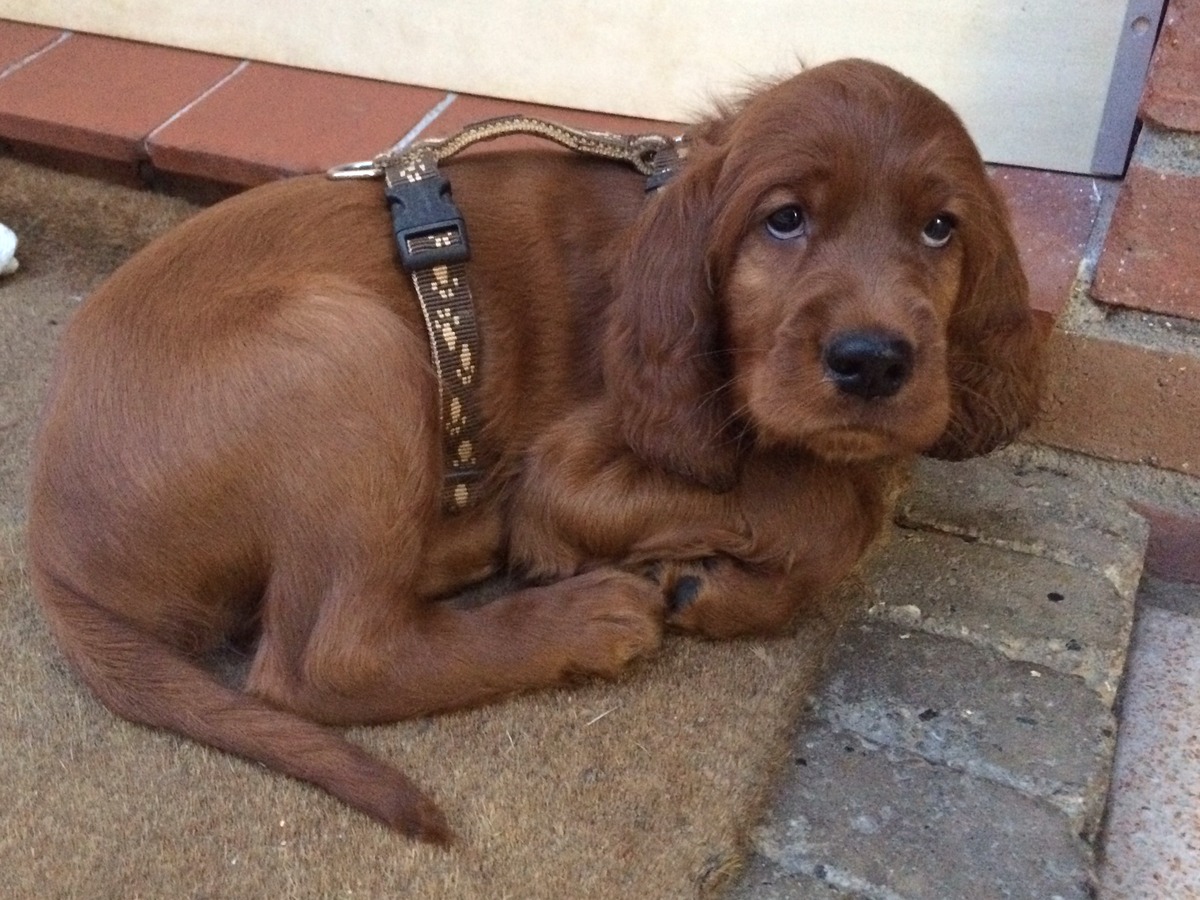 In between one after another was "allowed" to practice wearing a harness.
As you can see, Finlay was initially very "unhappy", but in the game you forget it very quickly.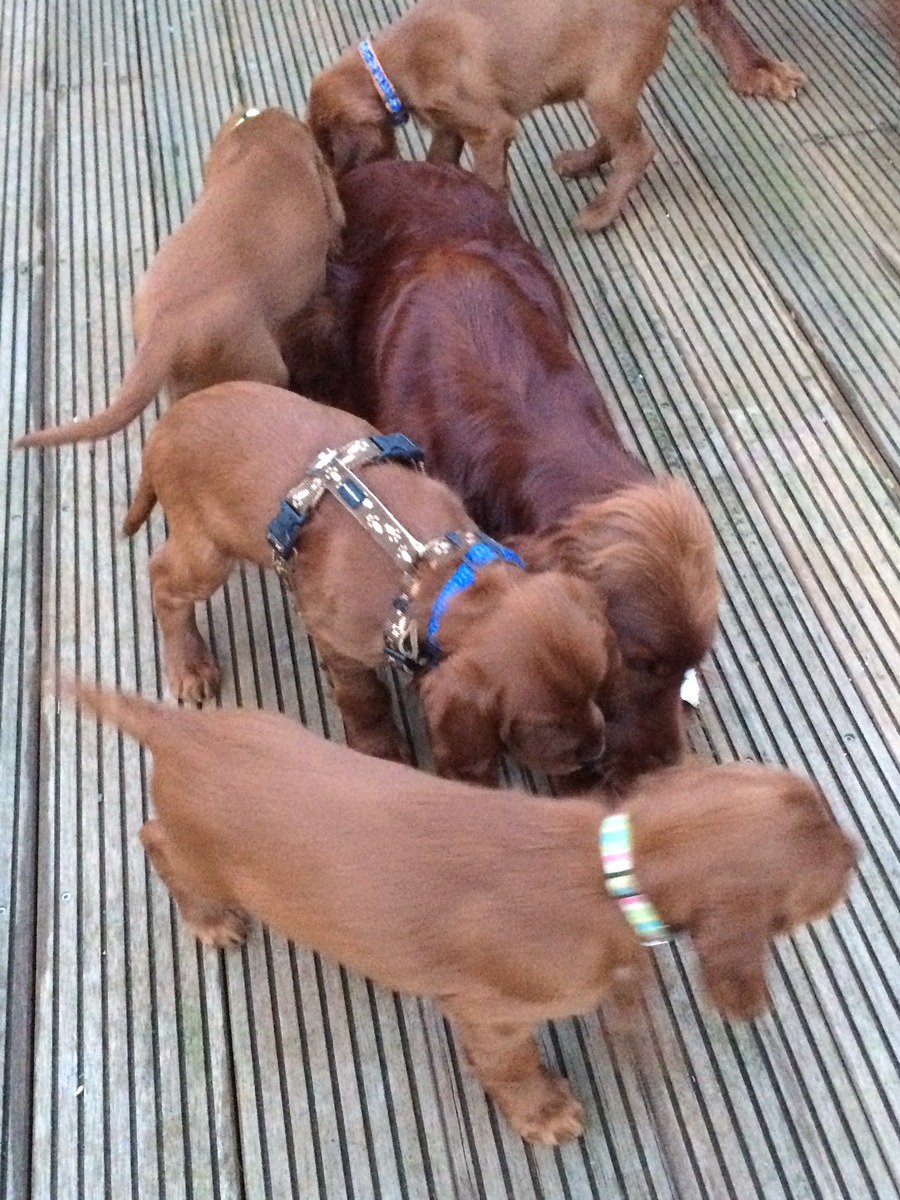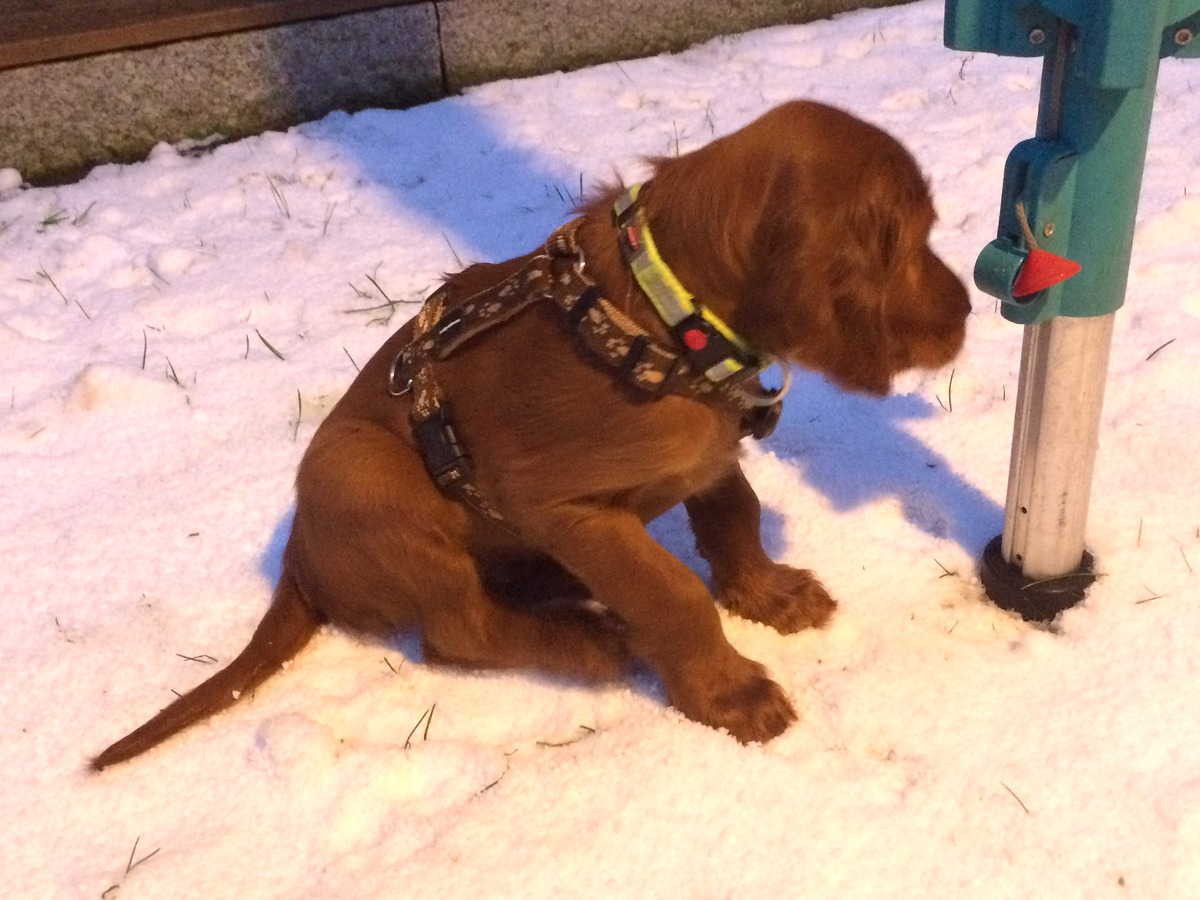 Before litter control at the vet (tomorrow) all must on the scales again . This works best when they are completely overslept.

NO ONE voluntarily wanted out of the bowl again - it was apparently soooo beautiful cozy and cuddly.

Again Febe was allowed to serve as a model. :-))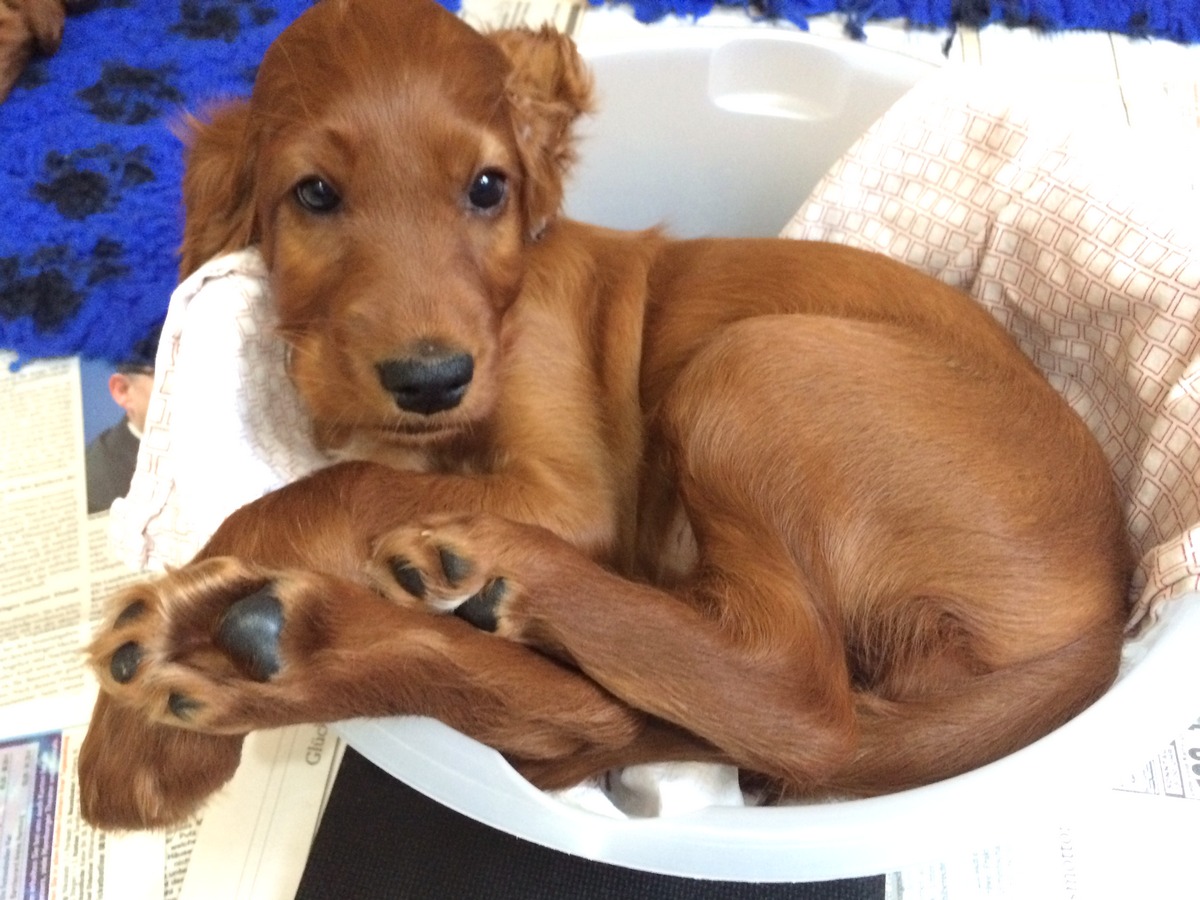 January 27,2016, 8 weeks and 6 days old (9th week
Febe and Flash: Reading newspaper is really exhausting. :-))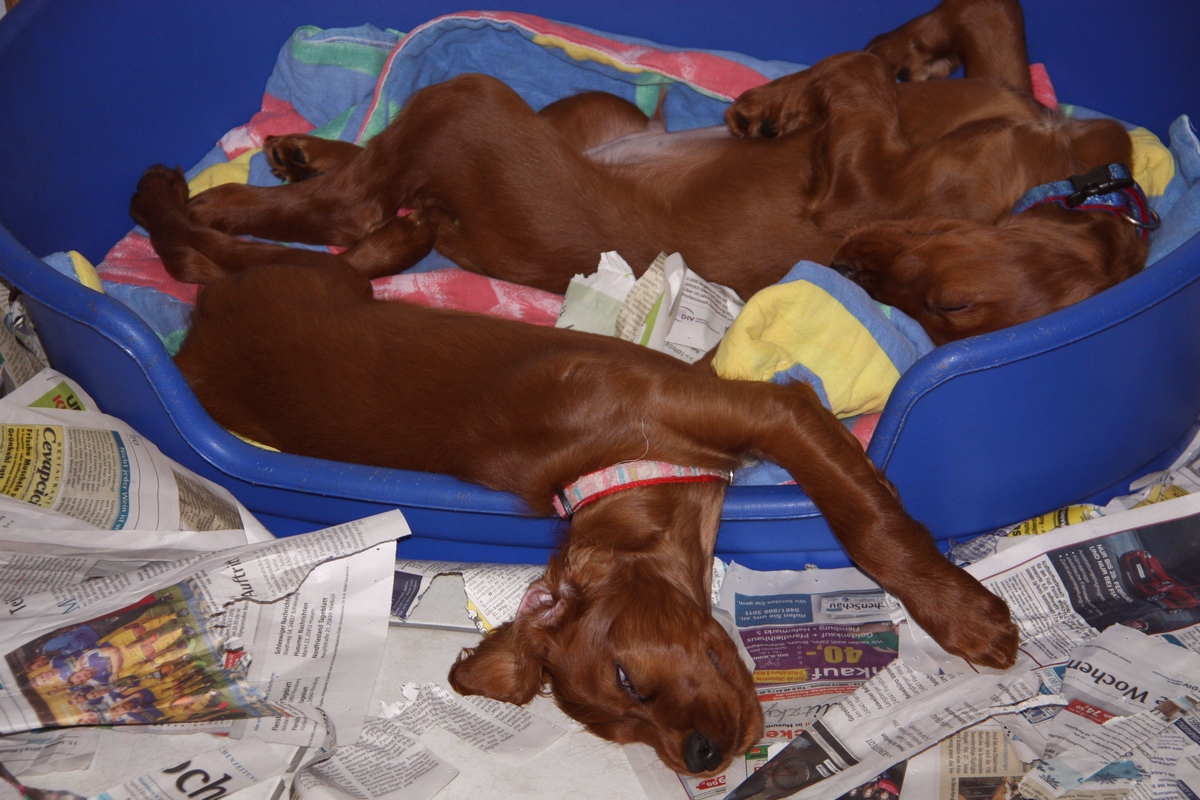 Today two puppies will move to their new families.
Finlay Skywalker moved to Eggers family in Lentföhrden.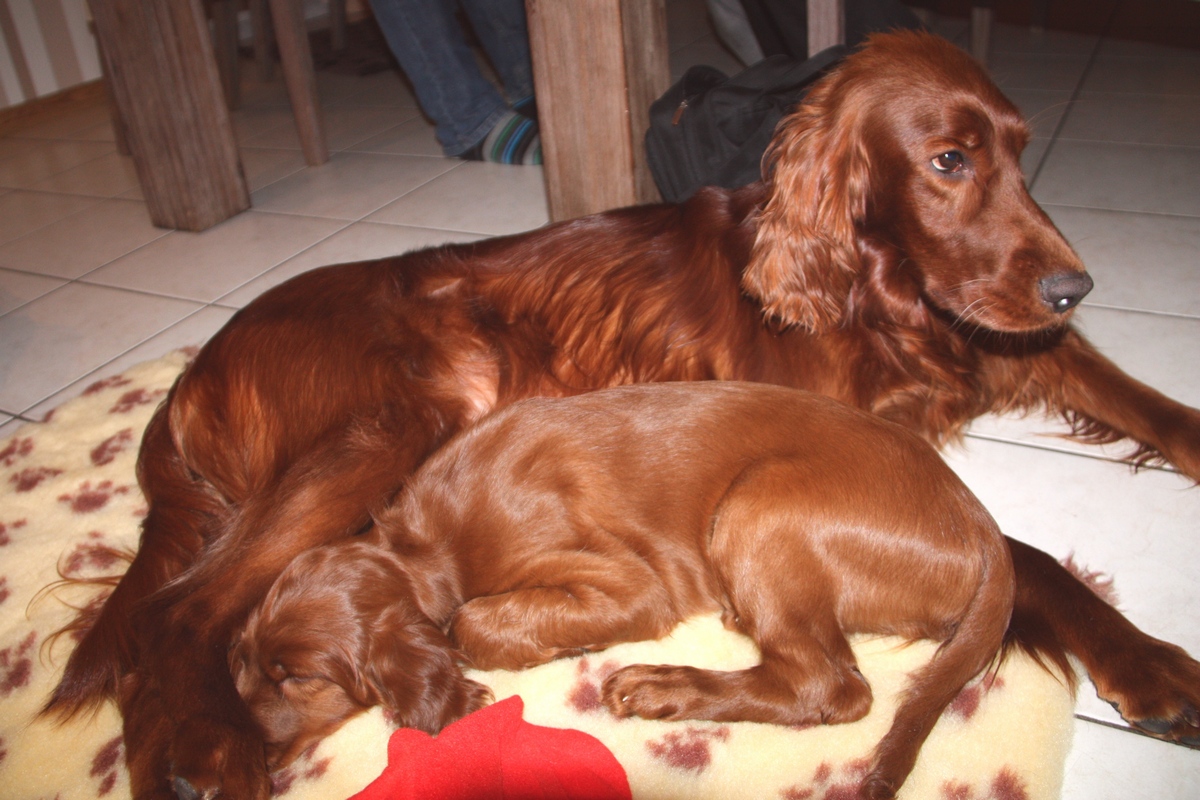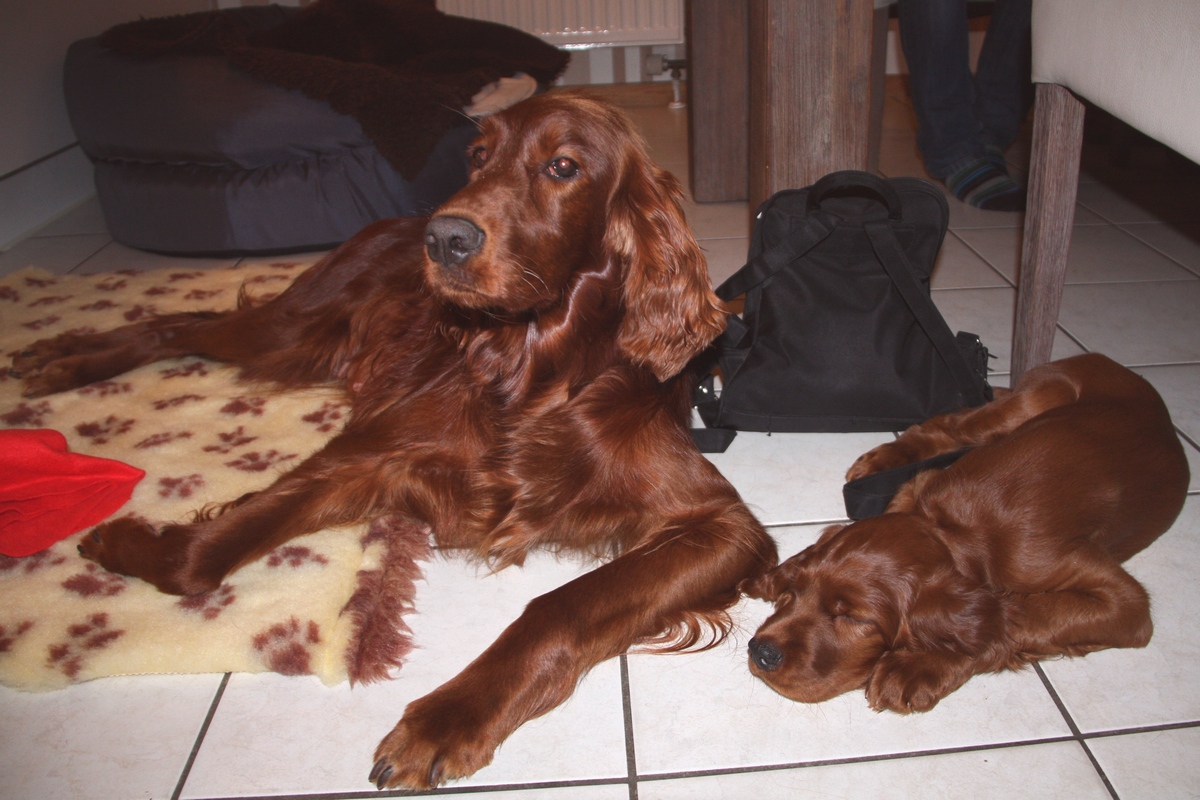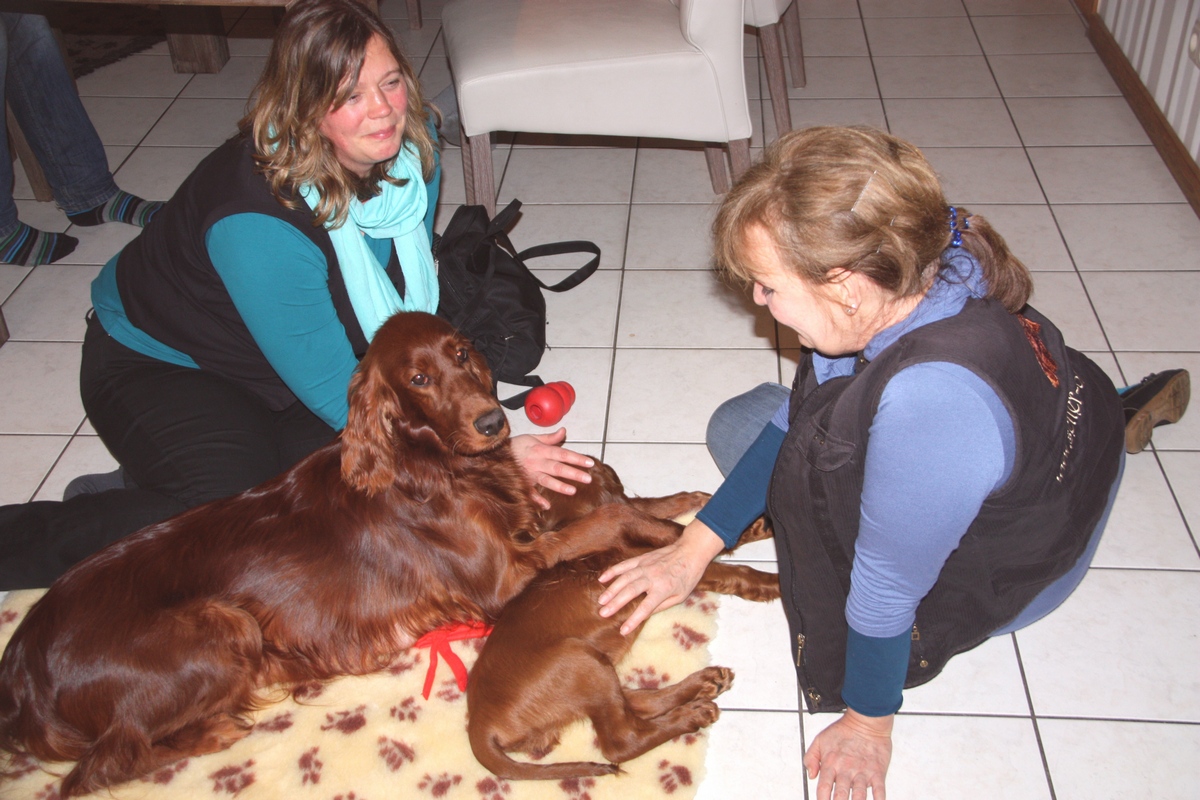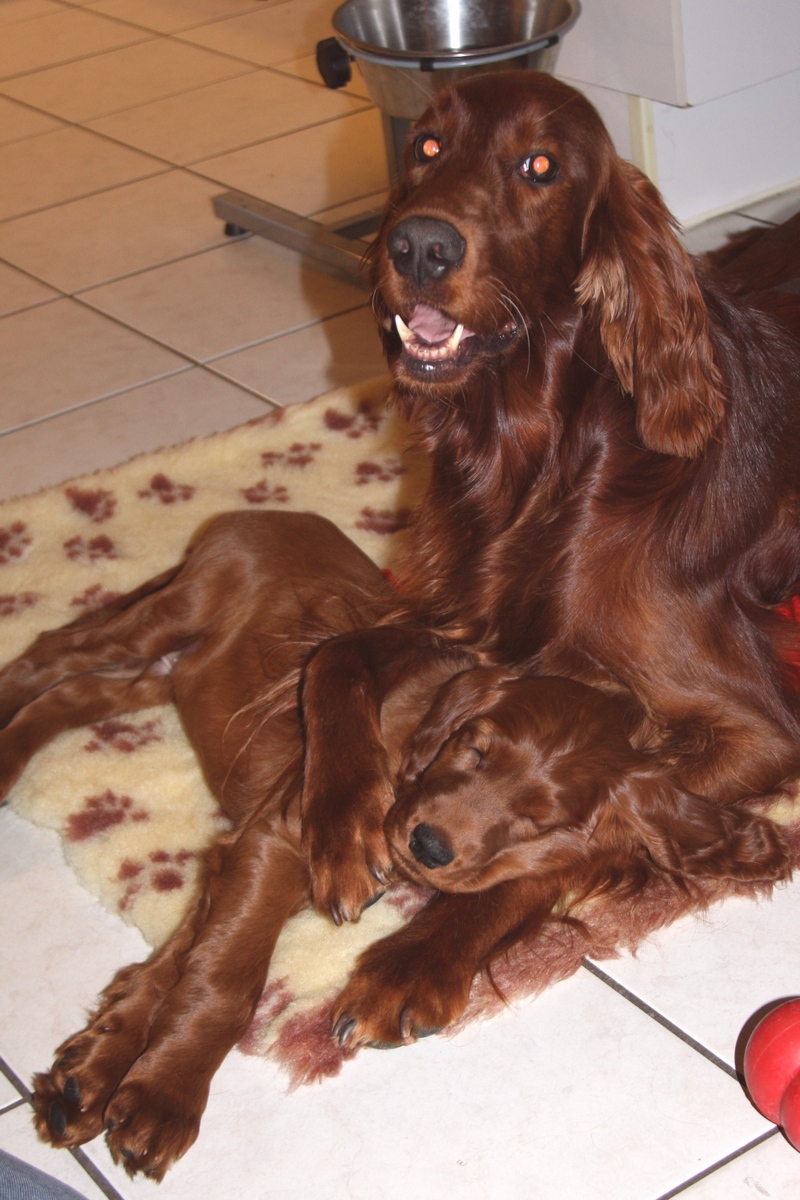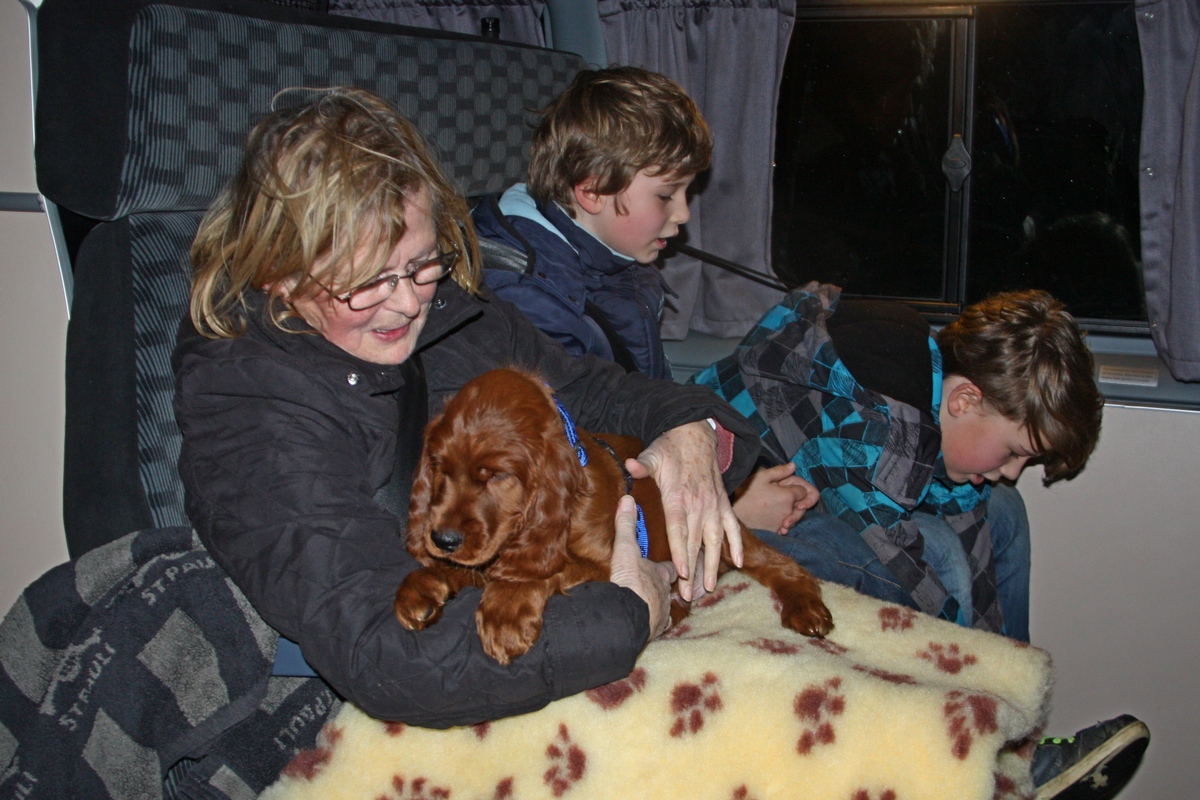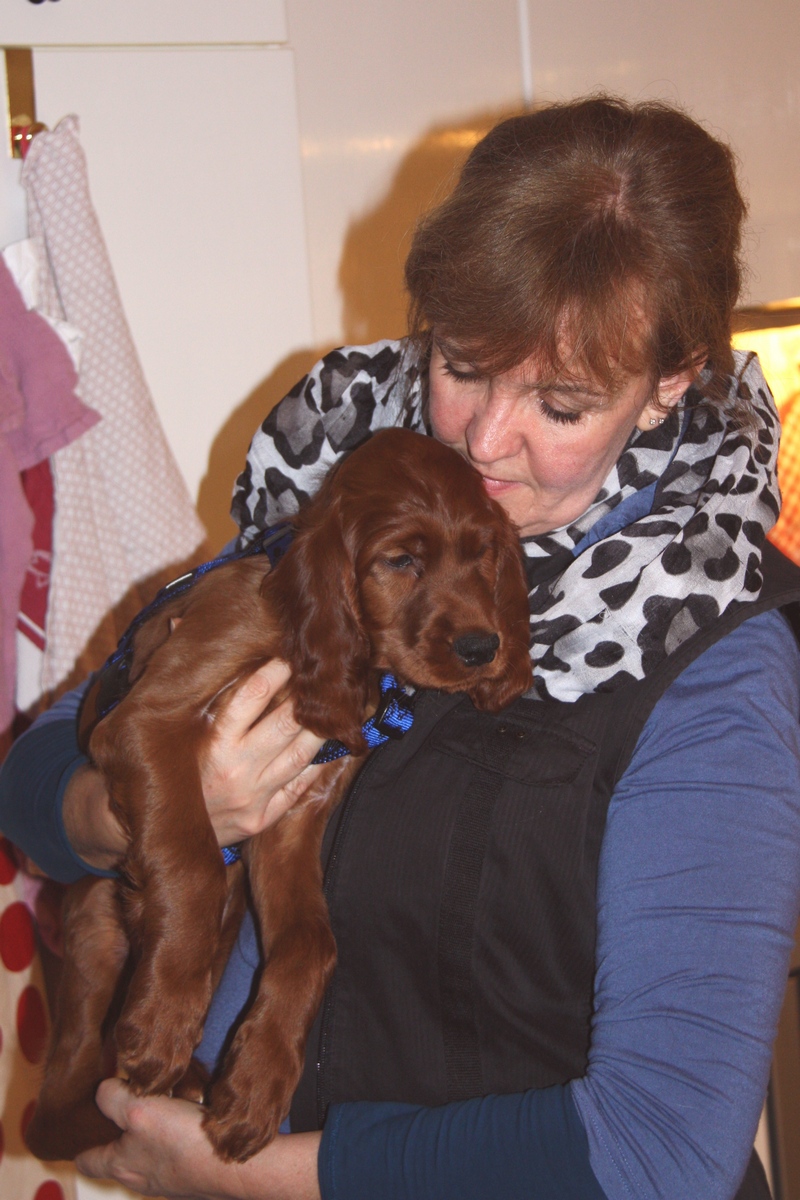 Febe Timeless Beauty moved to Mac-Siepowicz family in Norderstedt.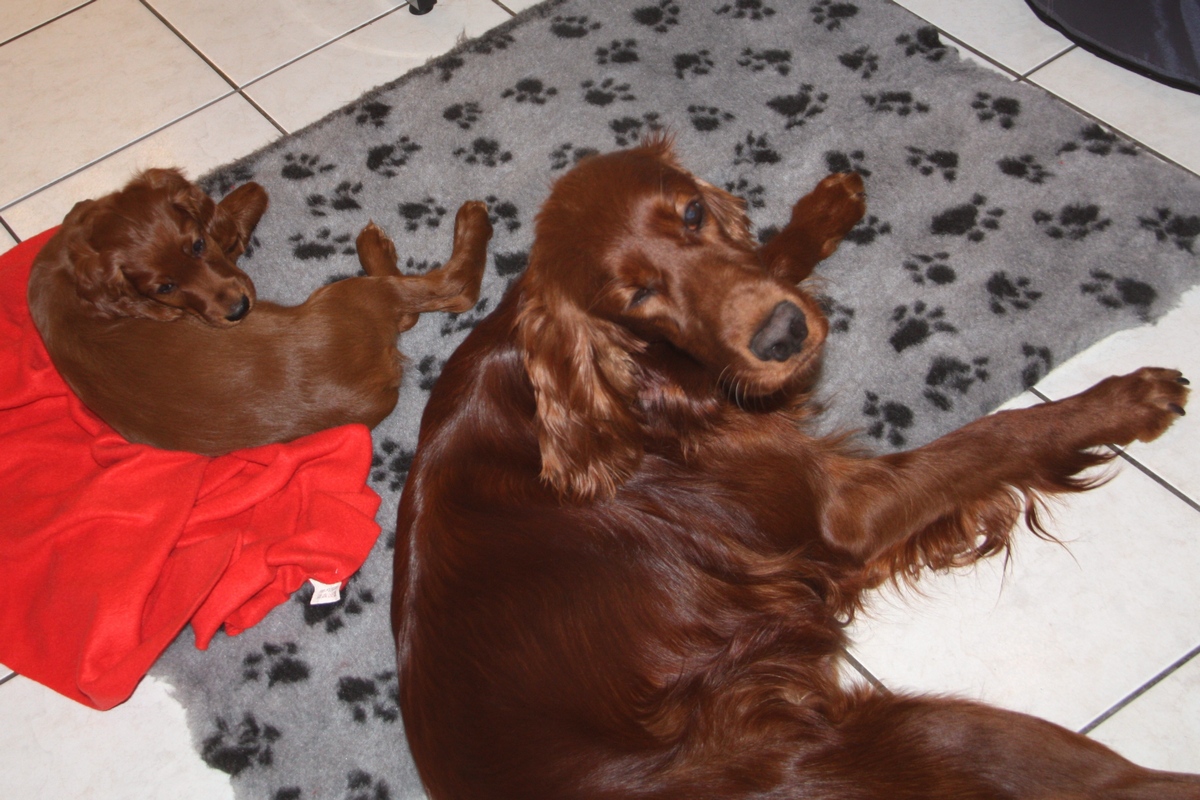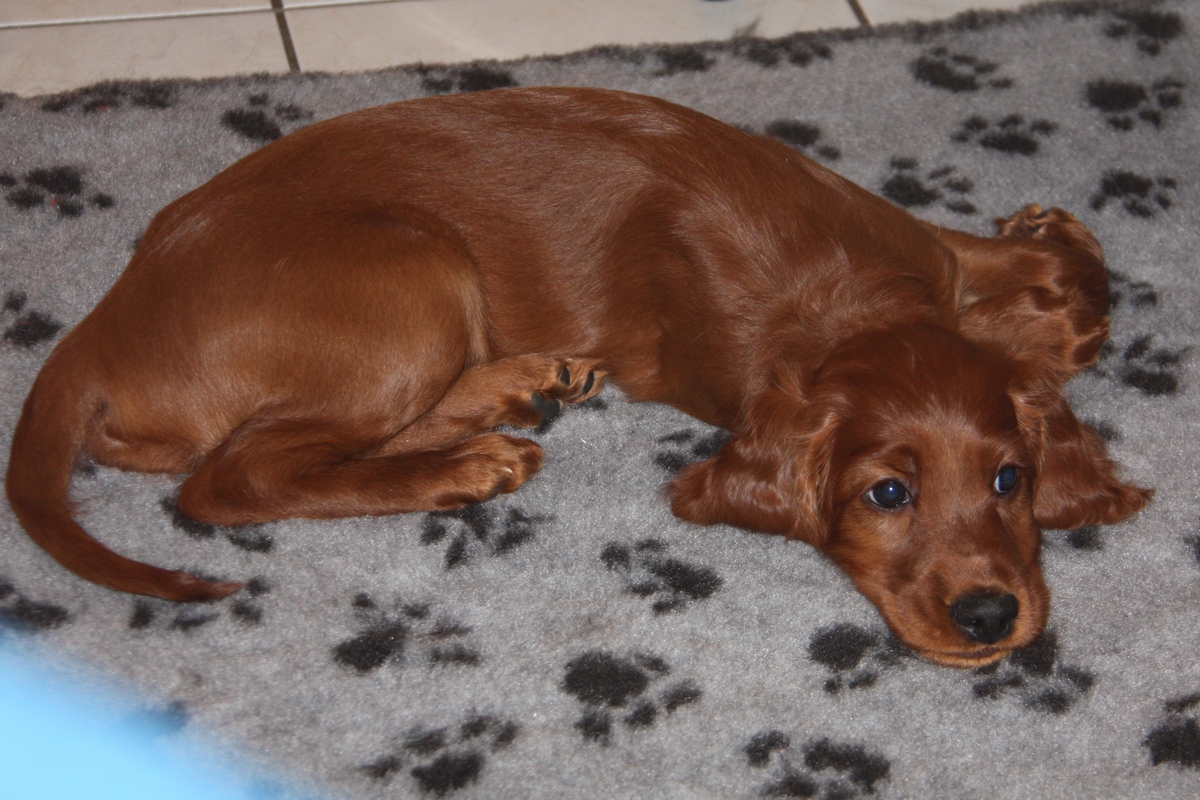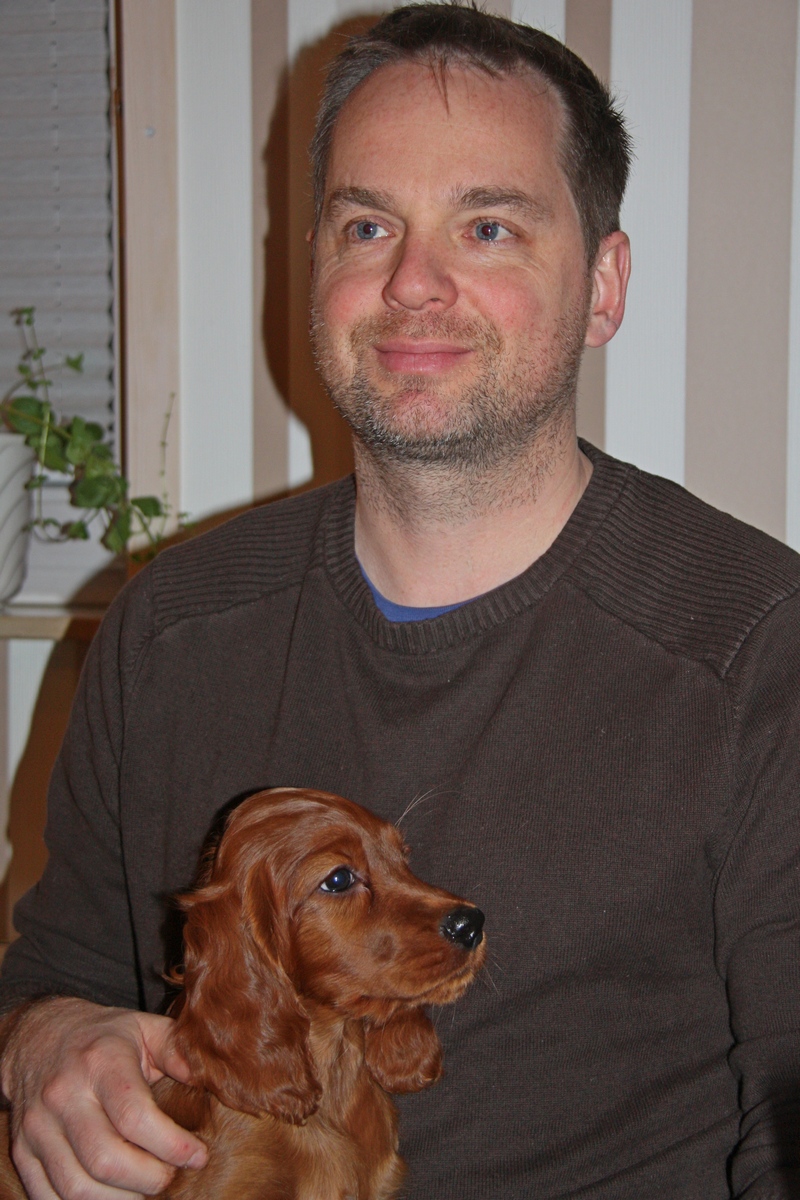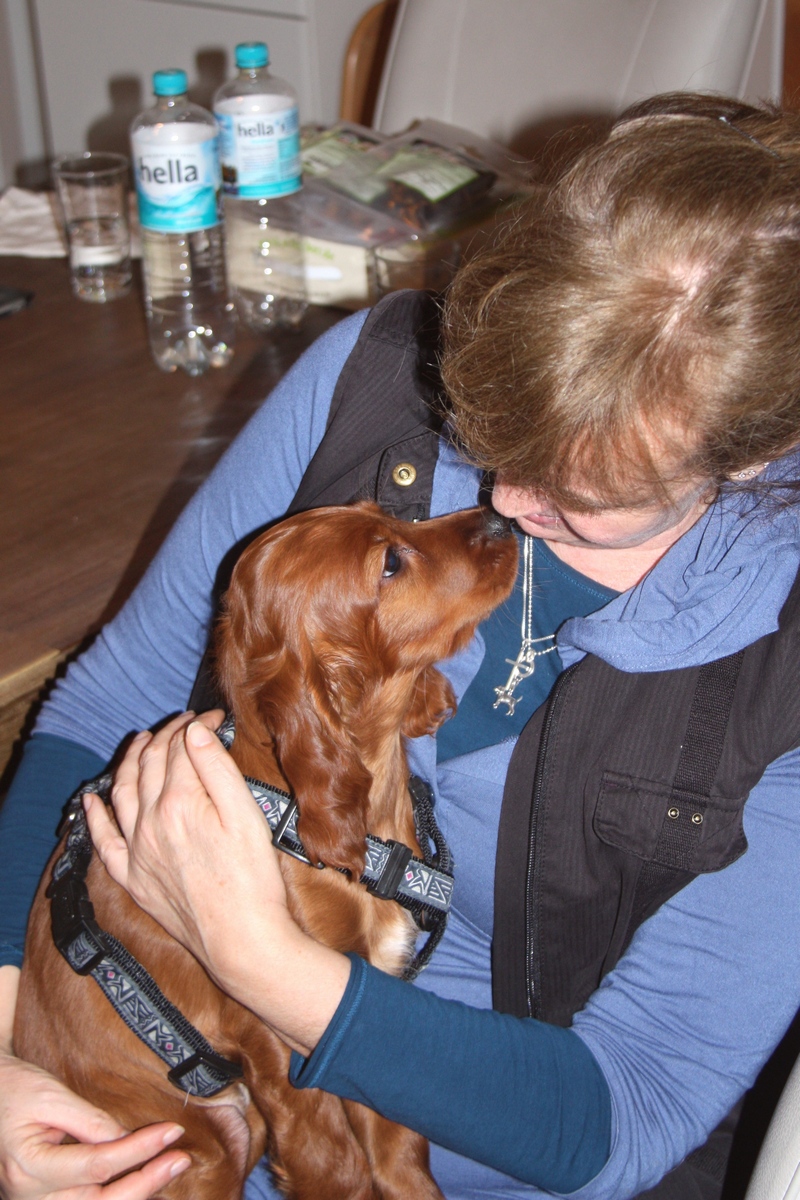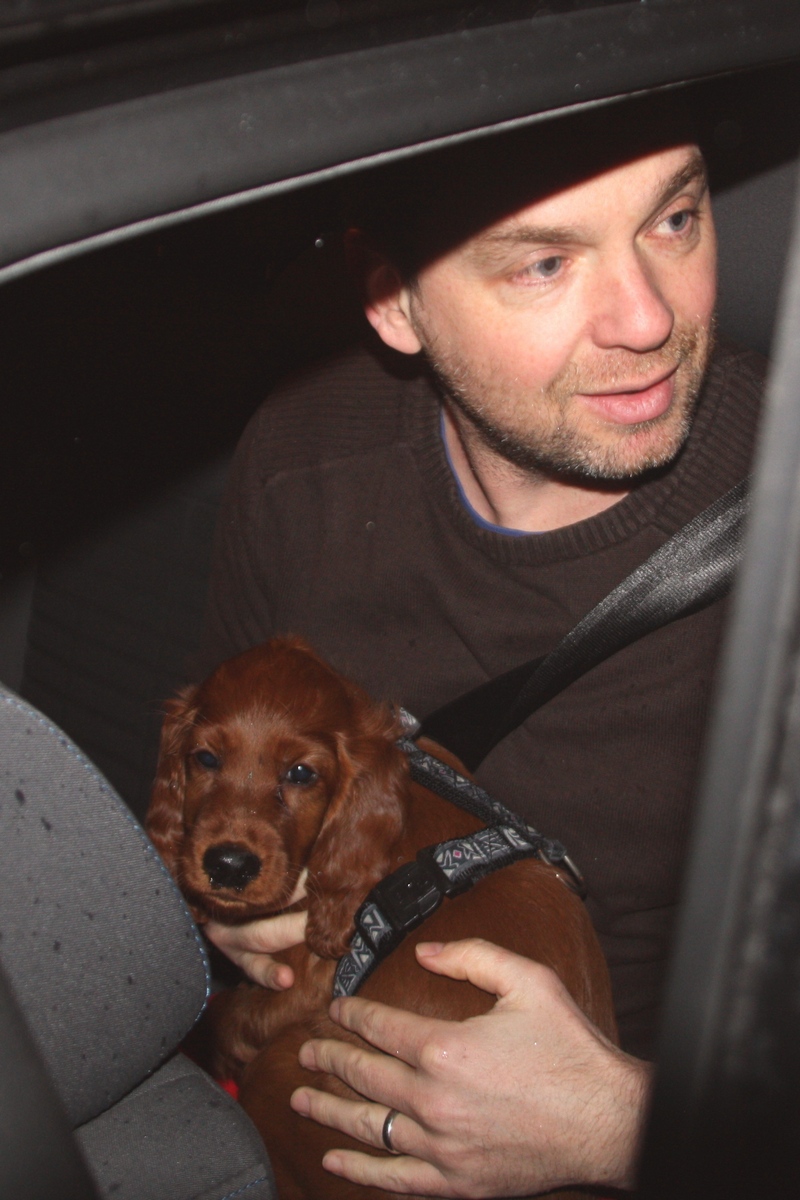 From both families has been reported that the little ones have survived the trip very well and quiet and, above all, have not necessarily passed.. :-))
January 31, 2016, 9 weeks and 3 days old (10th week)
25. March 2014, 8 week and 3 days old (9th week)
January 21, 2016, 8 weeks old (9th week)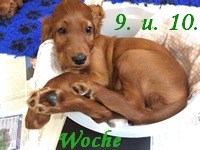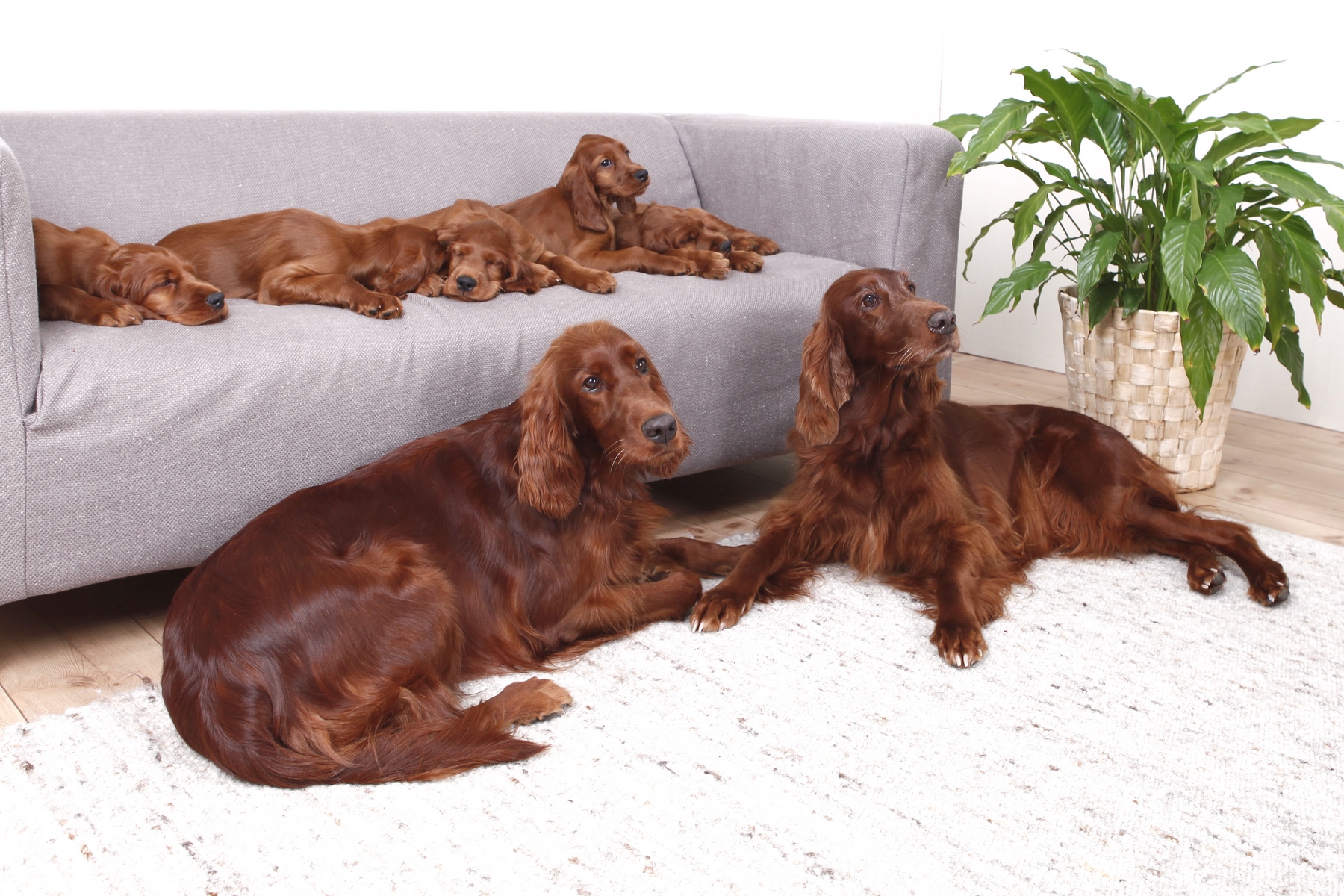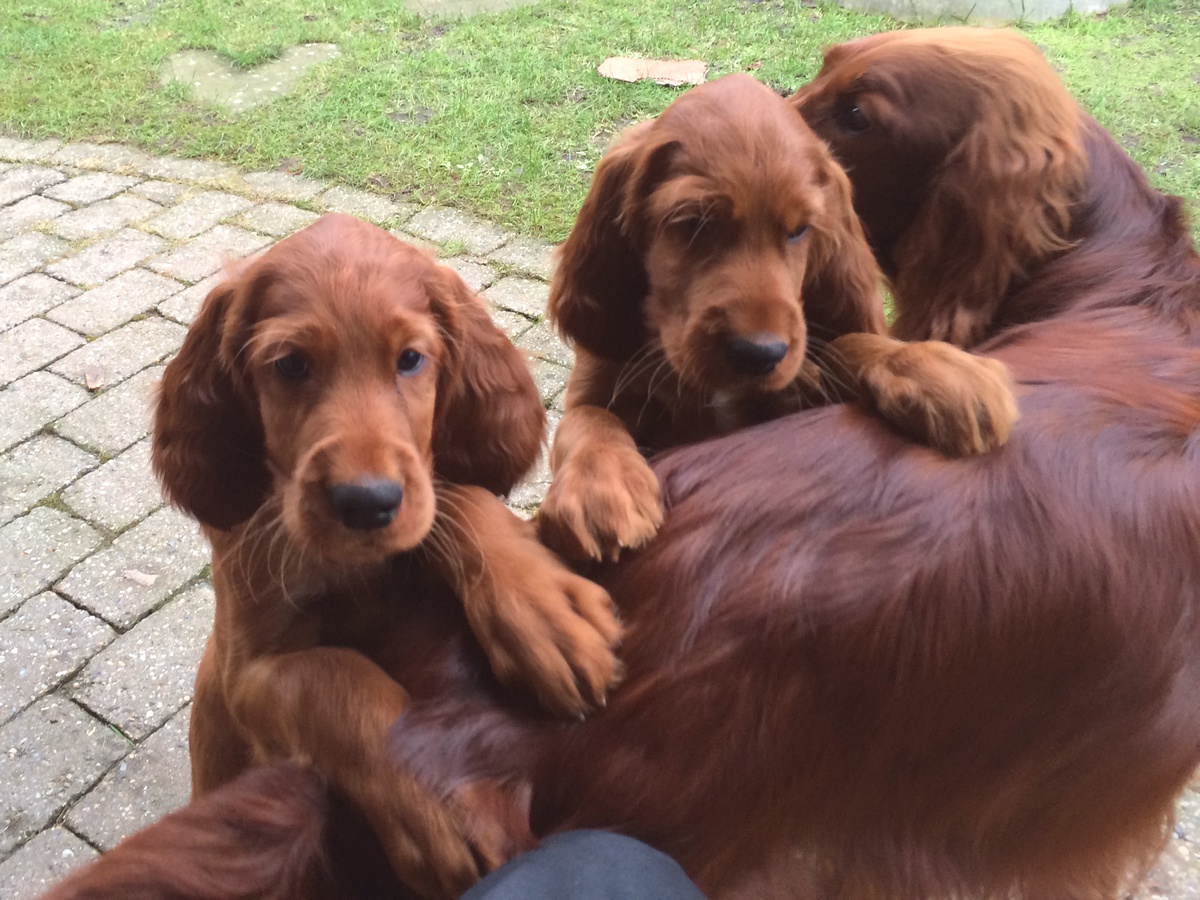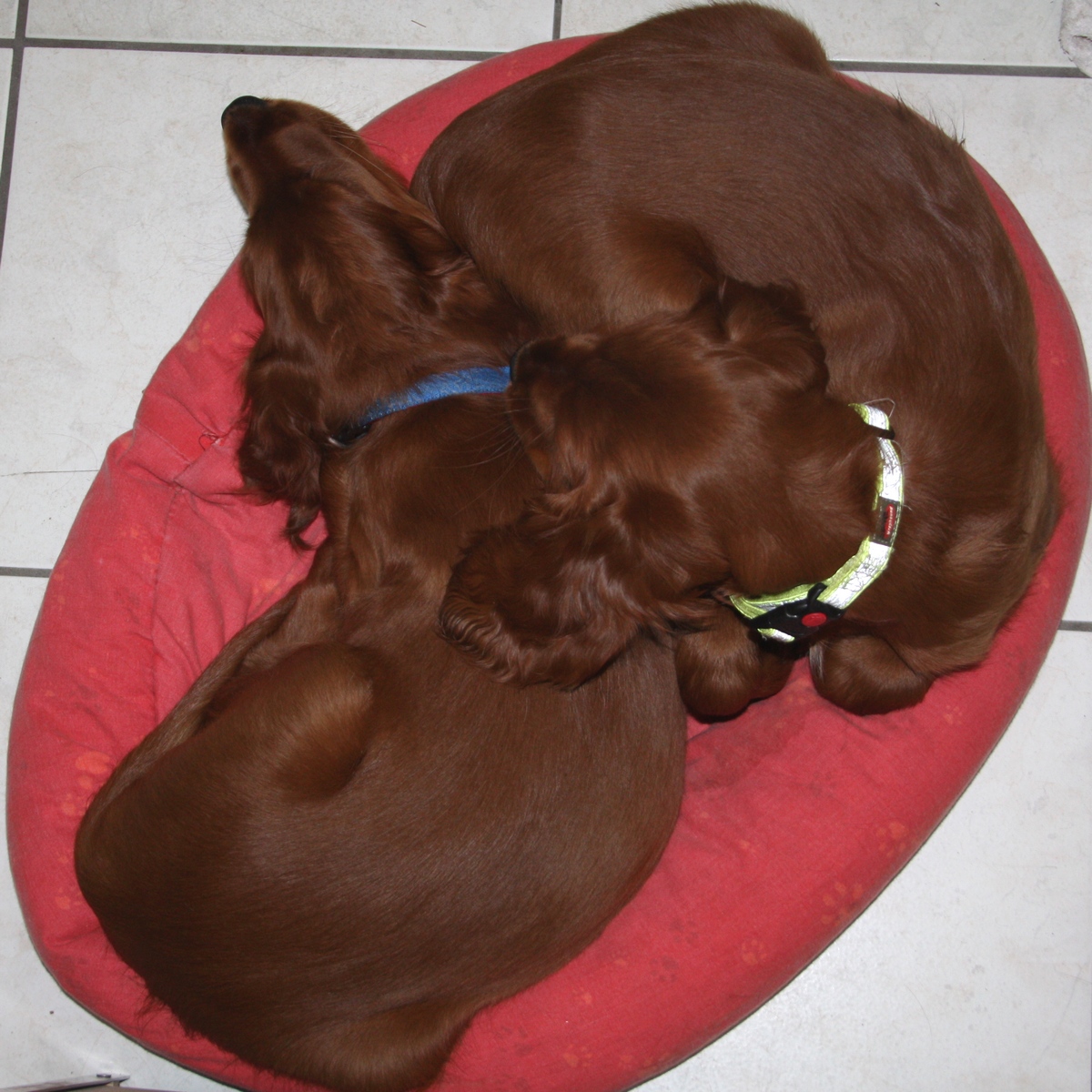 January 26, 2016, 8 weeks and 5 days old (9th week)
Today Diva gives everything. Especially for Febe. Once again today it is her "turn" :-))
Nun beginnt das (für uns) "traurige" Kapitel der Welpenaufzucht. Heute zieht die erste kleine Fellnase bei ihrer neuen Familie ein.
Feeny Rough Diamond of Lionhill hat einen nur sehr kurzen Weg, sie zieht zu Tanja Johannsen noch Flensburg in den
Oluf-Samson-Gang.
Sie wird dort in der Goldschmiede Tanja Johannsen zukünftig für eine noch angenehmere Atmosphäre sorgen.
January 22, 2016 8 weeks and 1 day old (9th week)
Vet visit
Today was a very exciting day.
We have had the big investigation with vaccinating and chipping at the vet.
On the 25-km ride some became so bad that they had to vomit.
Then the entire investigation. That was still ok but in the end two times poke too much.
In between, there was some distraction by quite tasty snacking.
The return trip was as exciting and "productive" as the outward journey.
After this excitement and exertion were all completely exhausted until late evening.
littered:
November 26, 2015