Those who say, that fortune can not be bought, have not realized, that puppies exist.
F-Litter
ex:
Diva Sugar and Spice of Lionhill
by:
Even Sweeter of the Red Flash
Owner Ellen ten Brink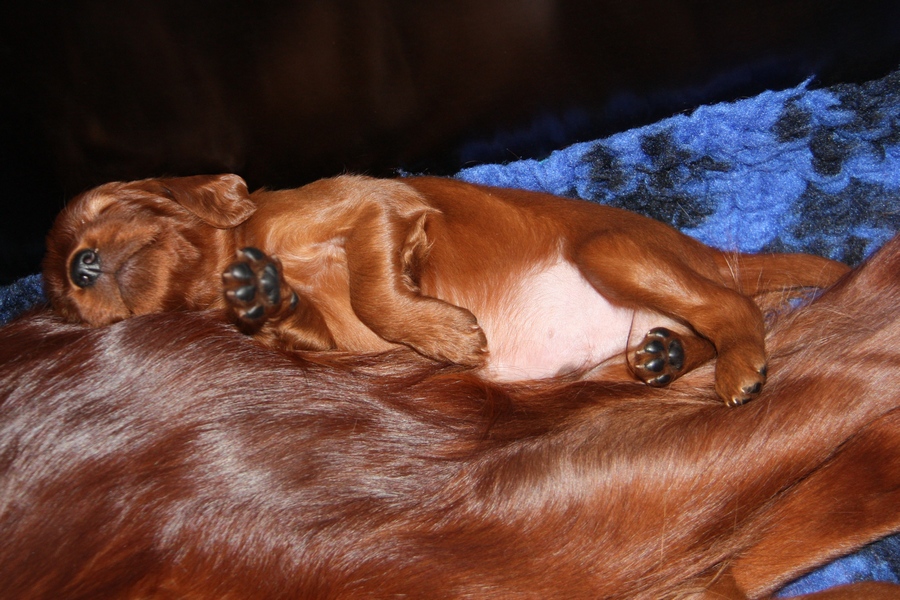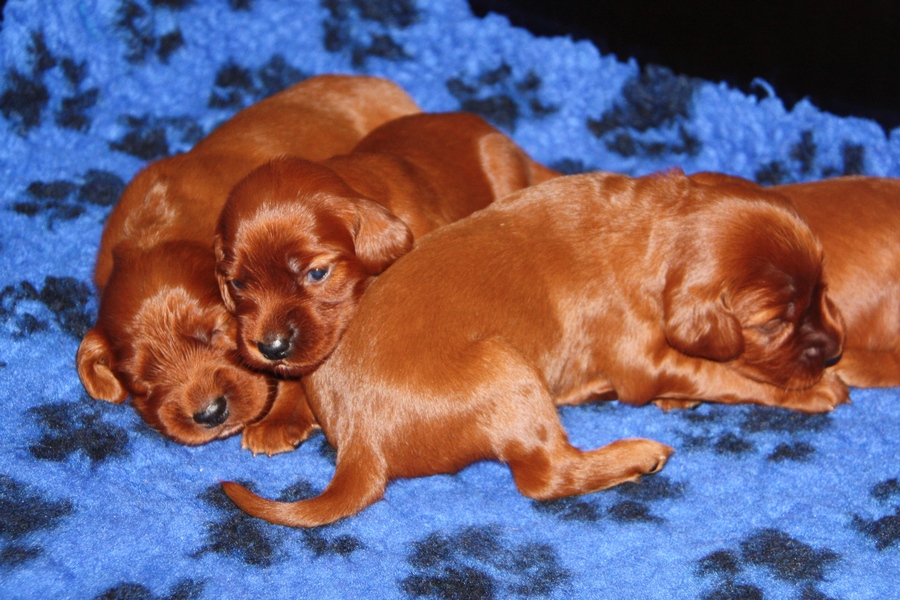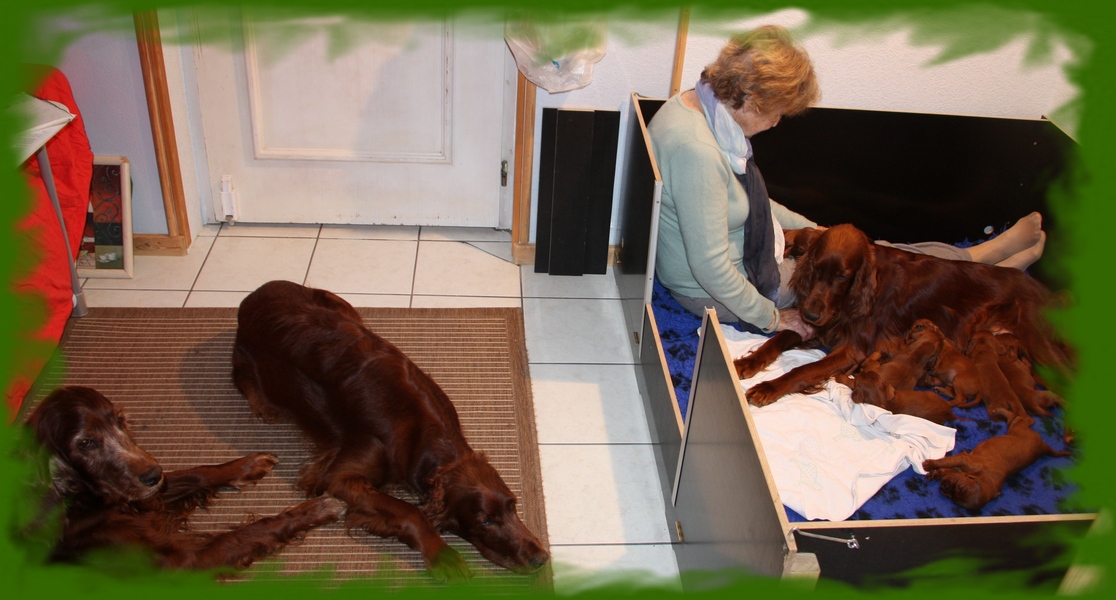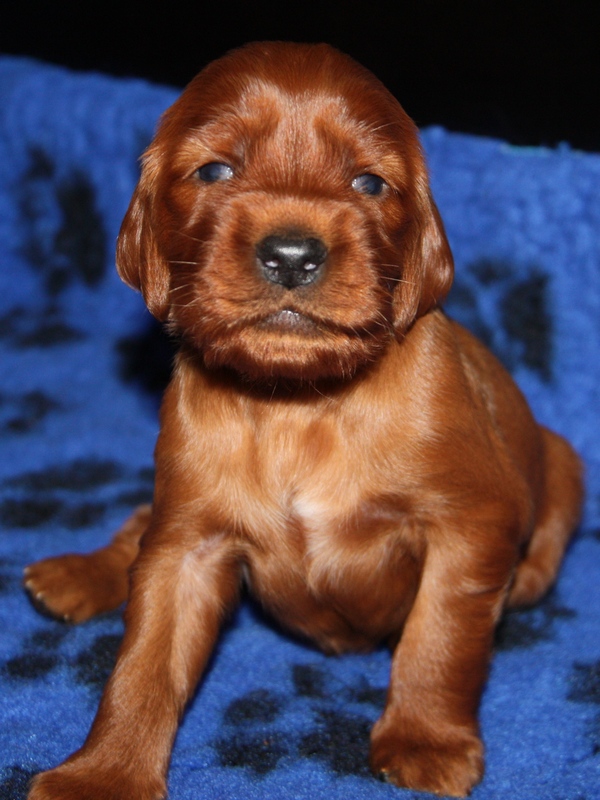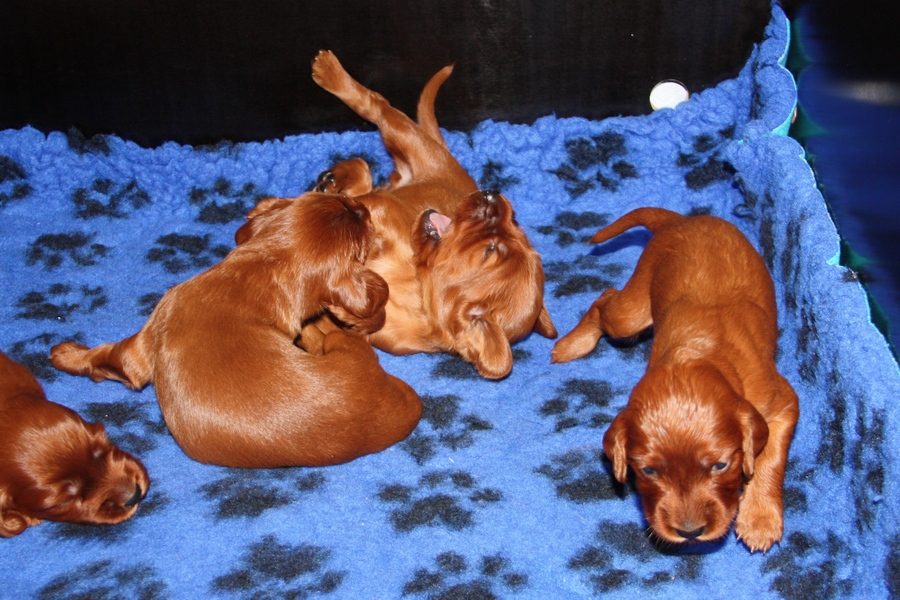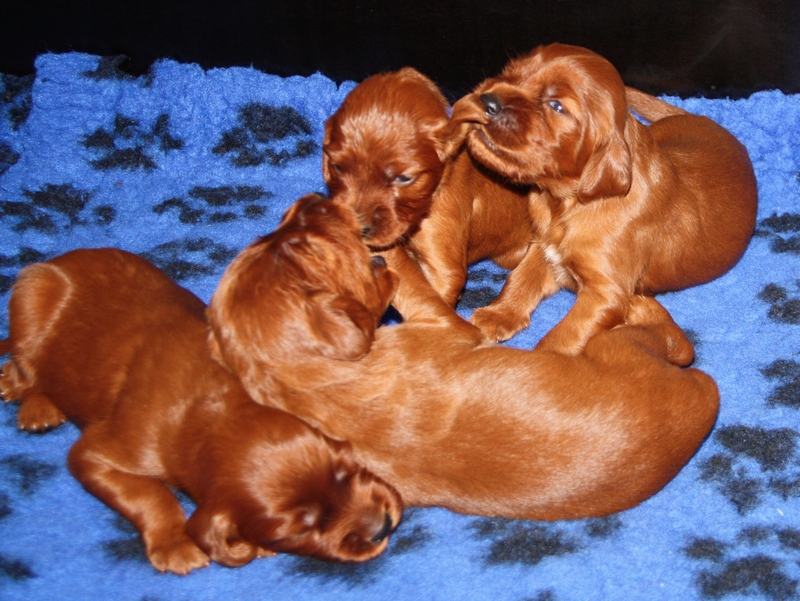 They start to play with each other, some kind of "wrestling".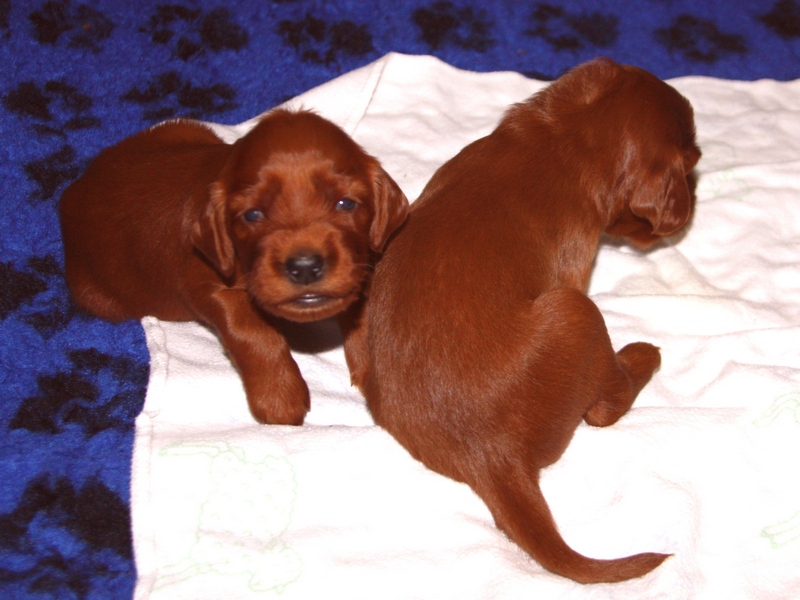 The little puppies are increasingly taking on the "outlines" of a dog.
14. Dezember 2015, 2 weeks and 4 days old
13. Dezember 2015, 2 weeks and 3 days old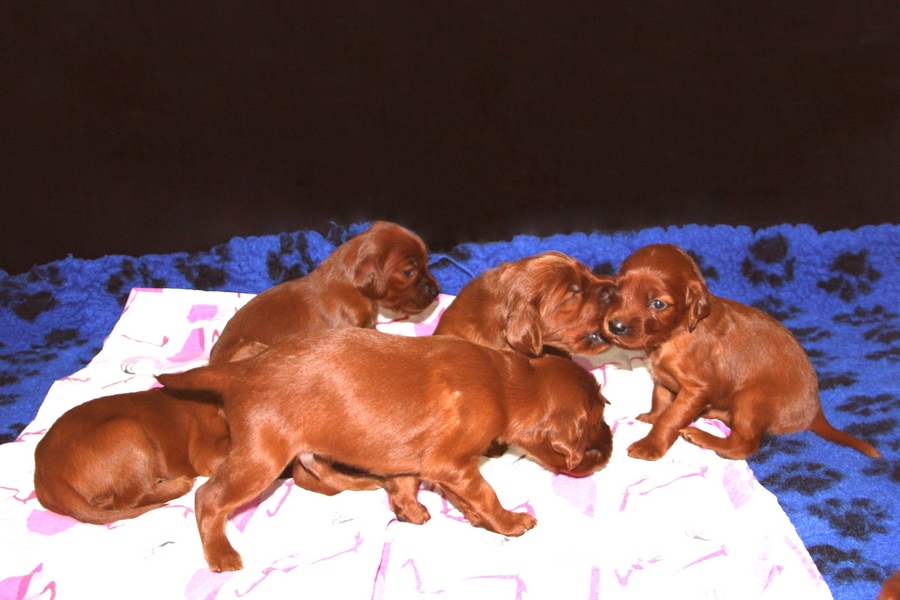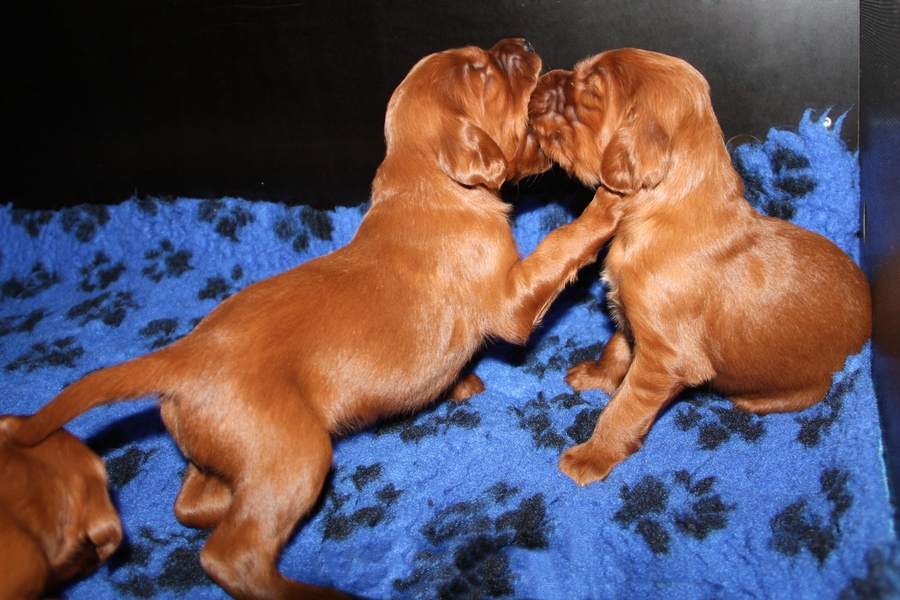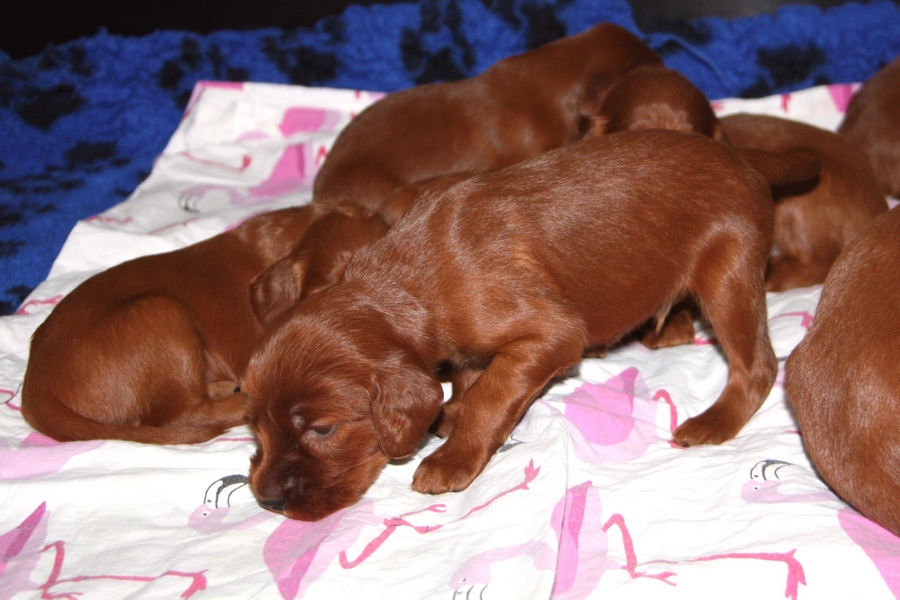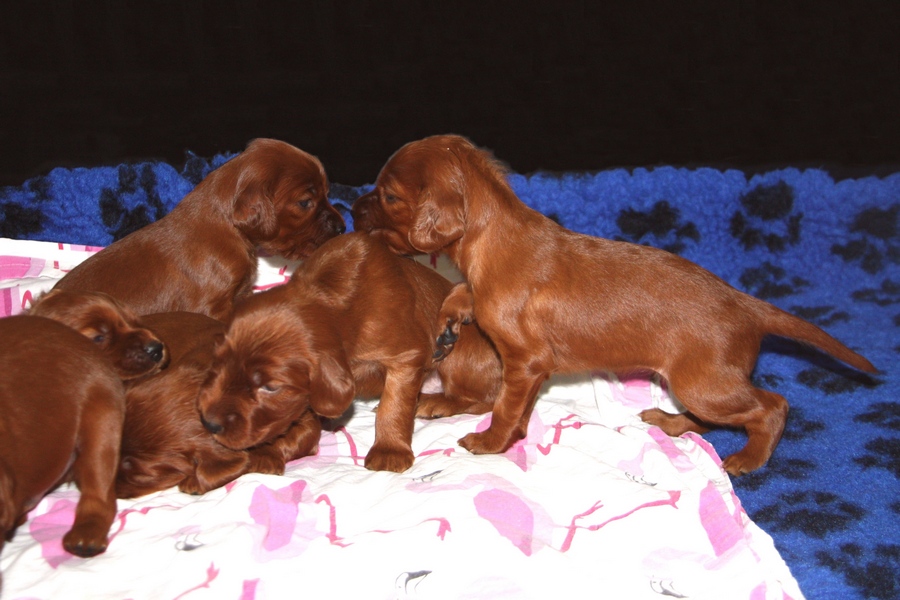 Well, who is stronger? Do we want to wrestle?
Sniff, sniff - when I grow up, I'll become a Mantrailer
15. December 2015, 2 wweks and 5 days old
16. December 2015, 2 weeks and 6 days old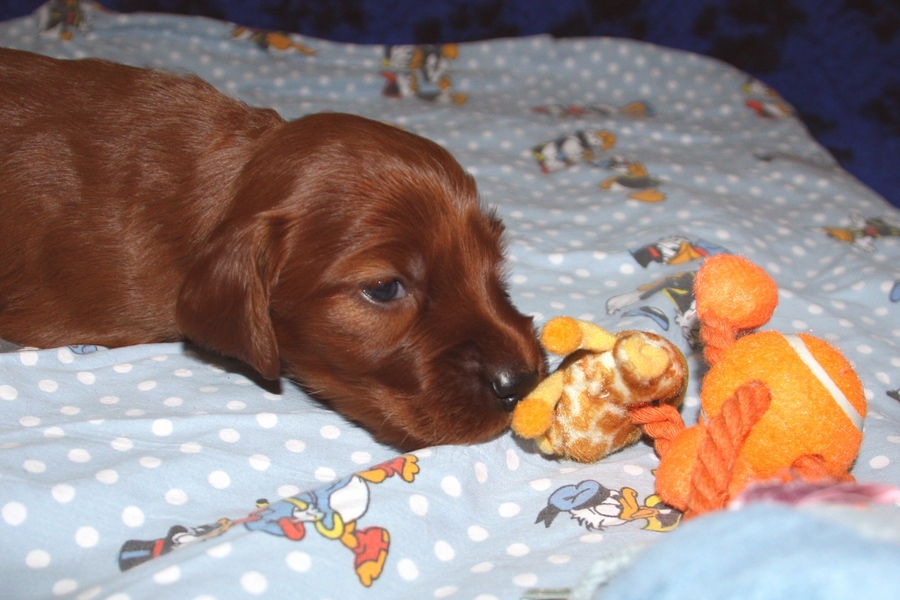 Today is the first "toy" comes into the puppy box.
At first it`s only be sniffed but allready be considered.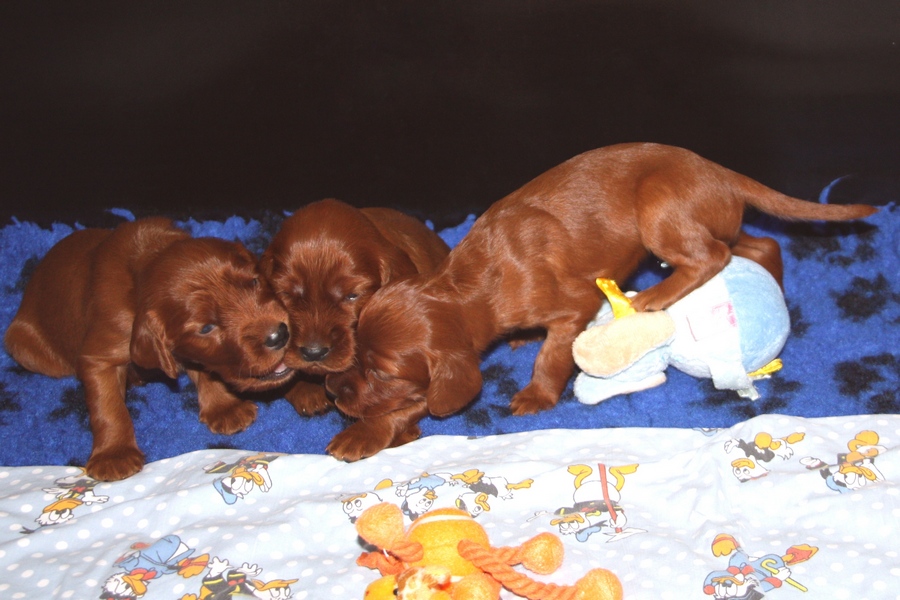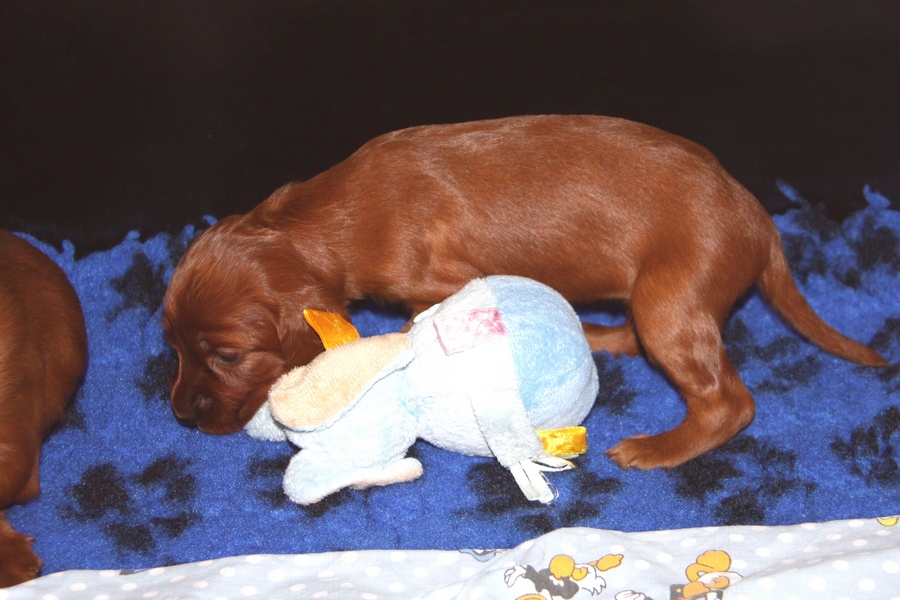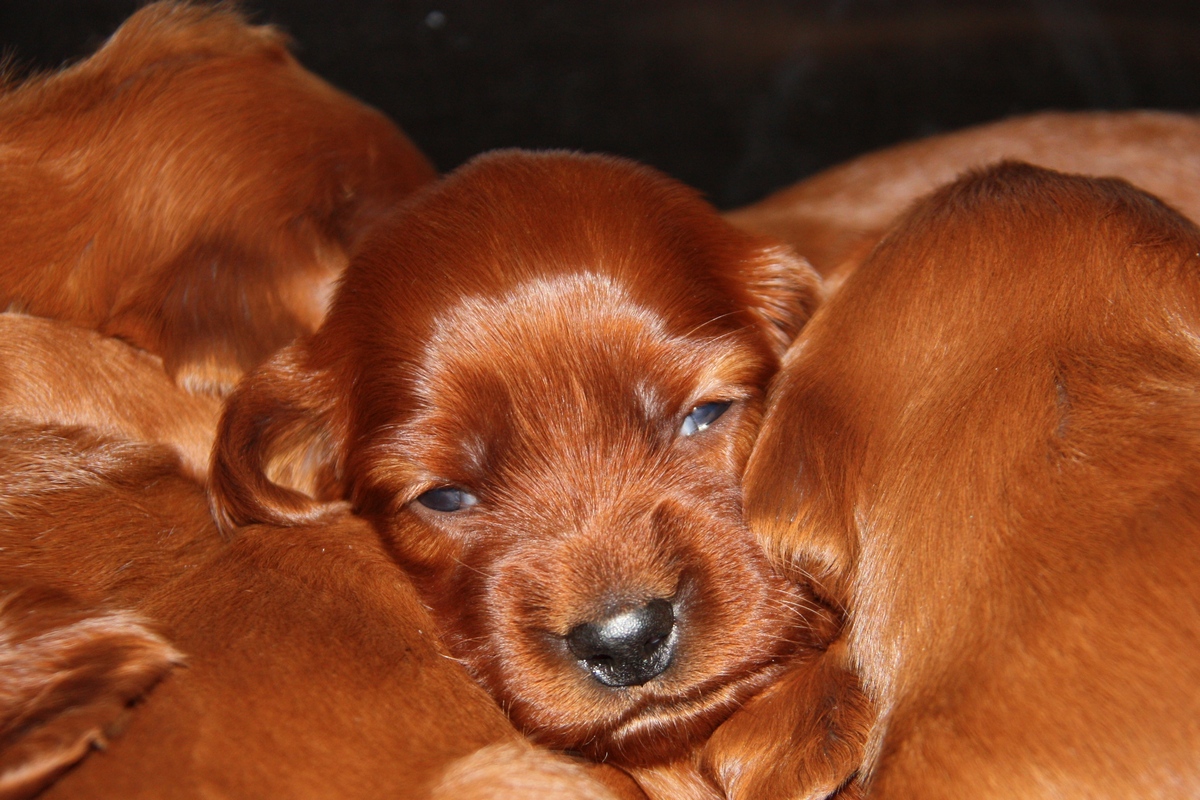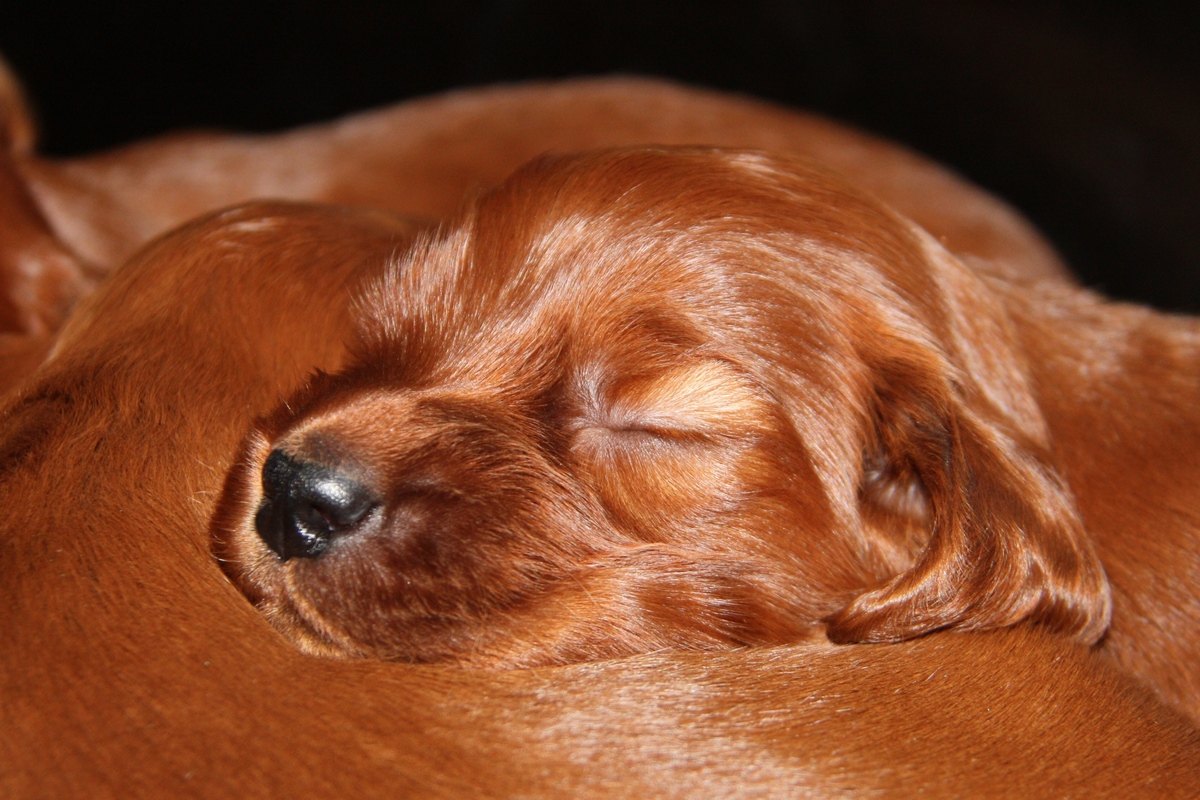 Exciting!!!!
Today they will have there first puppy milk!!!!!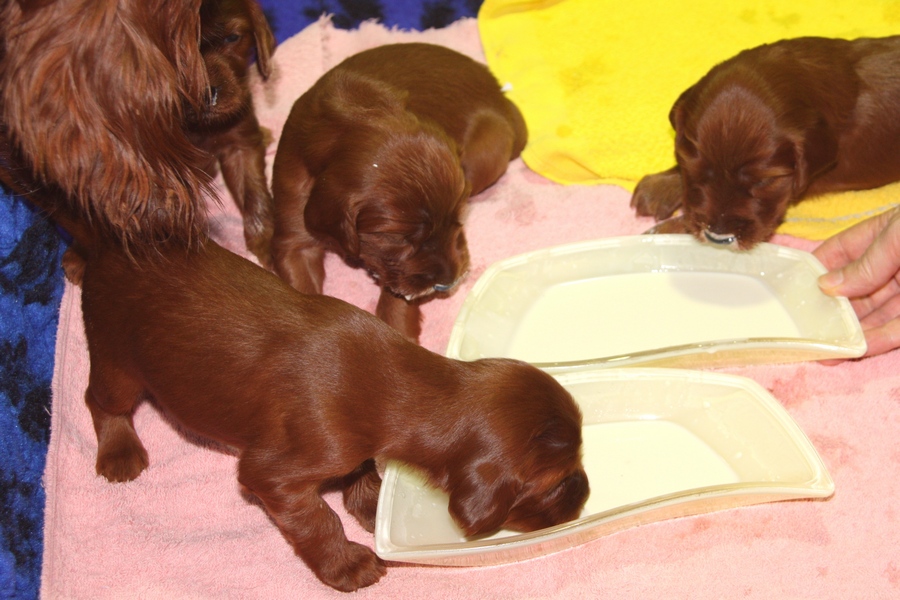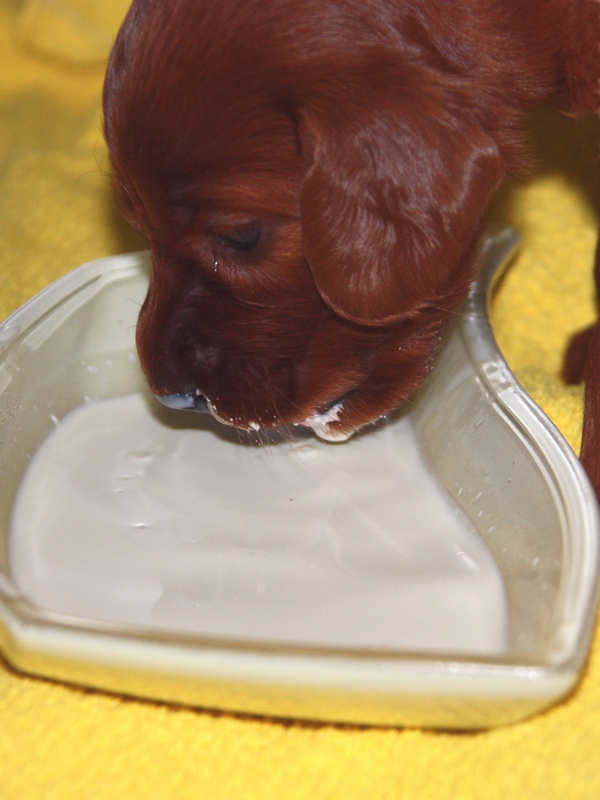 Exciting to take a smell.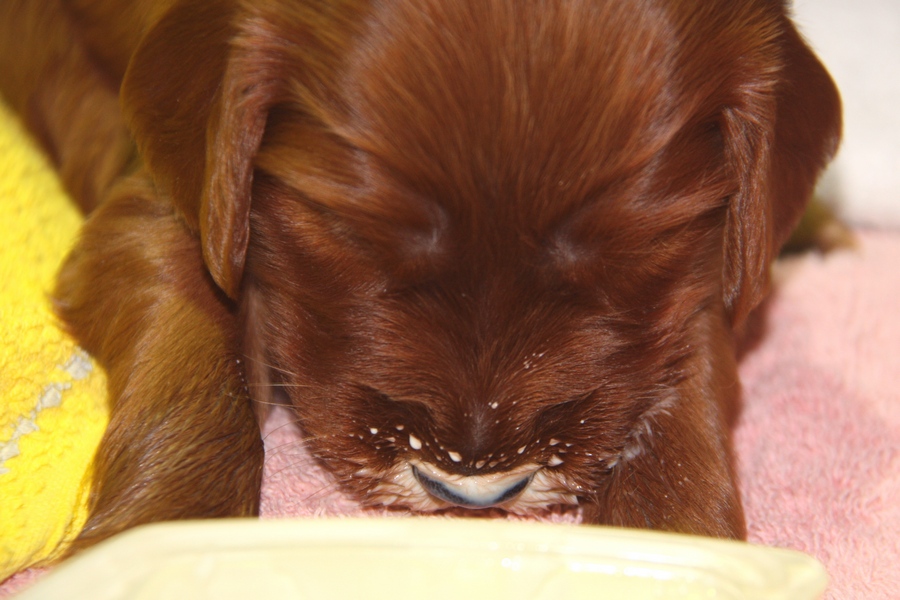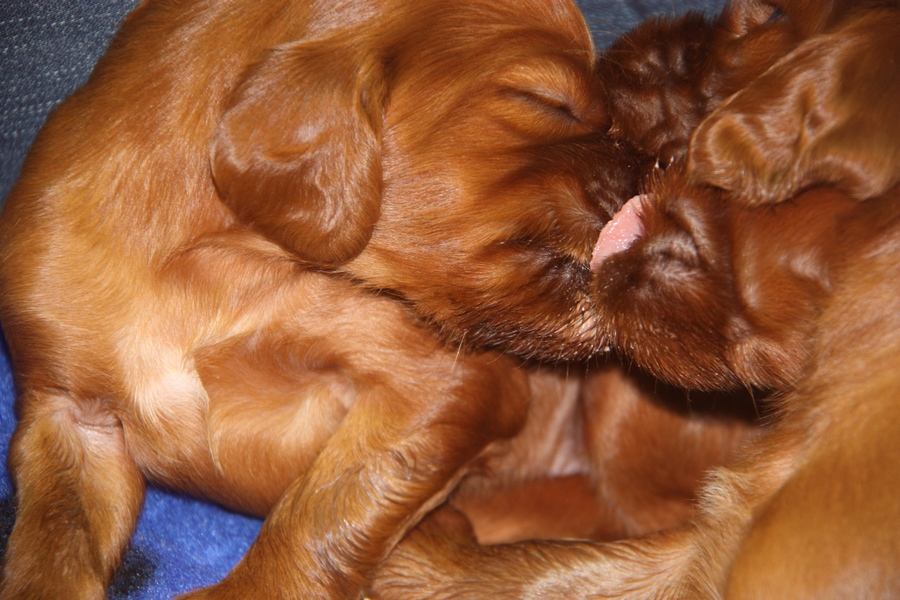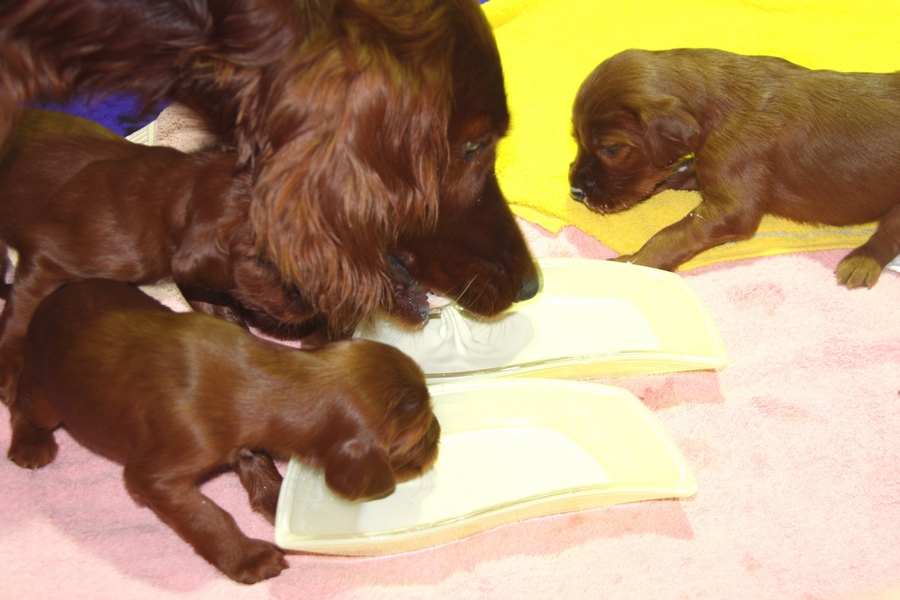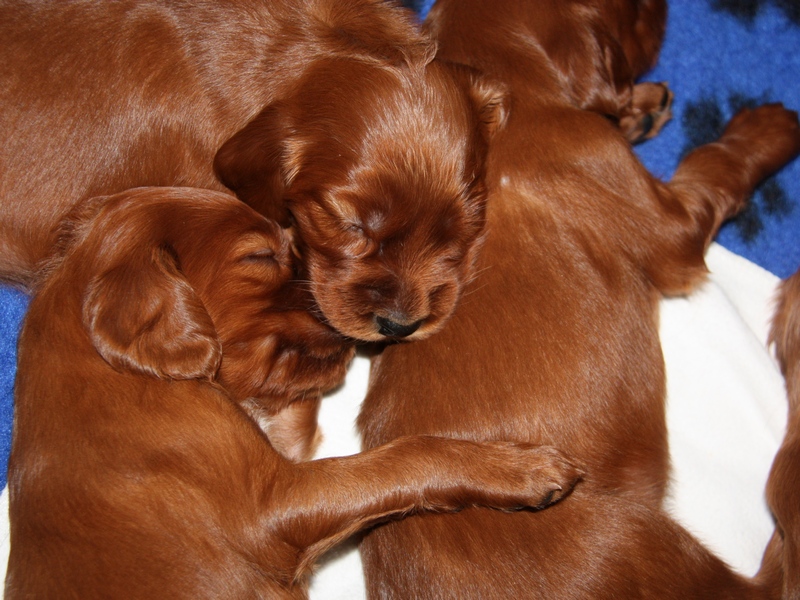 19. December 2015, 3 weeks and 2 days old
The fourth time puppy milk.
Initially, they are still "well-mannered", but then....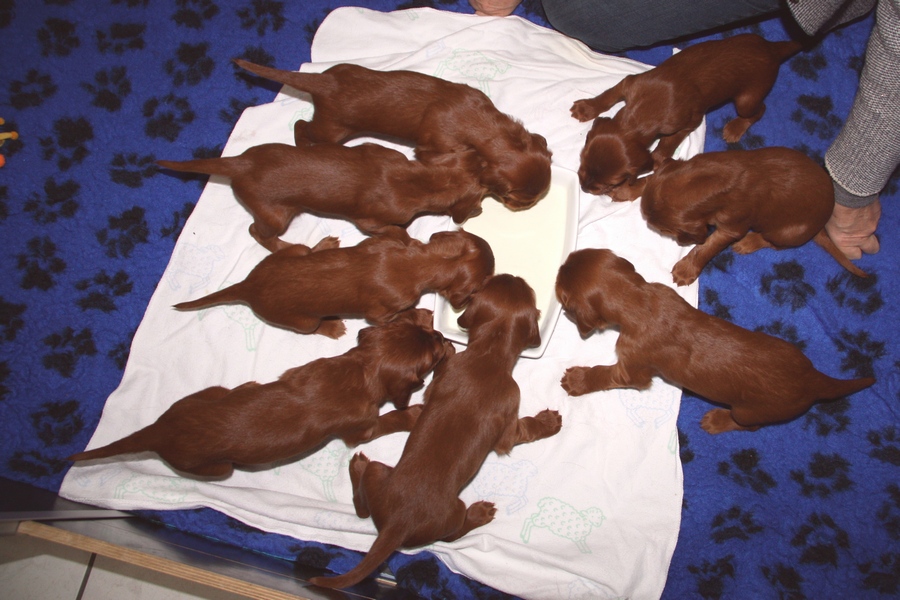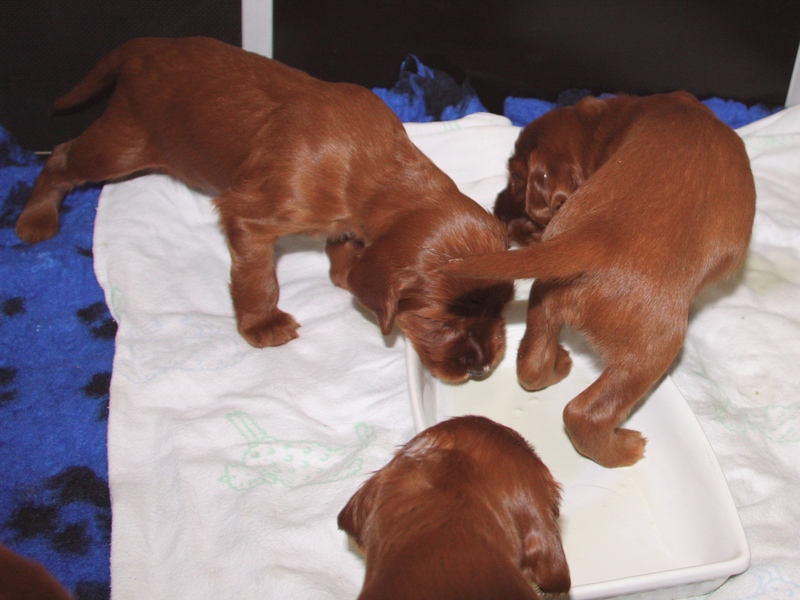 ........it gets more and more out of "control" :-))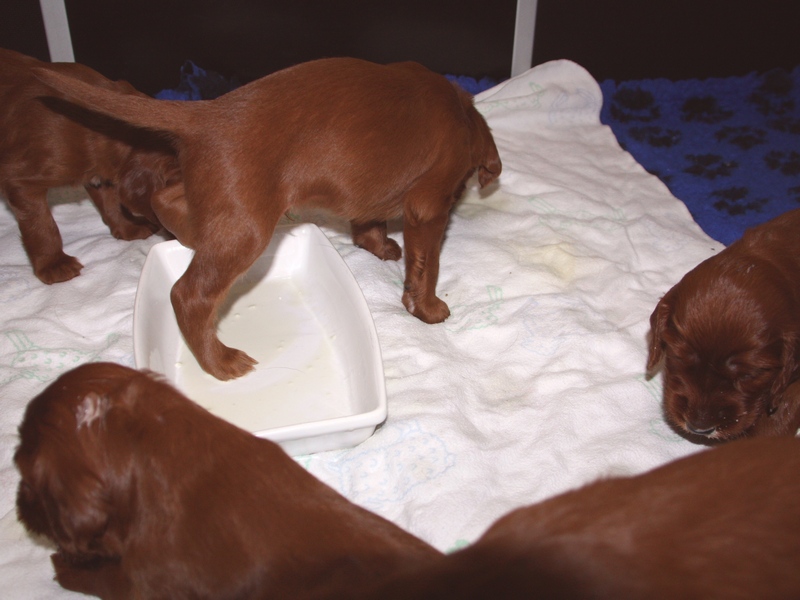 20. December 2015, 3 weeks and 3 days old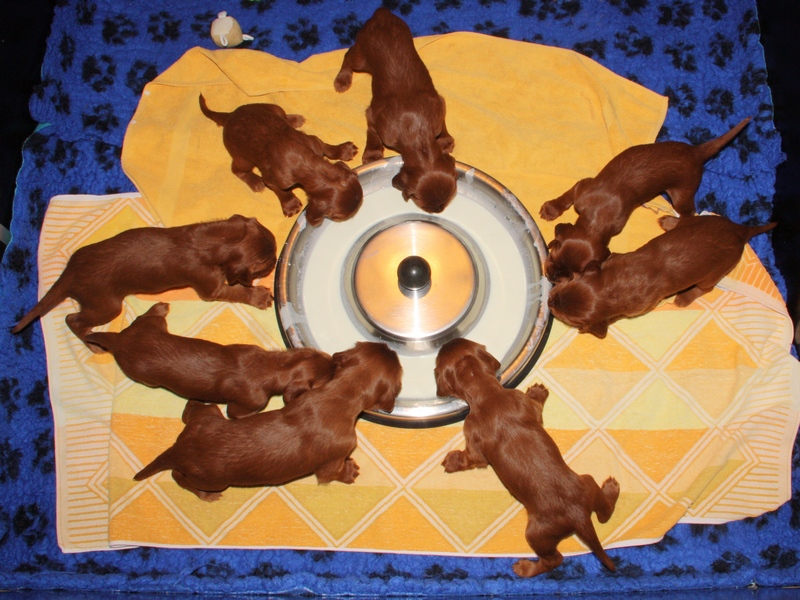 Then cuddleing is back on the agenda.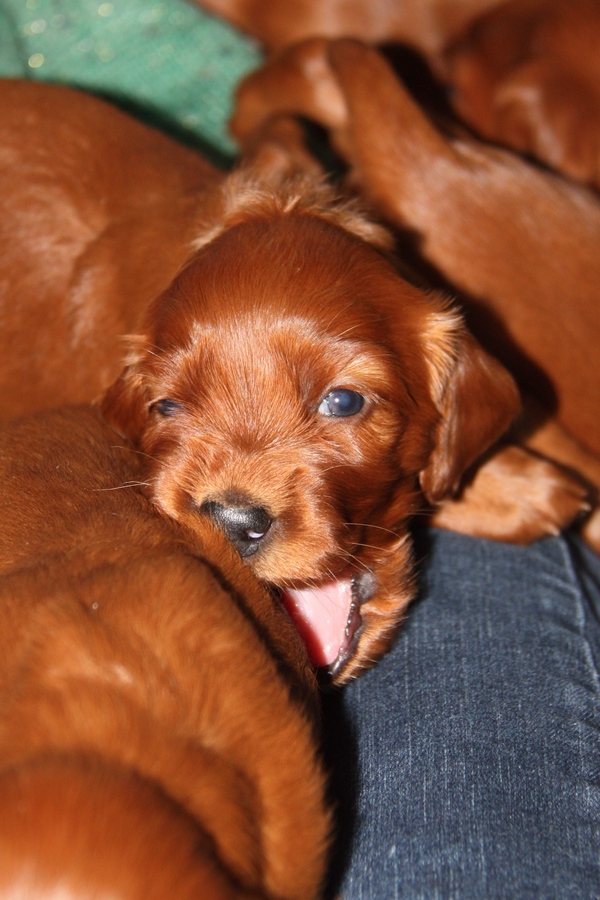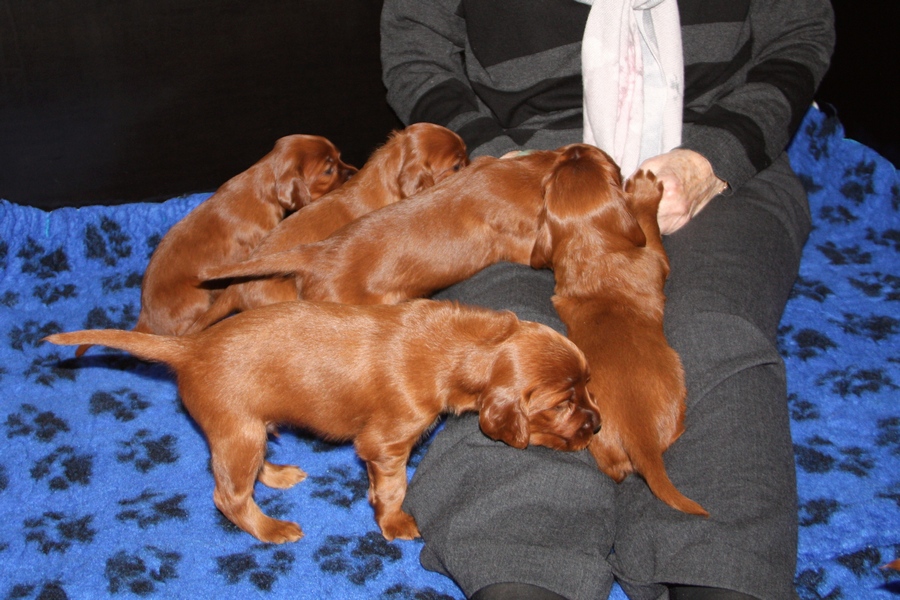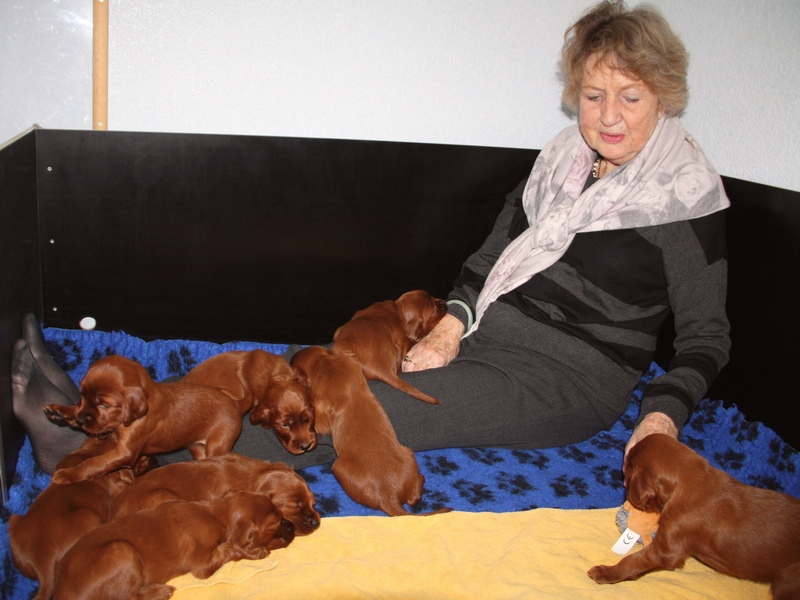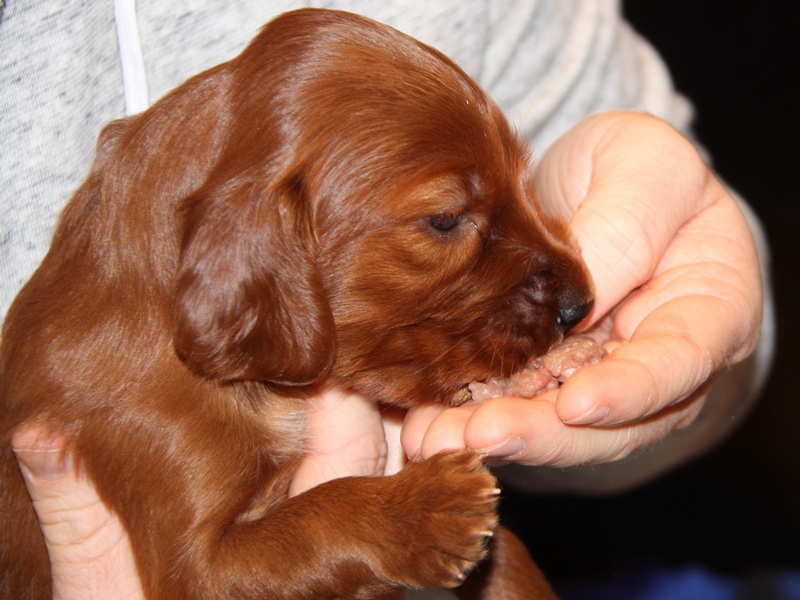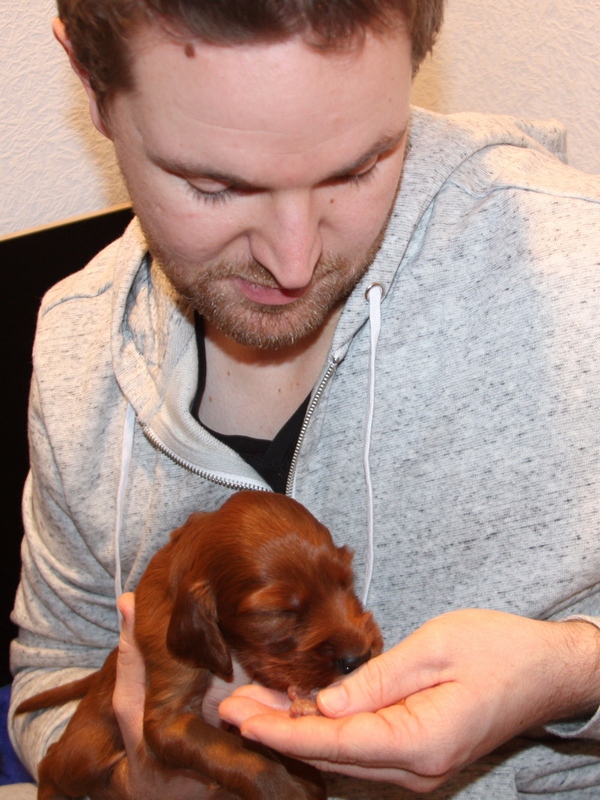 Third time meat balls -
good progress!!!
21. December 2015, 3 weeks and 4 days old
Also Diva really likes to be snuggled.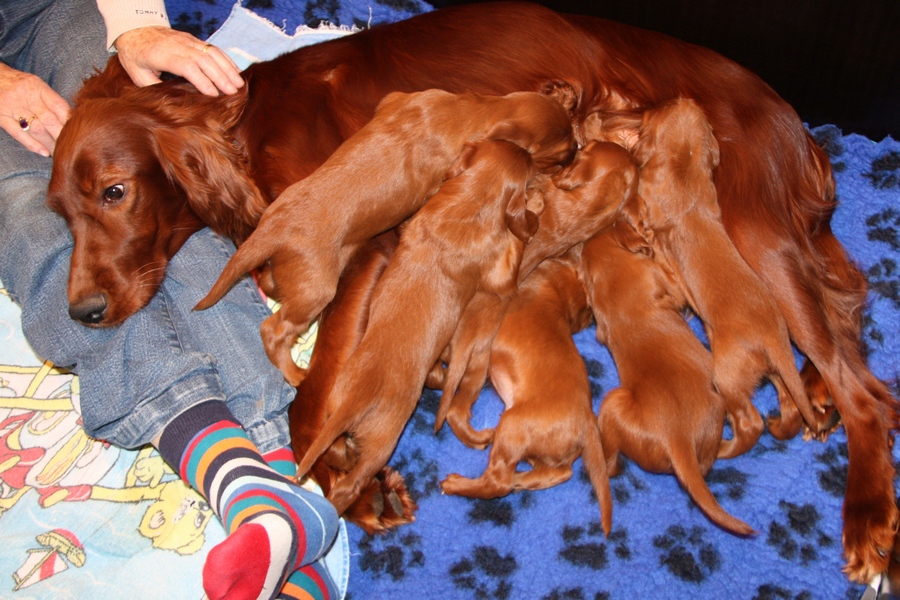 23. December 2015, 3 weeks and 6 days old
Visit to the puppies crate. Today, our grandchildren Saphia and Avia are with the puppies.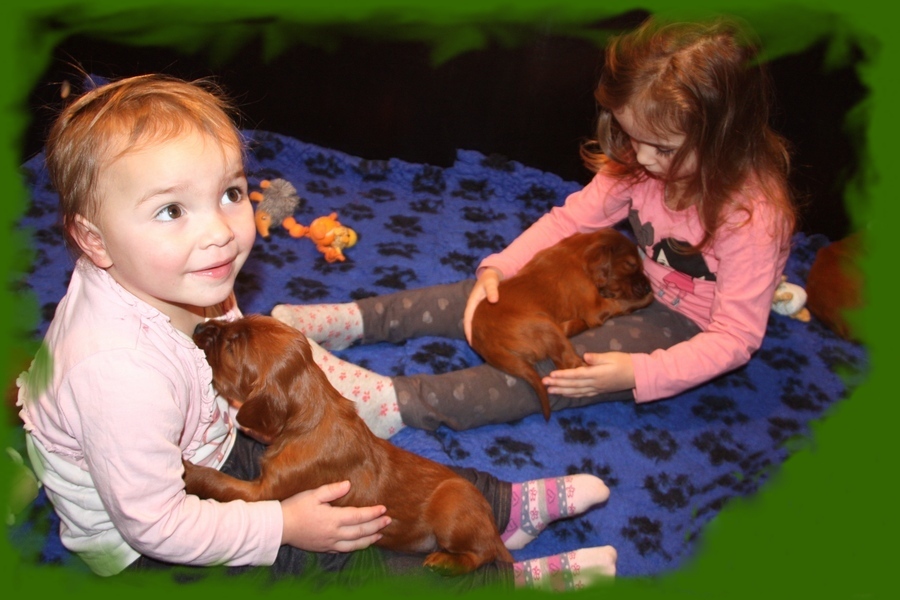 For Saphia it is already the third litter, which she experienced.
At the last, the E-litter, she can remember well even.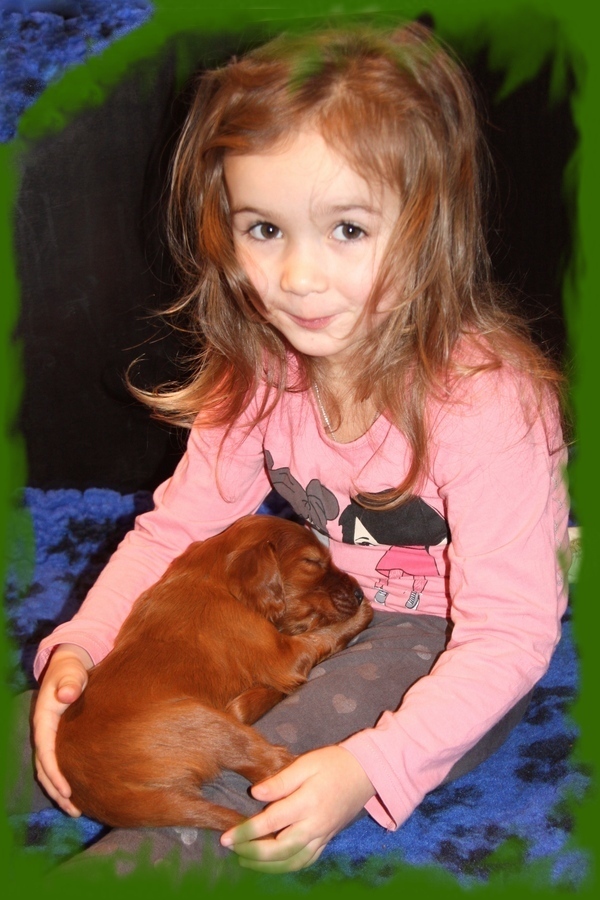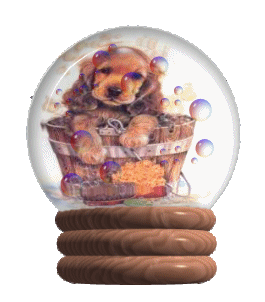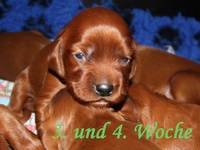 The second time puppy milk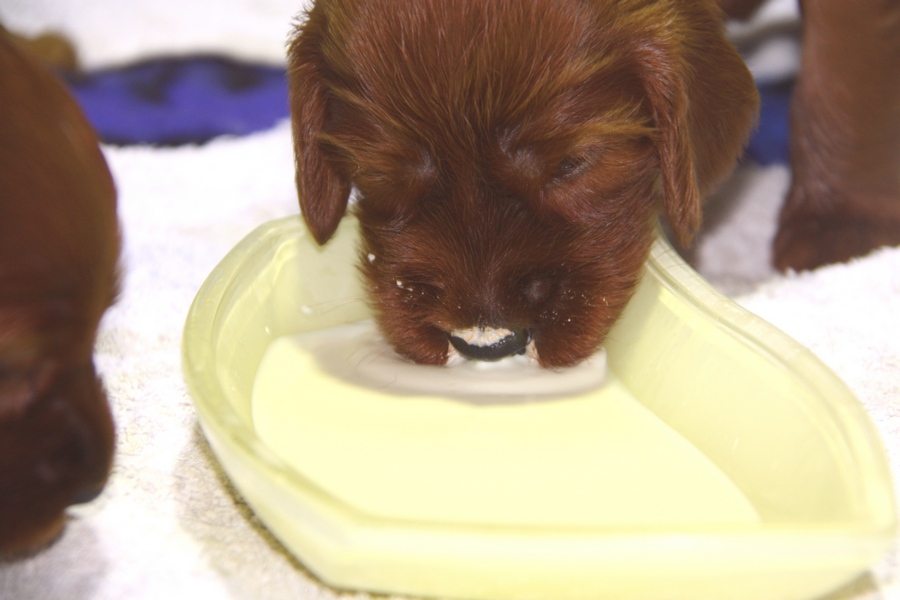 Some puppies can already really good "collect" milk, others less so.
These are no Easter Bunny, but really
Irish Red Setter puppies.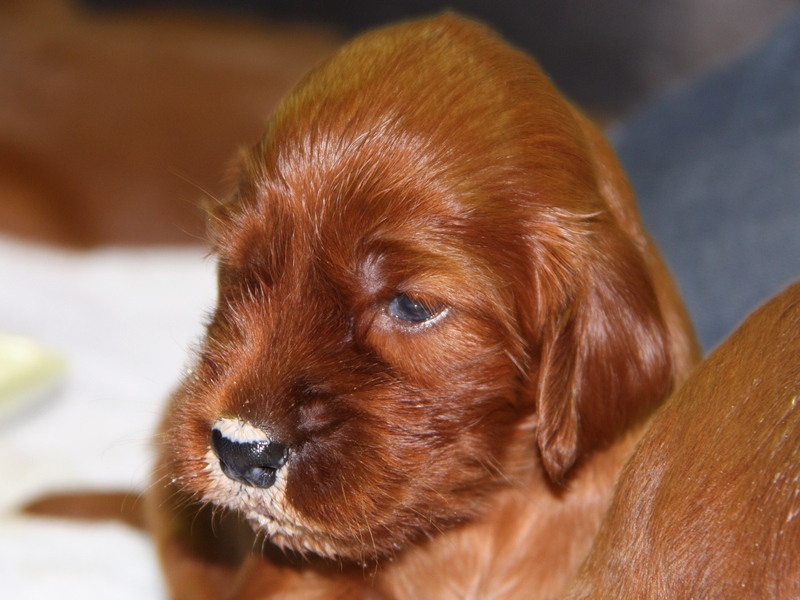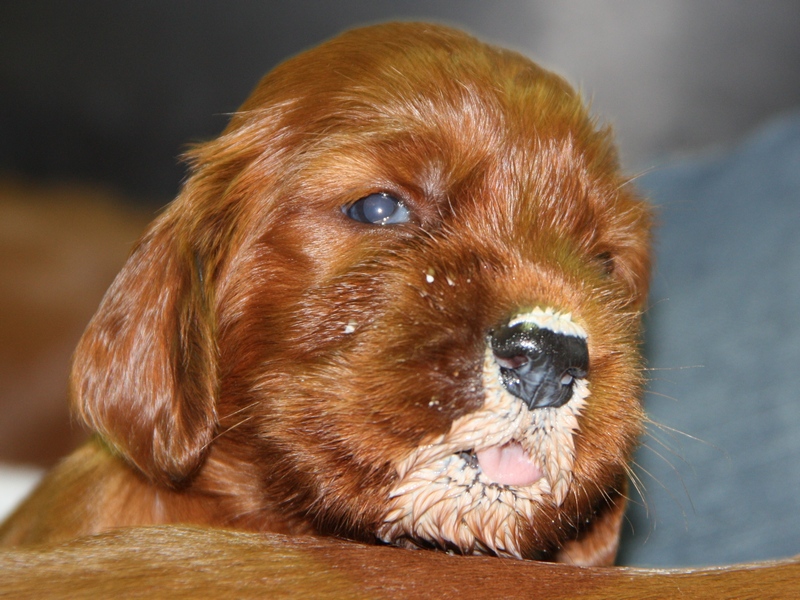 But again, at the end they clean themselves mutually.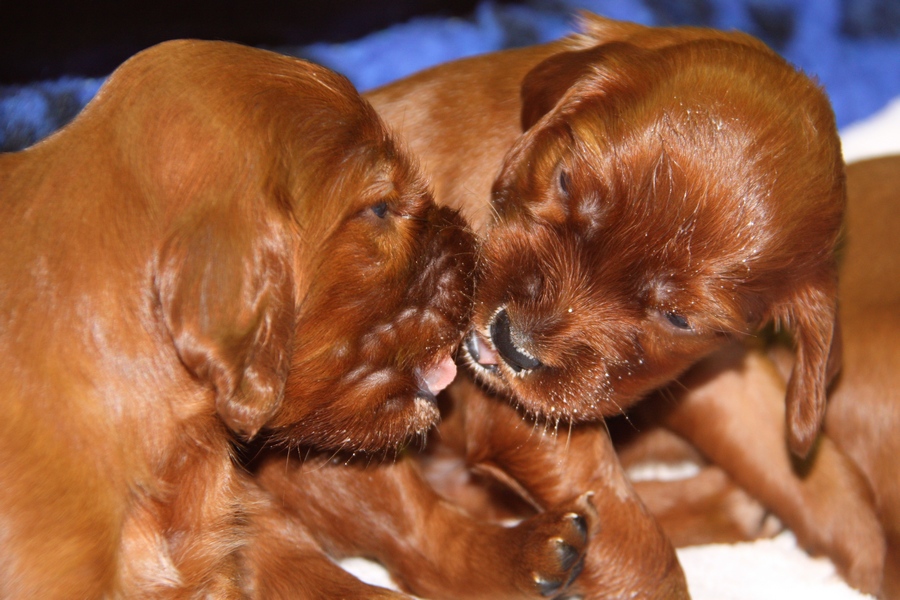 18. December 2015, 3 weeks and 1 day old
Today the surprise comes up, today they get beef meet balls. After an initial low interest they suddenly awake, the little nose starts working on and then "bring down" themselves greedy to the meat. Thus, the swallowing movements were stimulated, which are needed to live from something else, than by only suckling from the mother.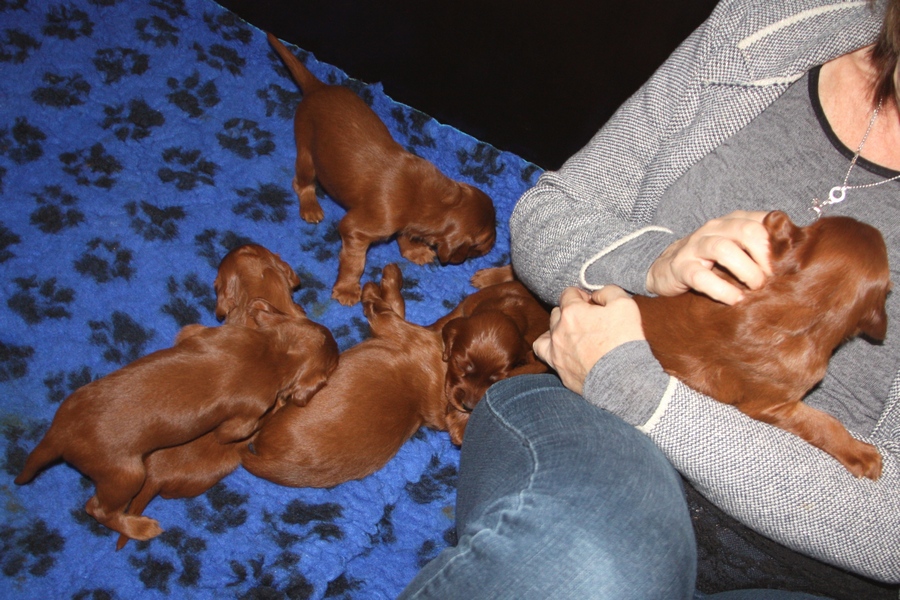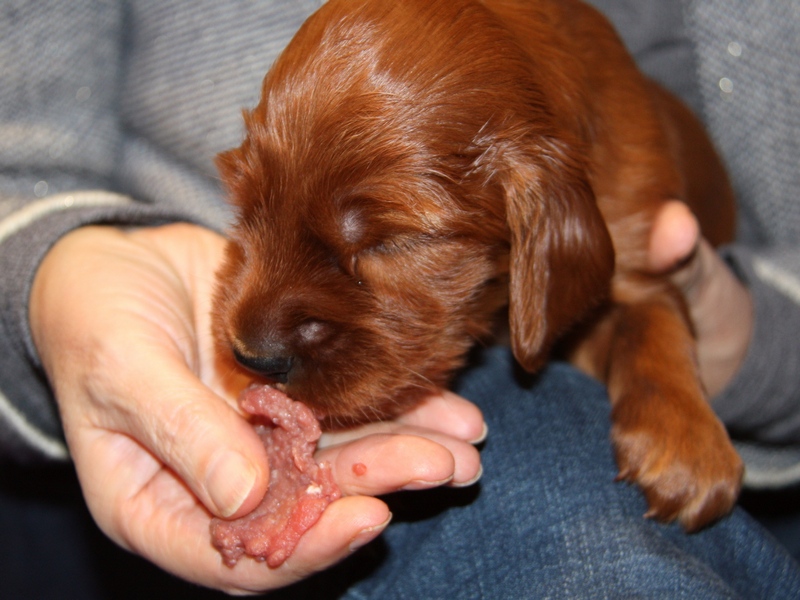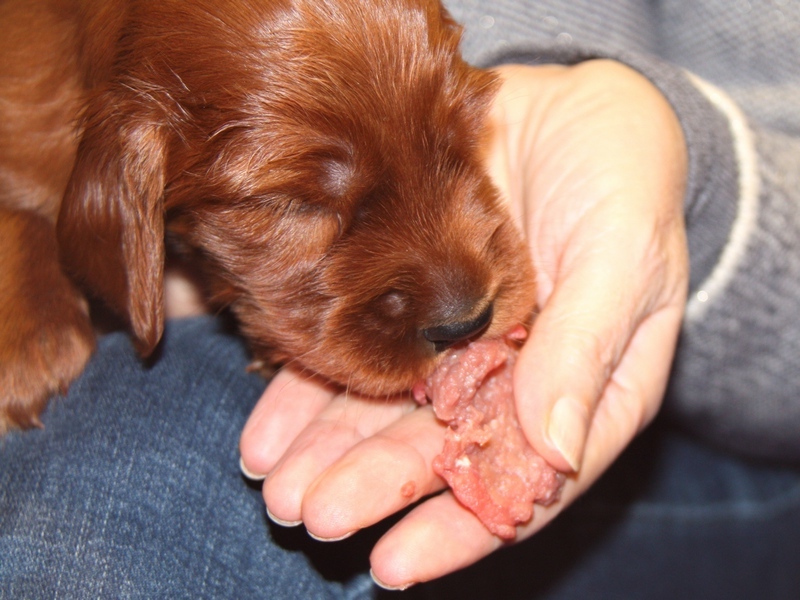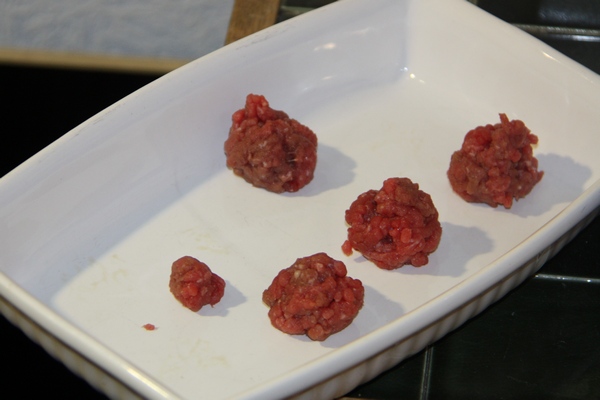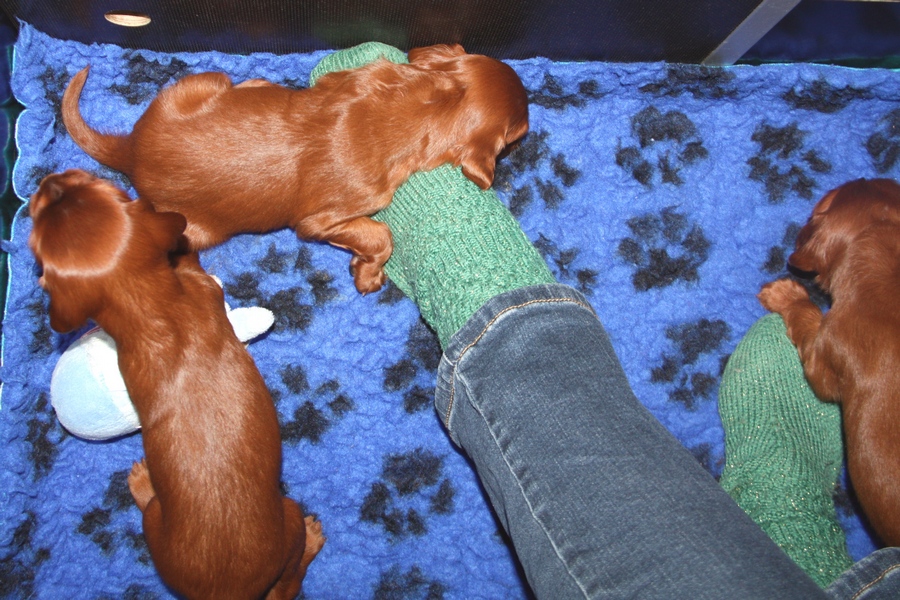 .........except one or two, still trying to be a "climber" - it might get even more meat balls.
Subsequently the puppies are so tired that they fall asleep almost immediately.......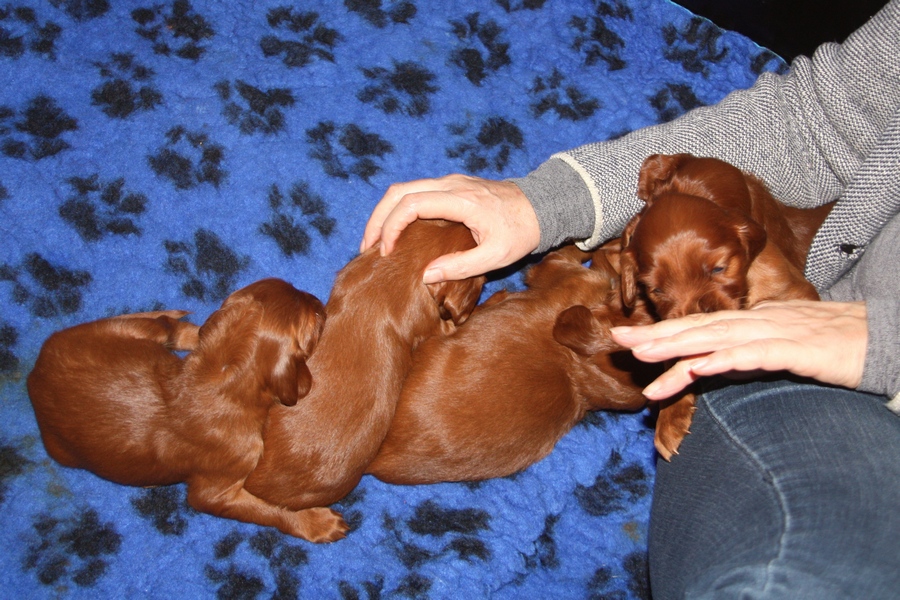 The time has come now:
After the puppies have demonstrated yesterday that they have "learned" how to pick up the milk, nowthe feed ring comes into use.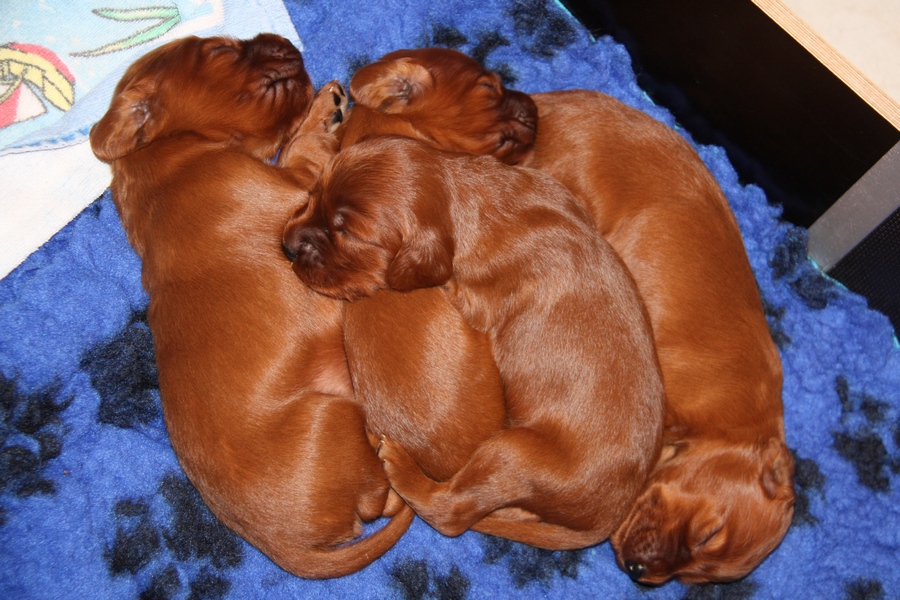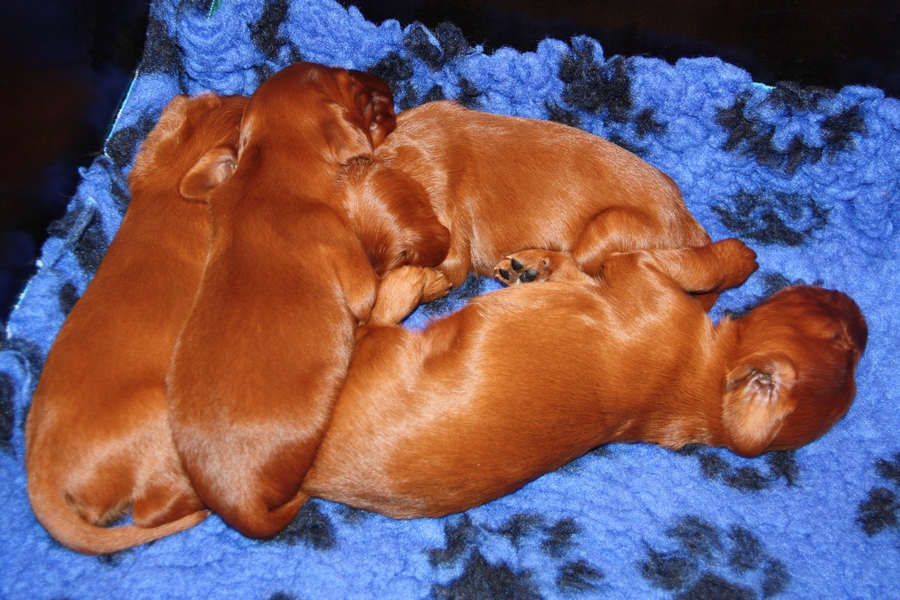 Every time Mama was with her pups to suckle, they want only one thing:
sleep....
.....in twos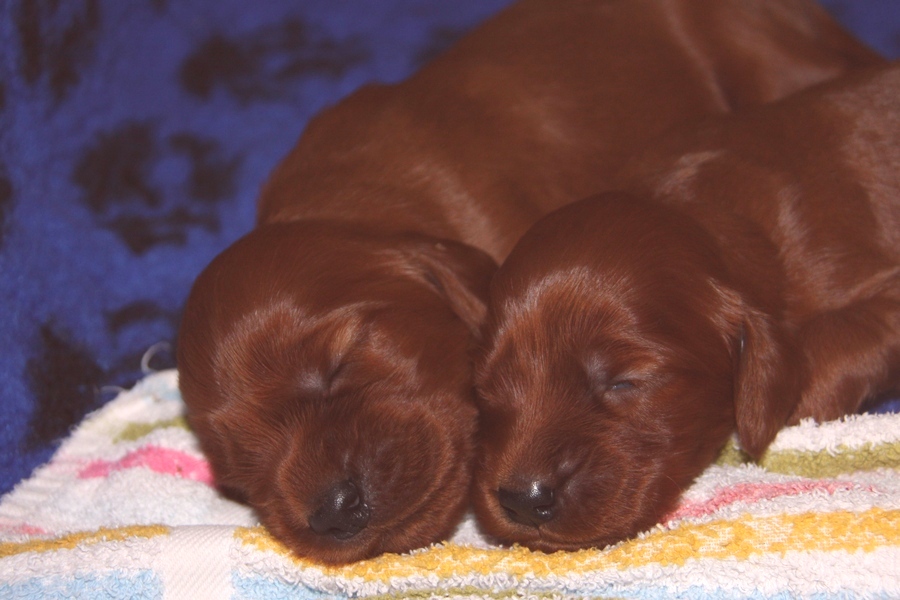 12. Dezember 2015, 2 weeks and 2 days old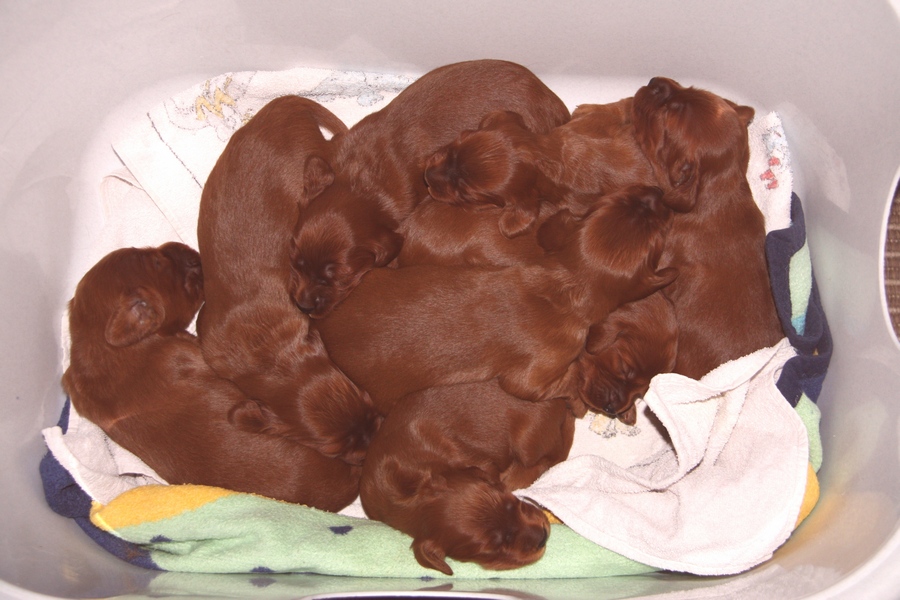 The little ones are now so grown that the wicker basket (see photo of 7 December) is no longer sufficient. The laundry basket is needed. But here is already foreseeable: that will not last for long!!!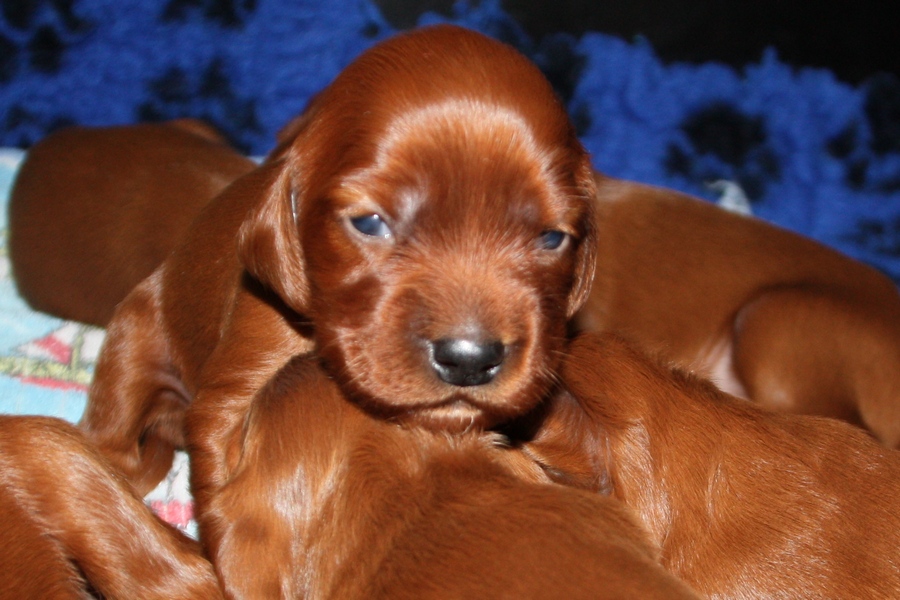 Meanwhile, all have their eyes open, the view is clear, mutual perception starts with the eyes.
11. December 2015, 2 weeks and 1 day old
littered:
26. November 2015