Those who say, that fortune can not be bought, have not realized, that puppies exist.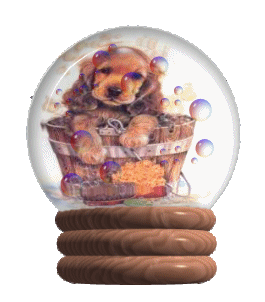 F-Litter
ex:
Diva Sugar and Spice of Lionhill
by:
Even Sweeter of the Red Flash
Owner Ellen ten Brink
littered:
November 26, 2015
Flash True Scout and Finnegan Surprise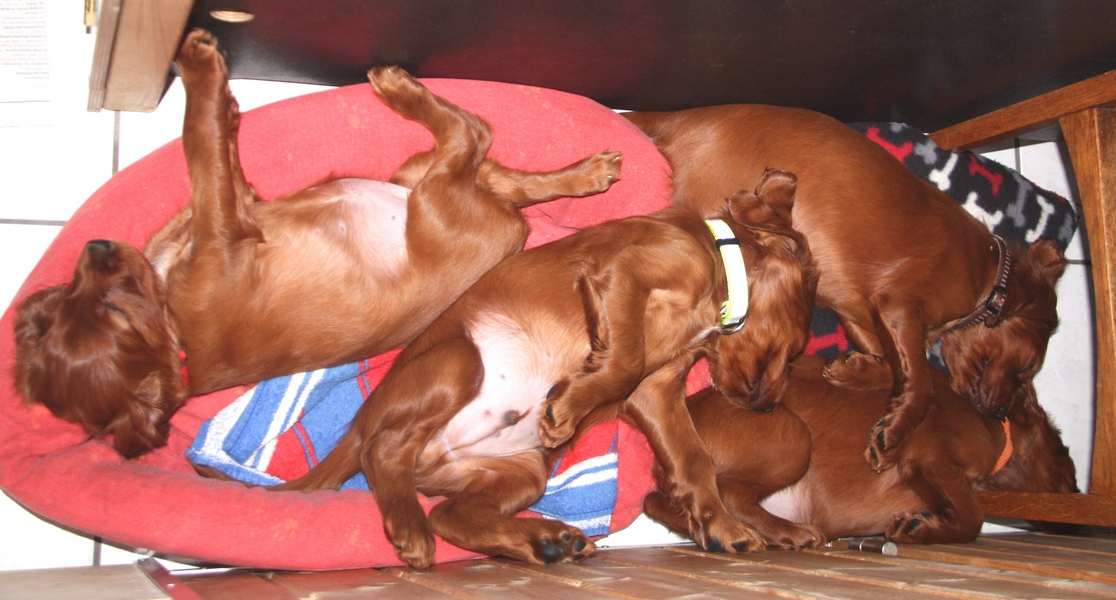 Fleebe Rough Diamond, Farell George King, Ferris Brigh Spark
and Faible My Melody
January 10, 2016, 6 weeks and 3 days old
And again it goes out into the "big wide world".
Finlay -- Faible -- Feeny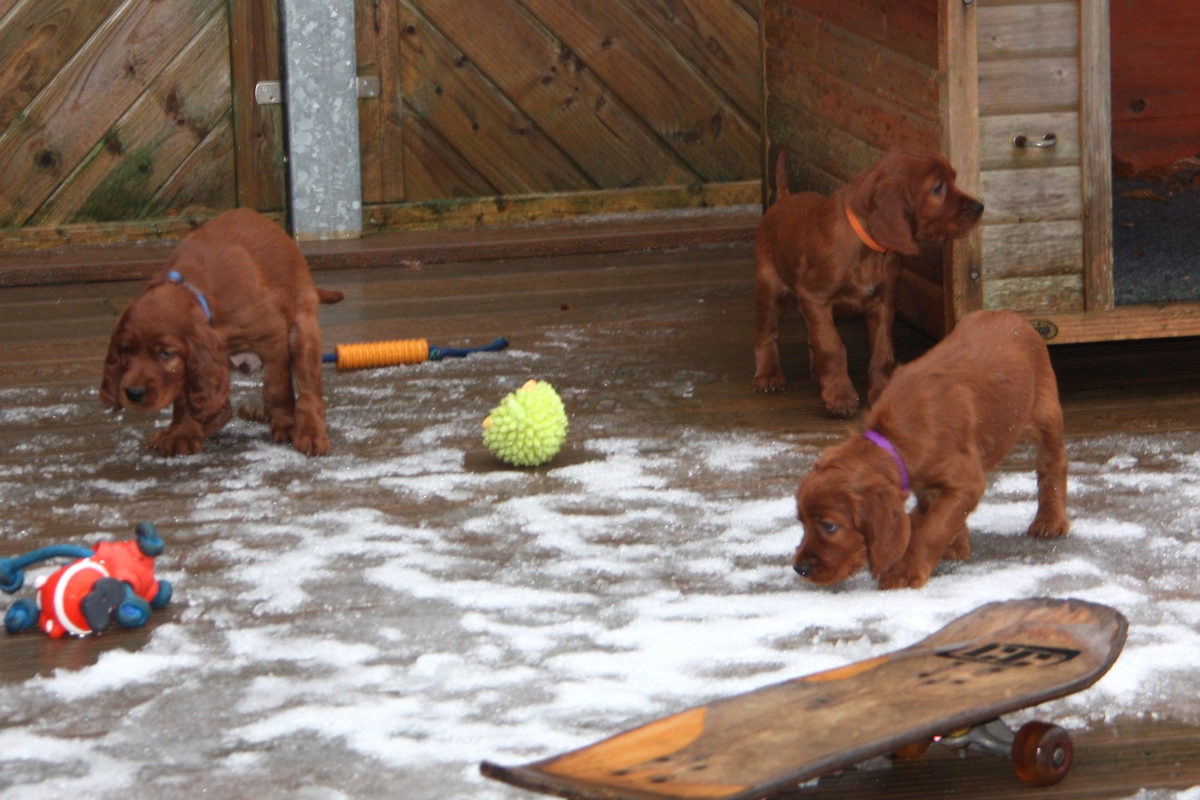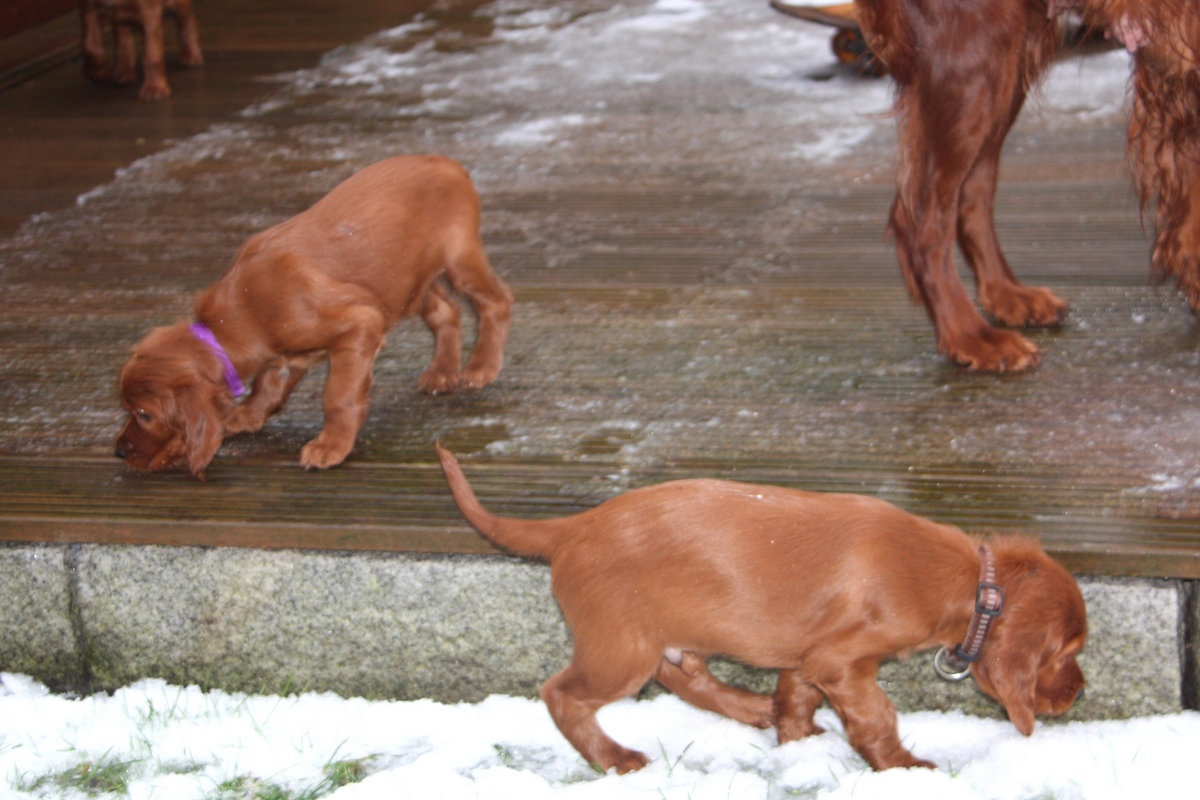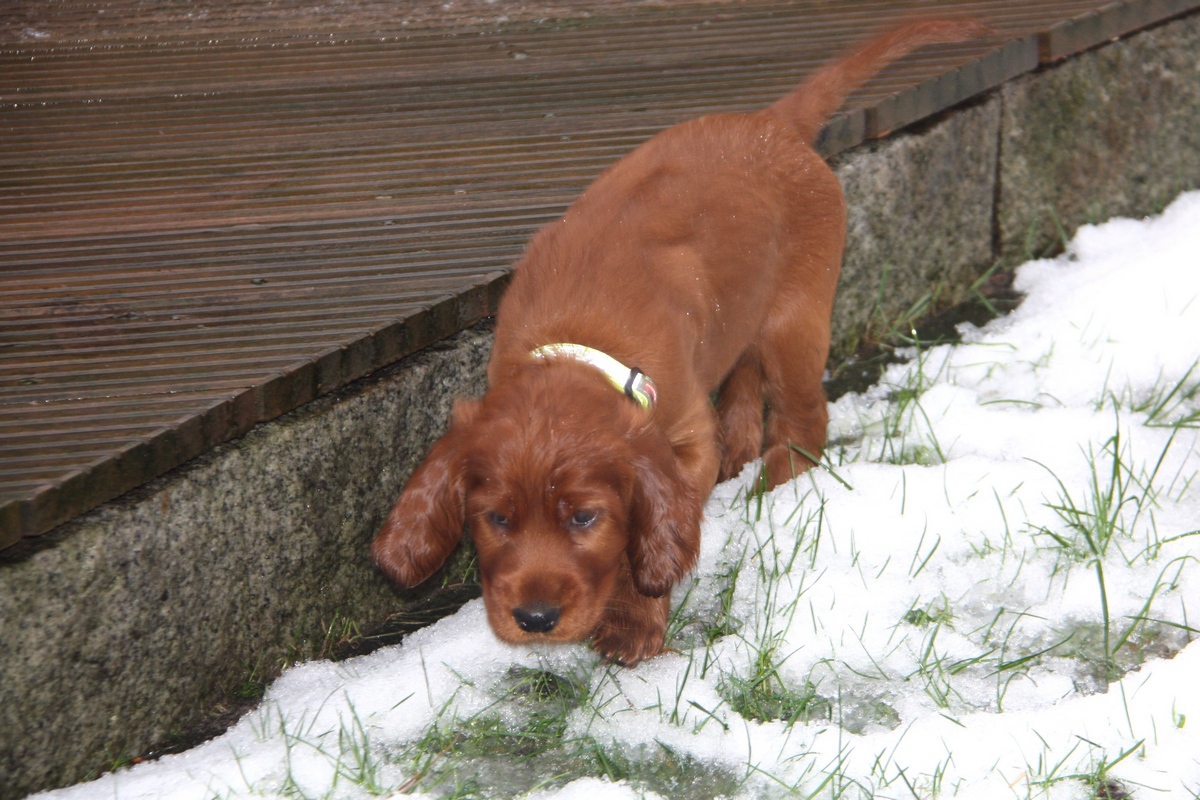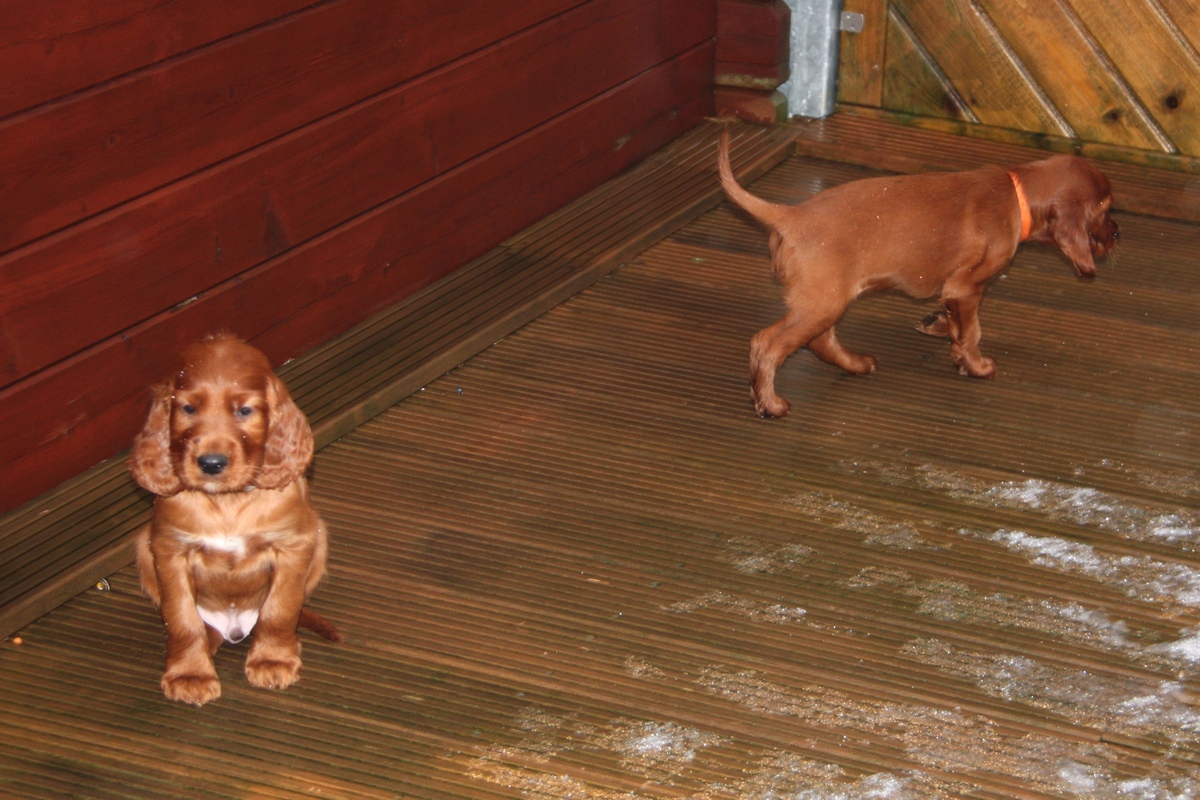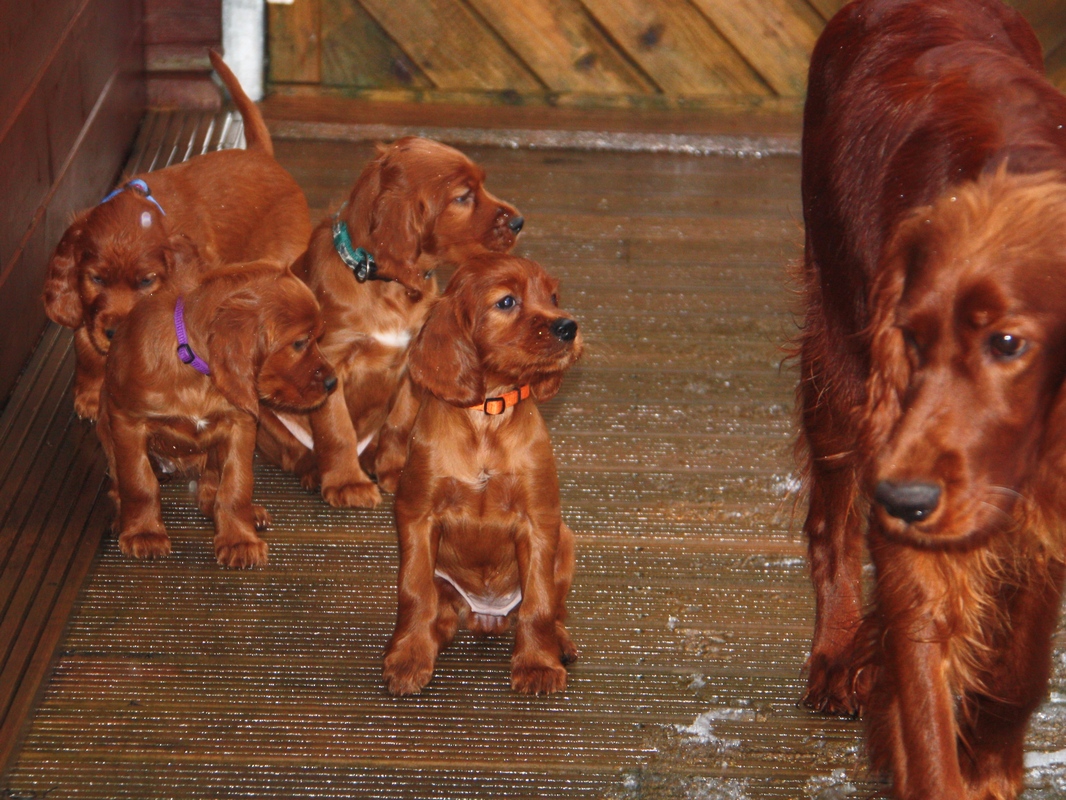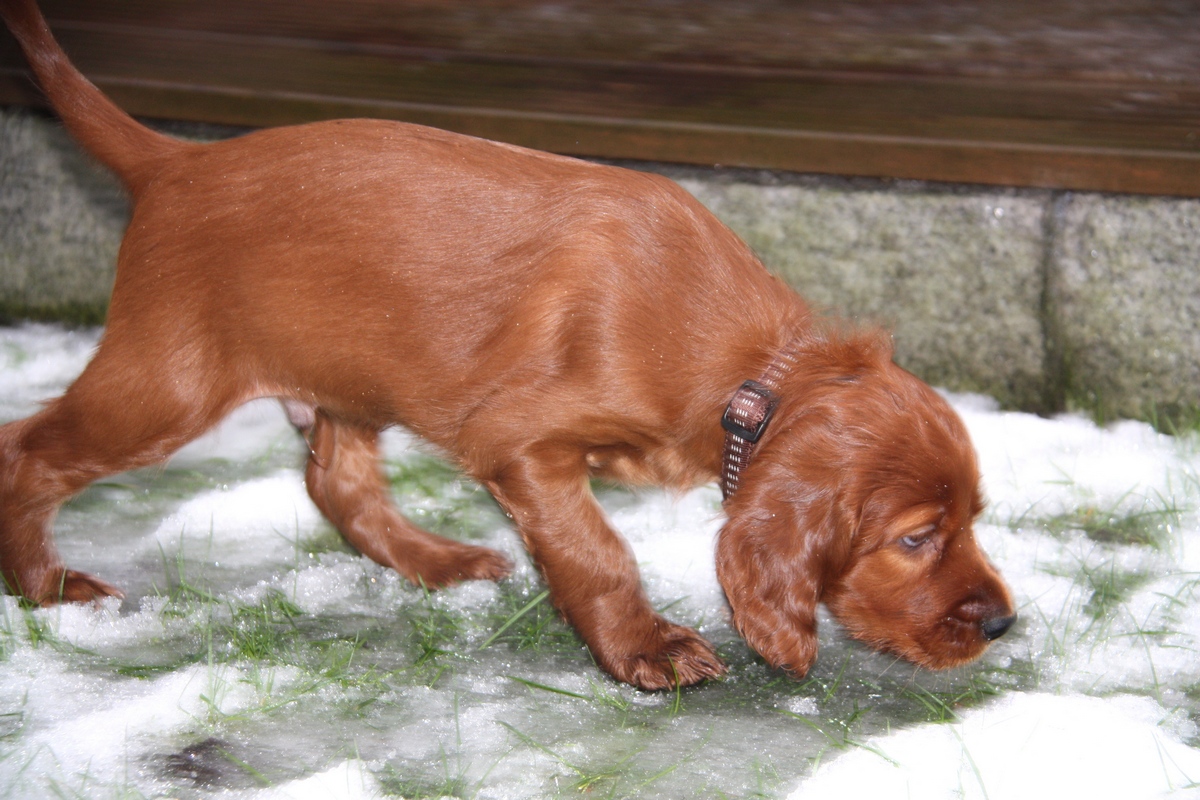 Flash -- Feeny -- Finnegan-- Faible ----- Diva
This afternoon also the female puppies have got their new, wider collars.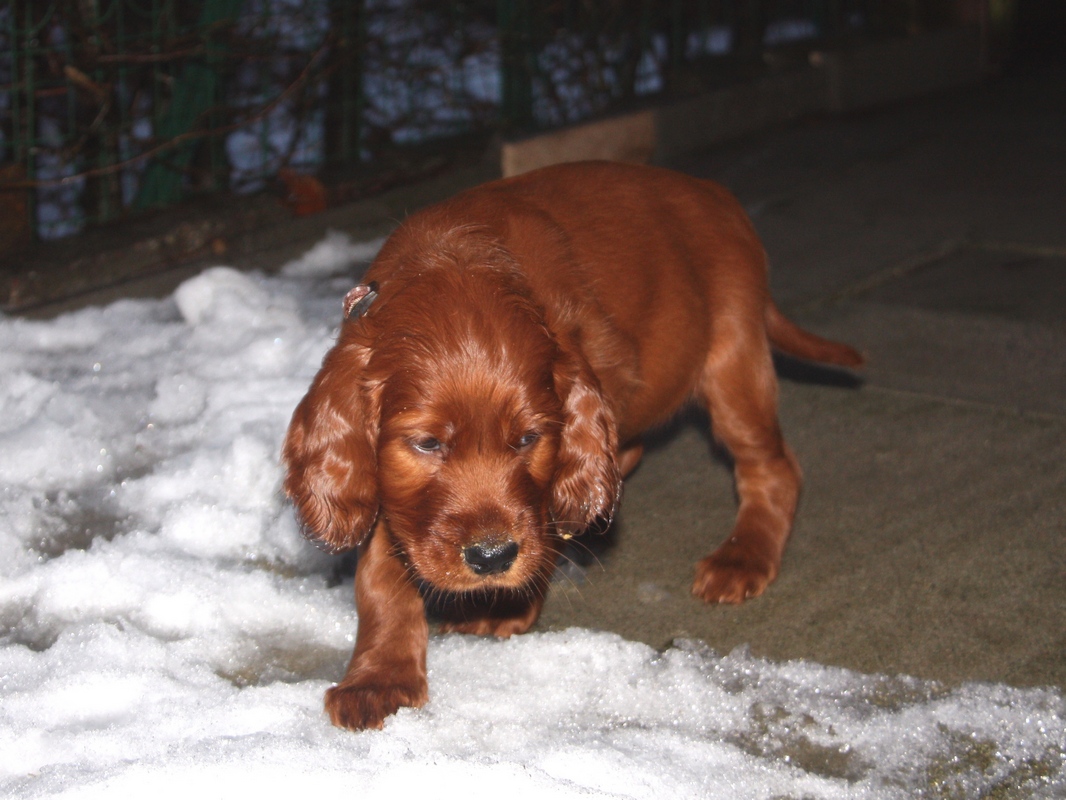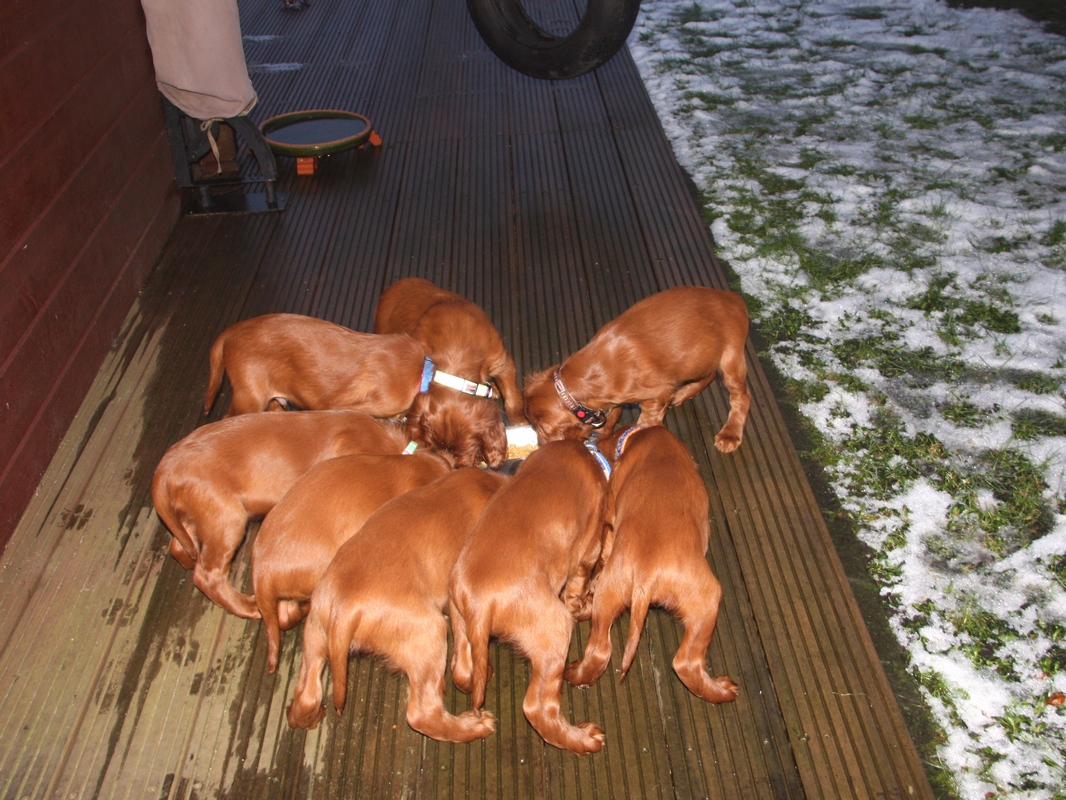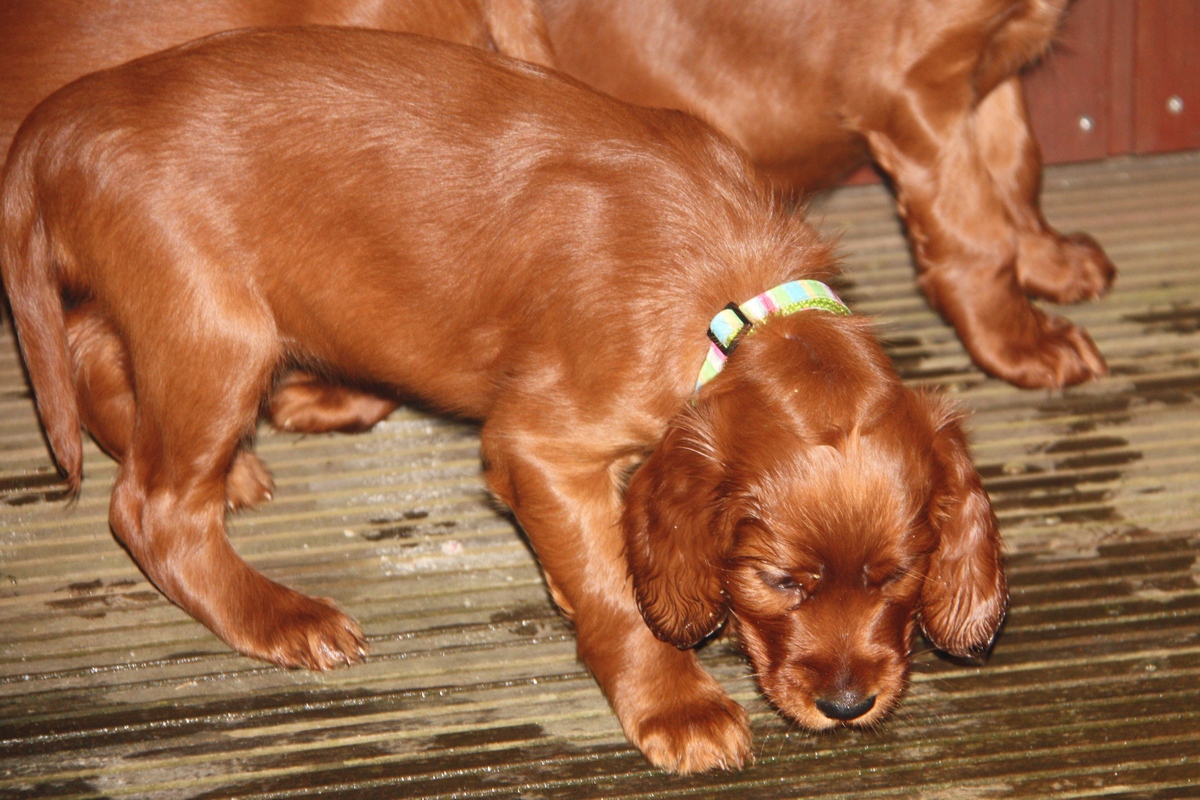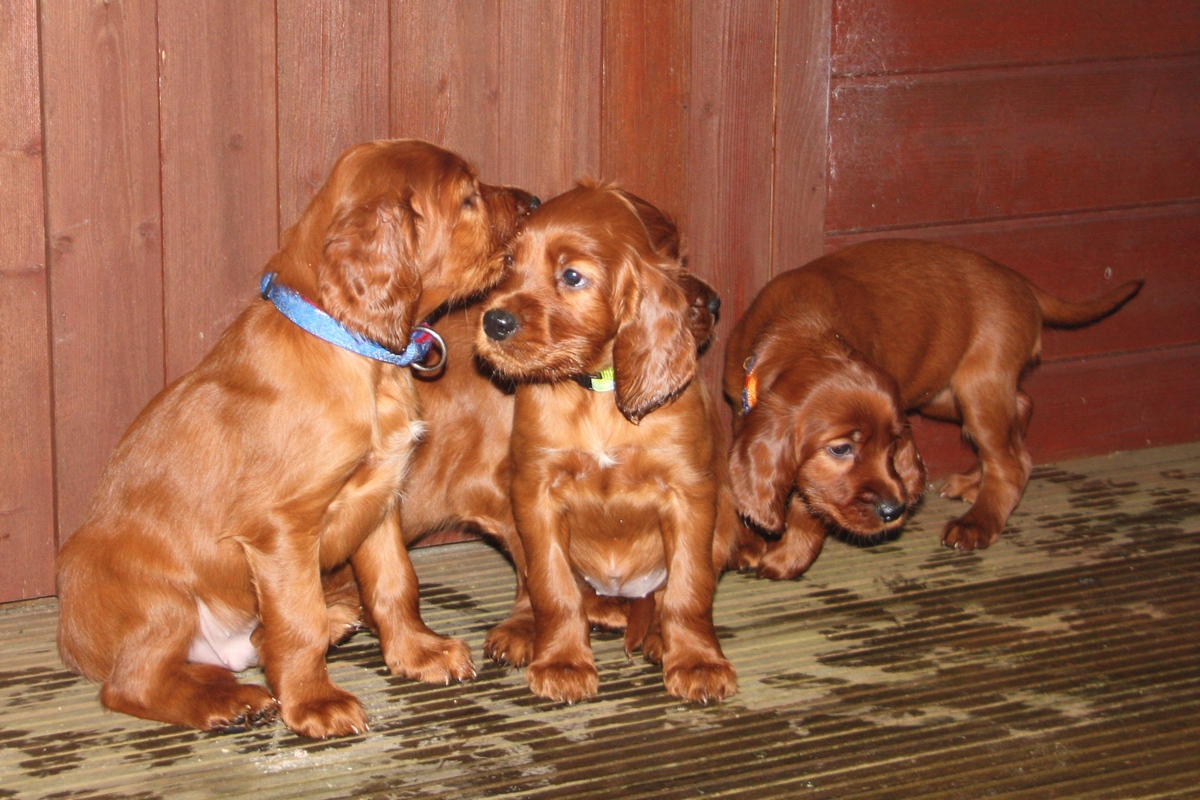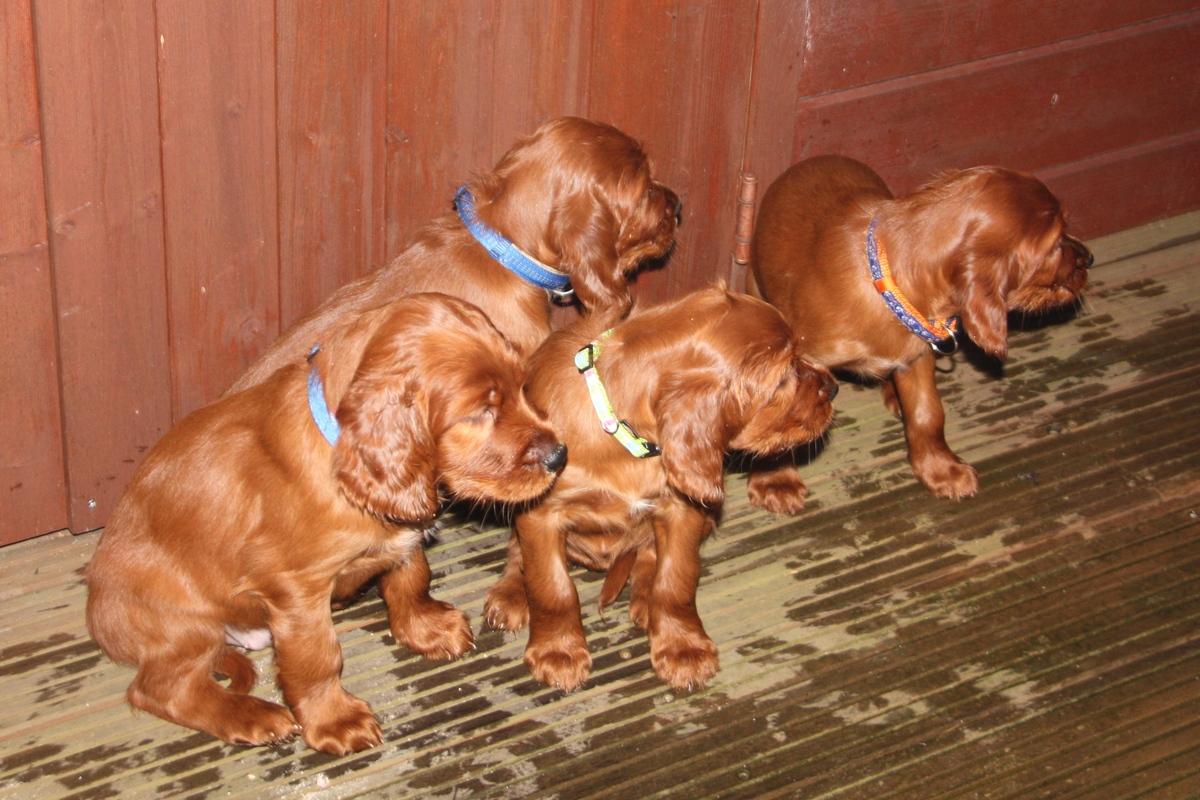 Flash -- Finlay -- Feeny-- Faible
Flash -- Finlay (covert) -- Feeny-- Faible
January 13, 2016, 6 weeks and 6 days old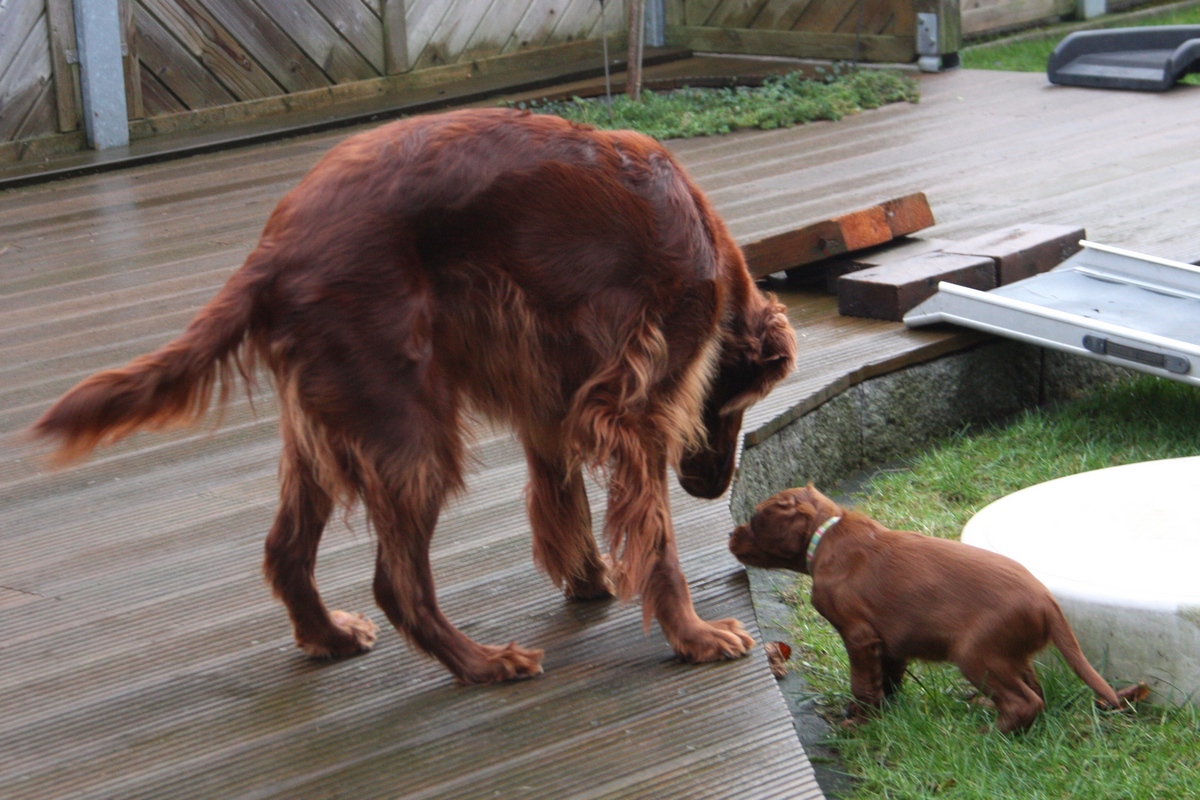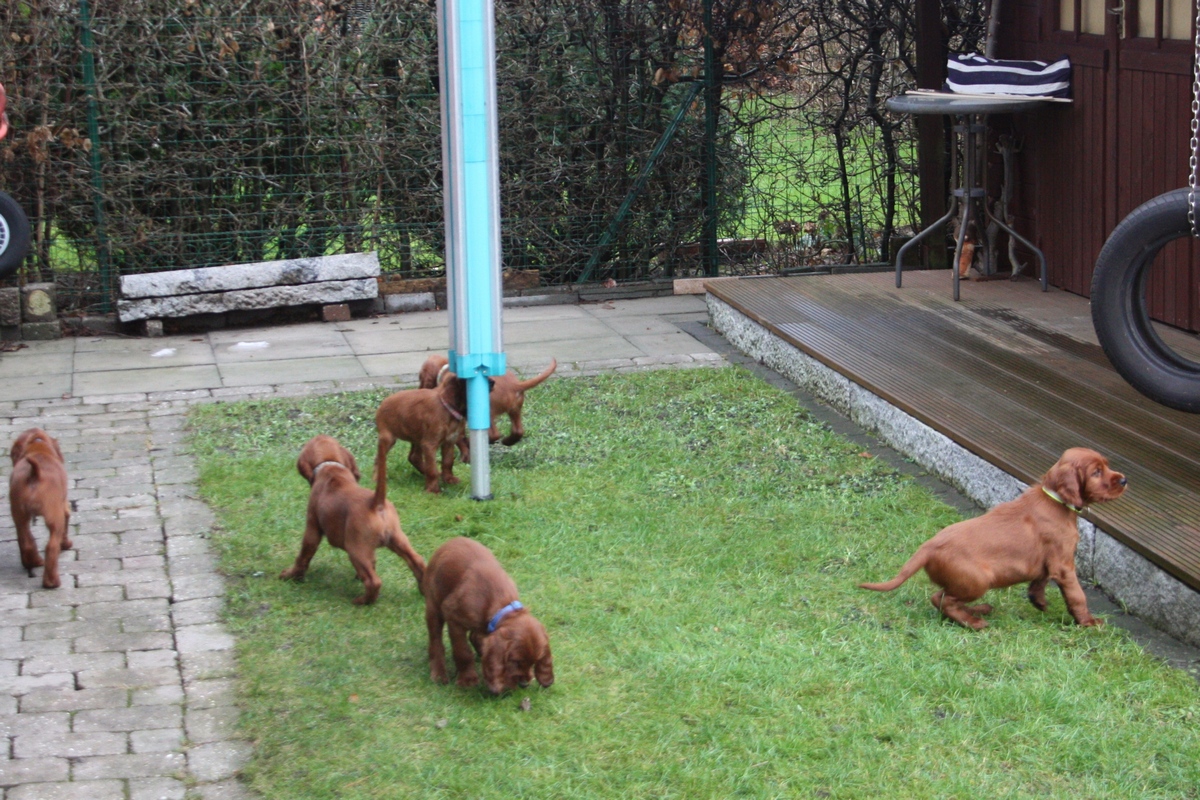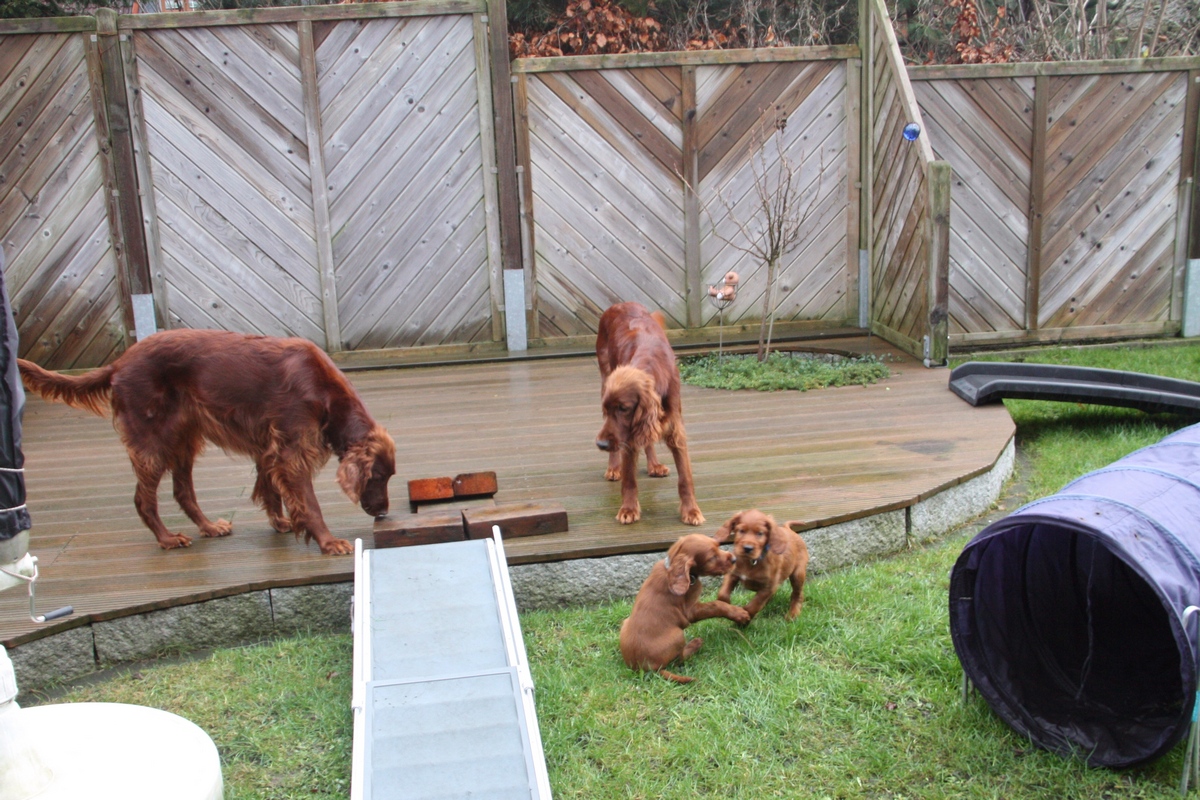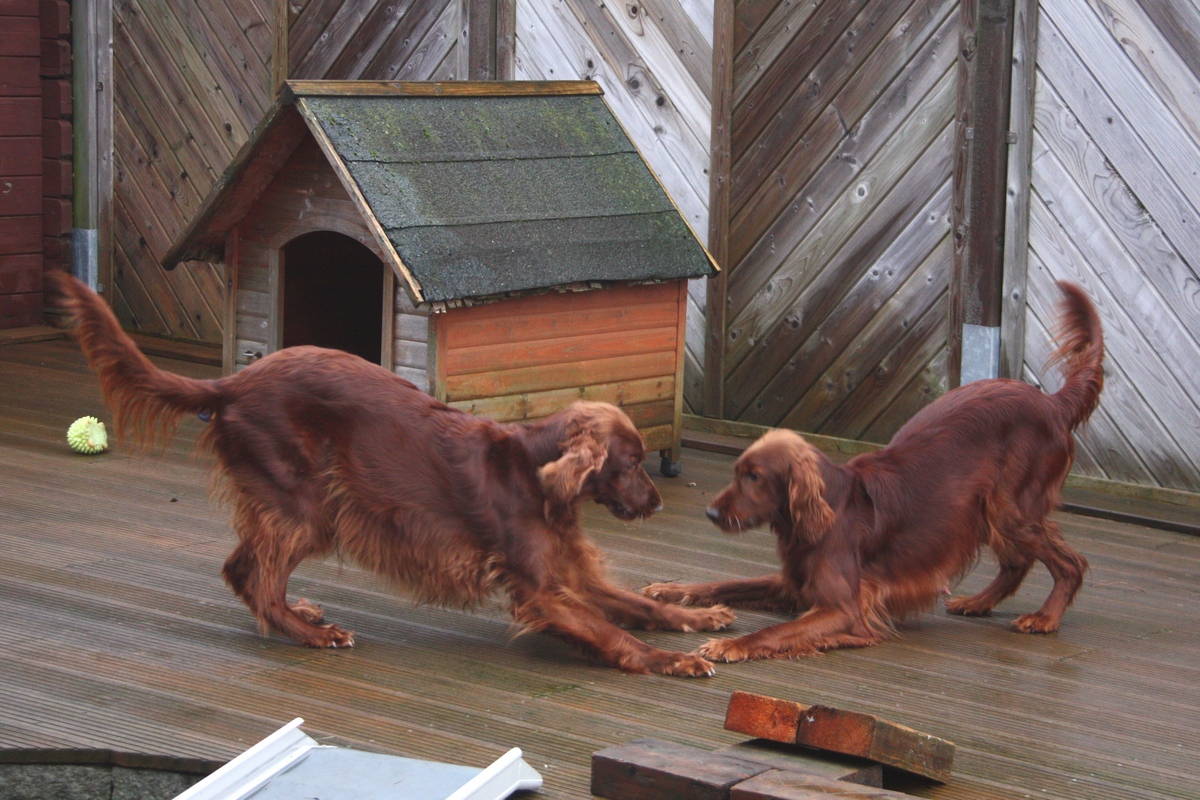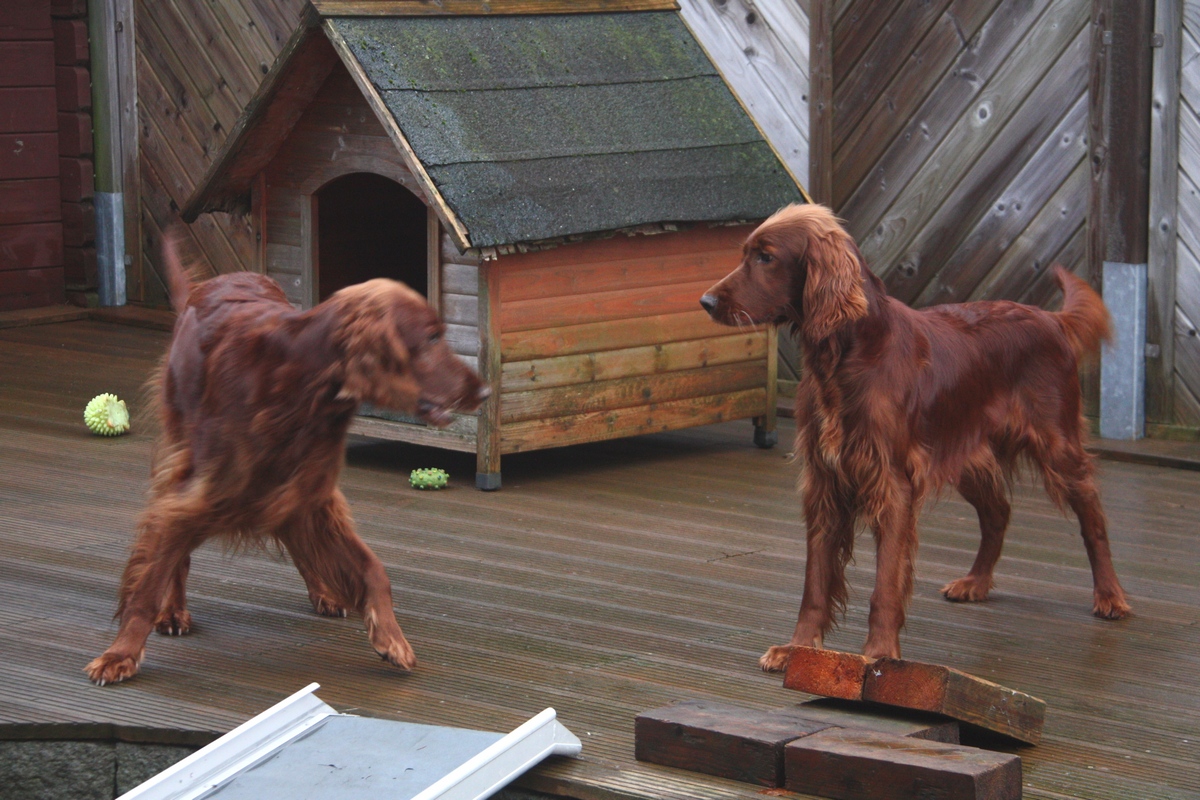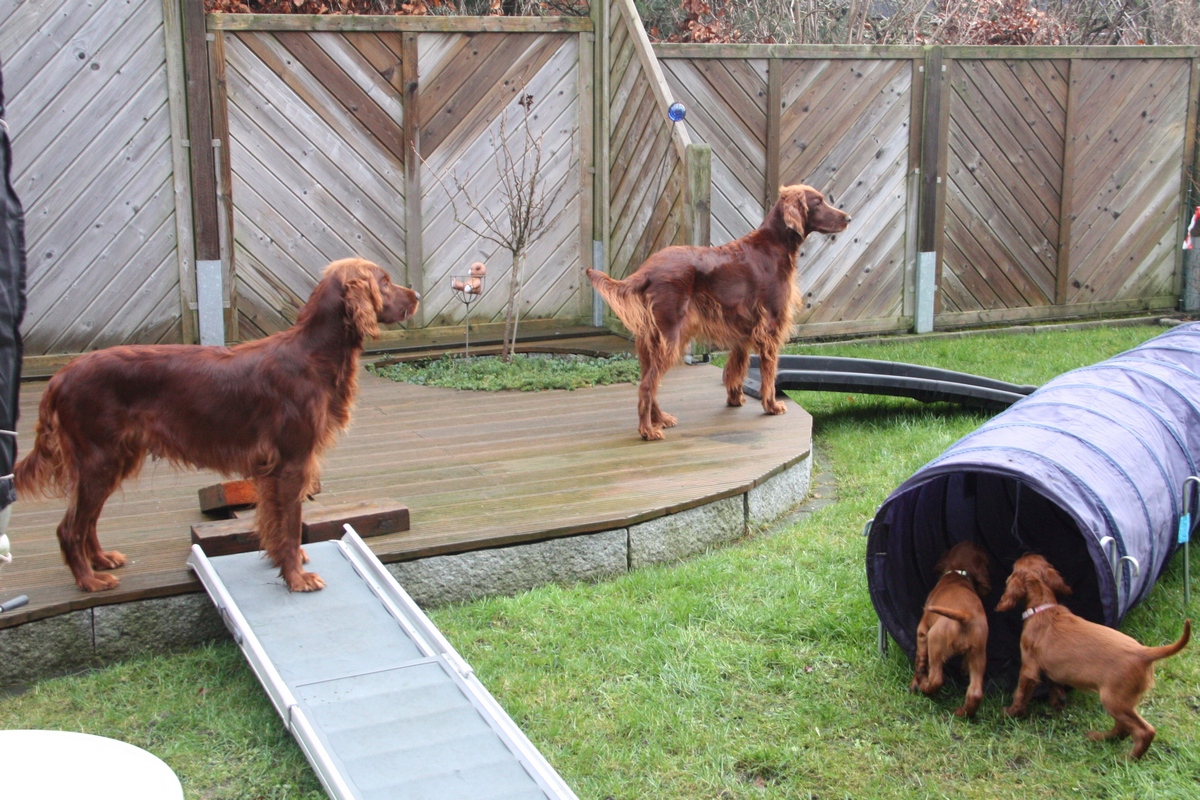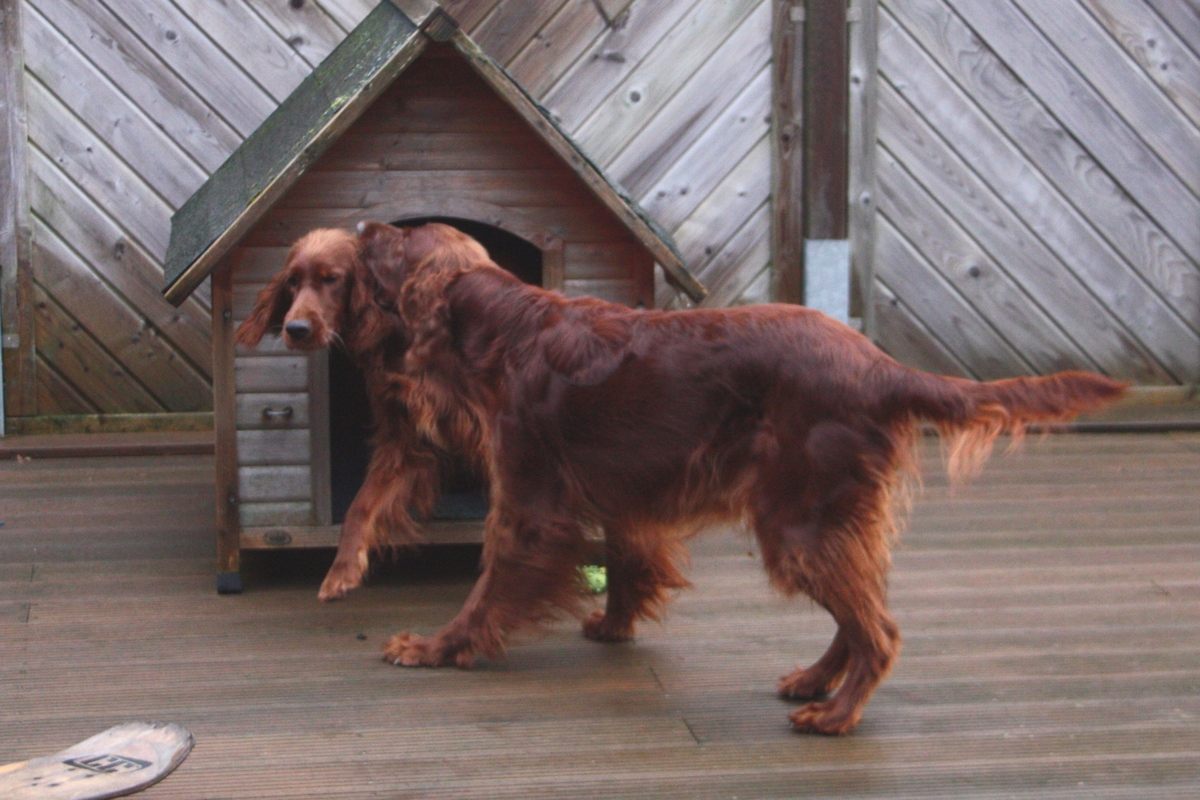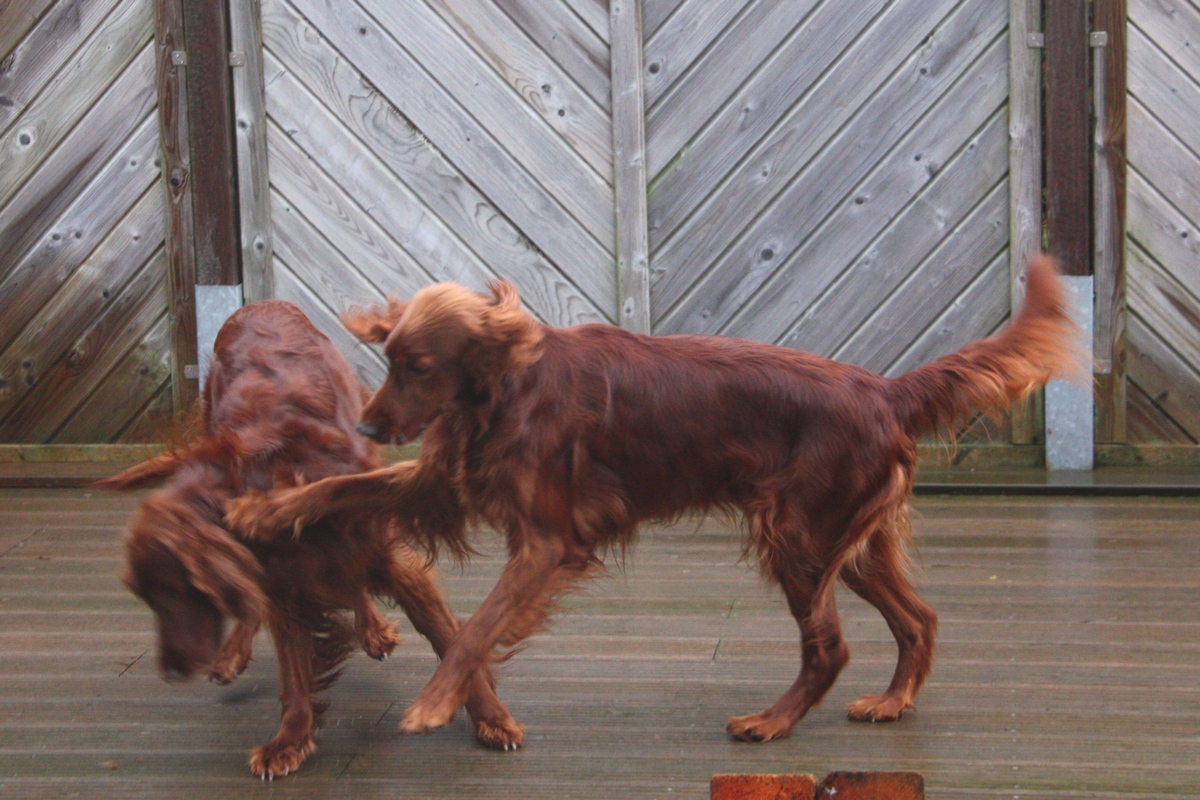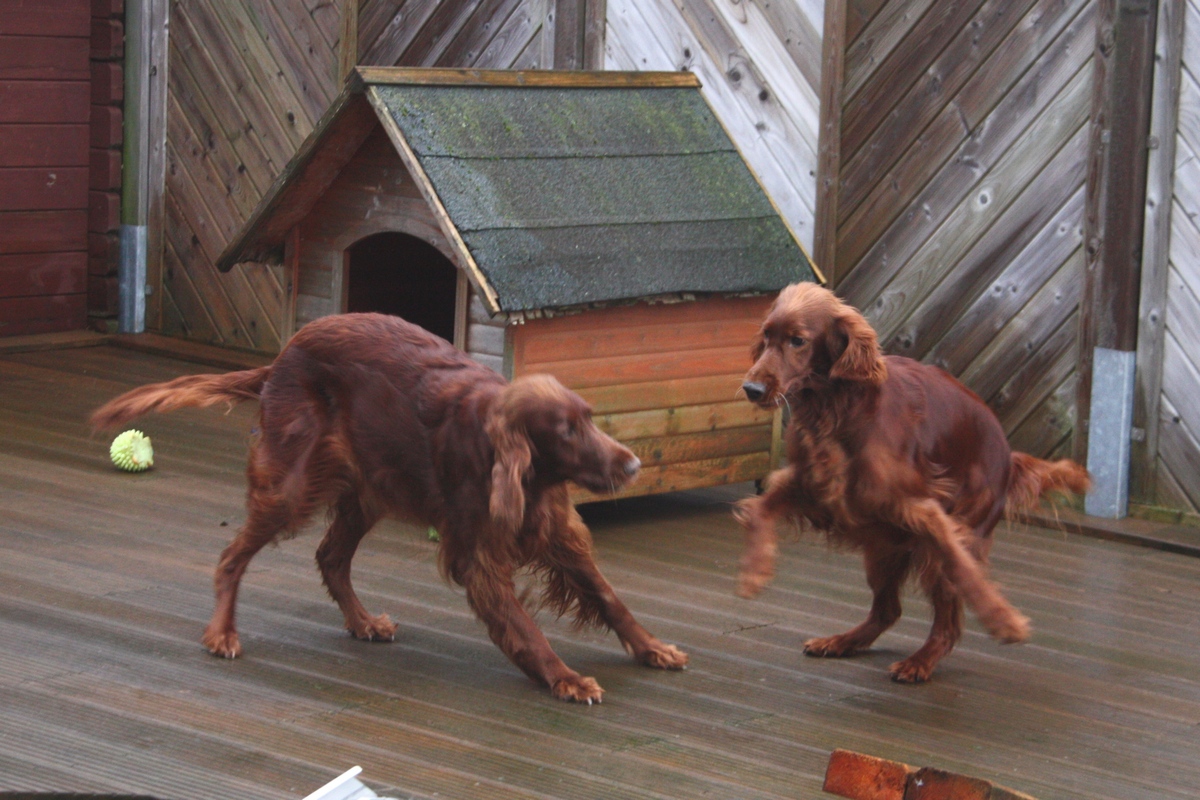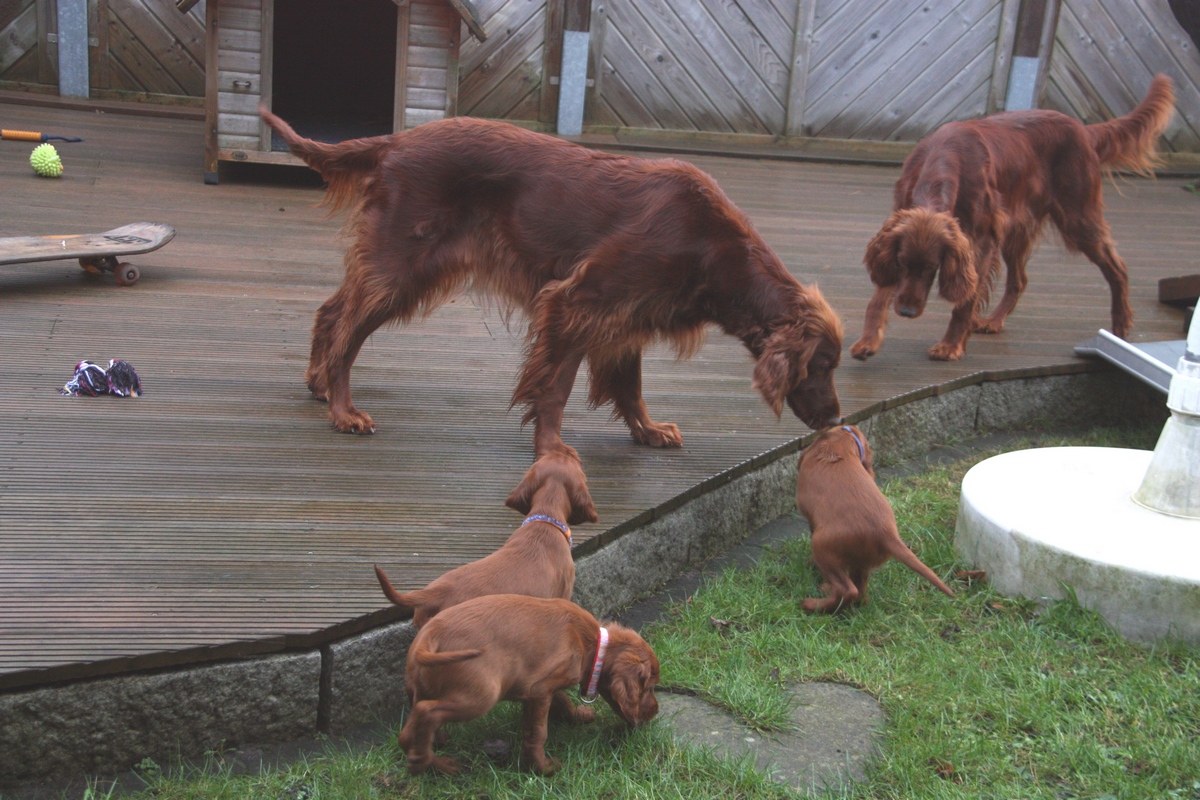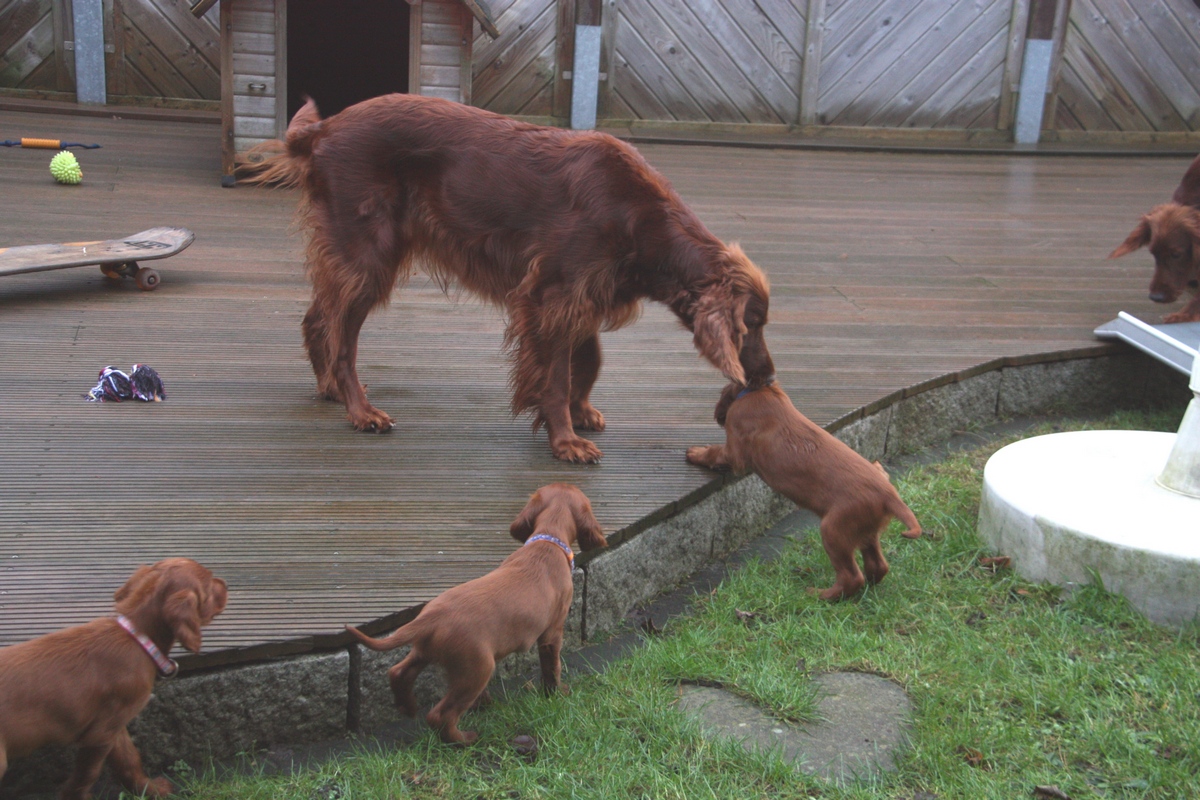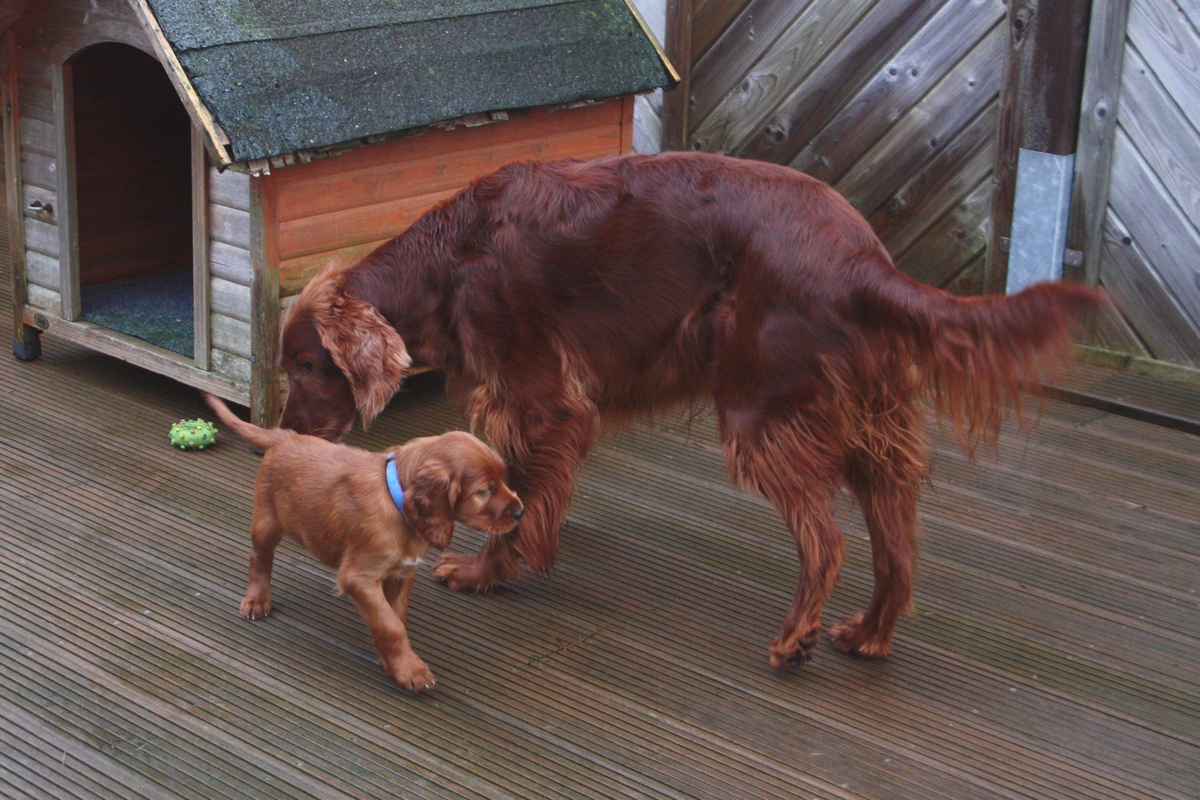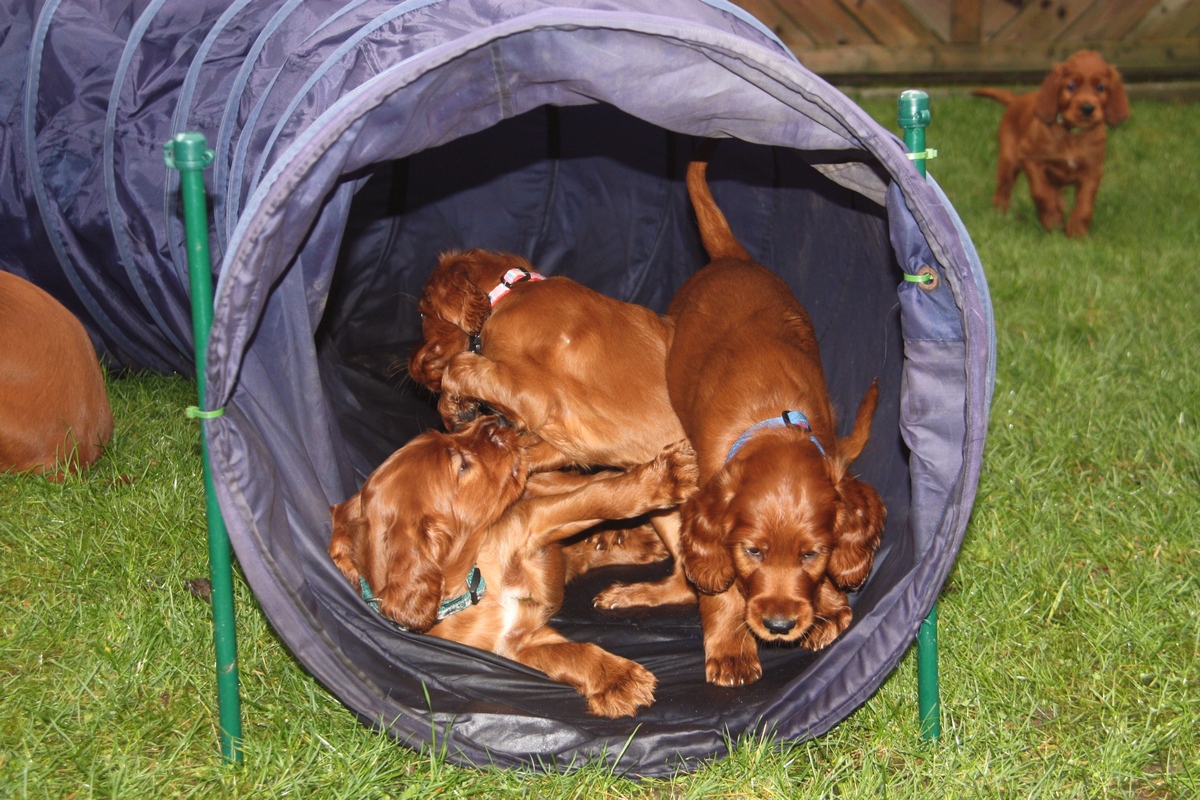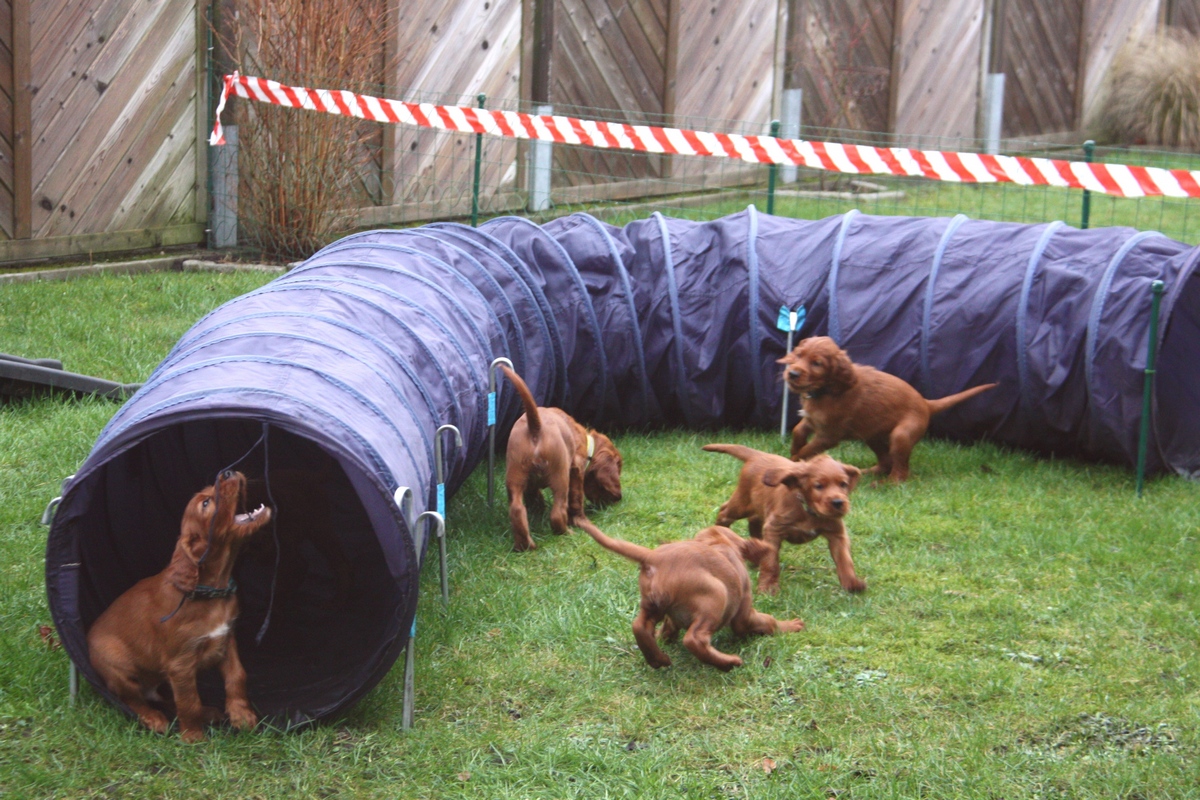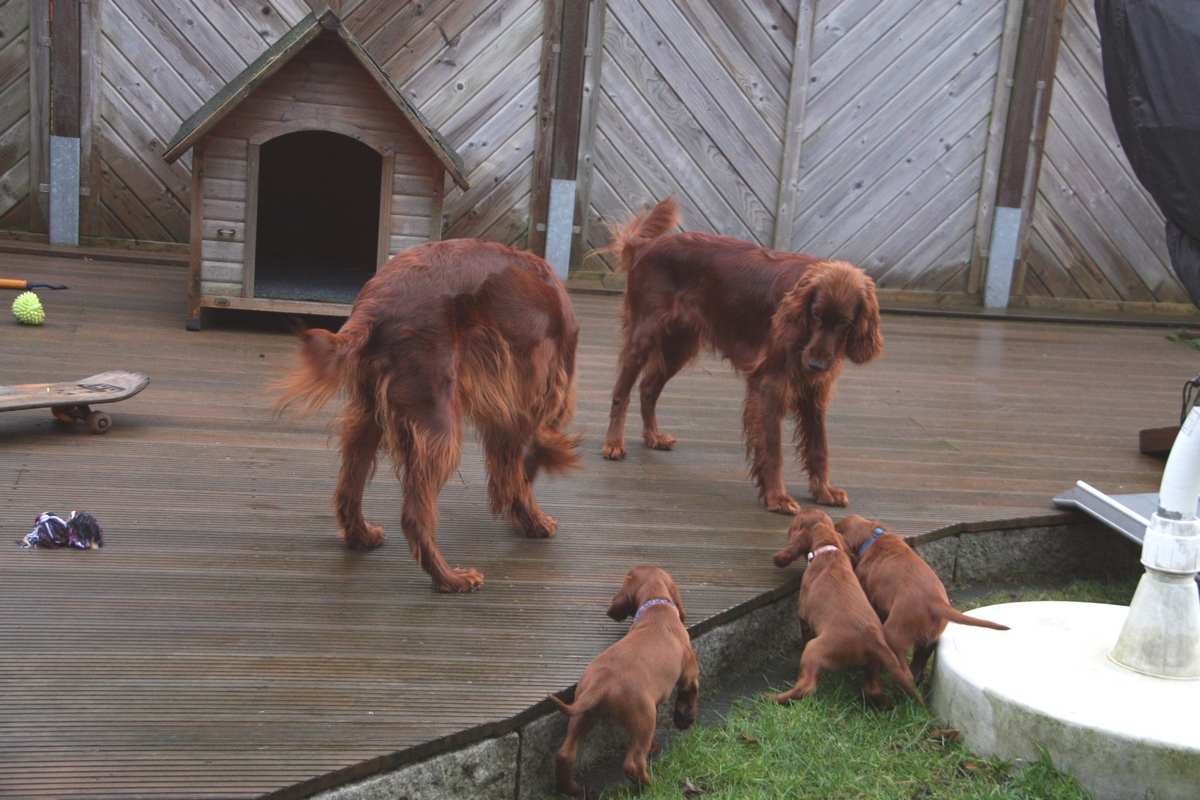 Når du sætter dig ned til de små i hvalpen Værelset, de angribe dig som en sværm af myg. De gnaske på alt, hvad de kan få mellem tænderne, men de nyder det at blive kysset og nusset.
Januar 19, 2016, 7 weeks and 5 days old
The tunnel is and remains at all litters for adults and children the most beautiful game device, on the same with or just after the cardboard :-)
Tayla knew the tunnel from the dog school, and Anouk and Diva know him from his own puppyhood. So they give it to their respective puppy on.
Januar 17, 2016, 7 weeks and 3 days old
Januar 16, 2016, 7 weeks and 2 days old
Our first excursion into the kitchen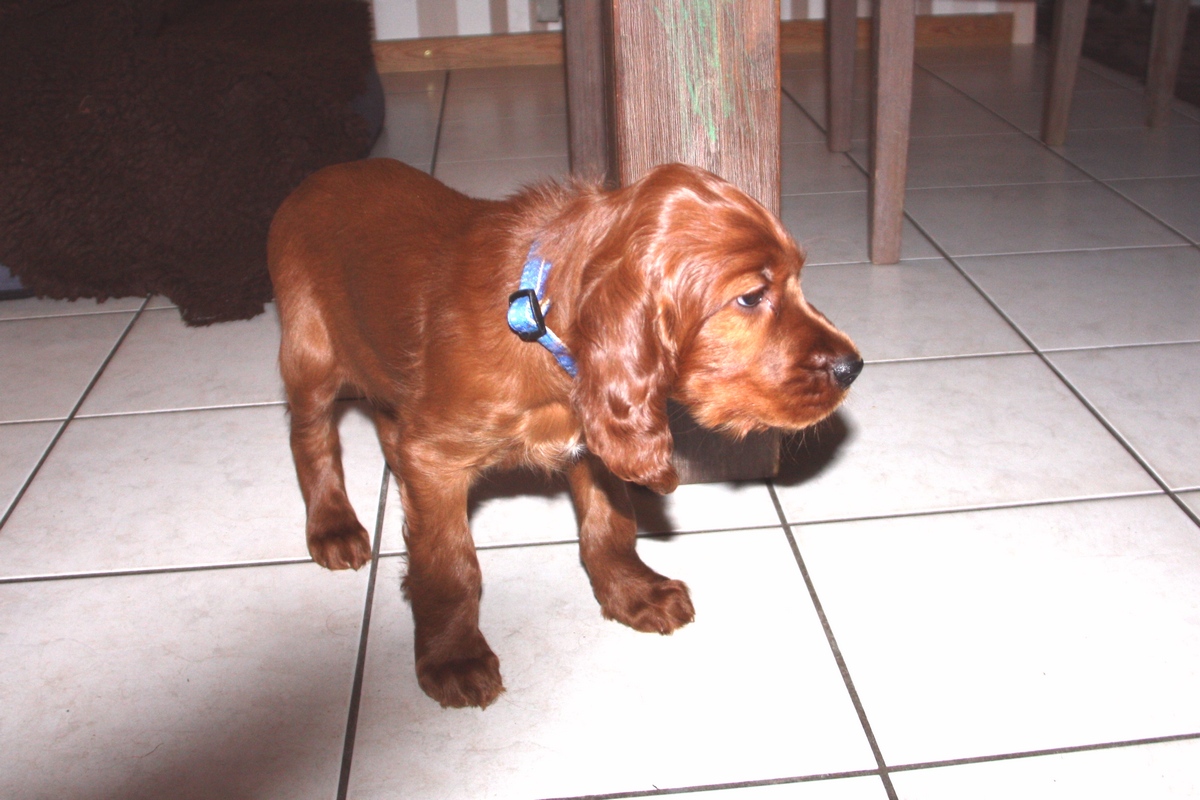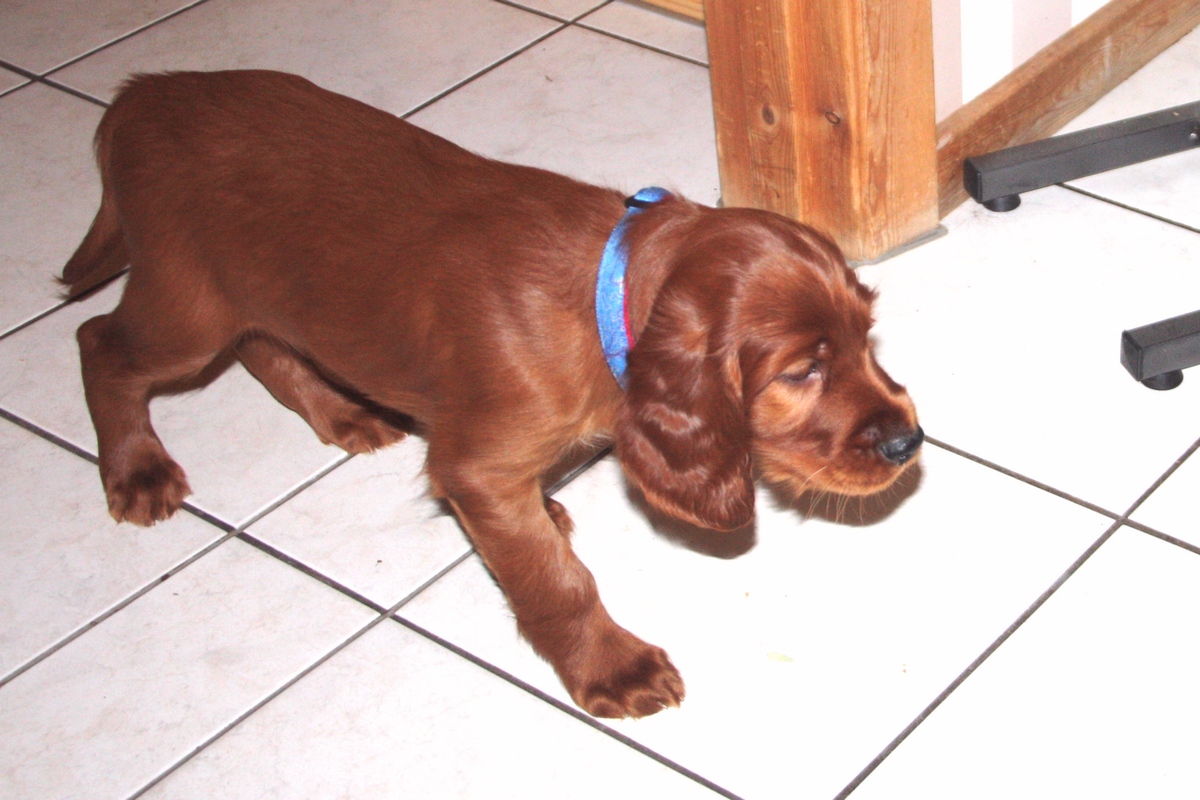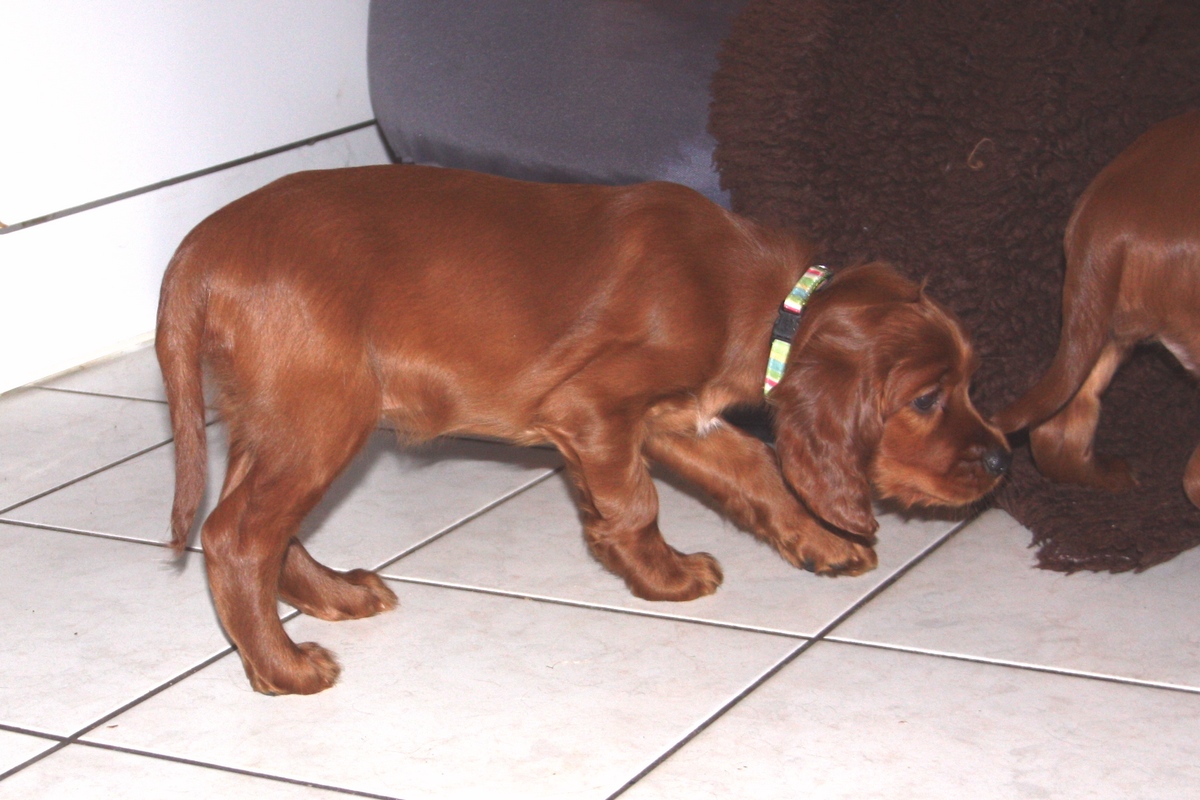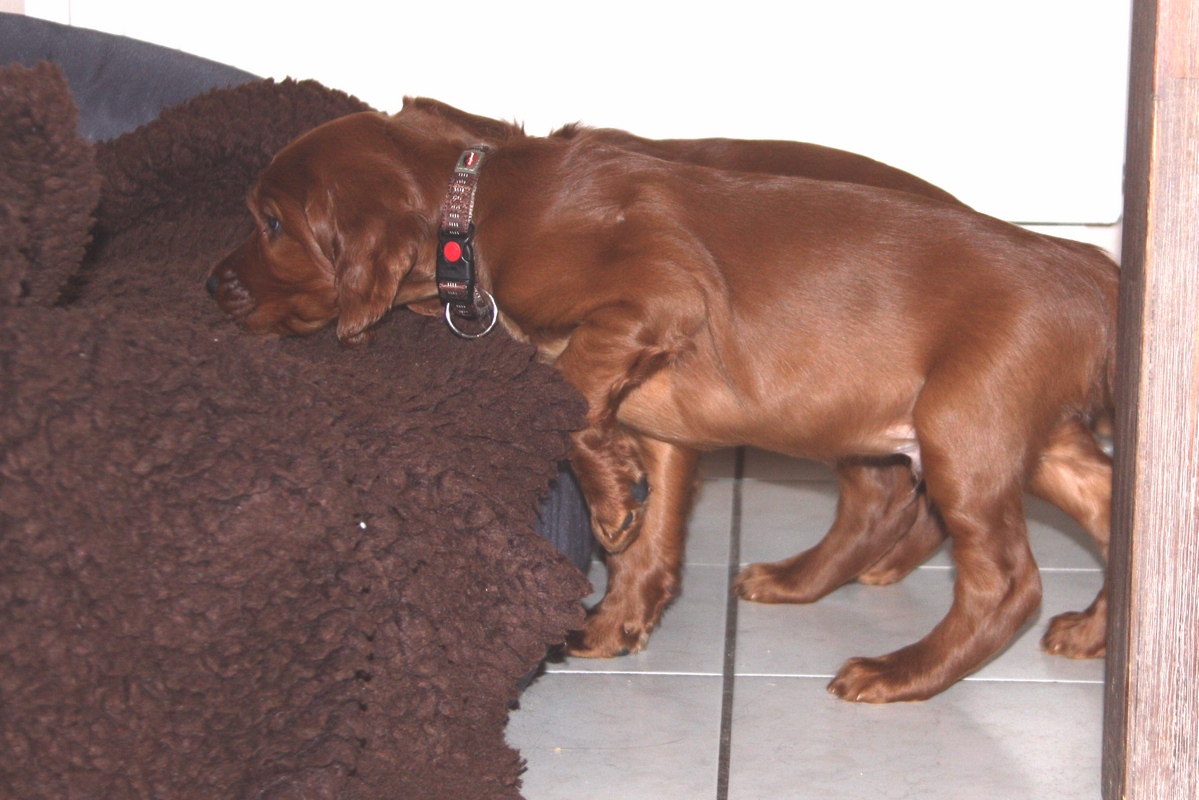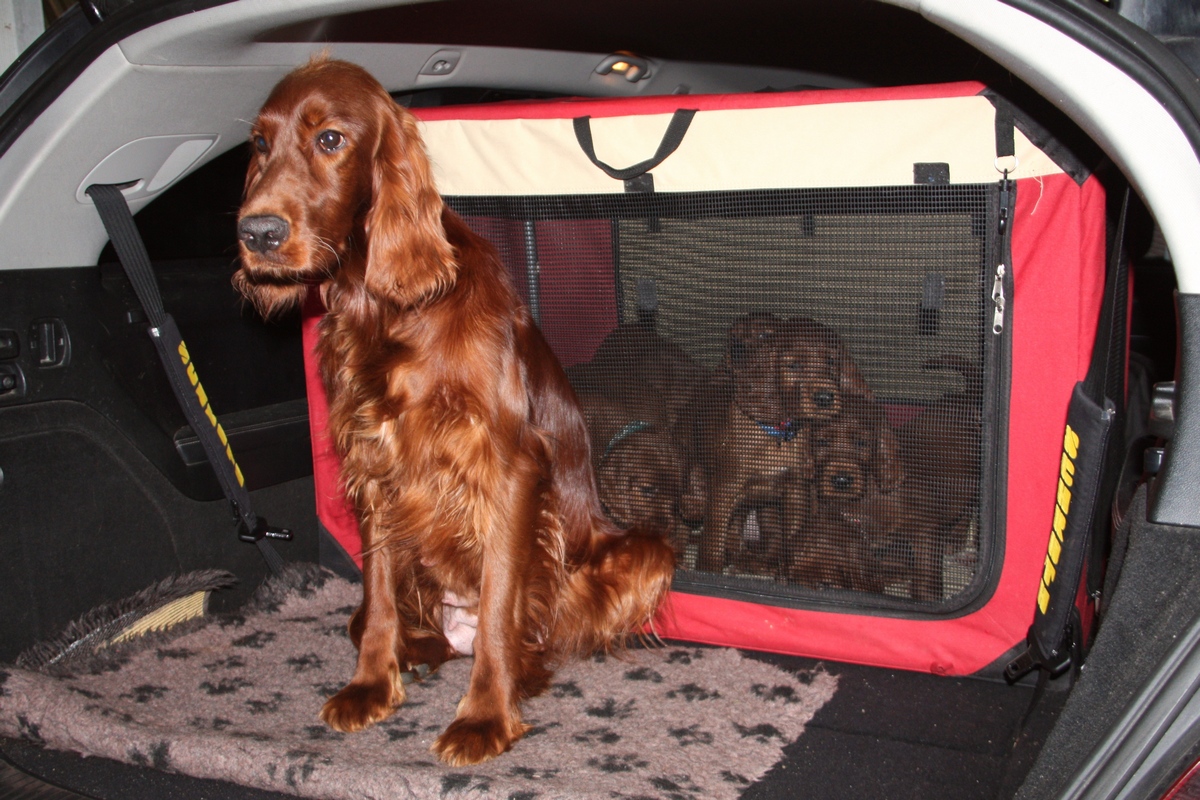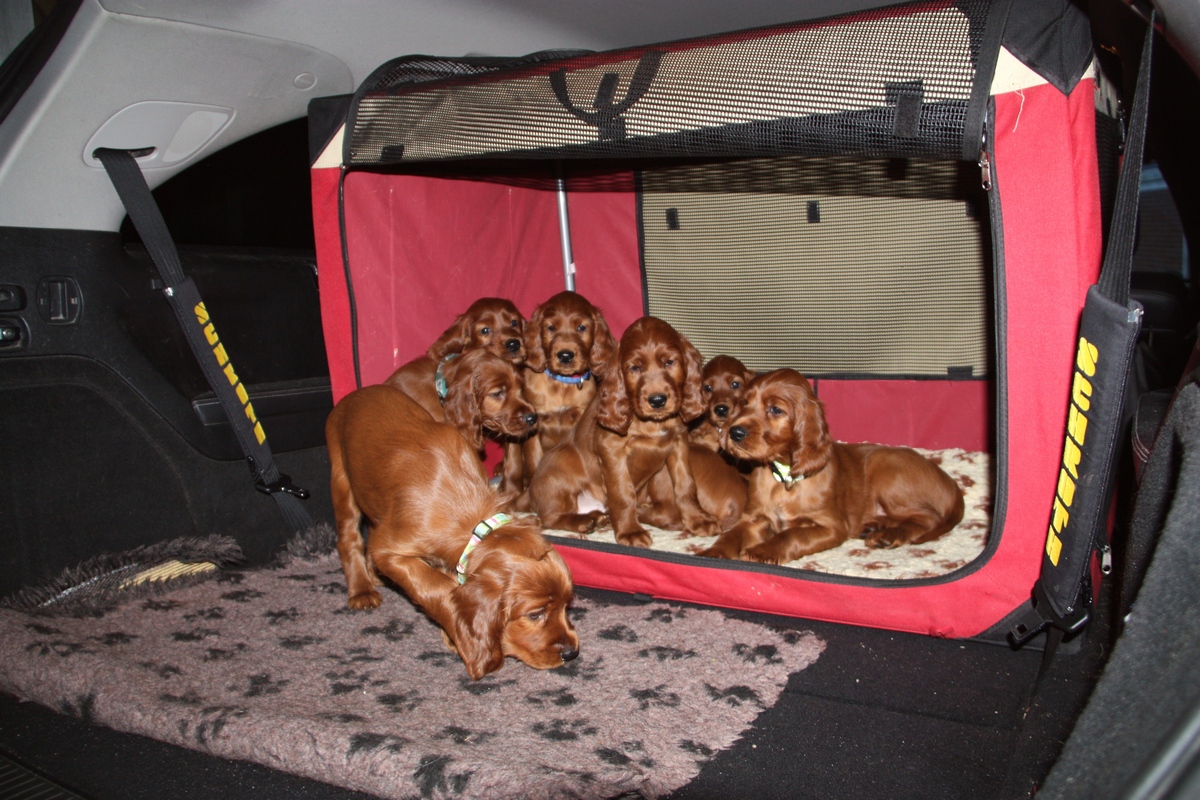 All were very well behaved.
No one has vomitted.
Just a little salivated.
After returning no one wanted to get out.
After opening the zipper all remained seated quite good to be photographed.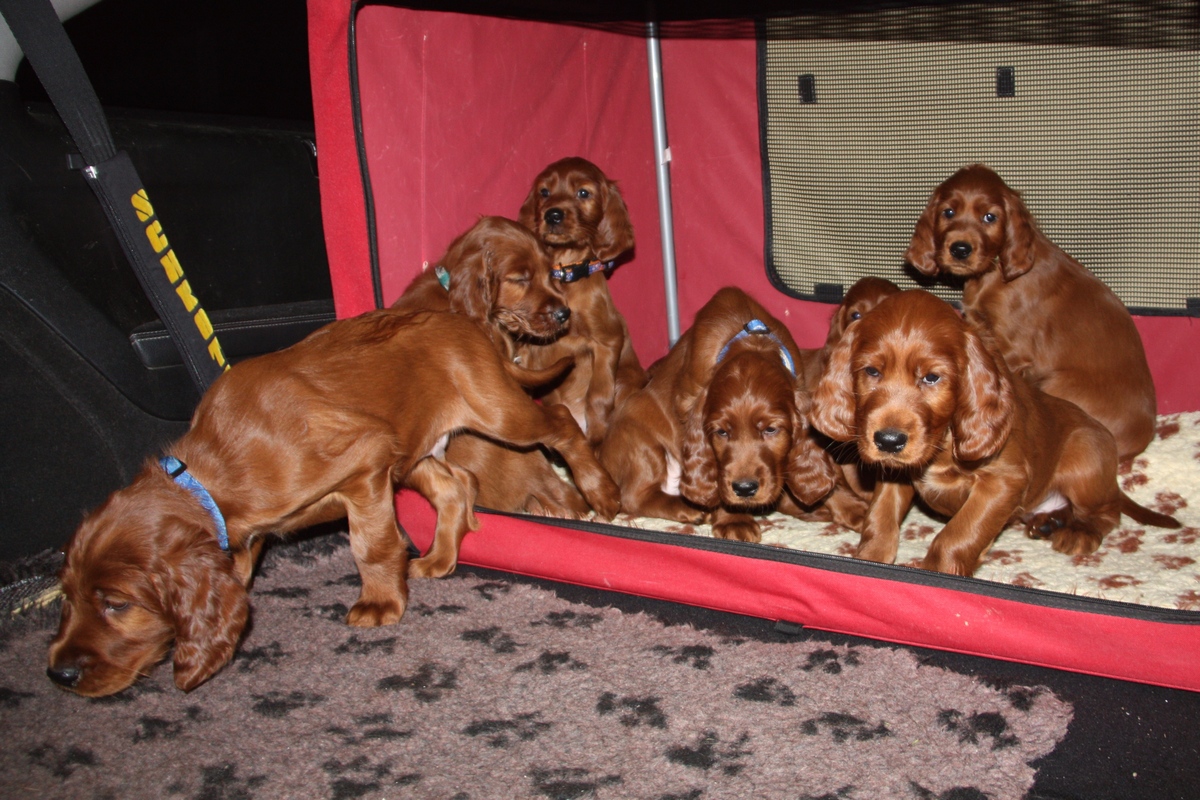 And in the afternoon all go back into the garden, because they have learned to love it. It's hard to get them back inside, partly hiding in the puppy tunnel.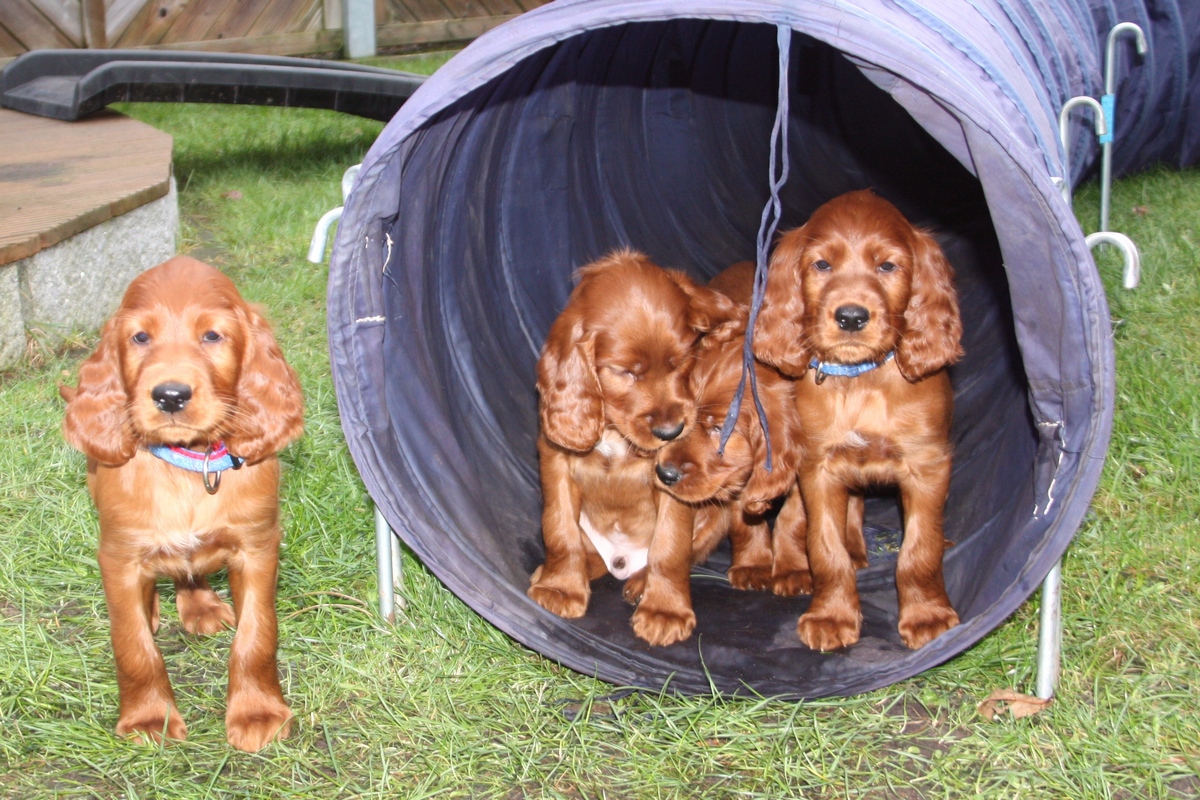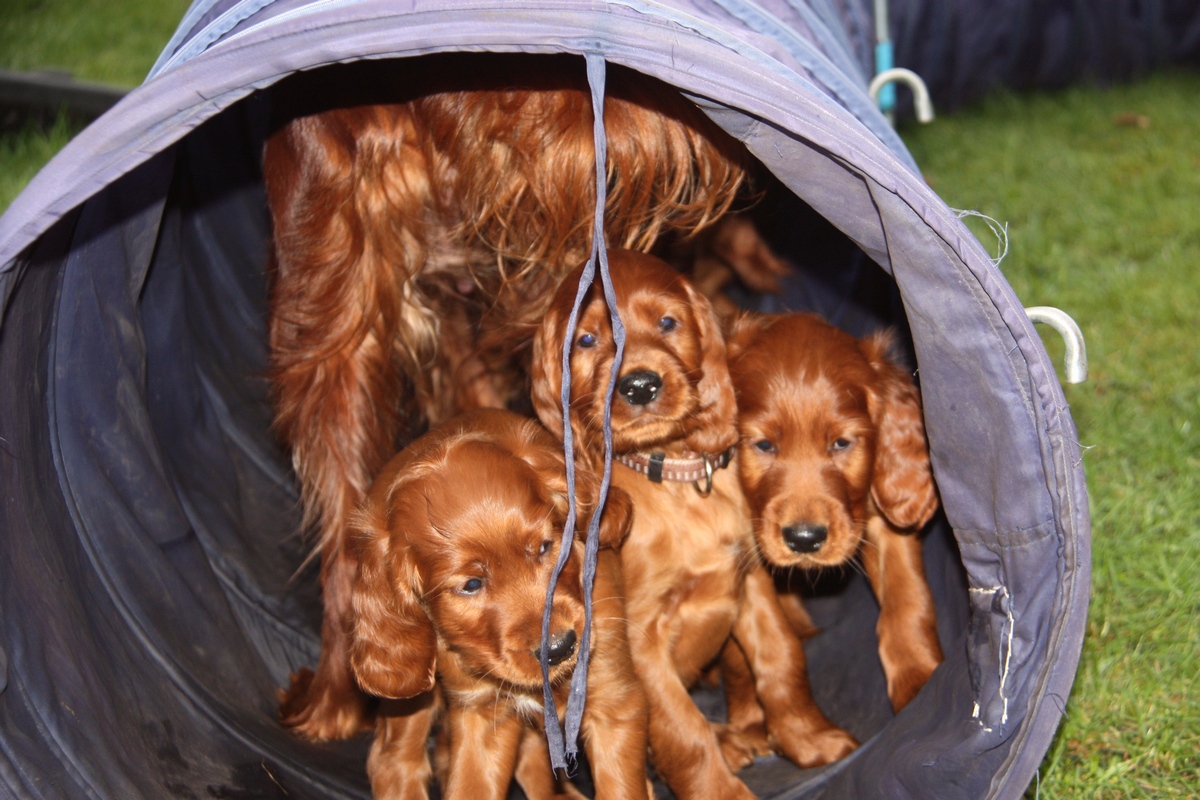 Flash Farell Ferris Finlay
(Diva from behind) Farell Ferris Finlay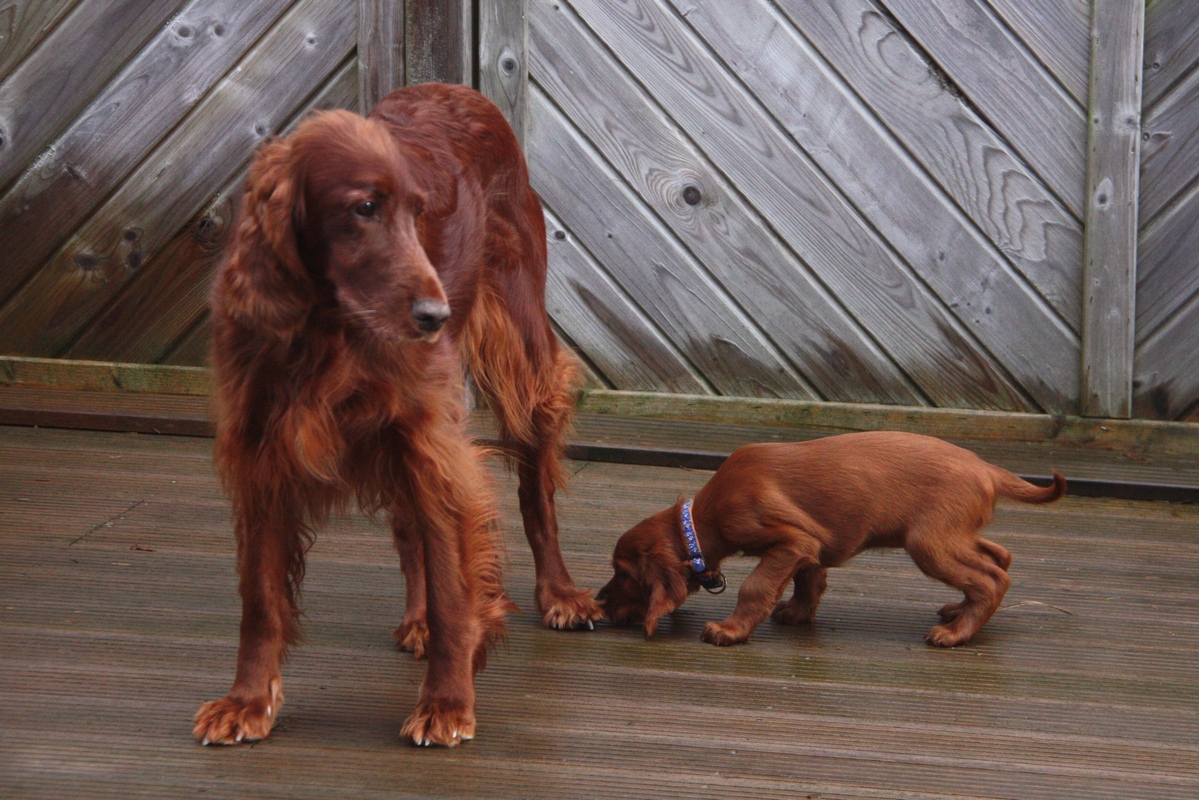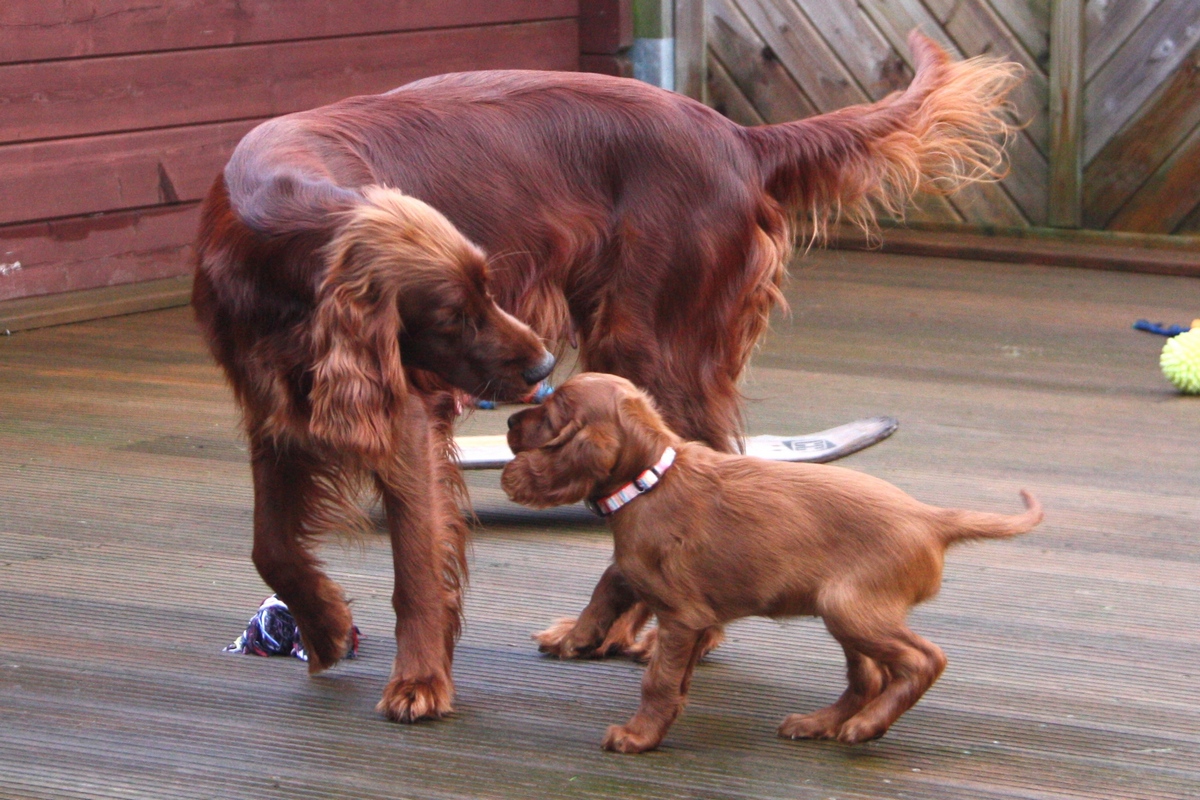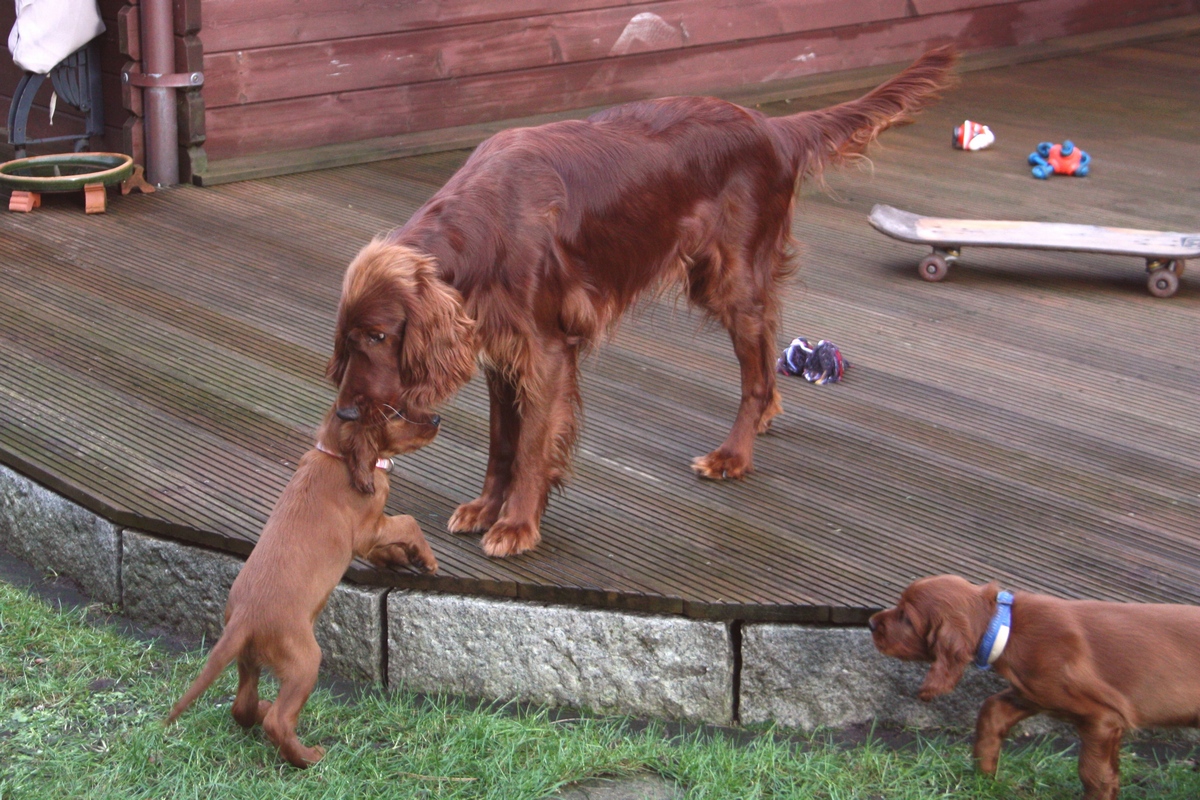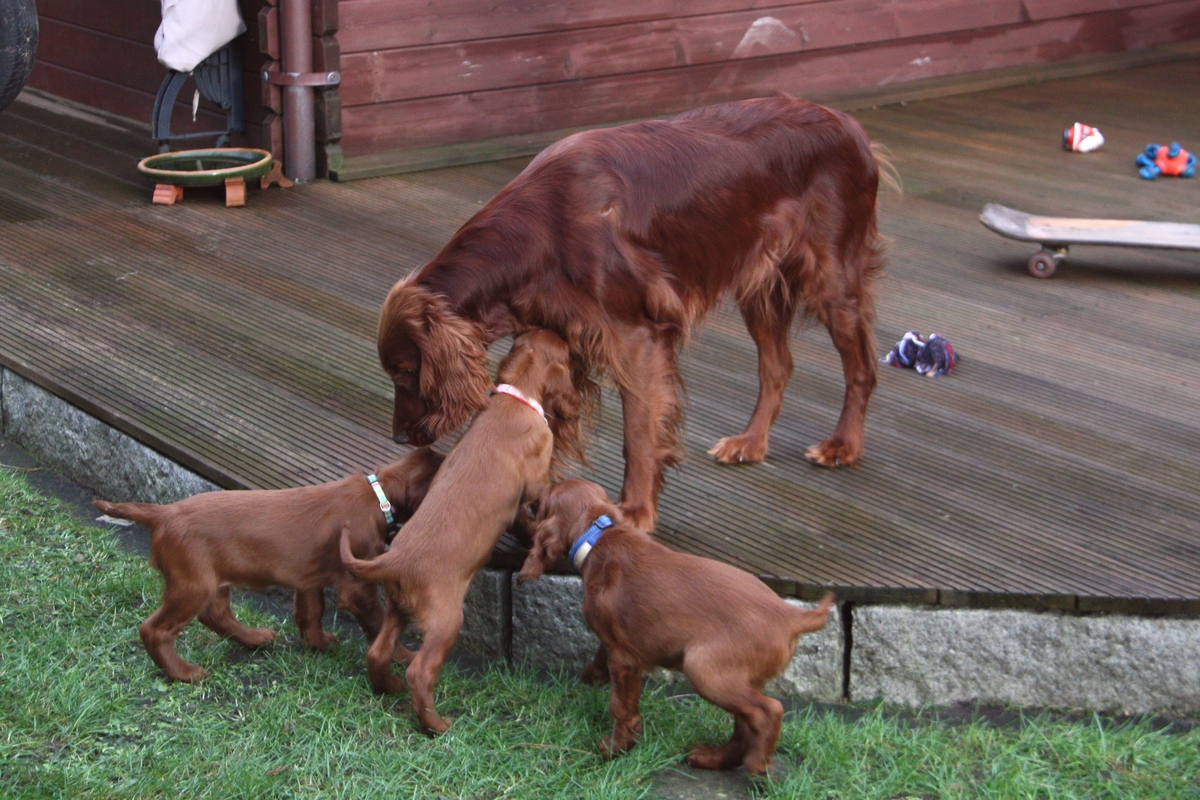 Diva with
Febe and Finlay
Diva with
Feeny Febe and Finlay
January 20, 2016, 7 weeks and 6 days old
Now it's snow-time.
In the beginning again to the "gas station", and then they can start. Playing with the puppies, playing with Anouk and if there is too excessive bugger off quickly over the fence.
But that's boring after a while and it goes back.
And if gaming with the kids is not enough, you still can catch snowballs in between. :-))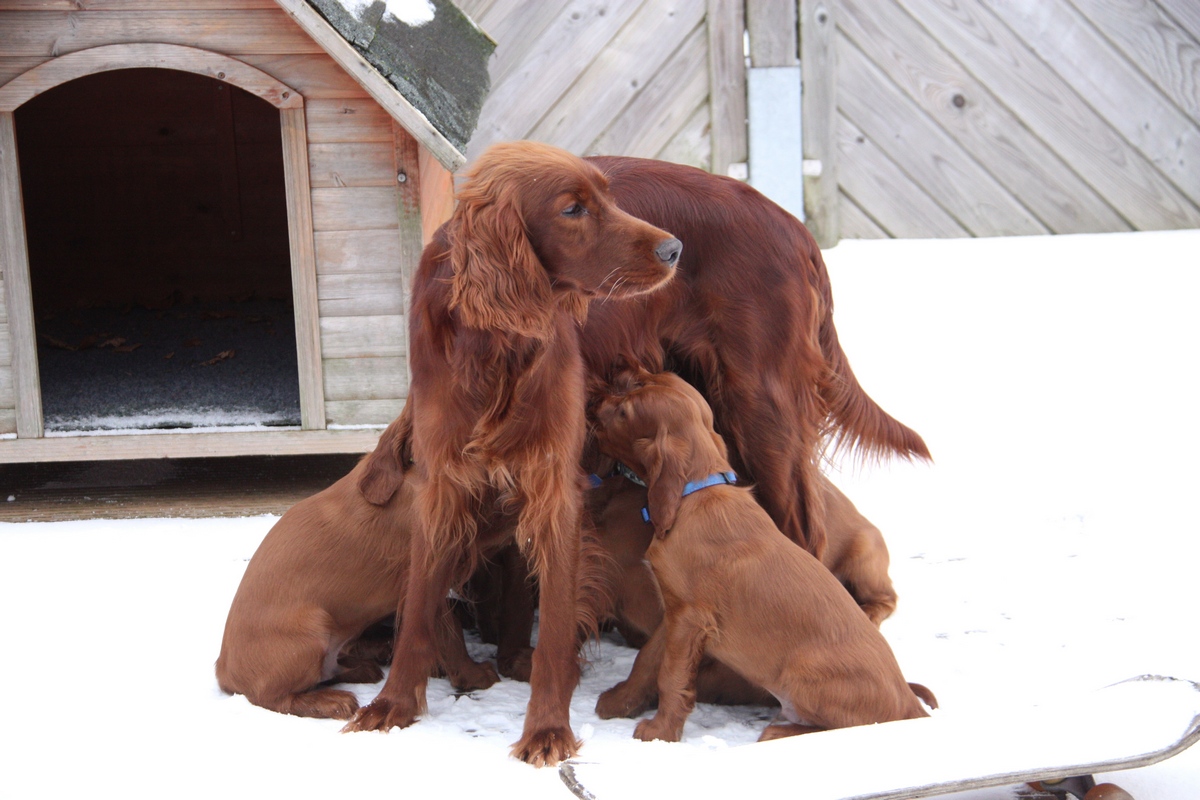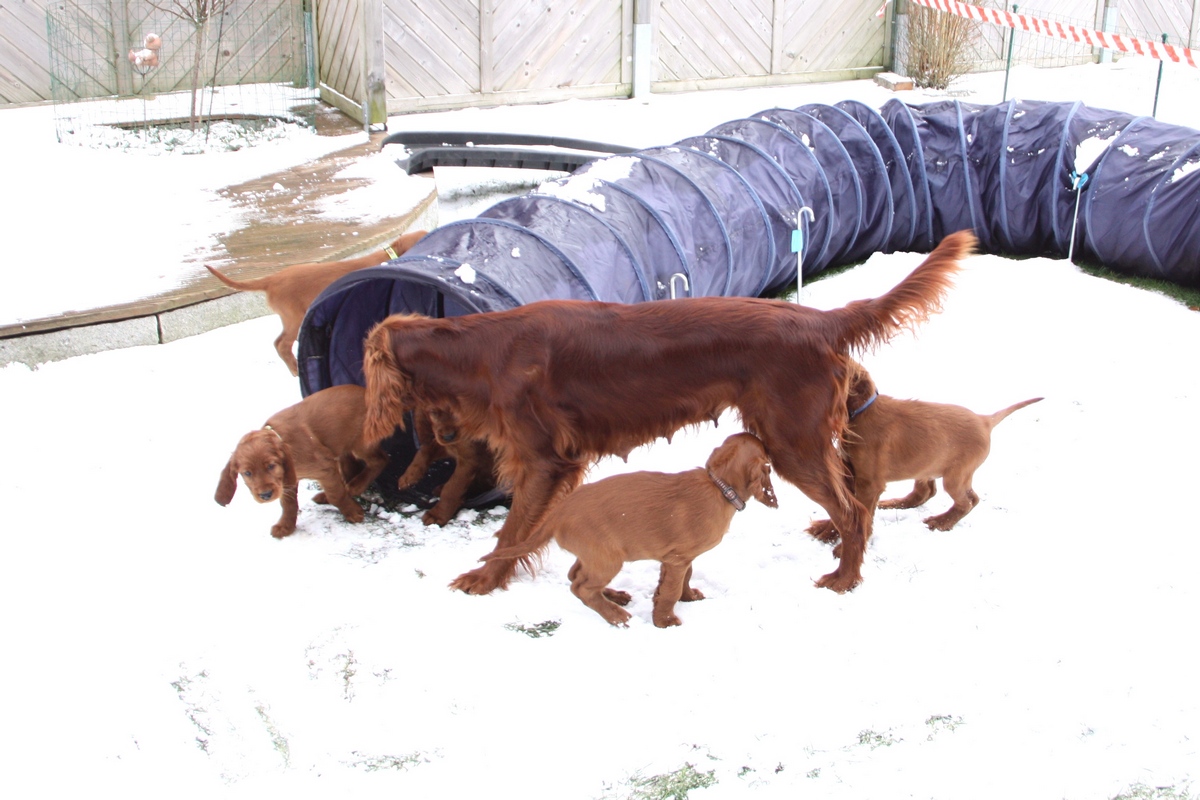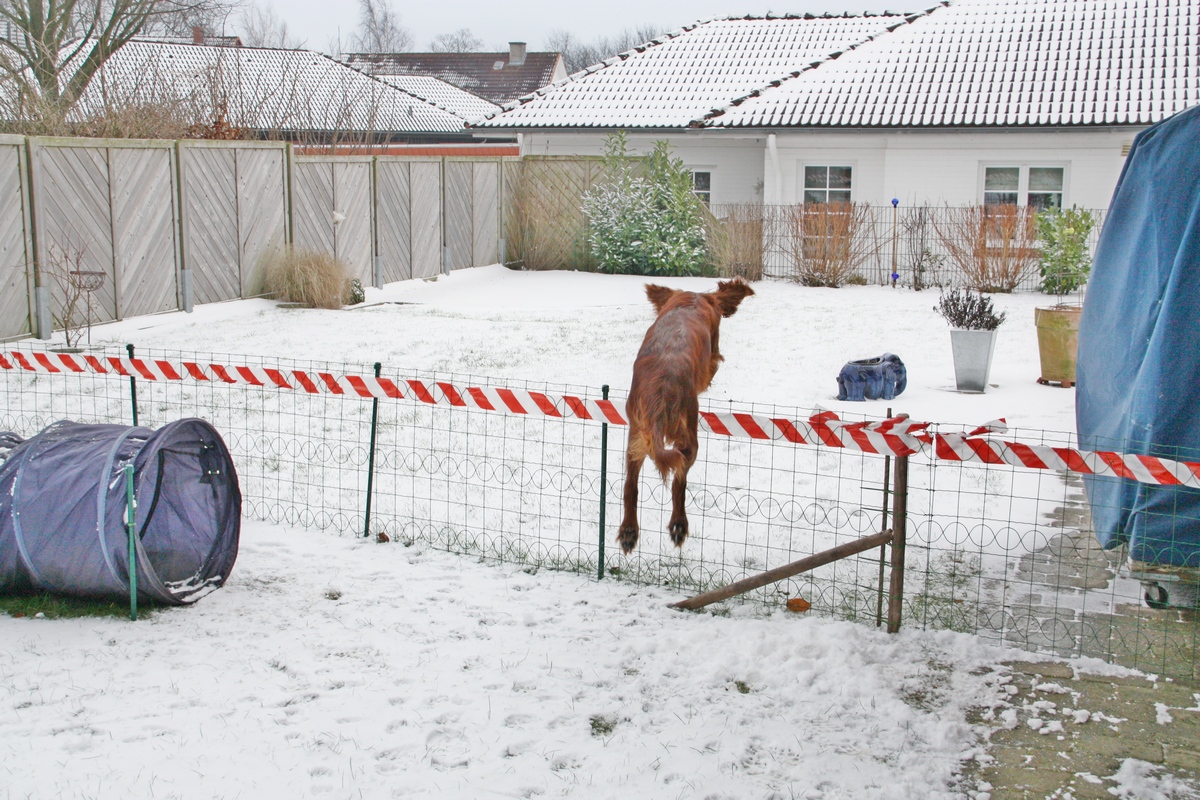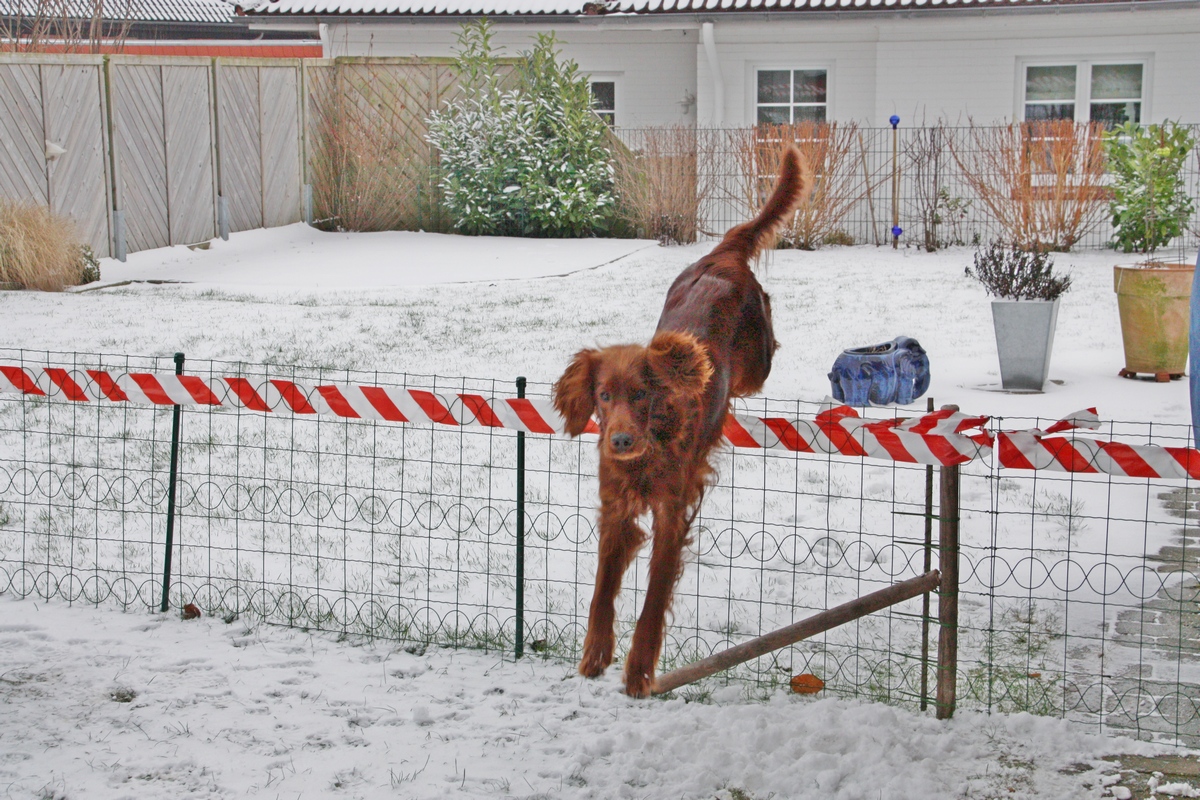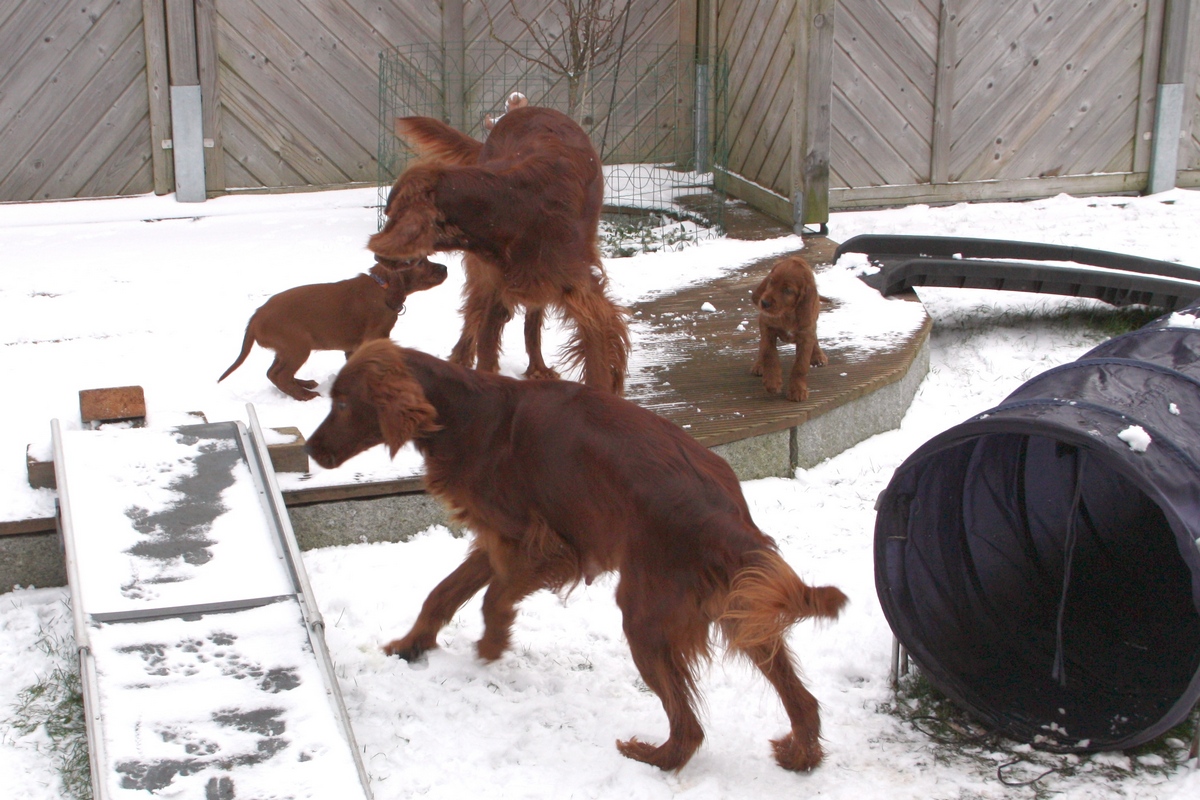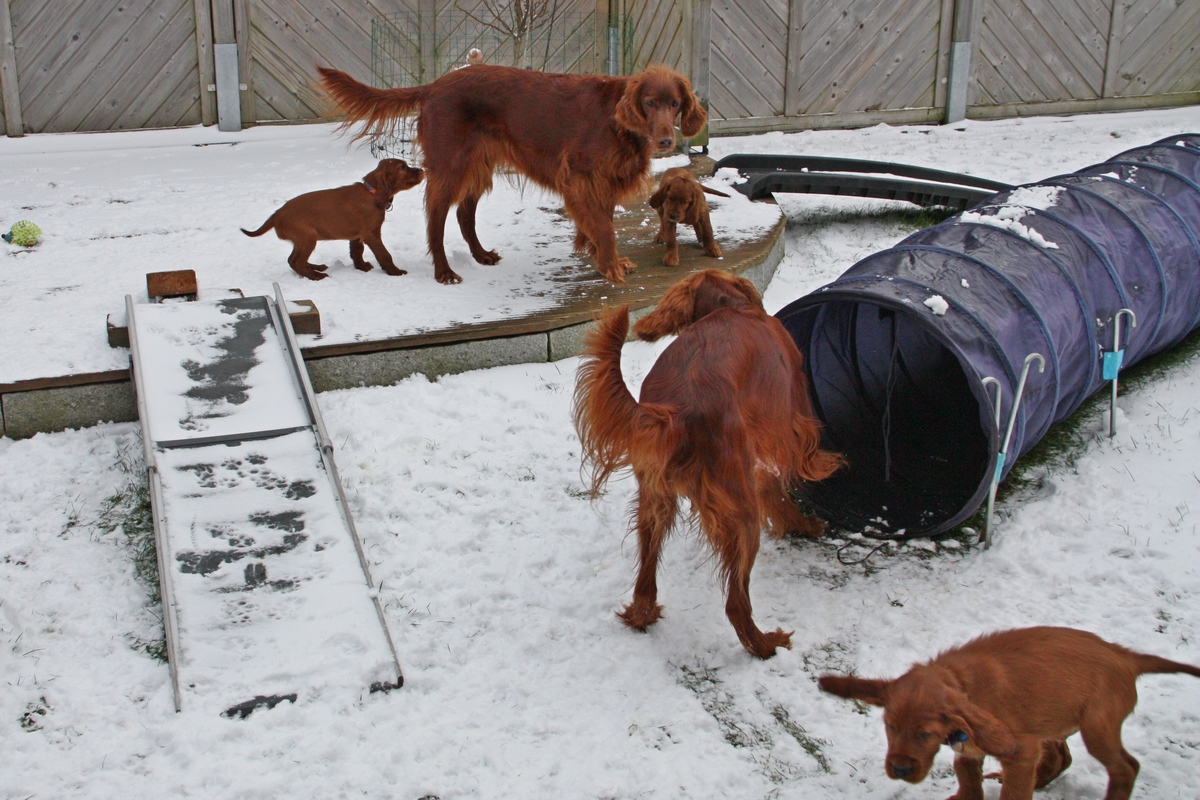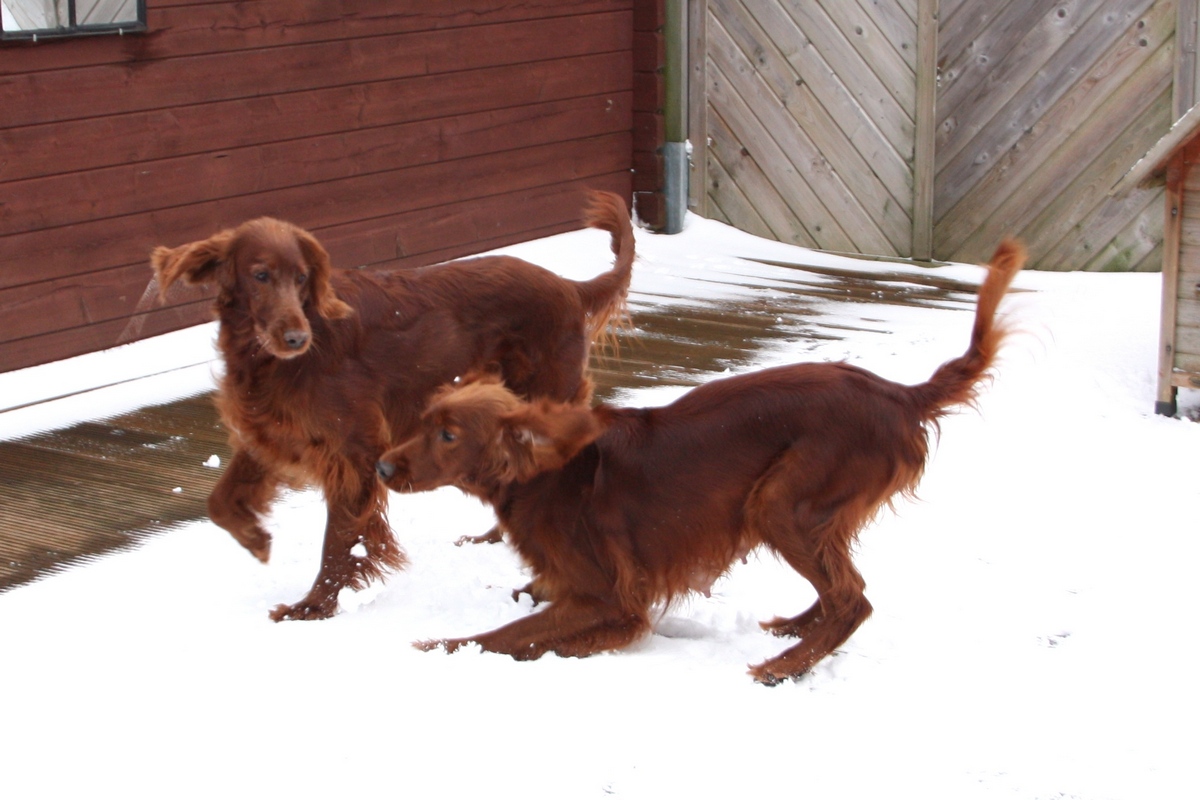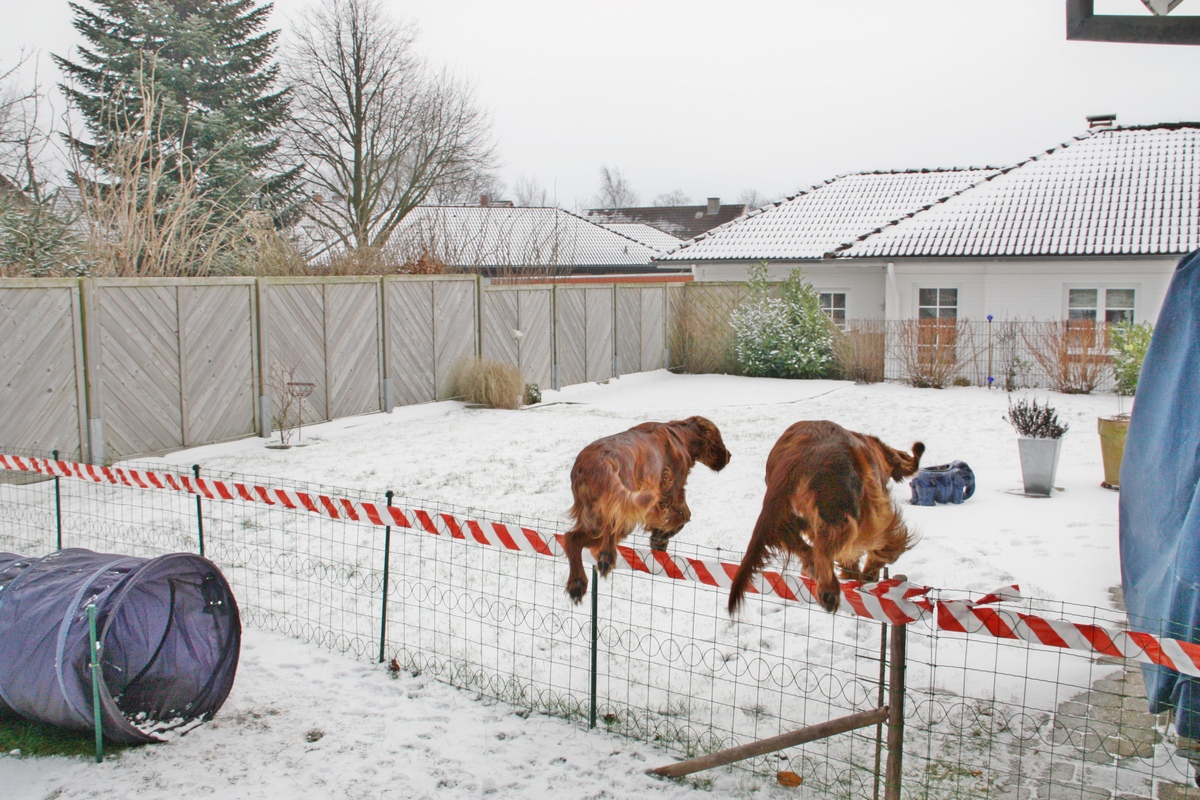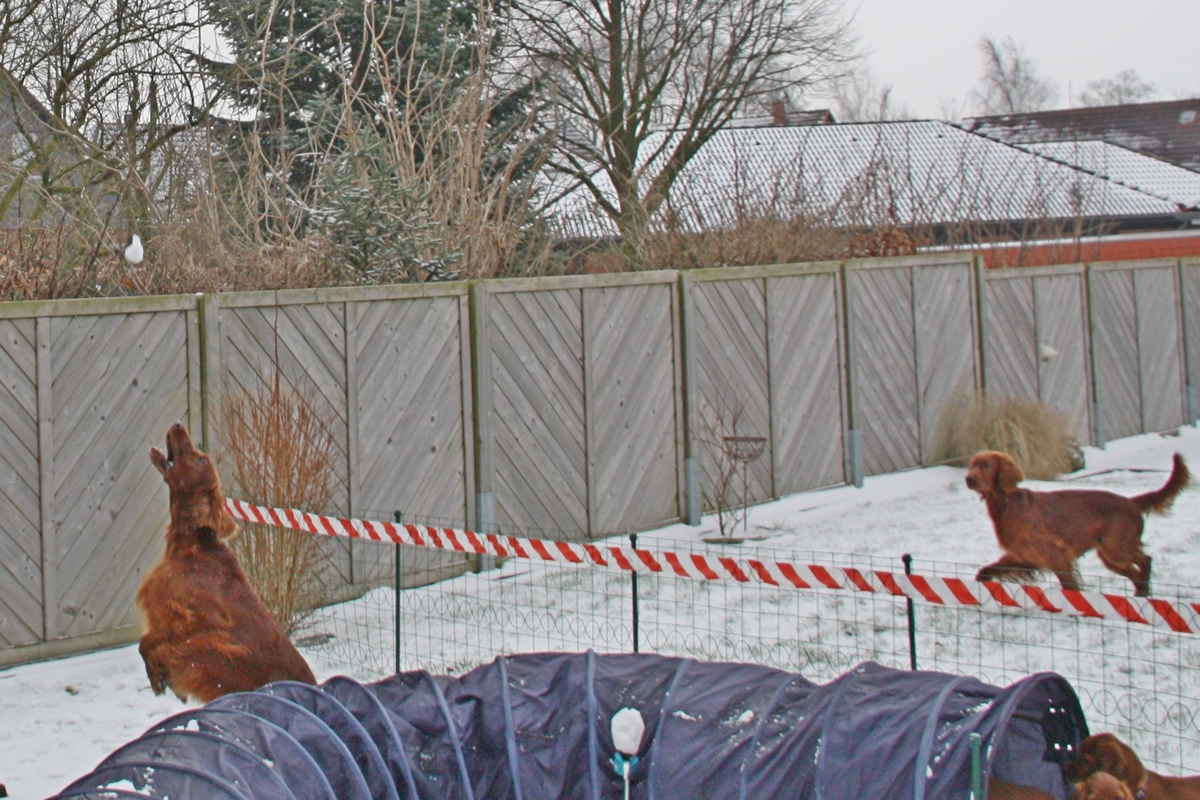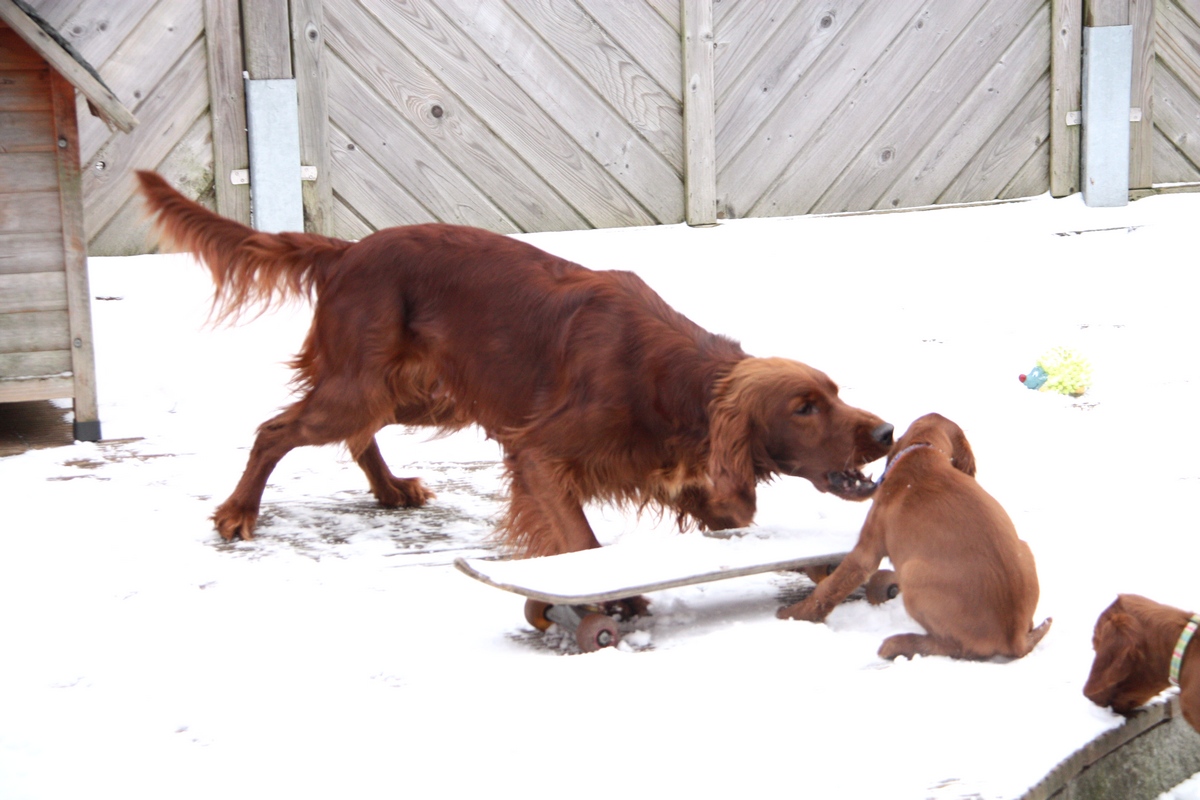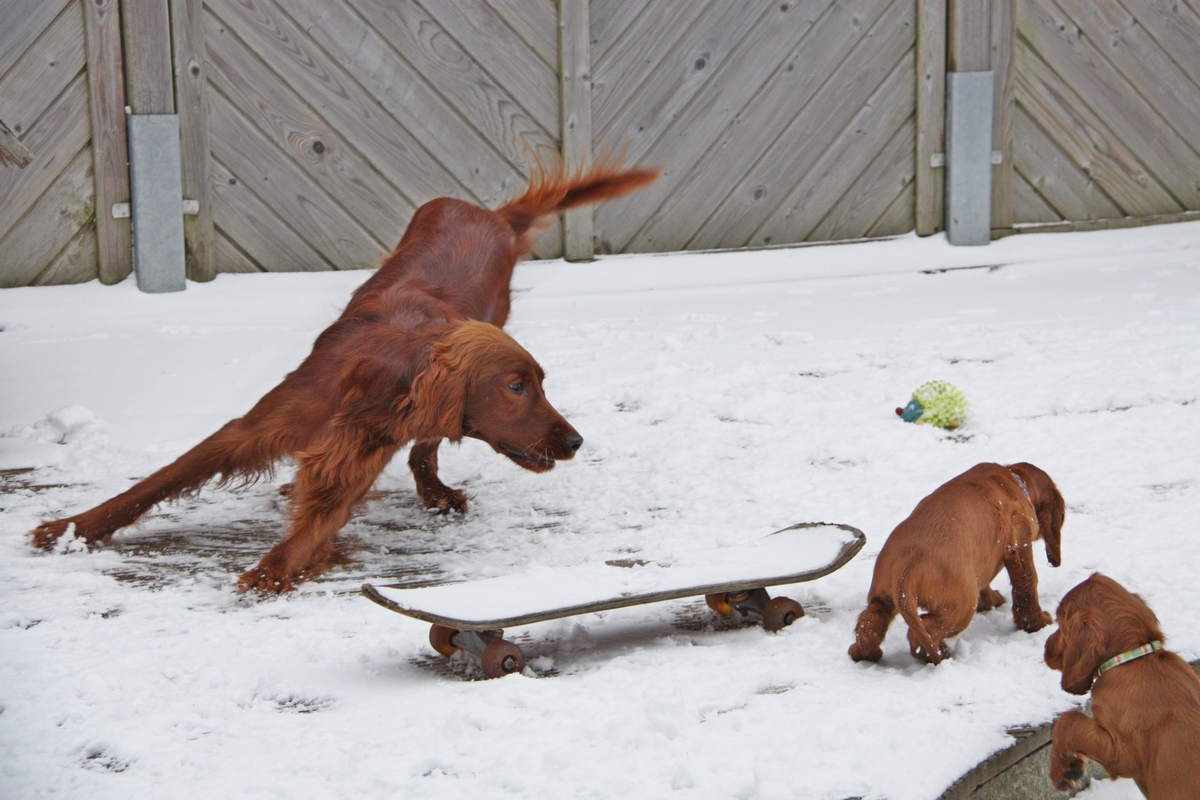 ...or directly to the 8th week
January 12, 2016, 6 weeks and 5 days old
The easiest and cheapest toy is the best toy. This is true for children and also for puppies. The best example is a cardboard box. Cut two holes in it and you're done.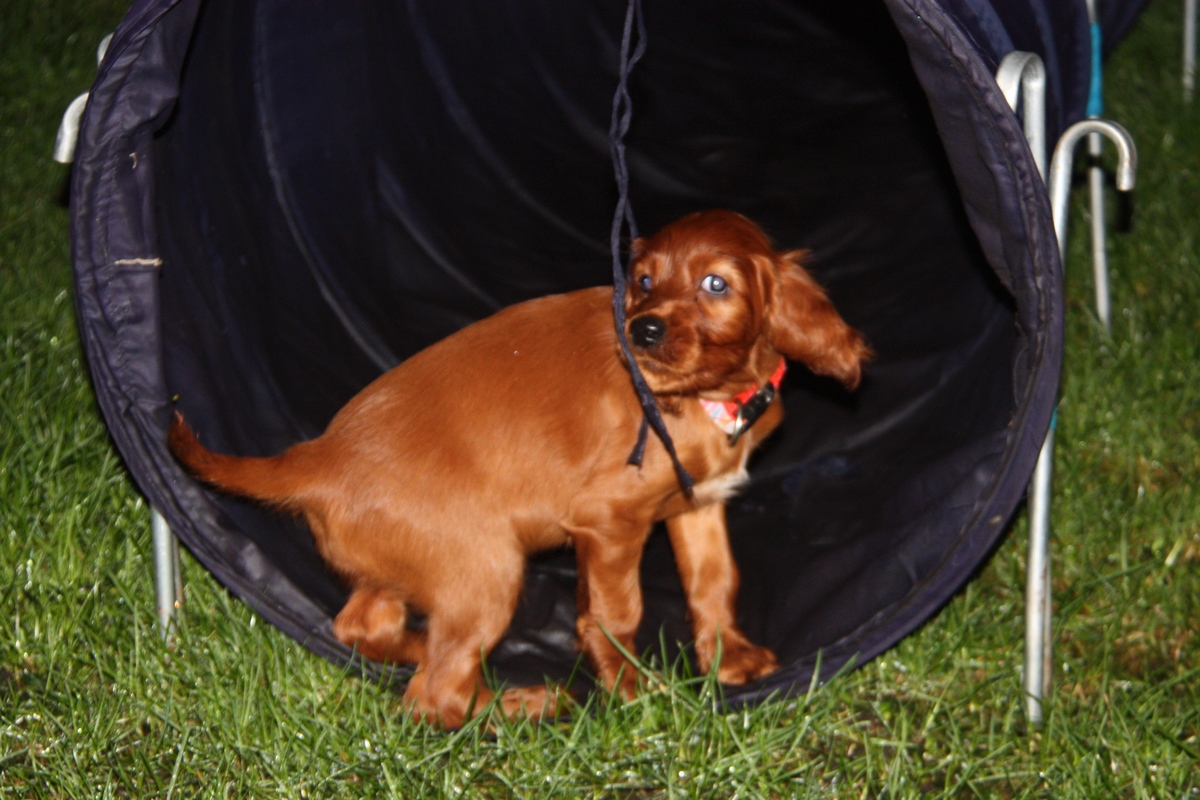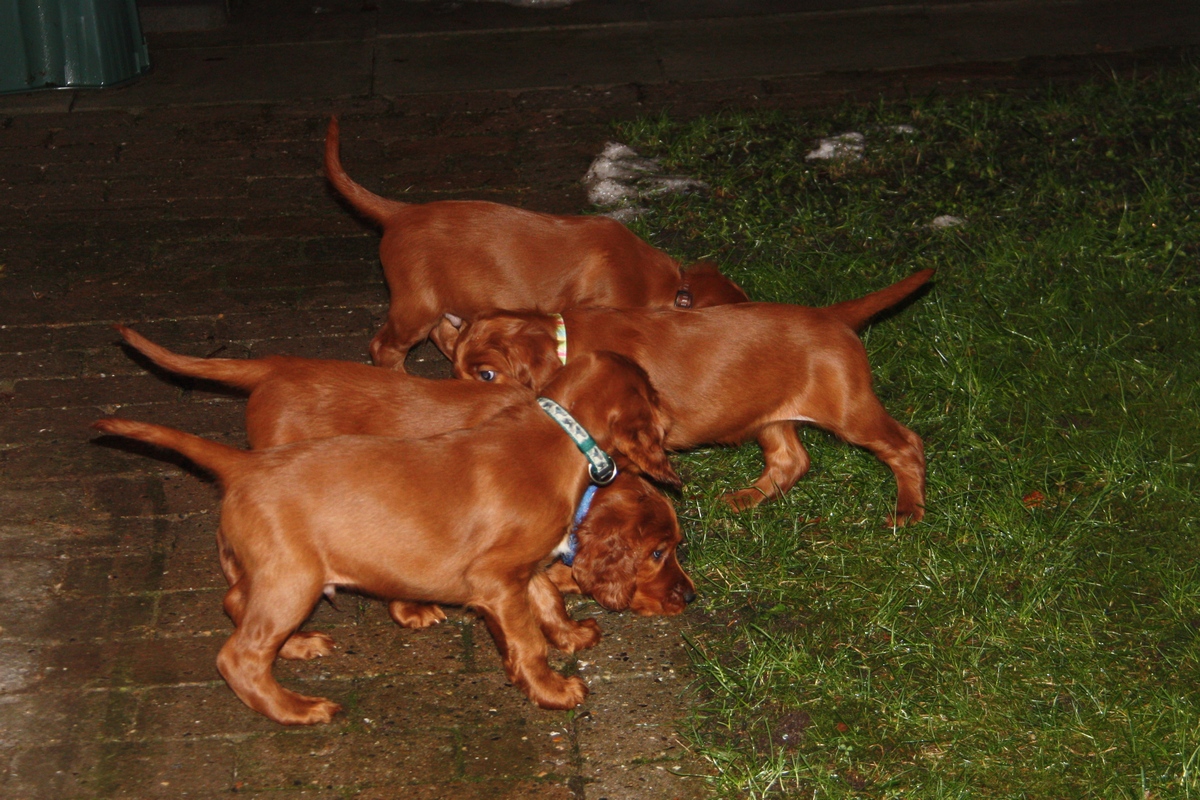 Finally out in the garden. Although it is dark, but that does not really bother. Beginning hesitant, but then with a lot of joy the "enhanced" playground is conquered .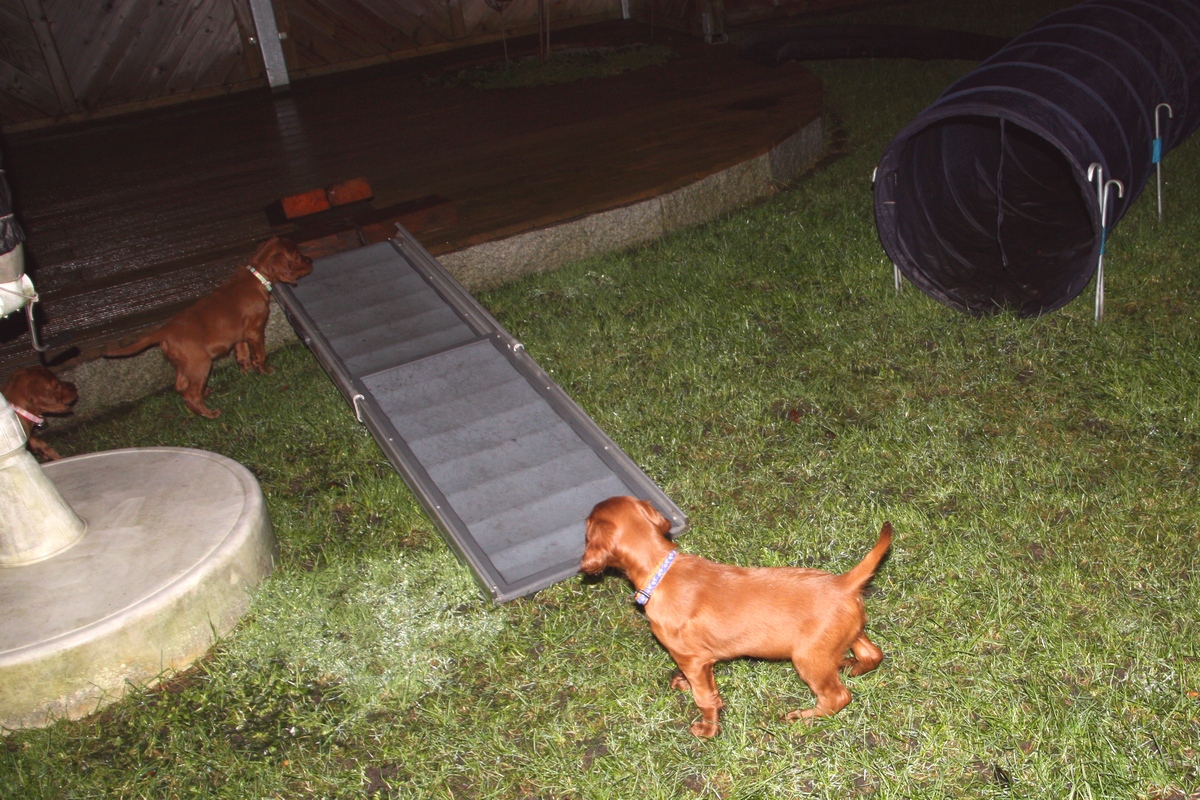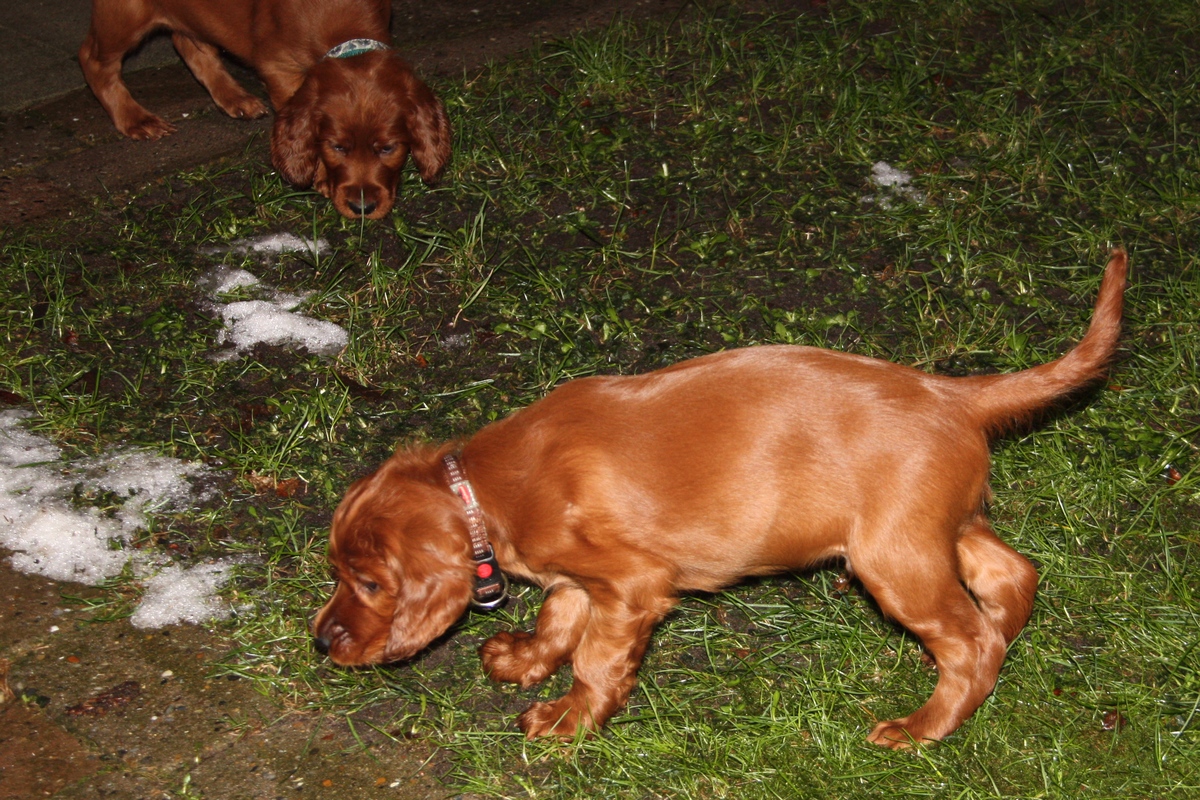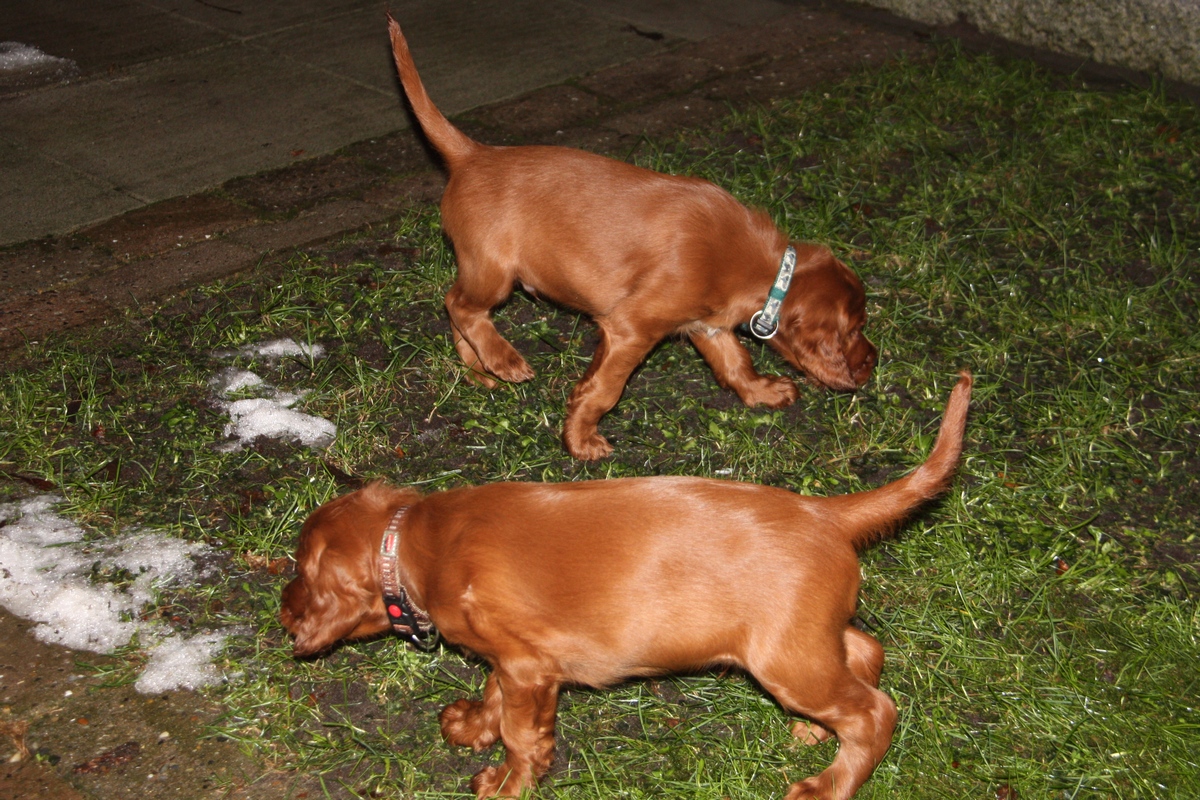 Today the weather was for the first time so well that the little ones could play happily and cheerfully outside in the garden ---- namely in daylight without rain, snow or ice :-)
In addition, "Grandma" Anouk wanted today also with out to the little ones.
The game has the puppies then Anouk and Diva has such "inspired" that the two also began to play with each other --- just like 4 years ago, when she (Anouk) "heated" with her "Baby" on the puppy Parcours. The pictures speak for themselves:
Finlay Skywalker and Flash True Scout
January 9, 2016, 6 weeks and 2 days old
Even if it is very cold and on top of that also wet, they must often and always a little longer outside in the garden to to get used to the environmental and real life conditions.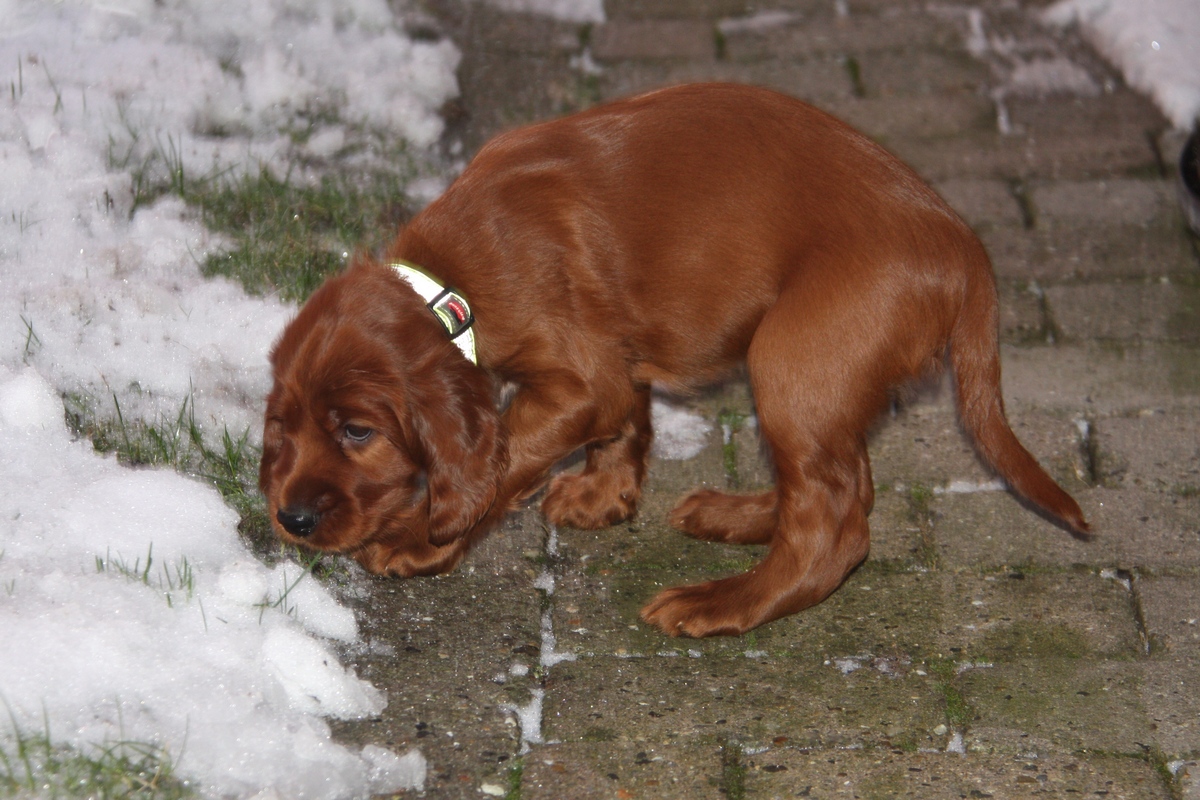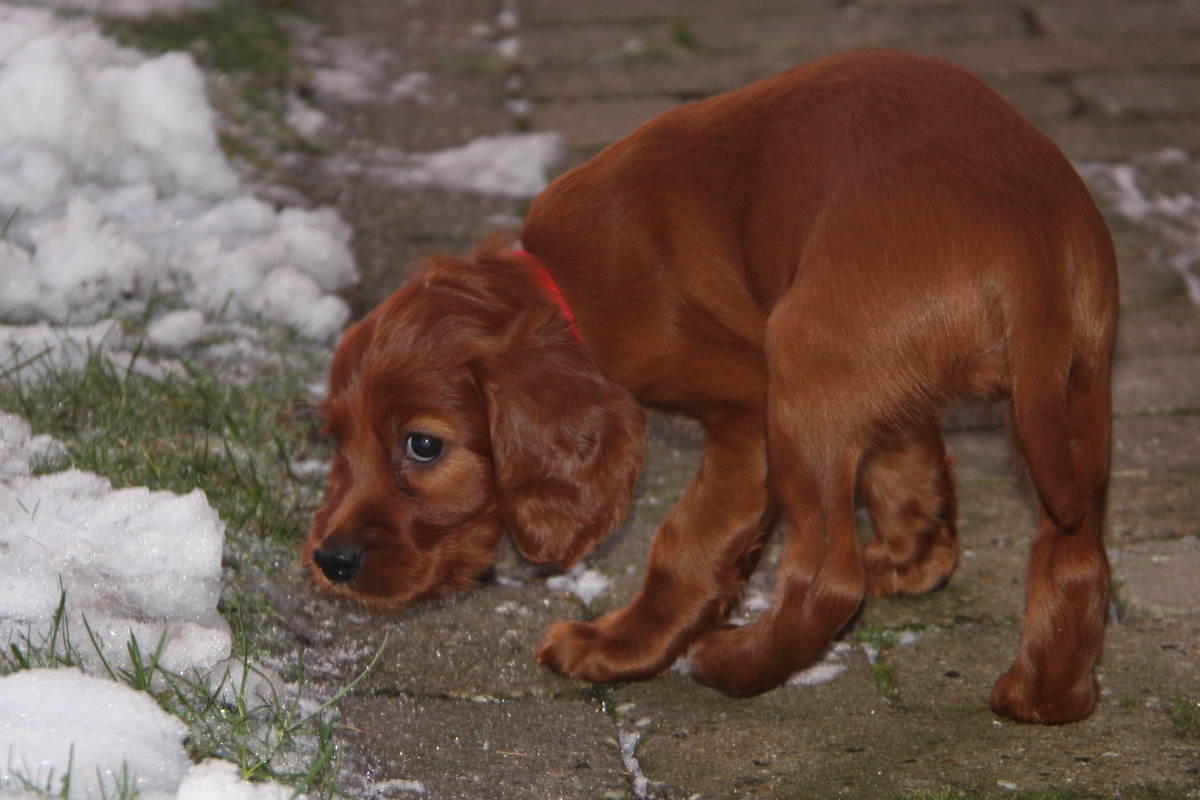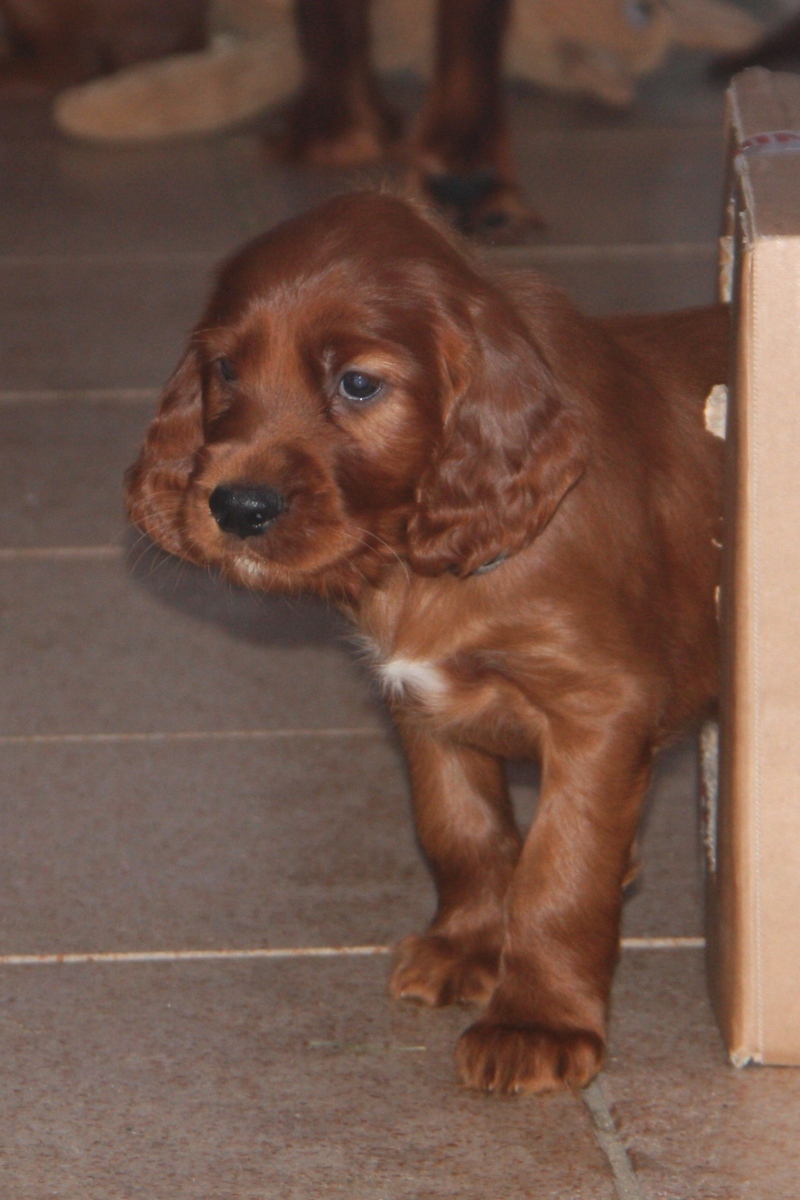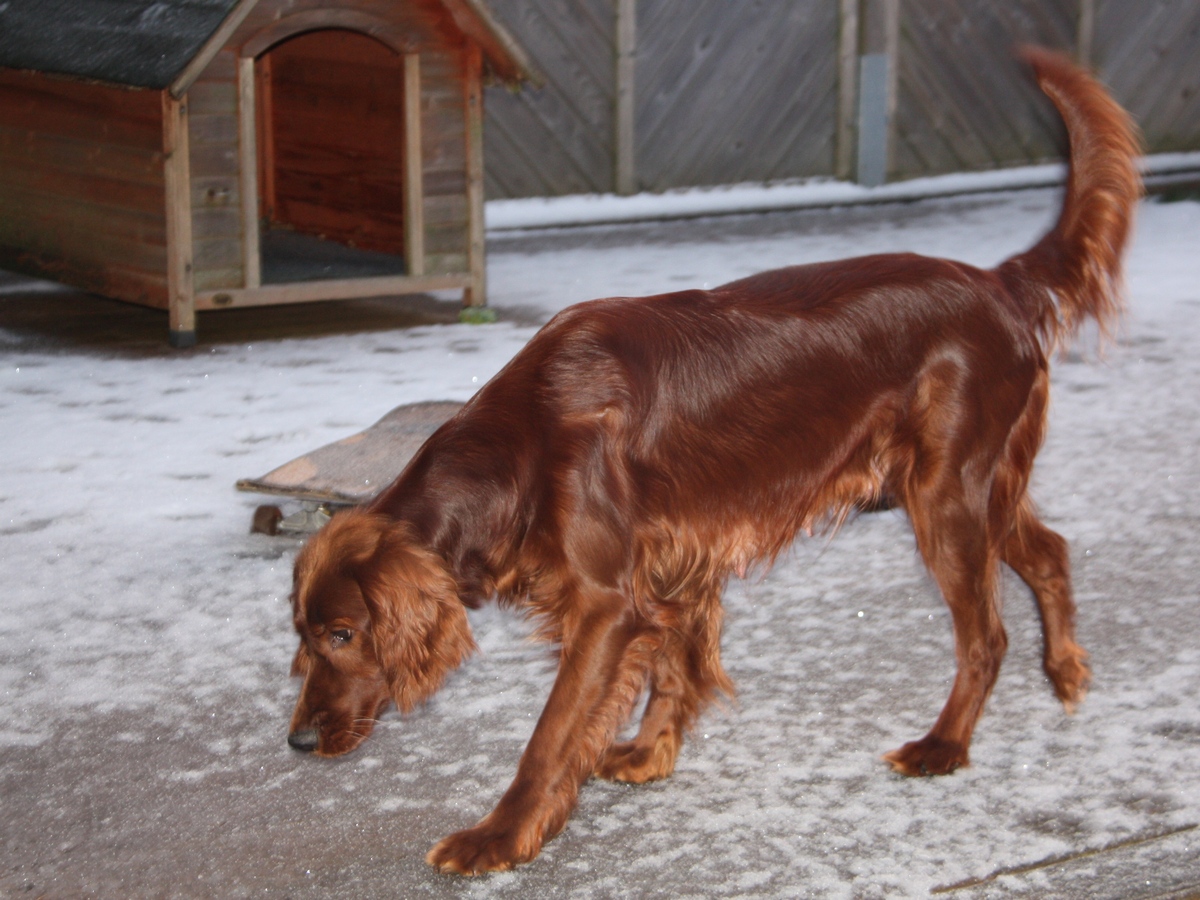 Just to remember:
Diva Sugar and Spice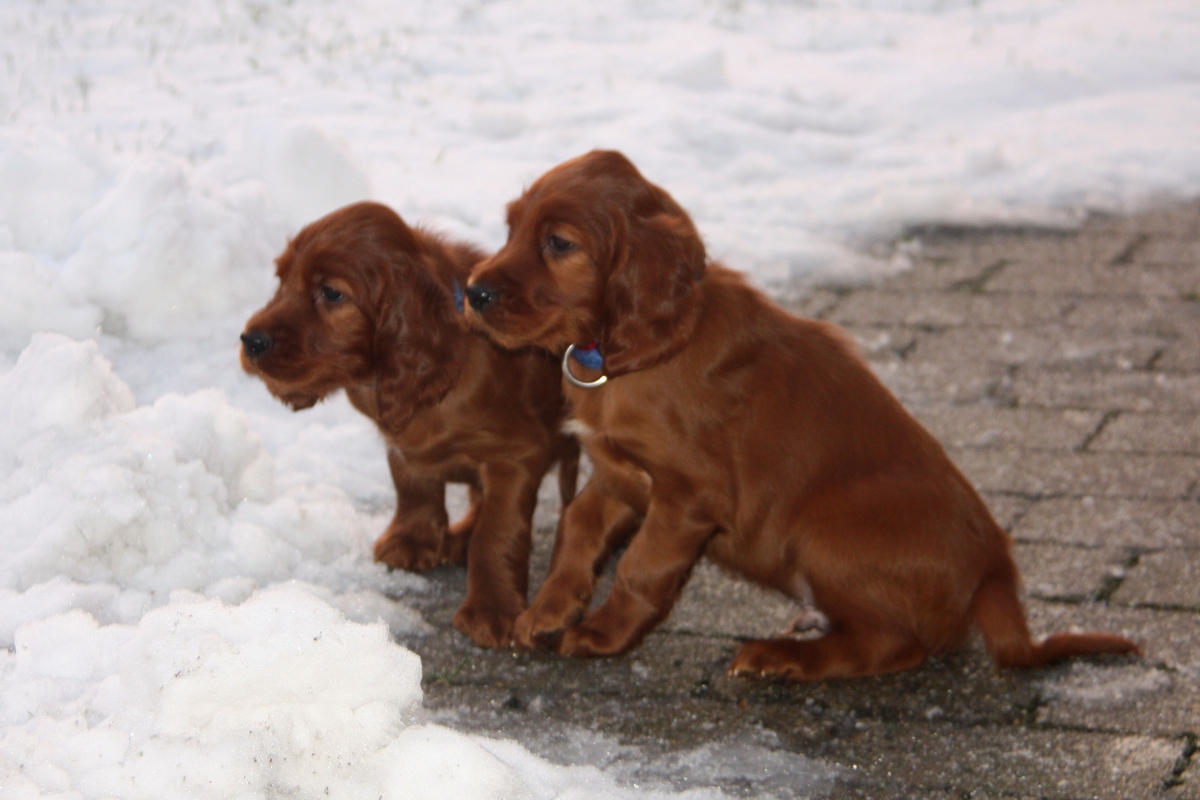 Finlay Skywalker and Feeny Rough Diamond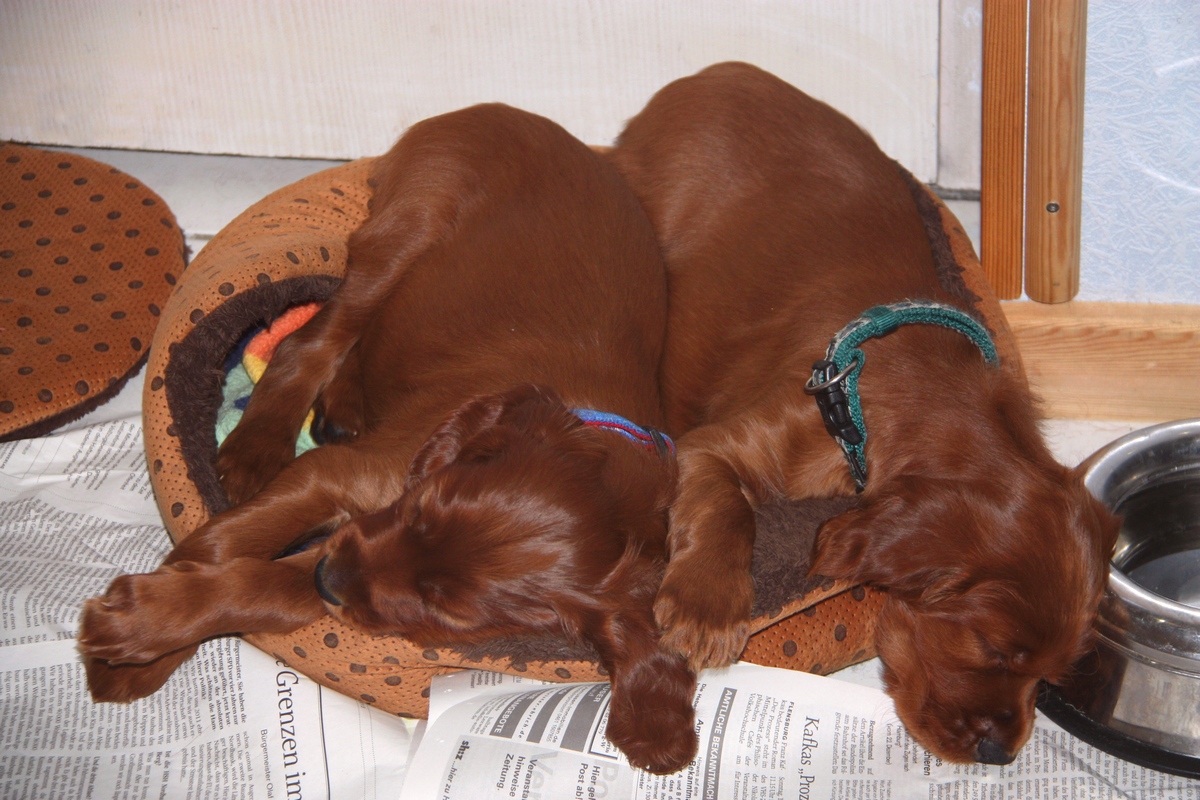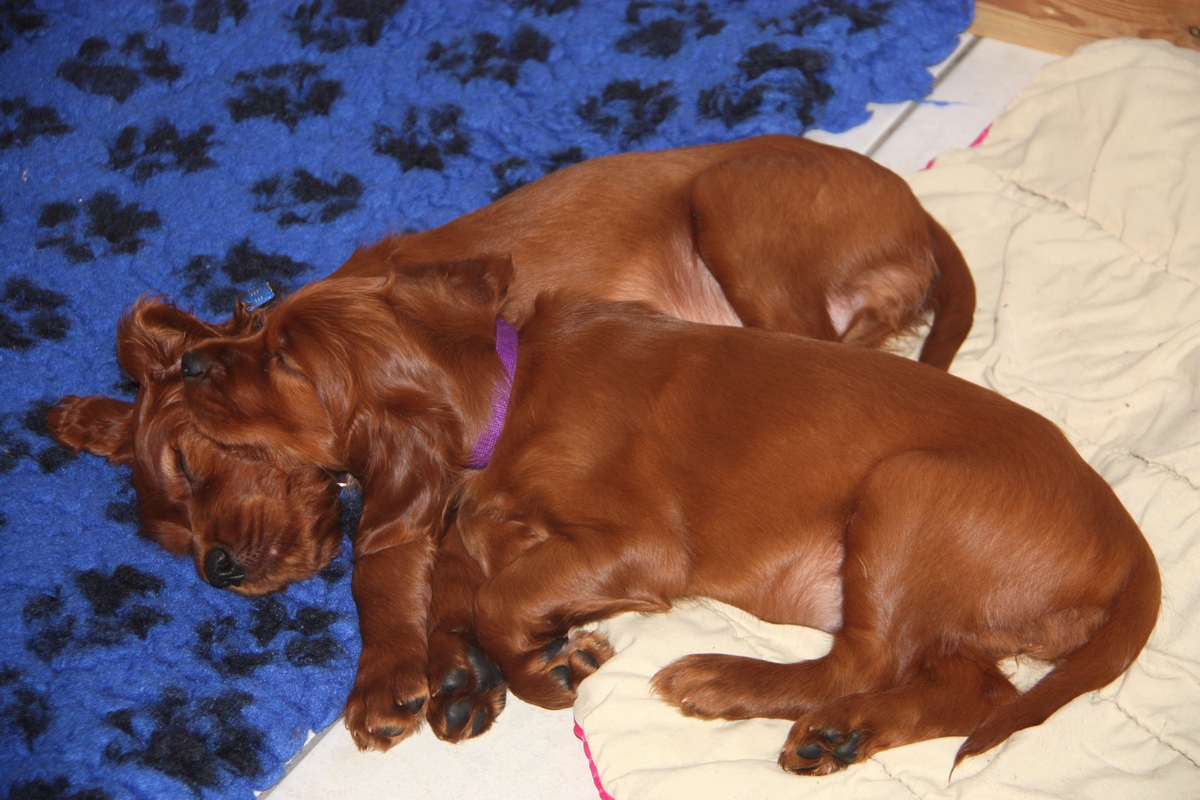 January 8, 2016, 6 weeks and 1 day old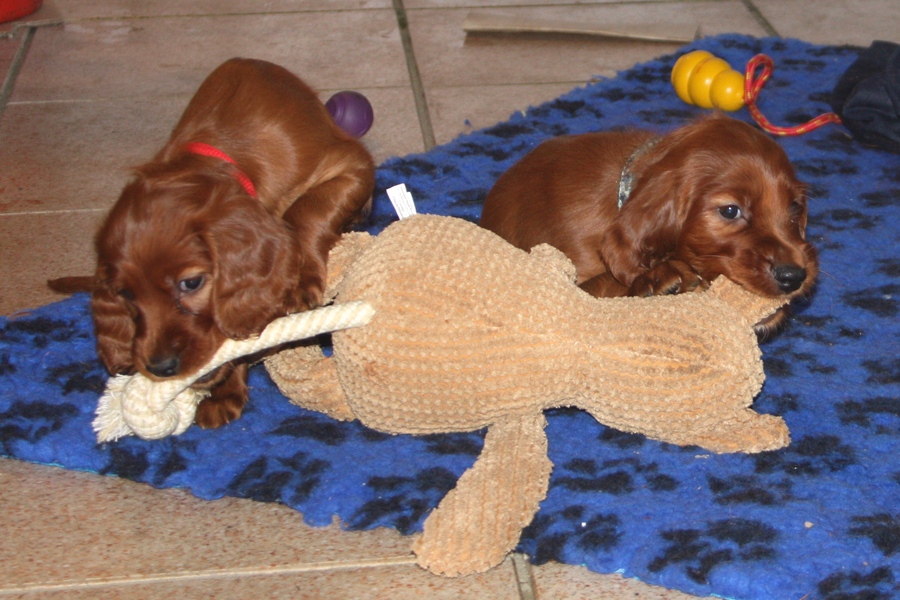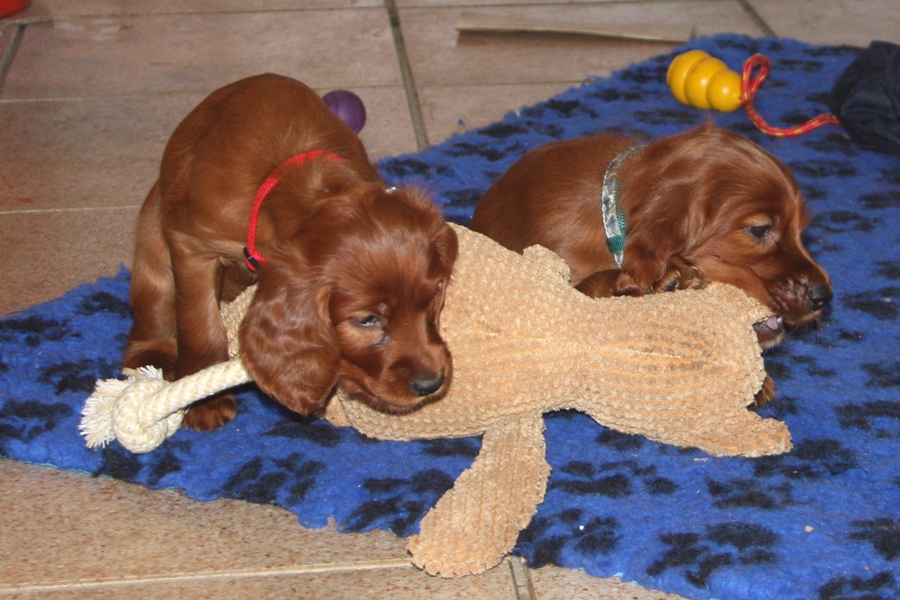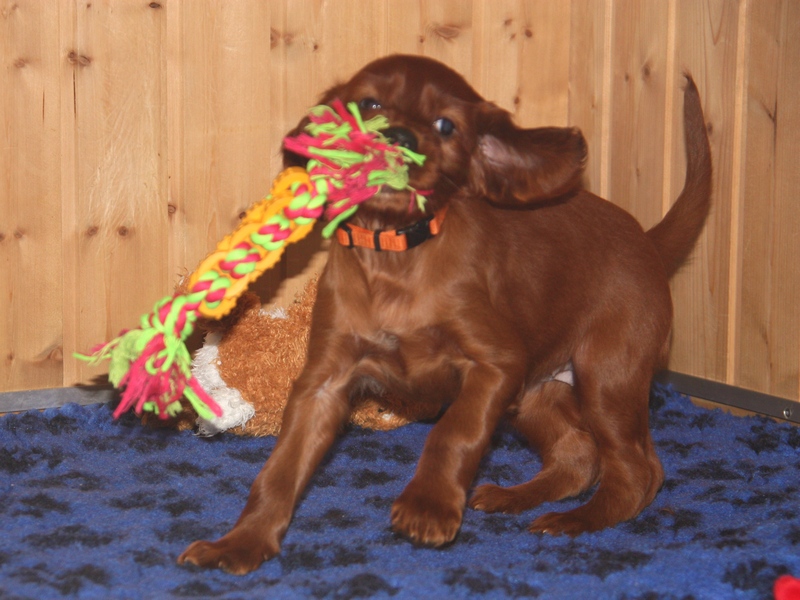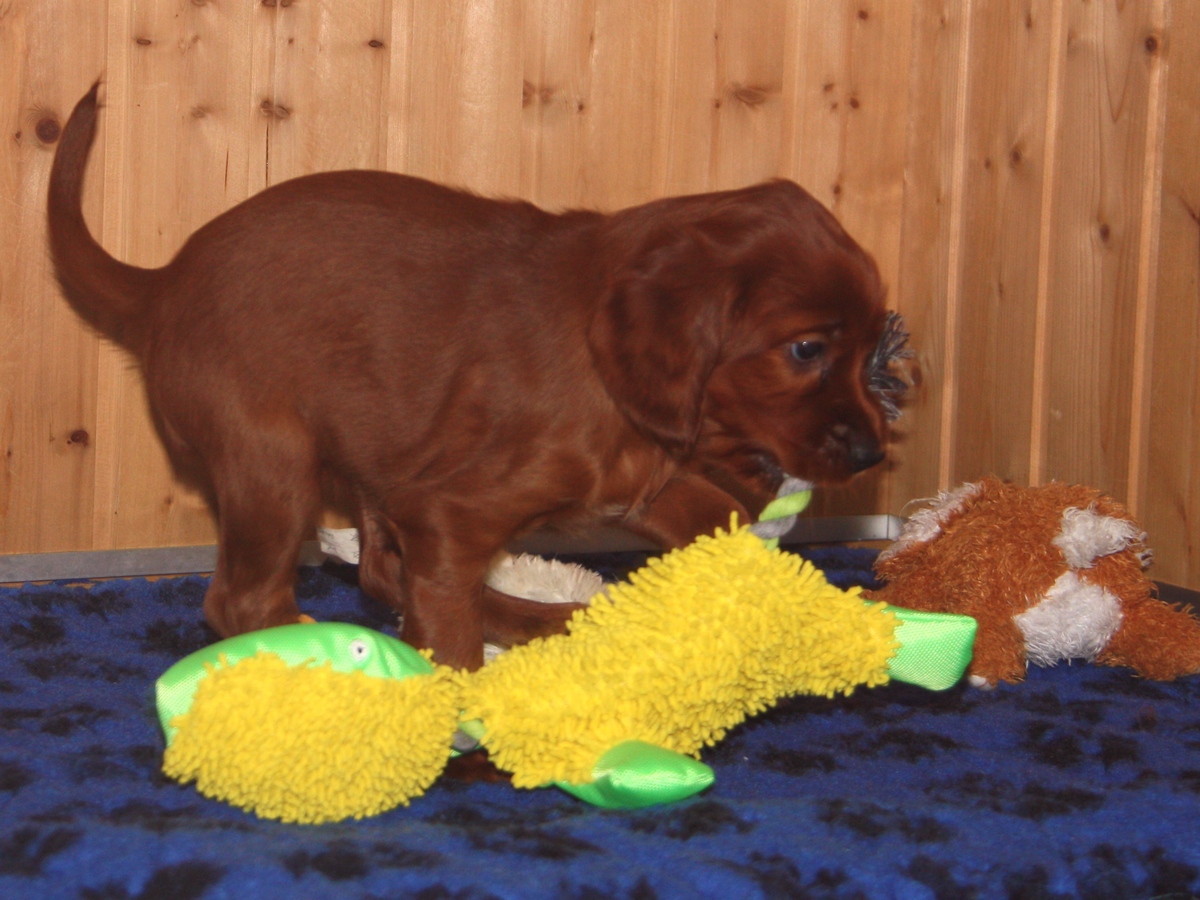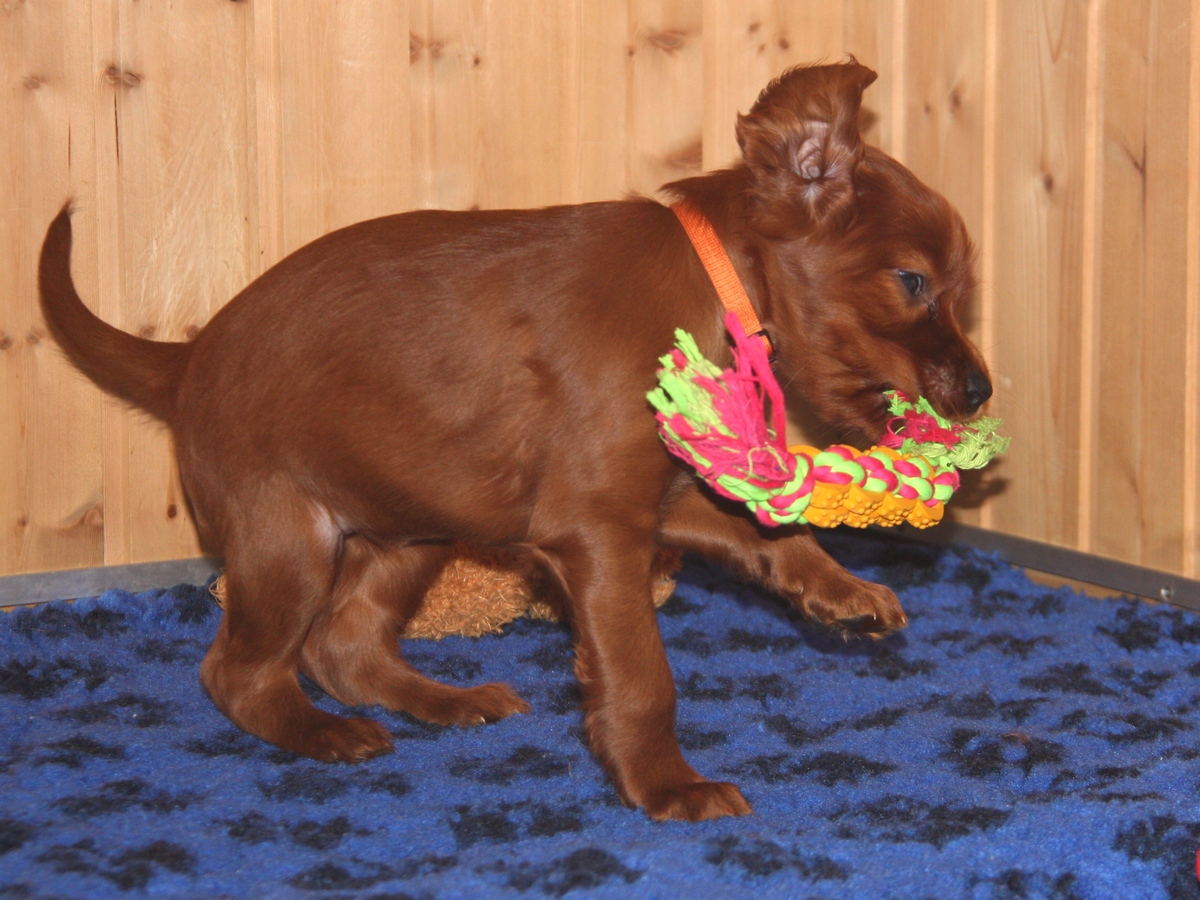 Now also Diva begins playfully to educate their little ones. She shows them the limits on how far one can go and when to stop.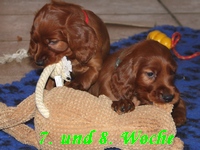 January 7, 2016, 6 weeks old (start of 7th week)