Those who say, that fortune can not be bought, have not realized, that puppies exist.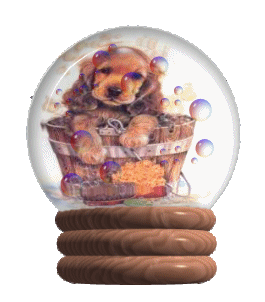 G-Litter
ex:
Diva Sugar and Spice of Lionhill
by:
Diamond Blank Dagos Goldset
Owner Bianka Schiffer Scheltwort
Mai 01, 2018, 6 weeks and 1 day old
Diva becomes a child again - she is playing - with us and with her puppies. 😊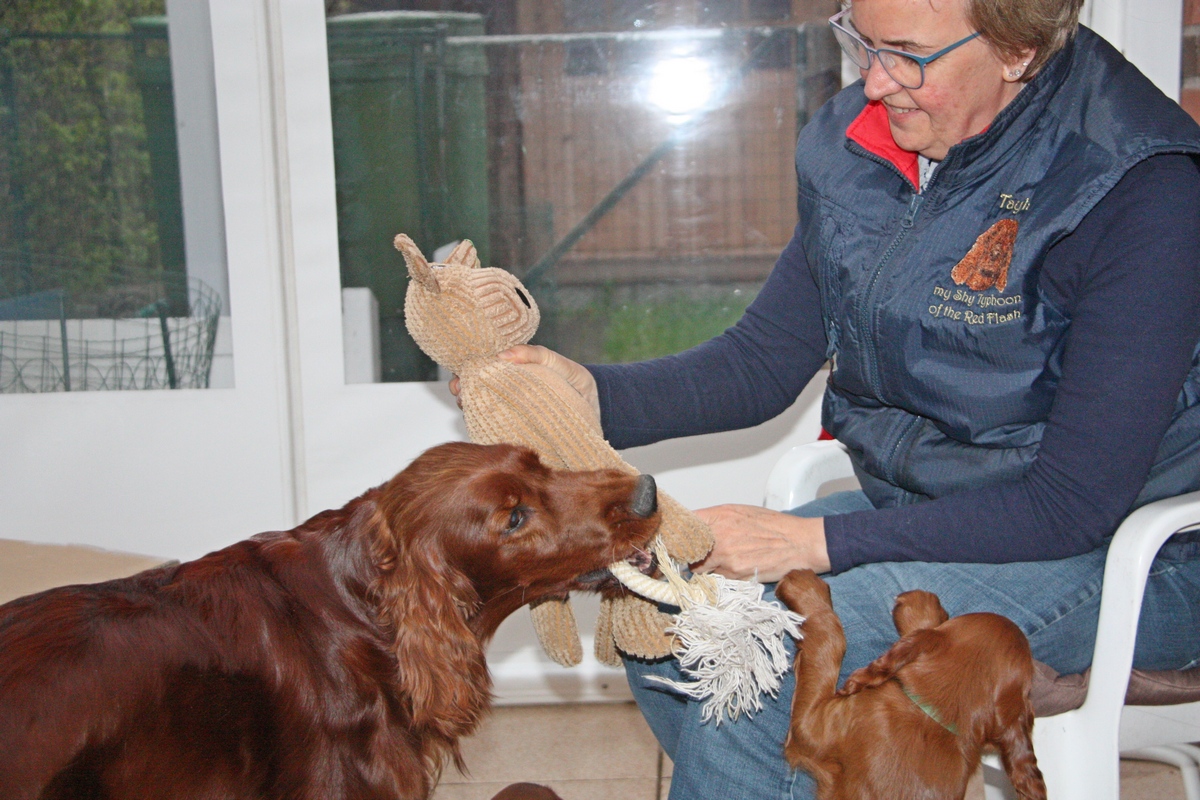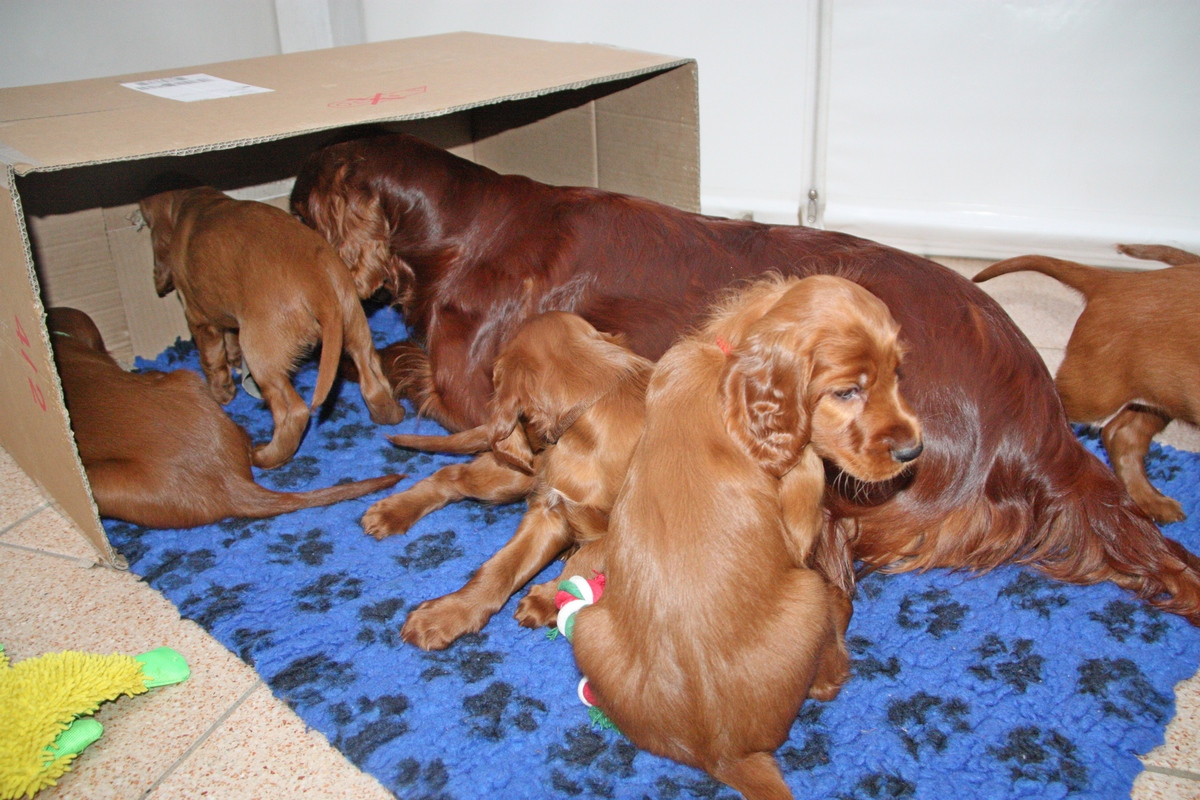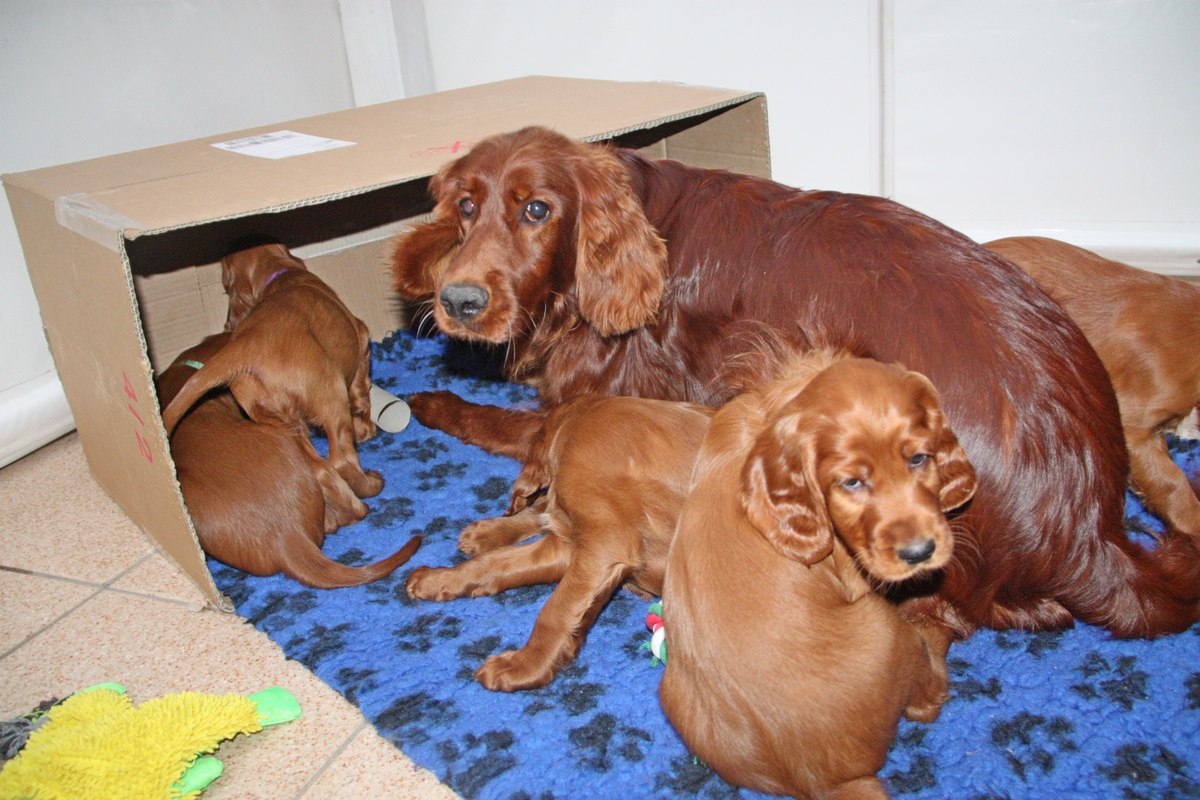 Mai 02, 2018, 6 weeks and 2 days old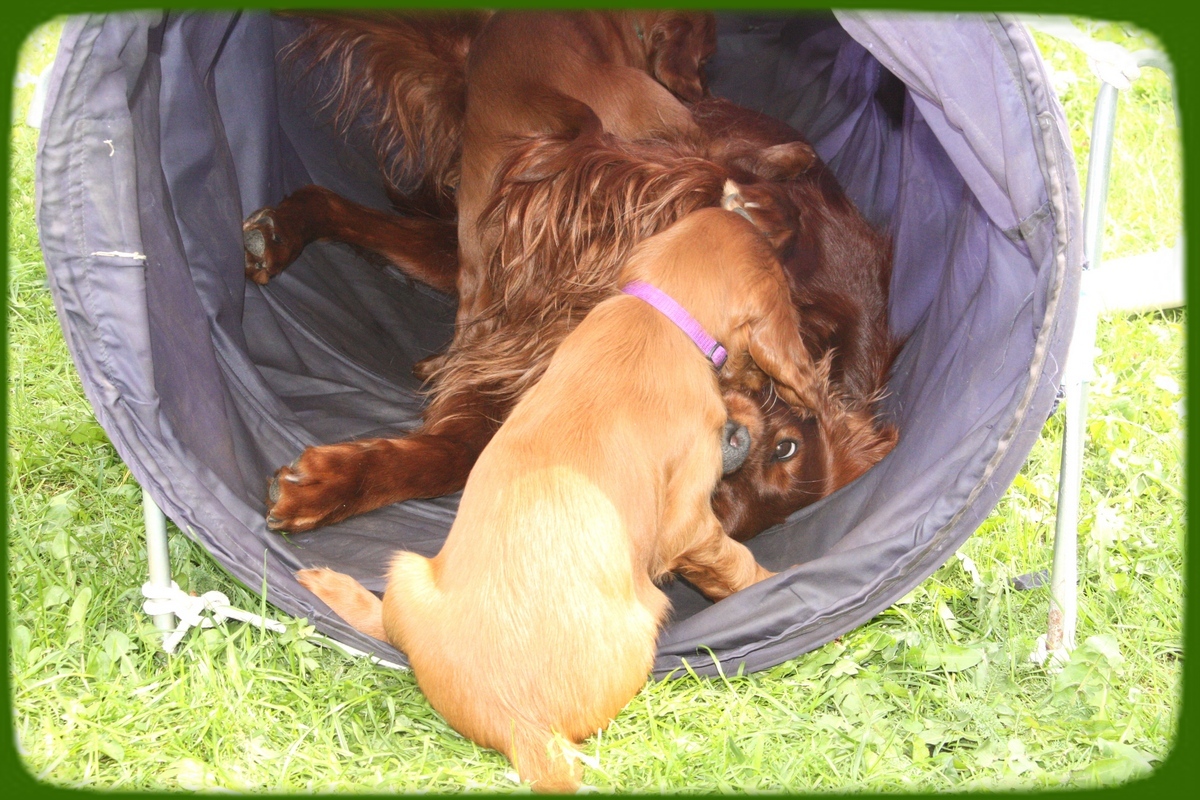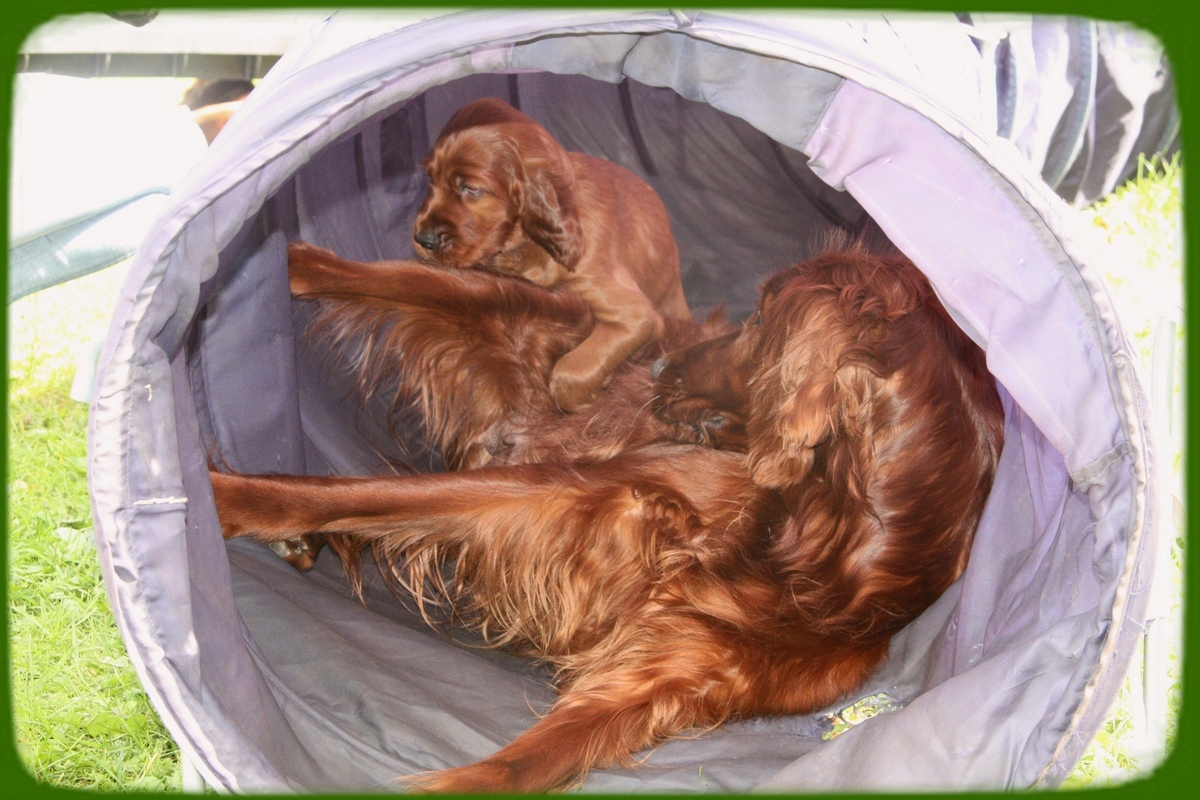 Again and again the longboard is "discovered". This time it's Gena,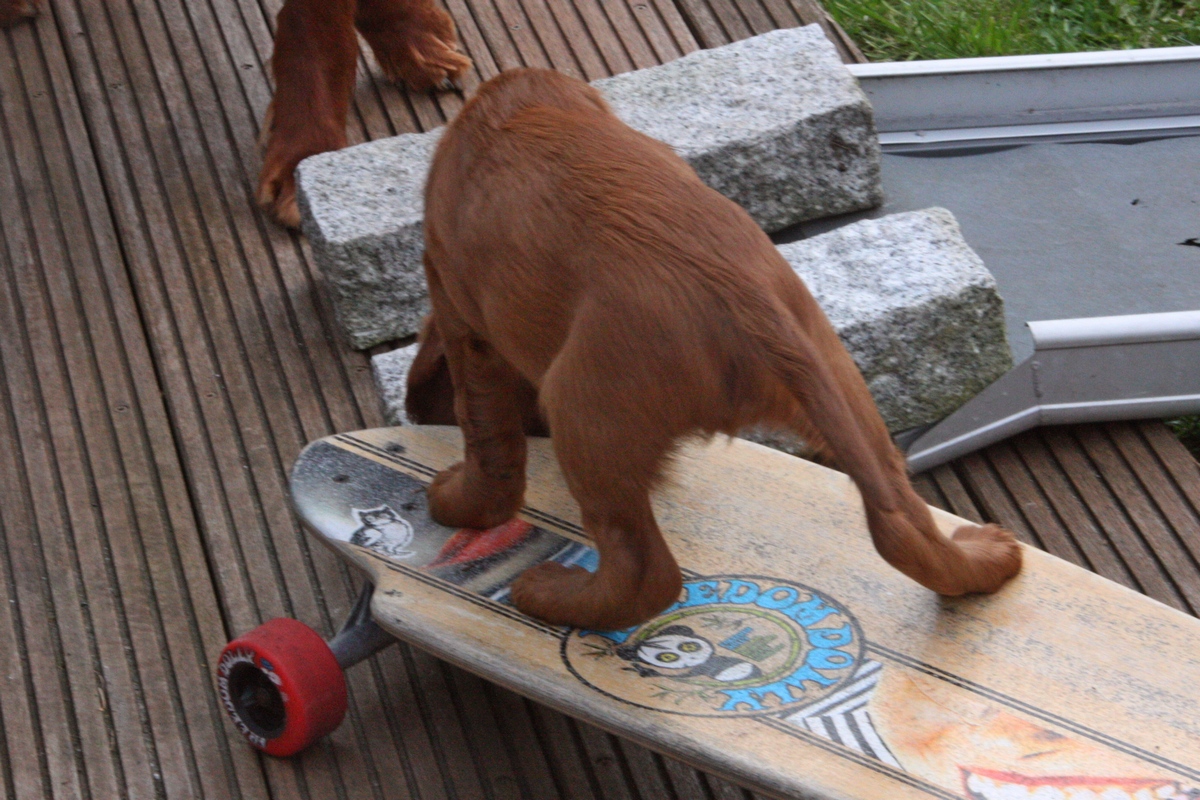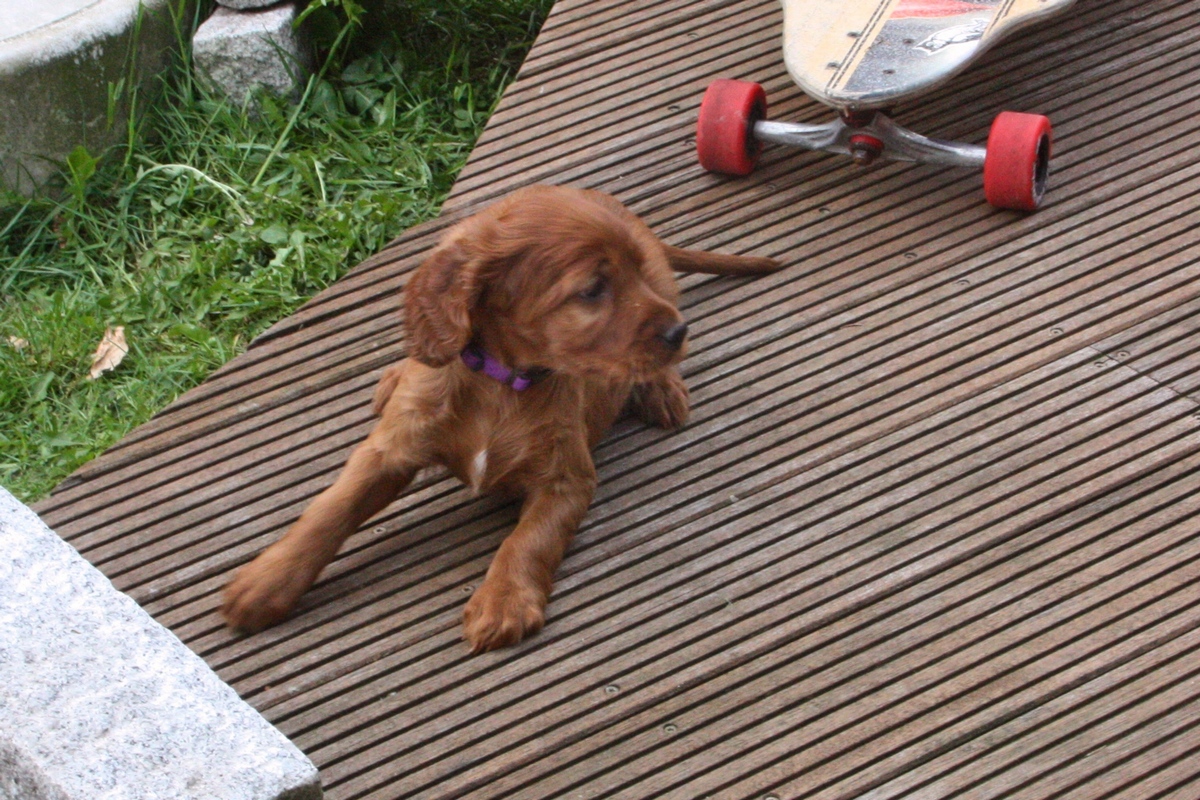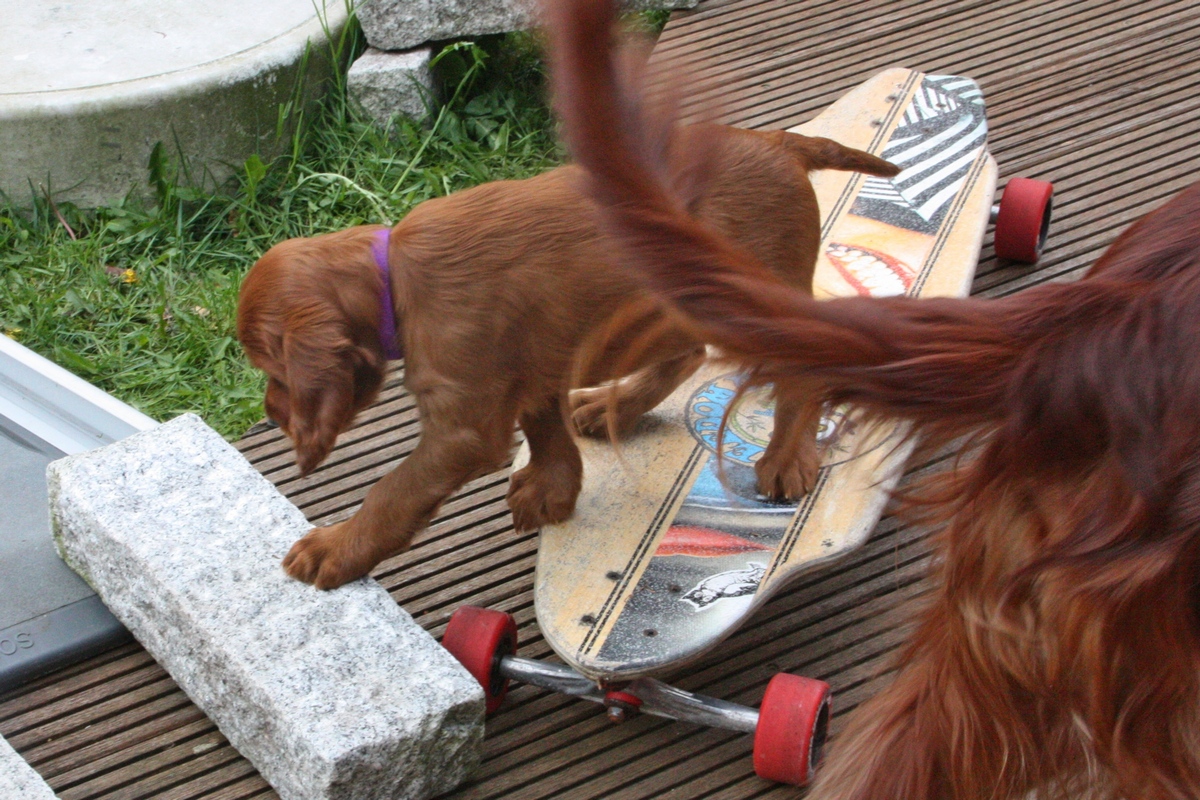 ...carefully climb on it....
...,this still looks very uncertain....
....no, better get off.... .
...,and there it already happened ........ belly landing.... ☹
Die Stuhlauflage war durch den Wind heruntergeweht worden.
Noch einmal etwas zum Thema "Alle schlafen. Wirklich Alle? Nein, eine(r) ist Wach noch"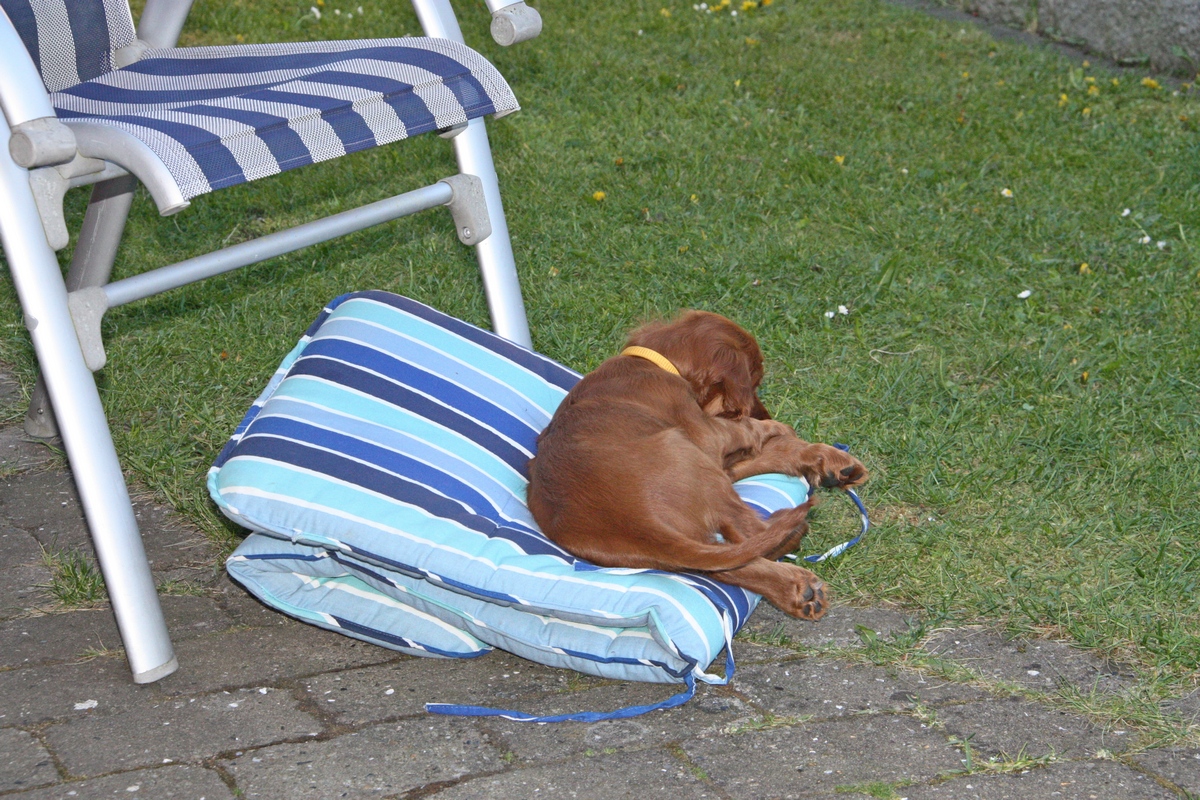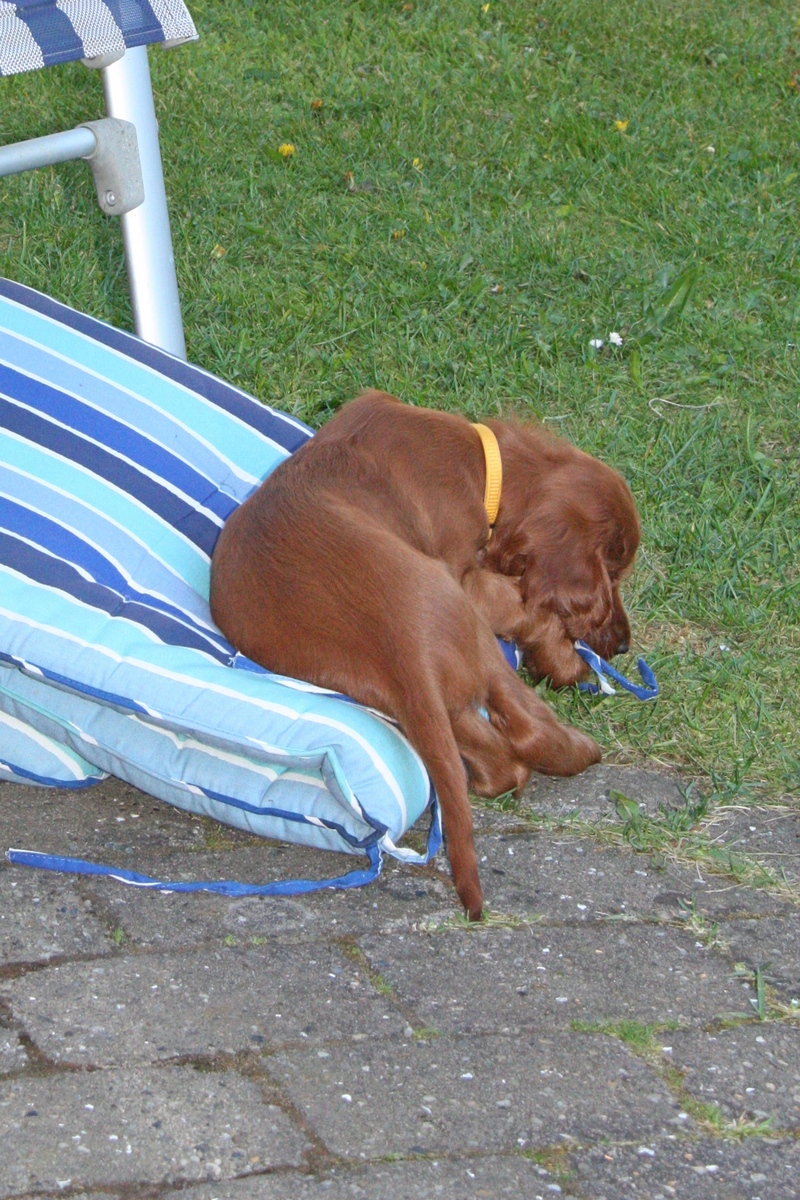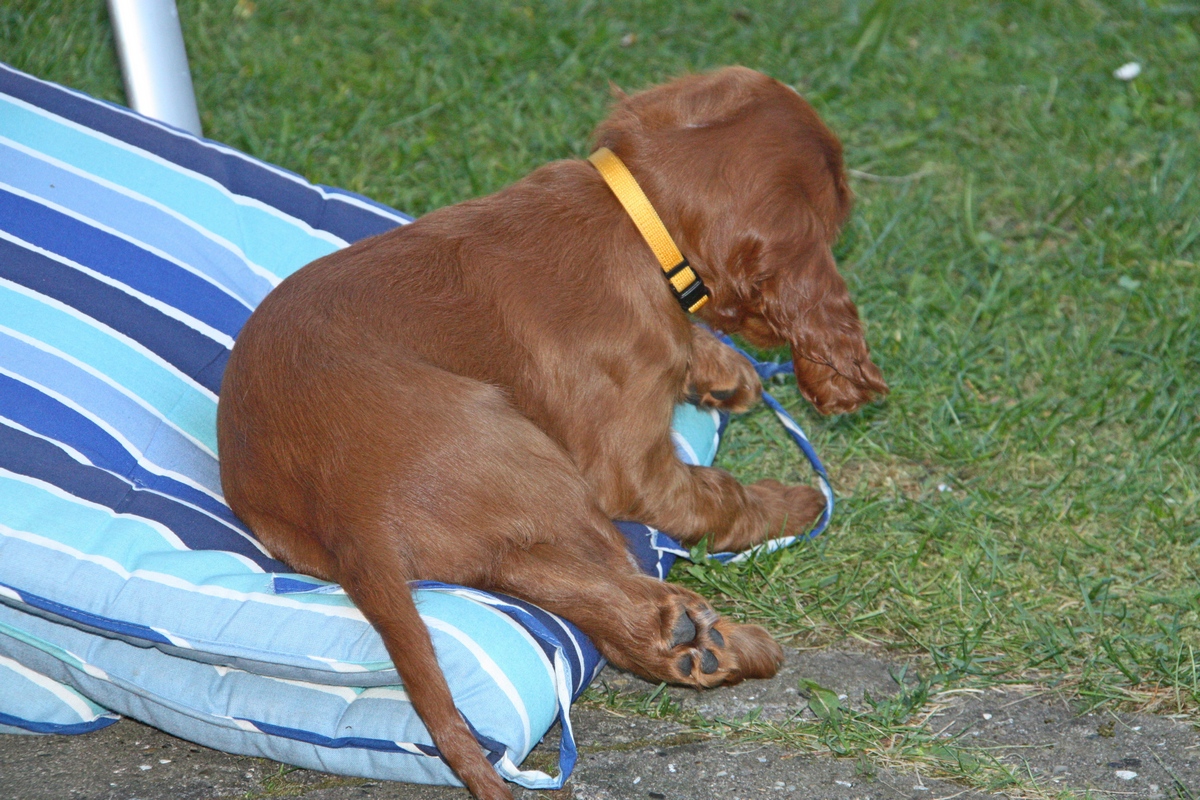 Zwischen diesen beiden Bildern (Links und Unten) liegen 2 Minuten.
Unten im Vordergrund, gelbes Halsband:
Gigi - eingeschlafen!!!
Und auf meinem Schoß--Hund Diva 😊😊😊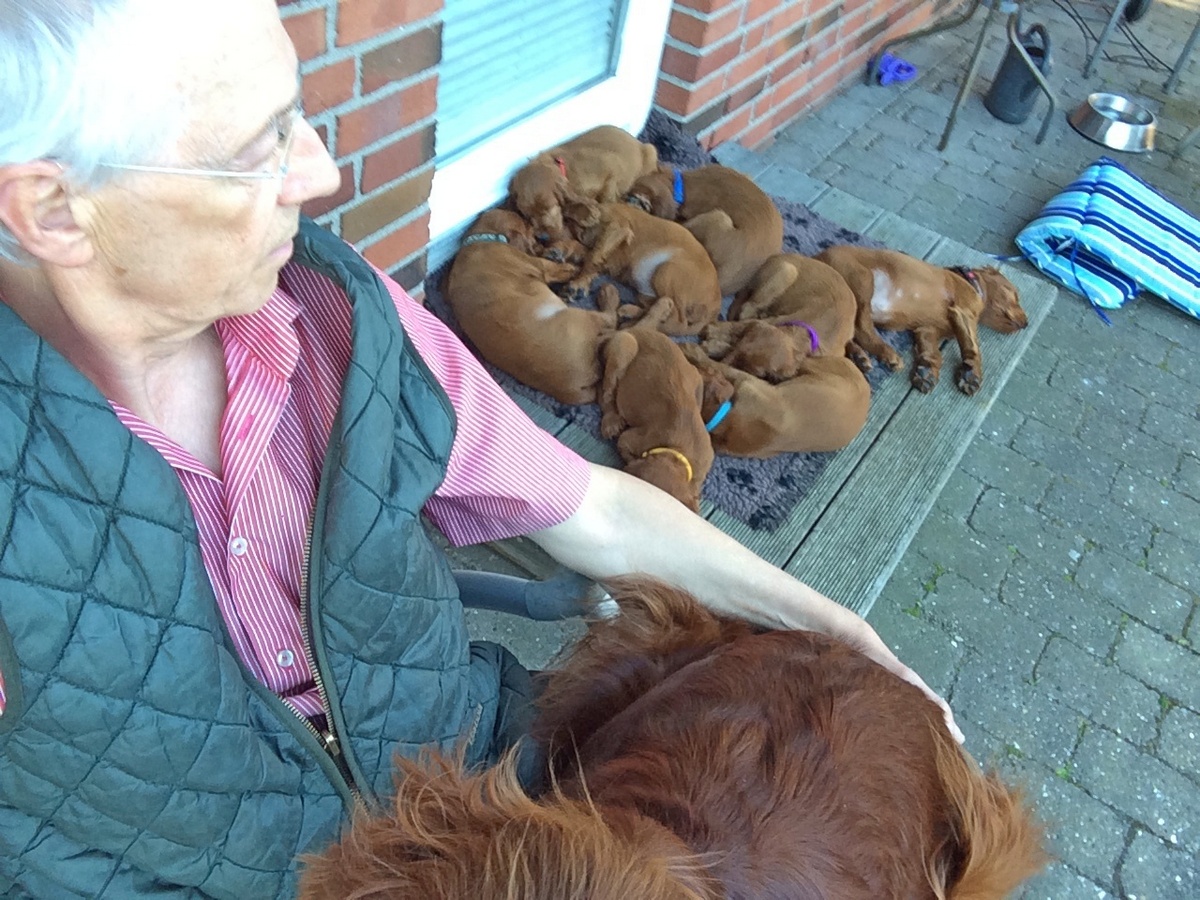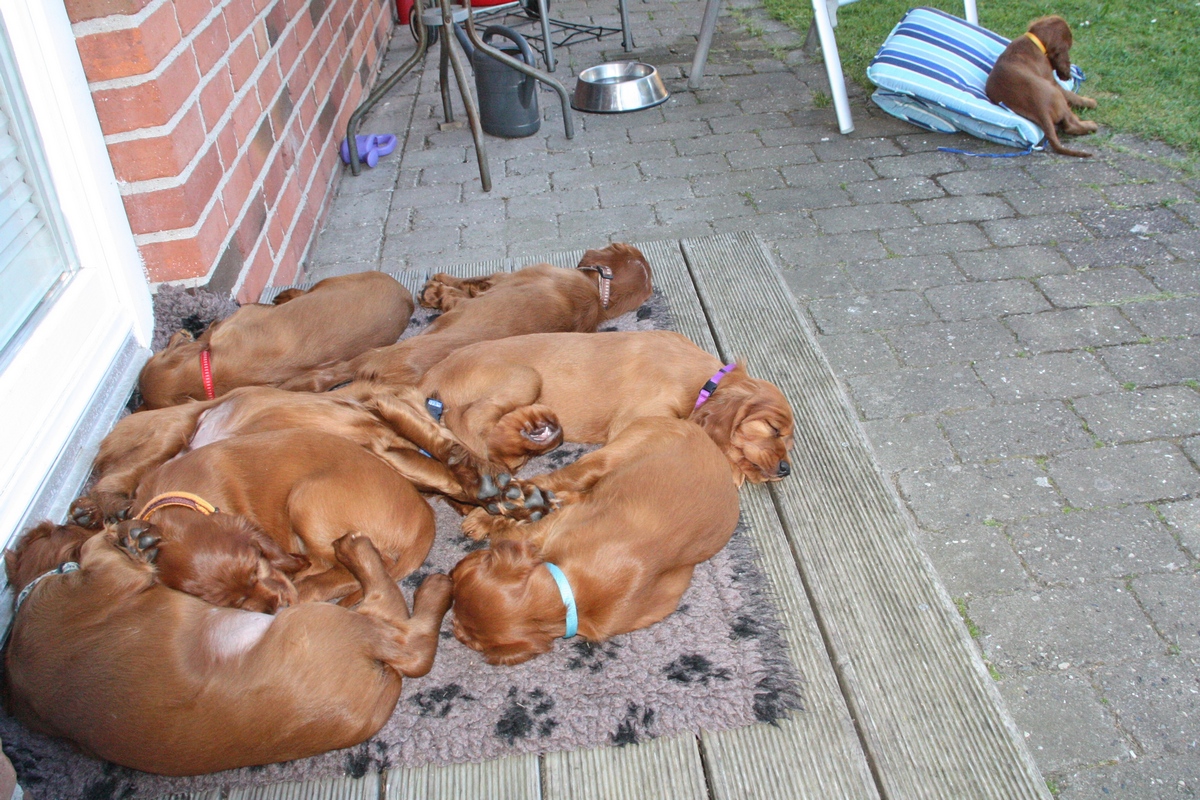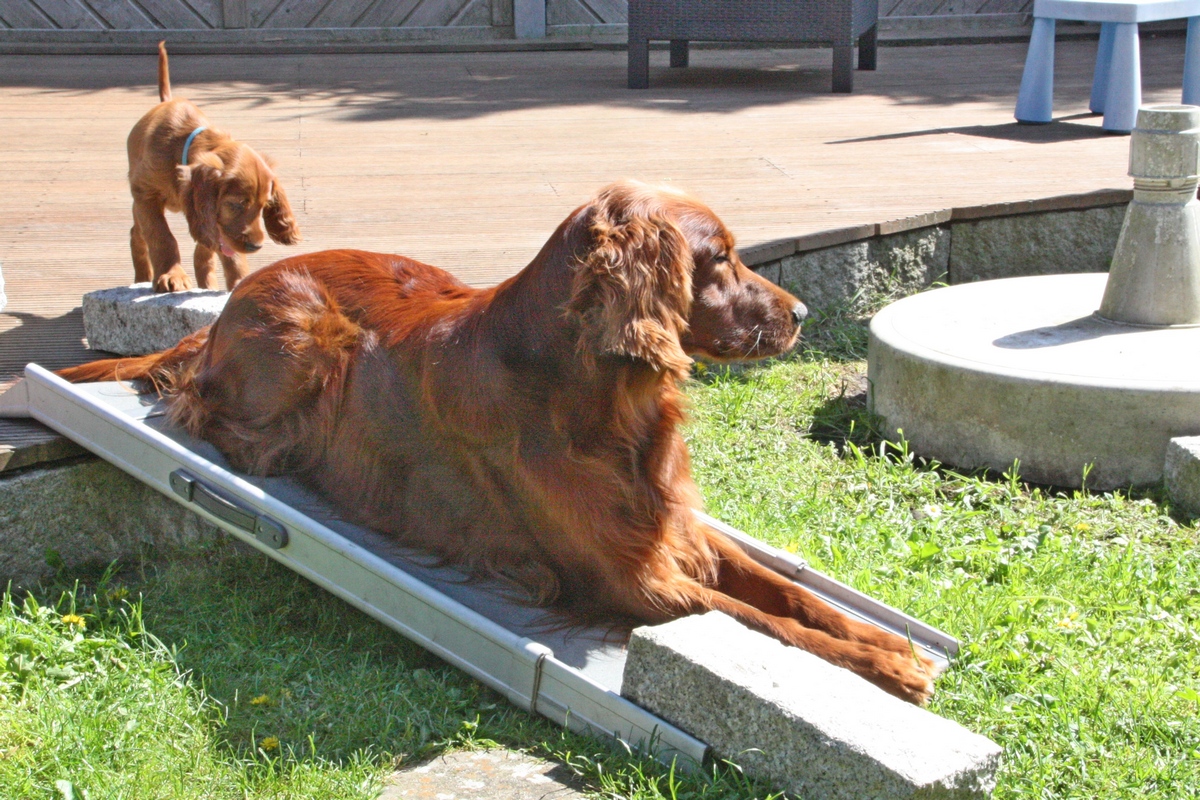 Die Diva auf dem Laufsteg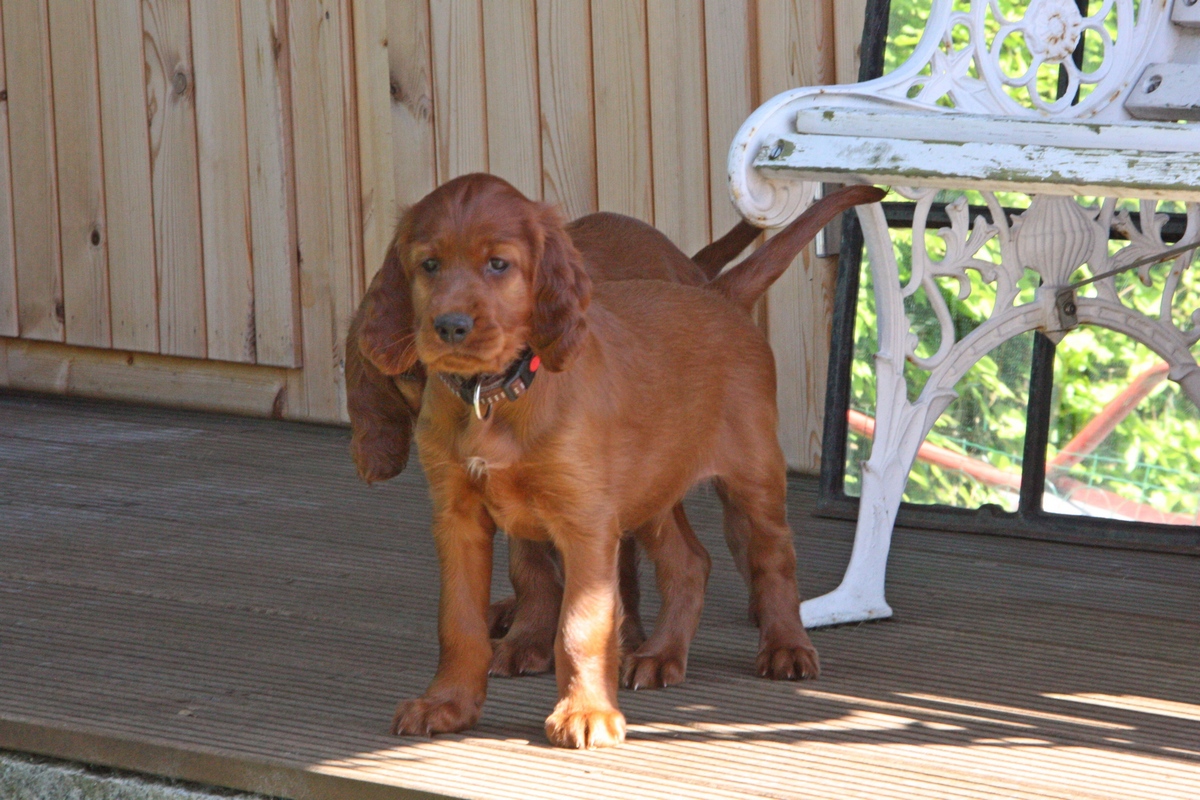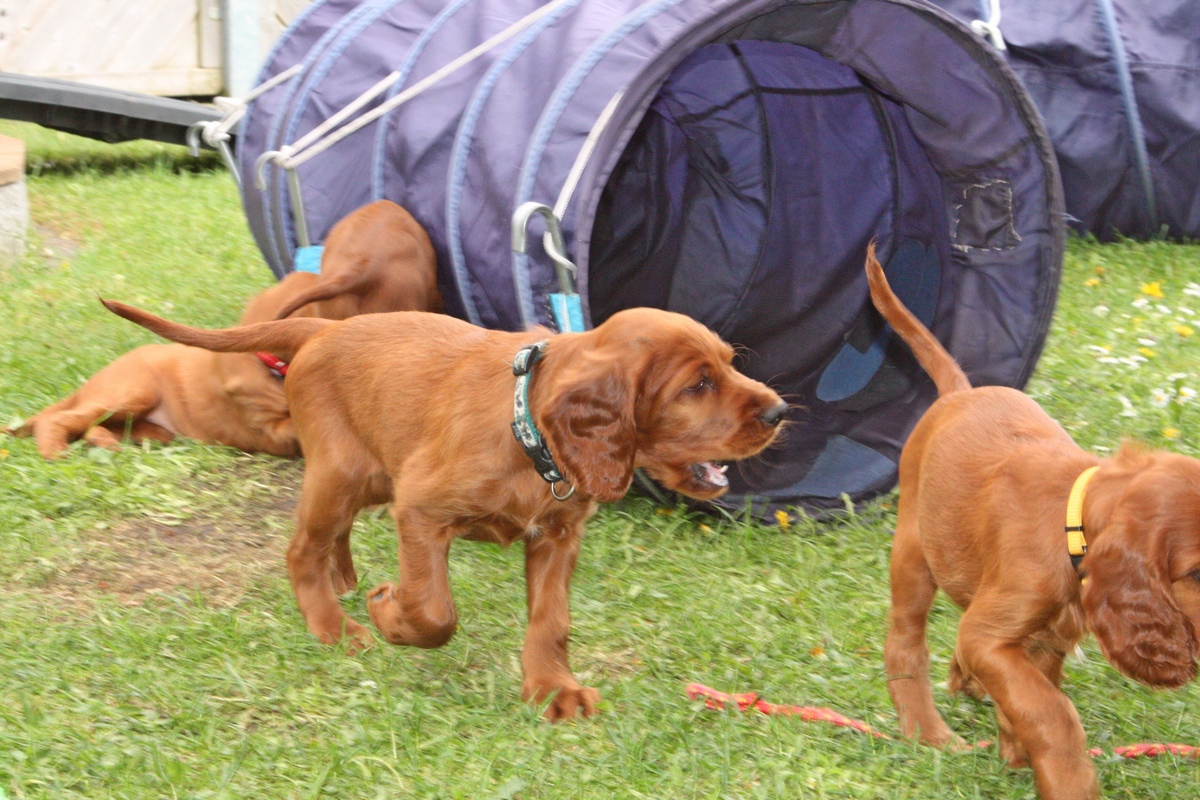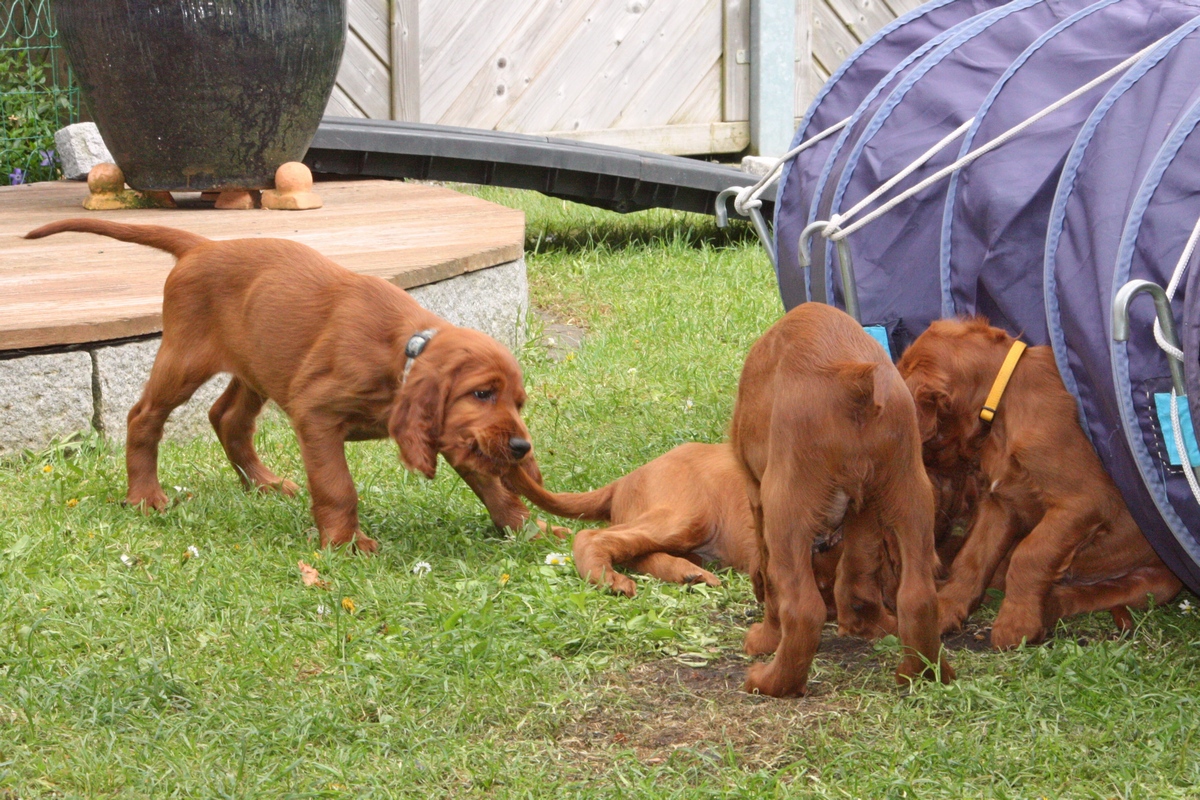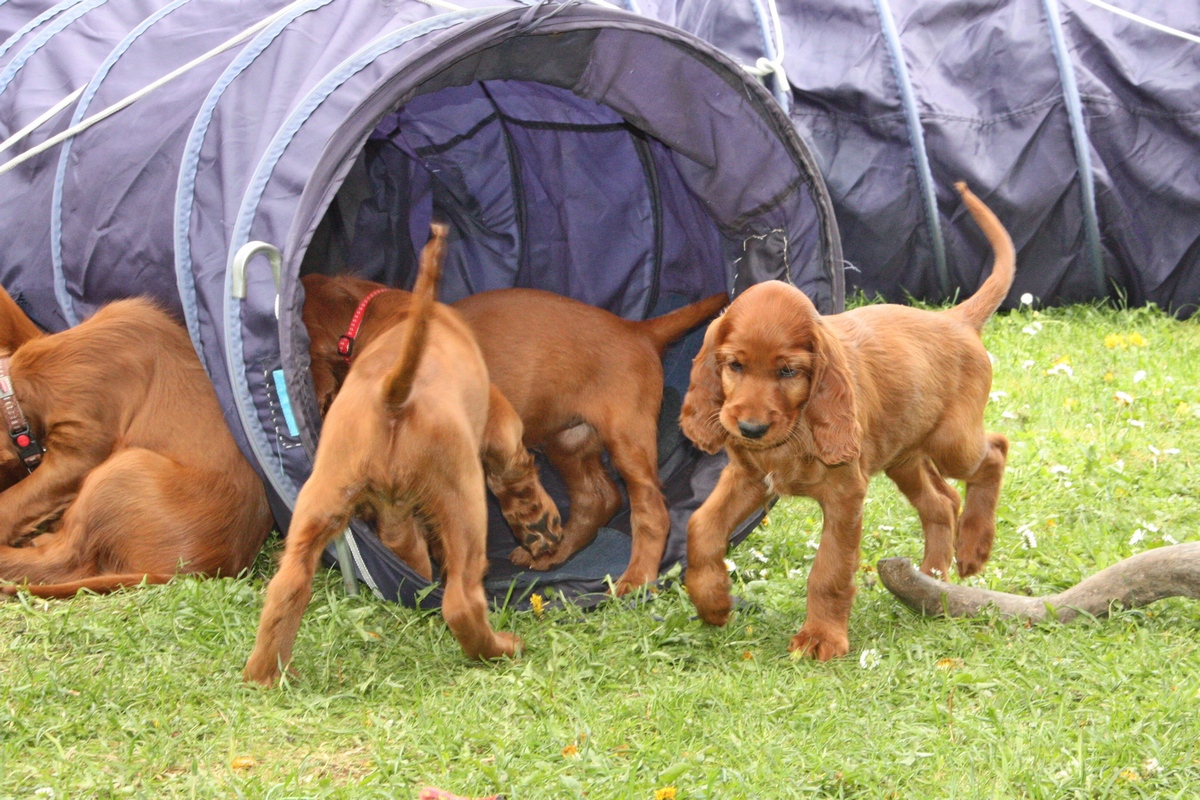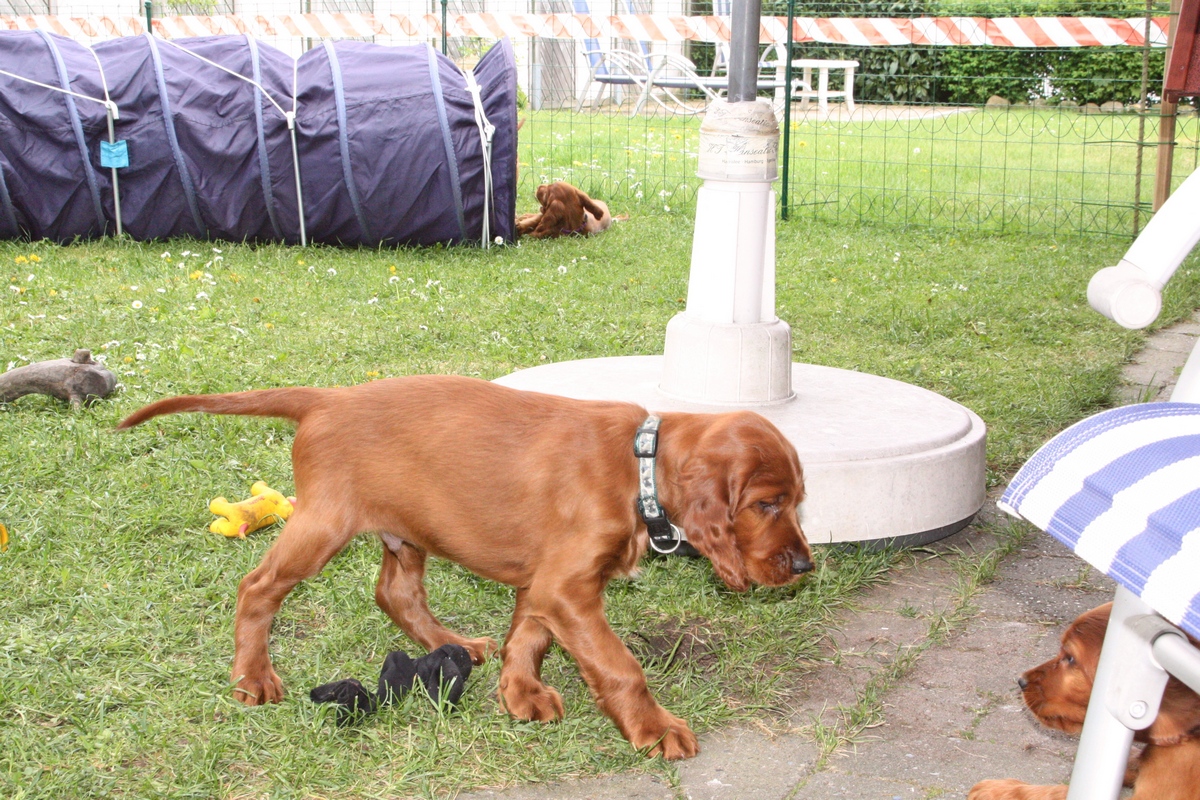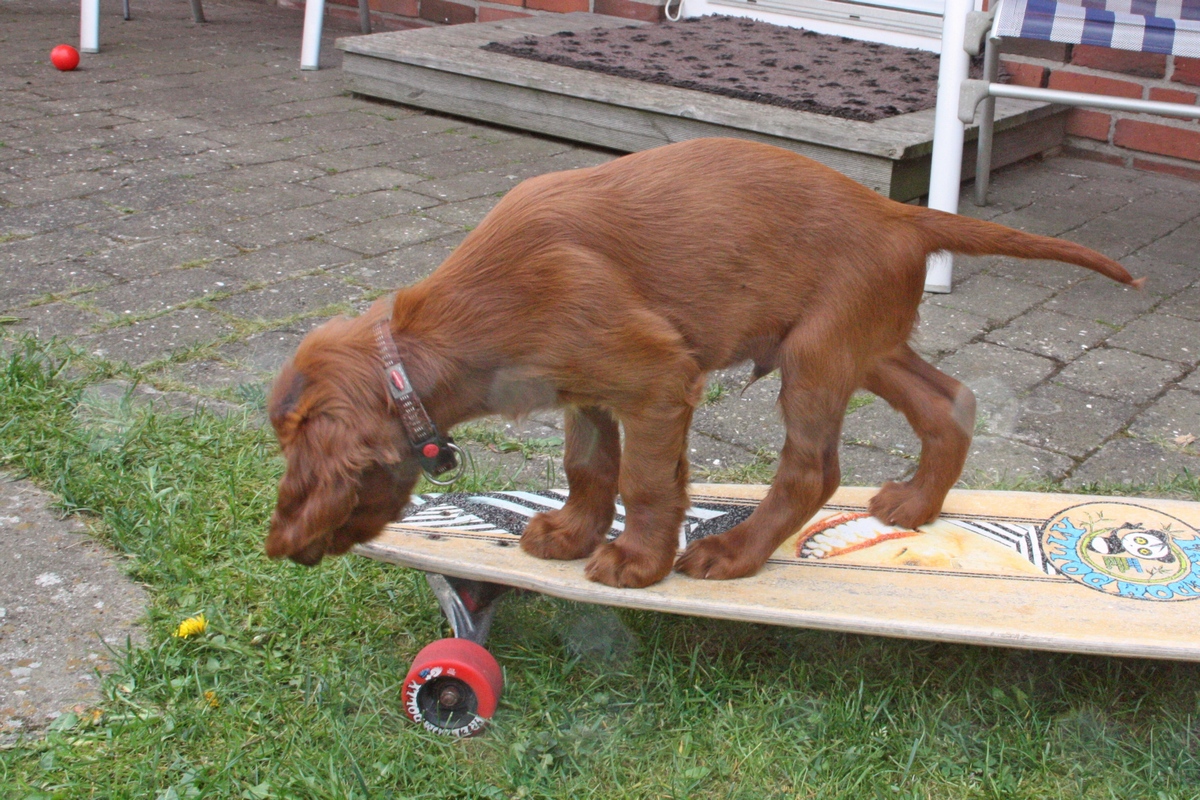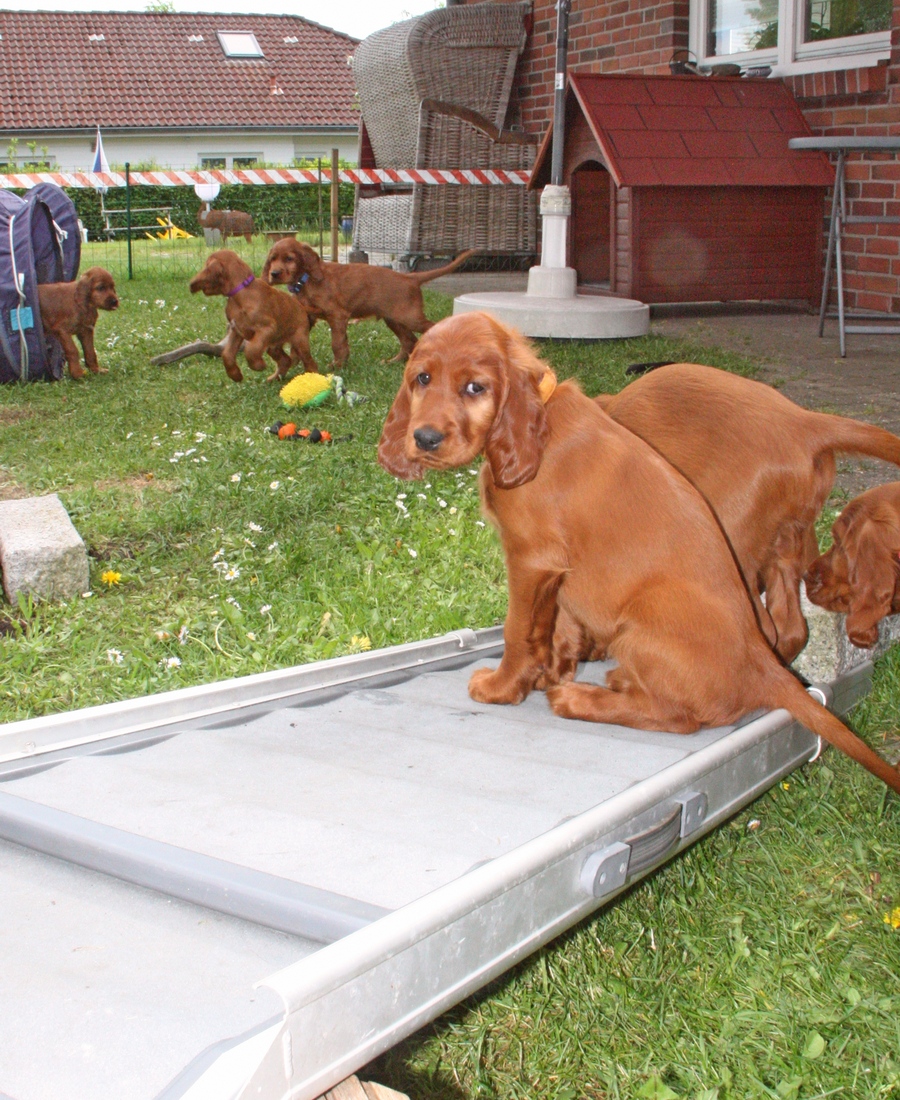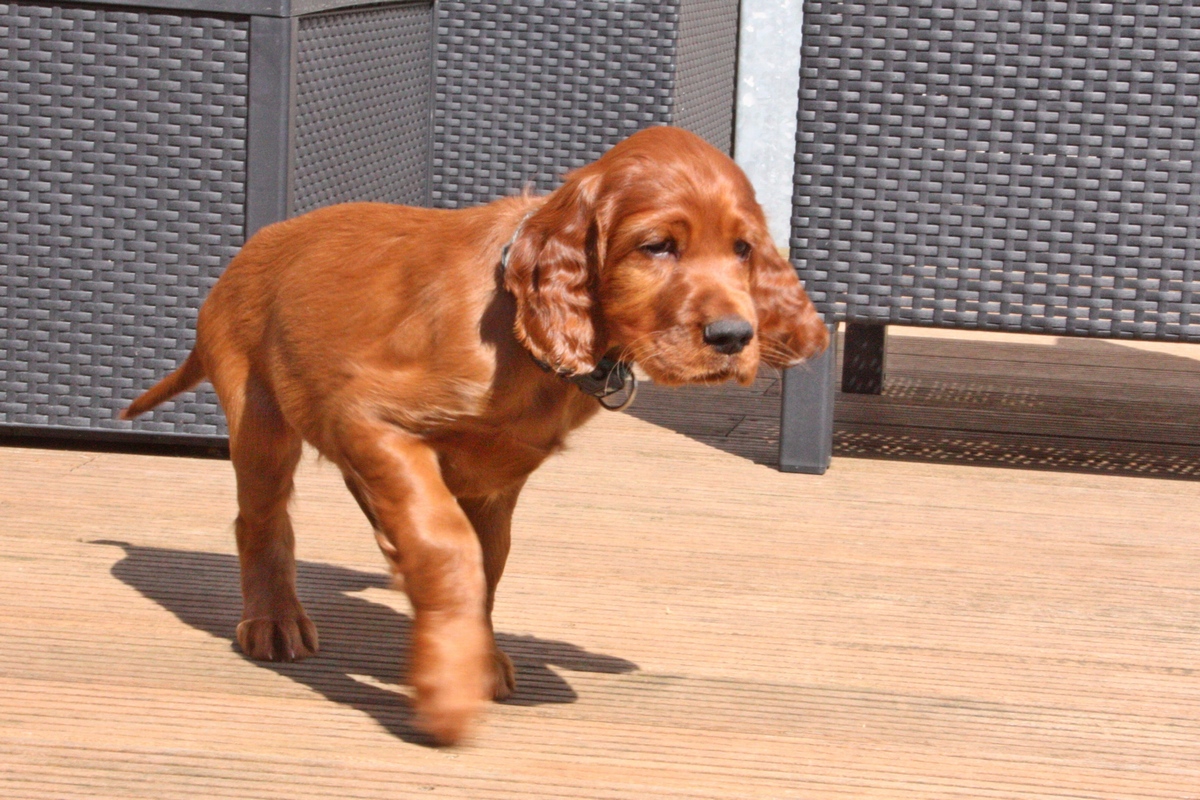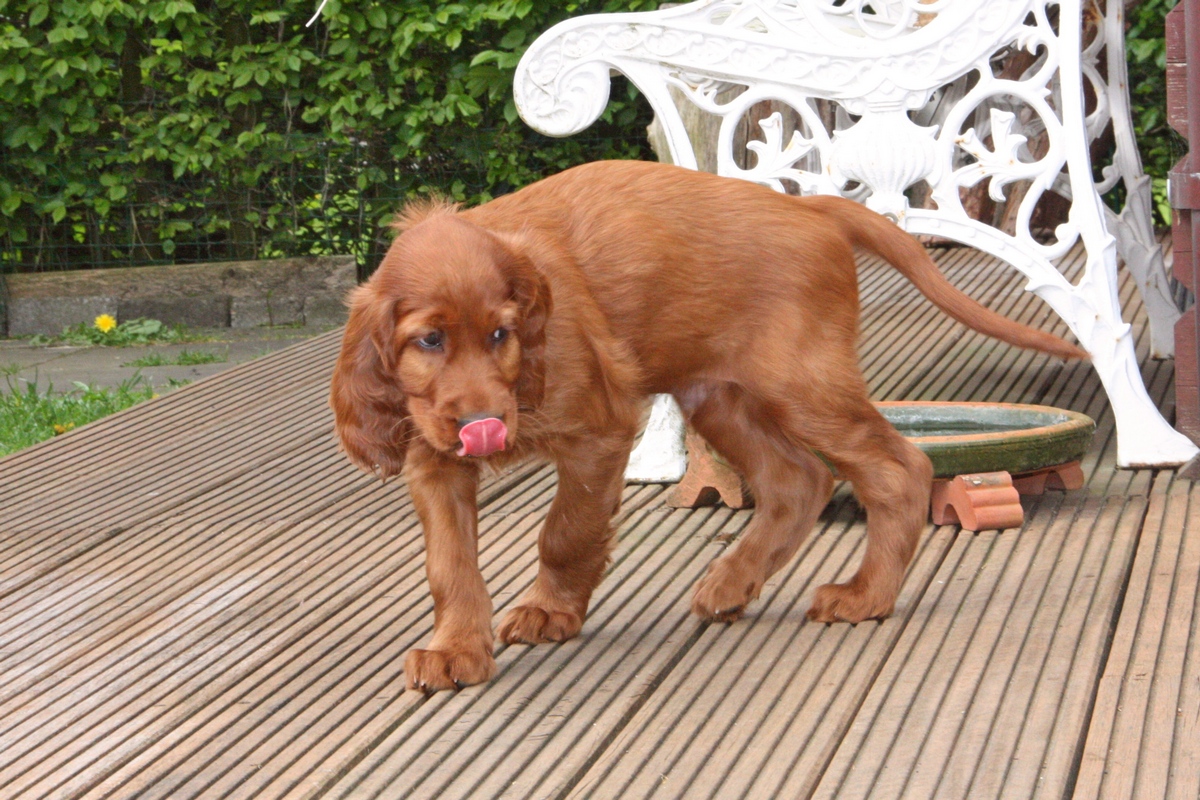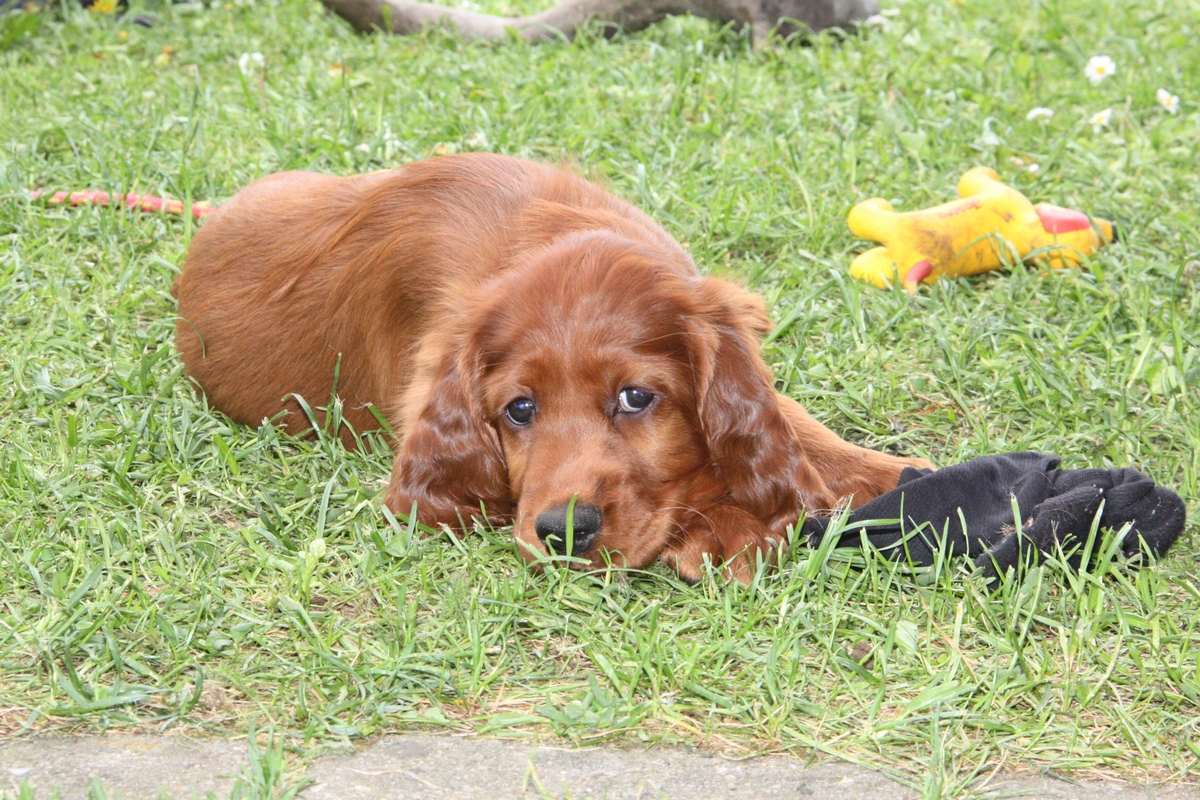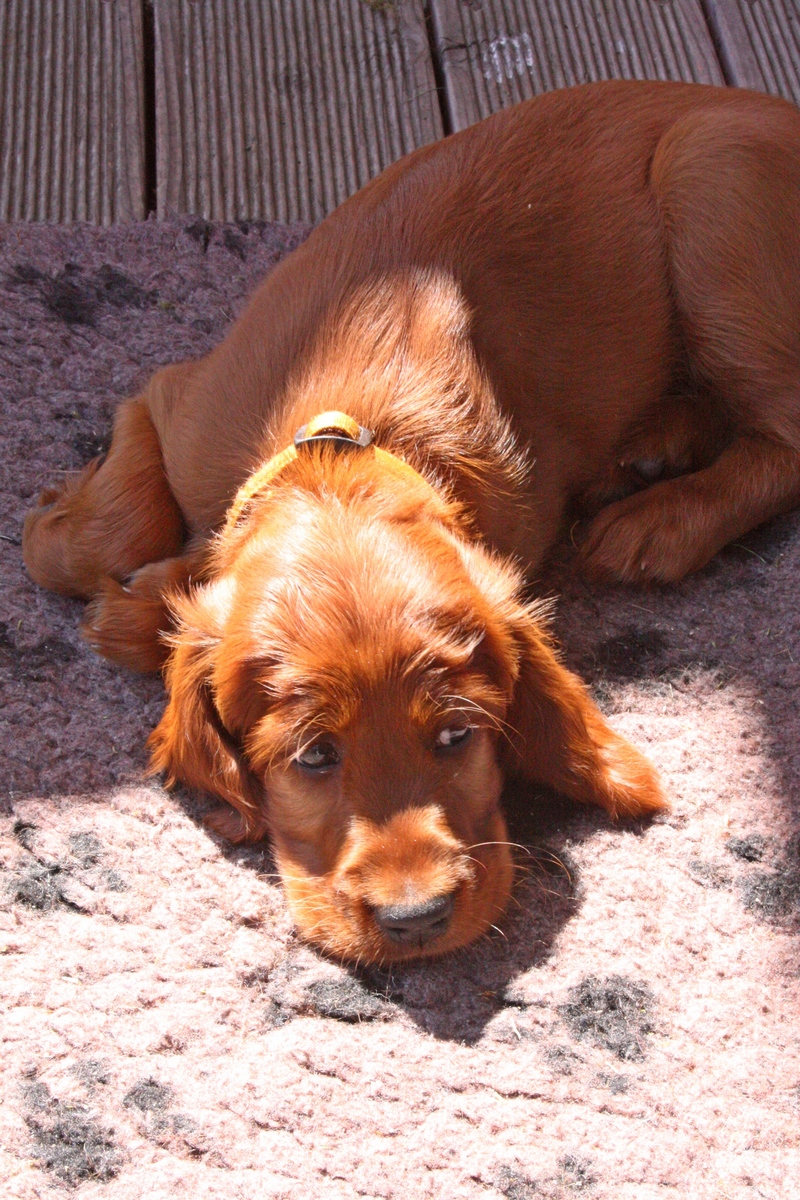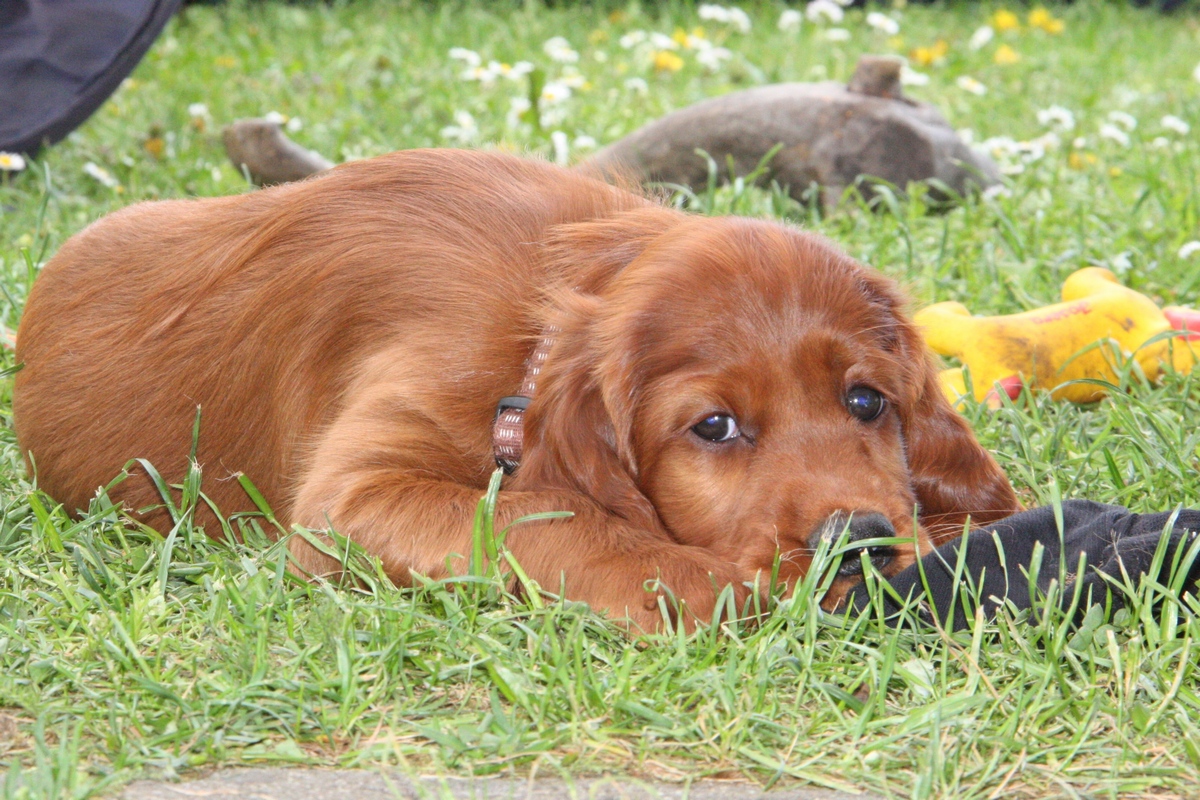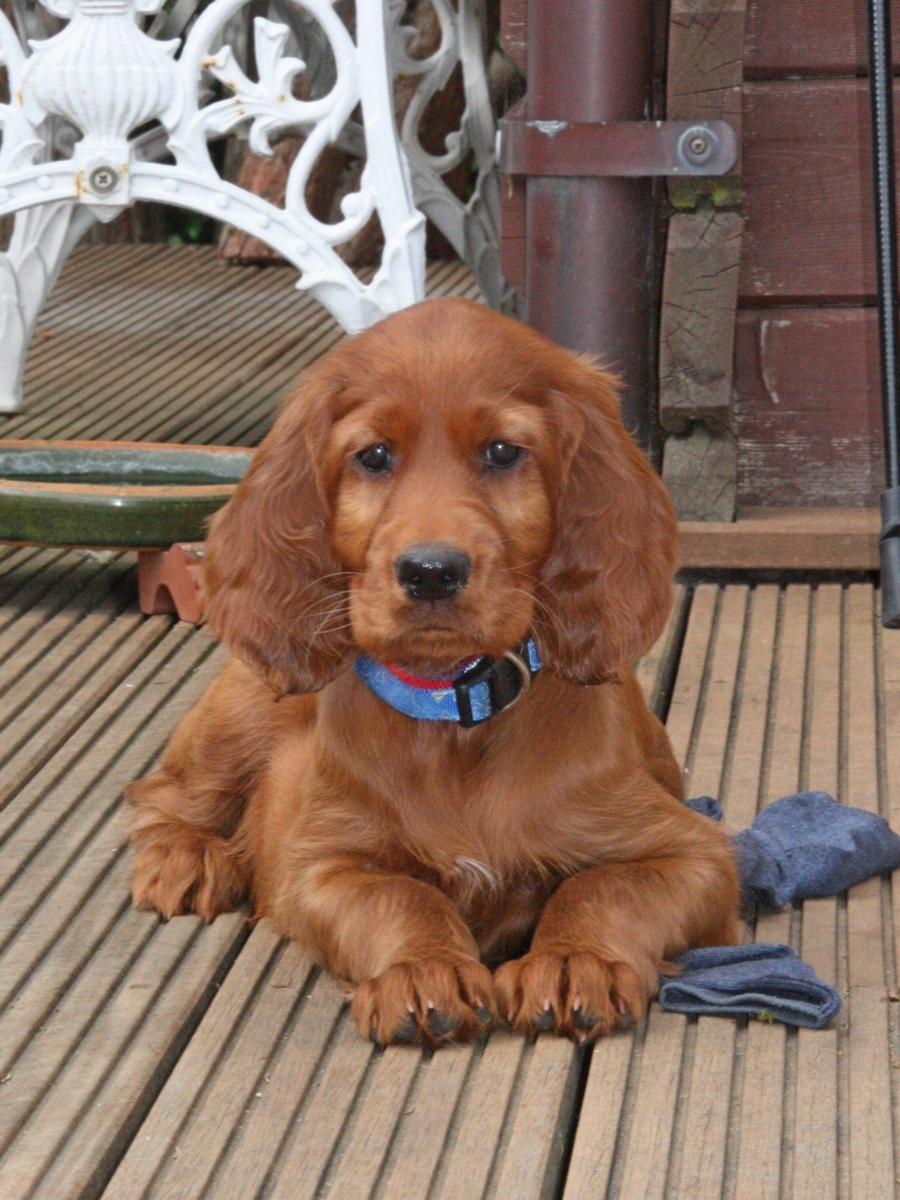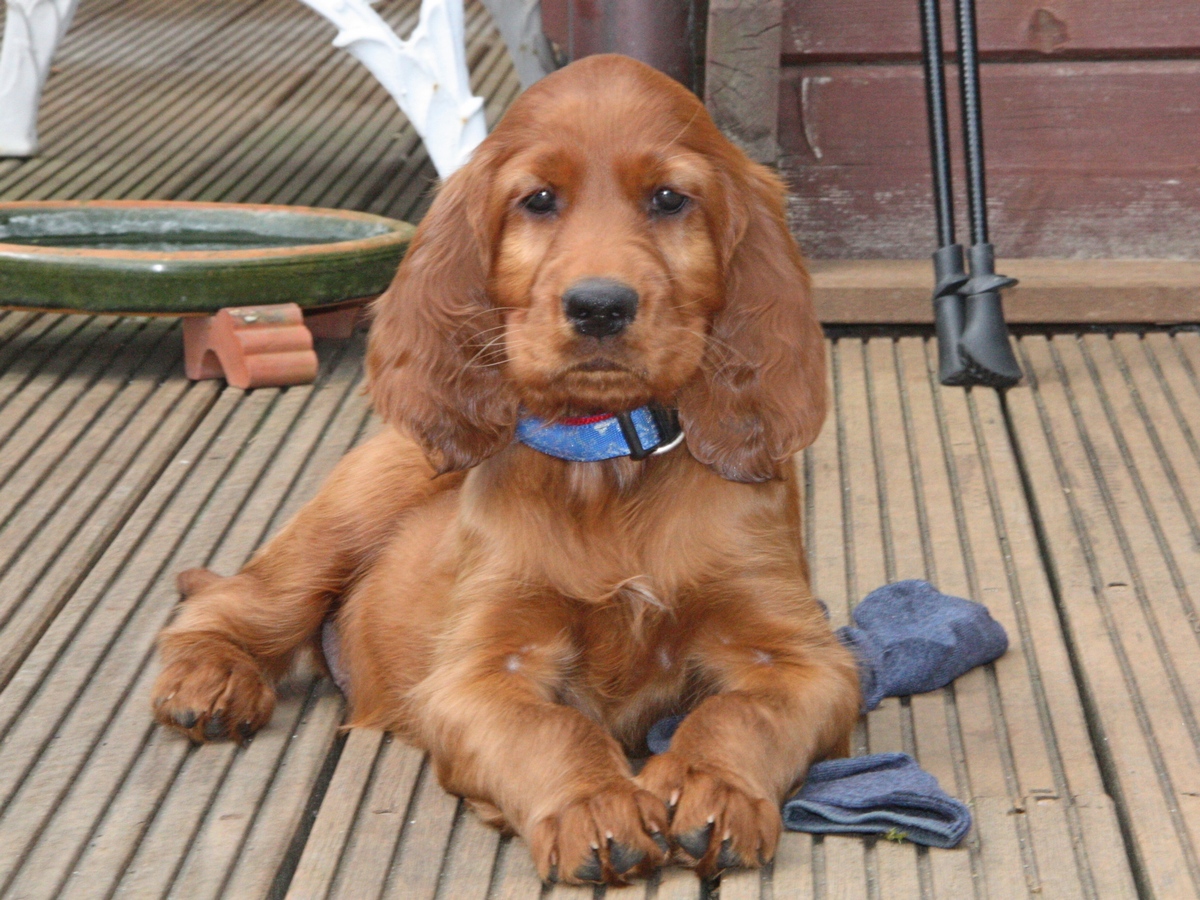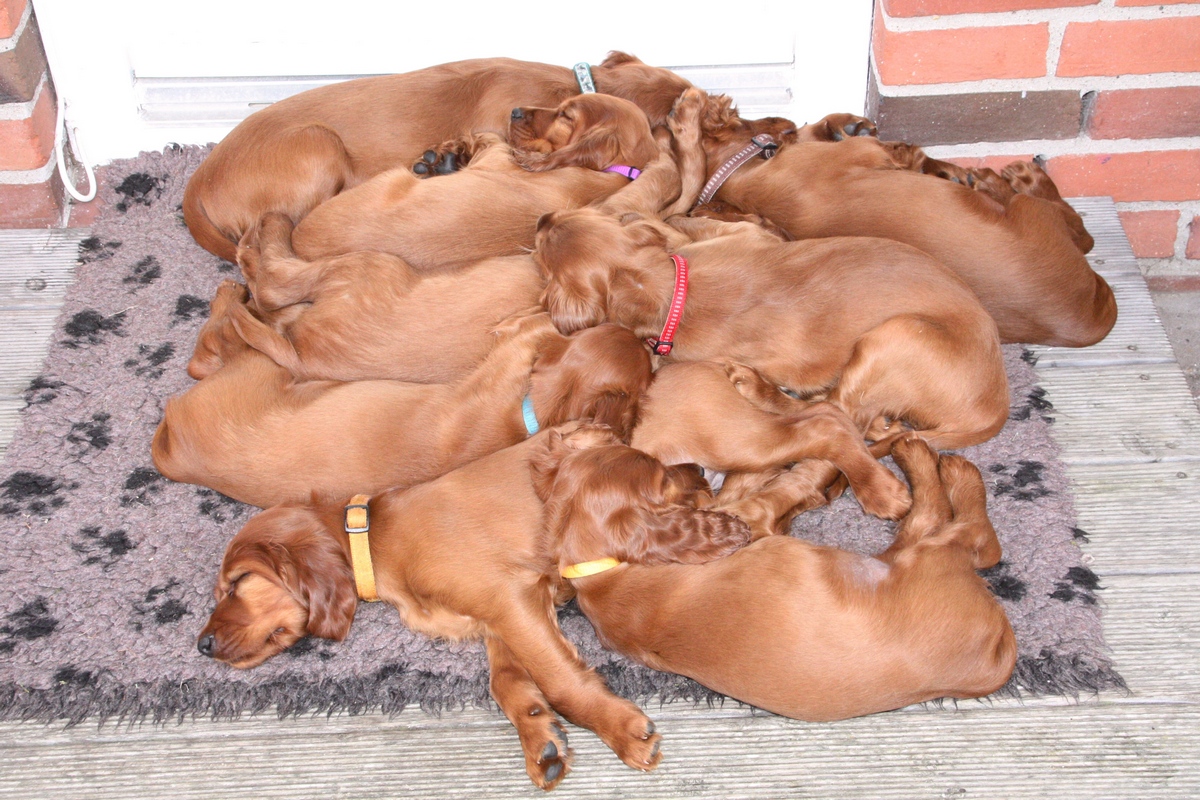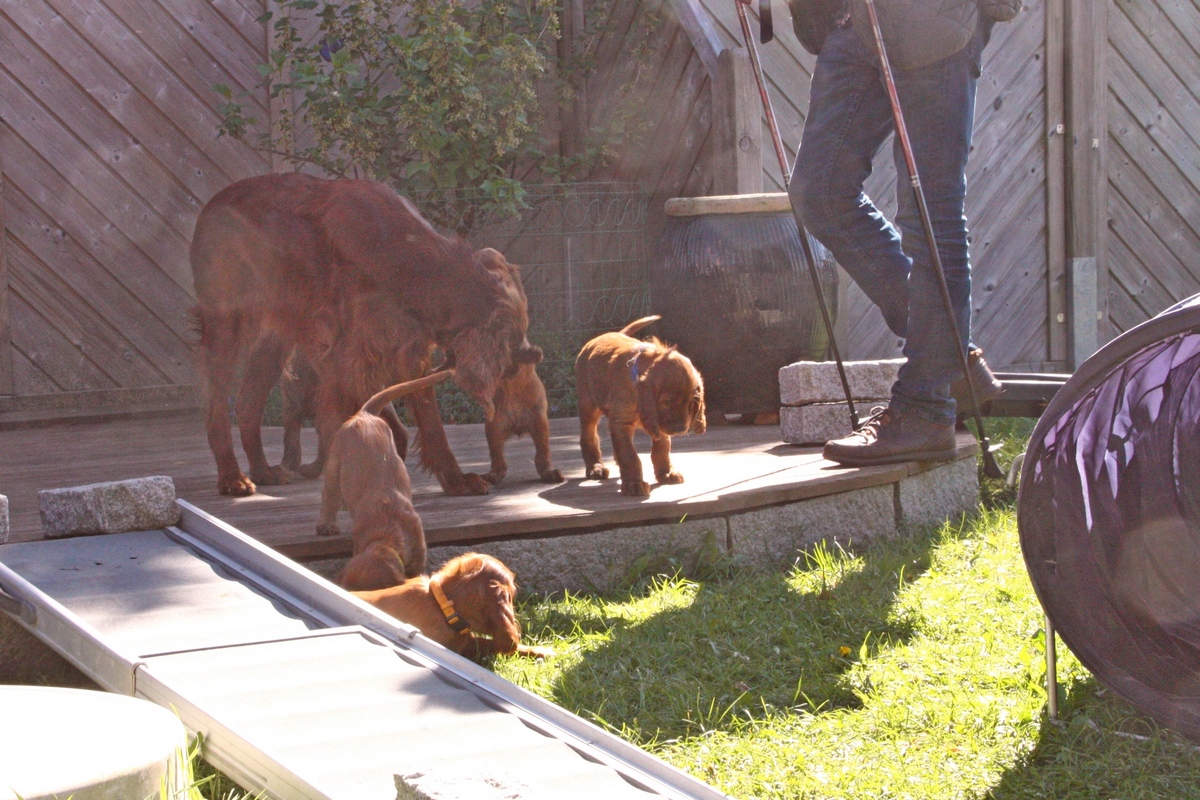 Preparing for Walker- harmless - may pass through. 😊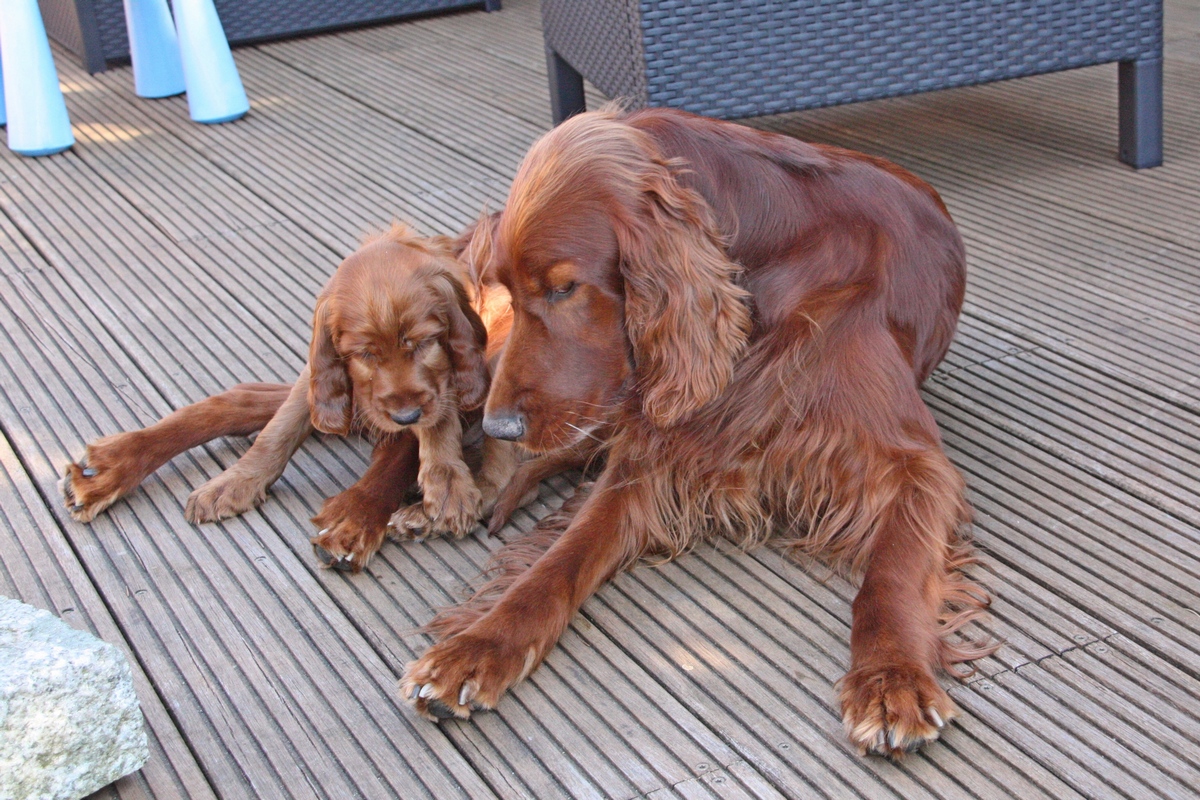 Diva cuddling with Guinness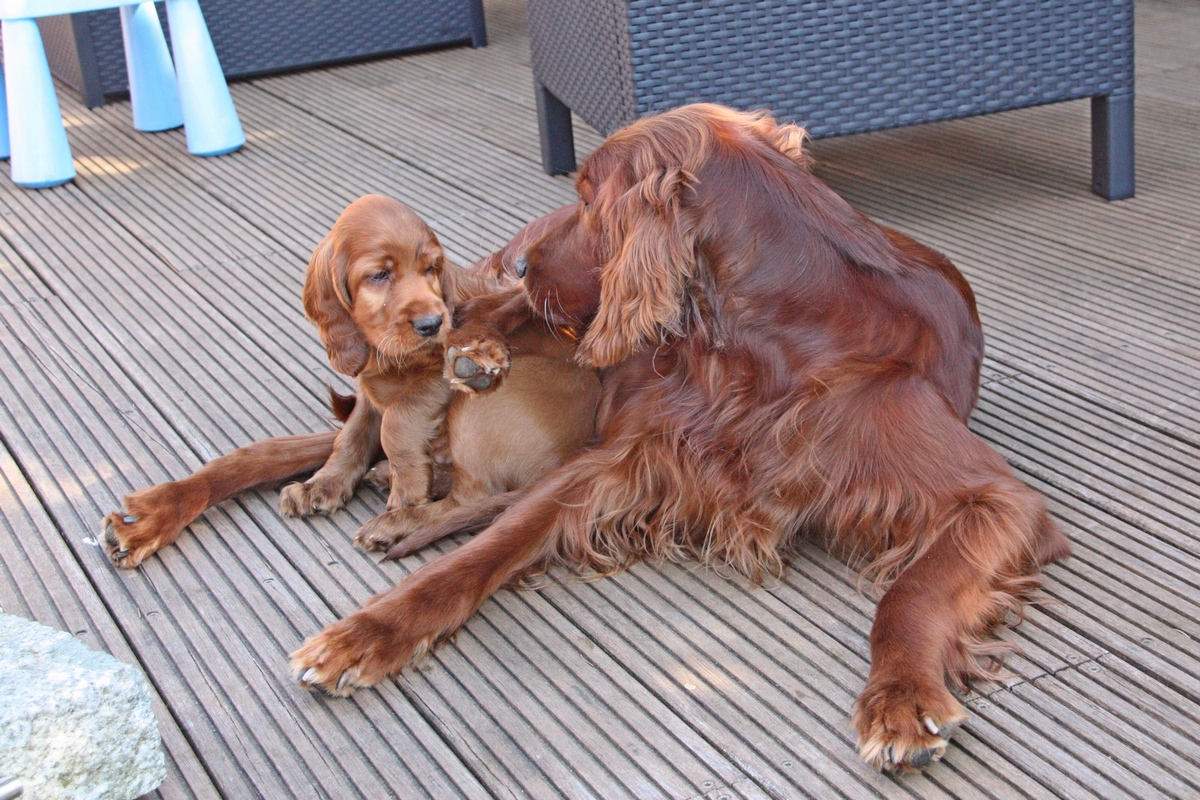 Diva cuddling with Guinness
Family Game part 2
You might think Diva would play football with the kids, but in truth, the balls are only interesting when somebody moves them.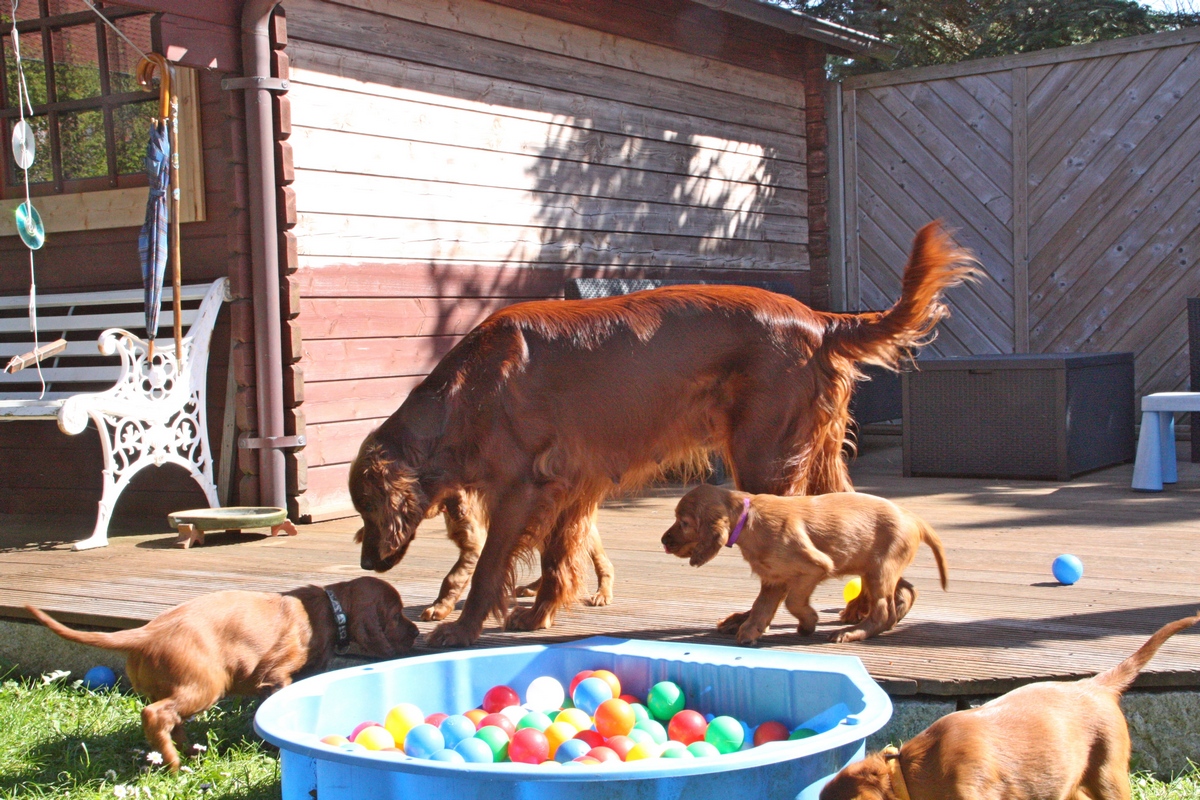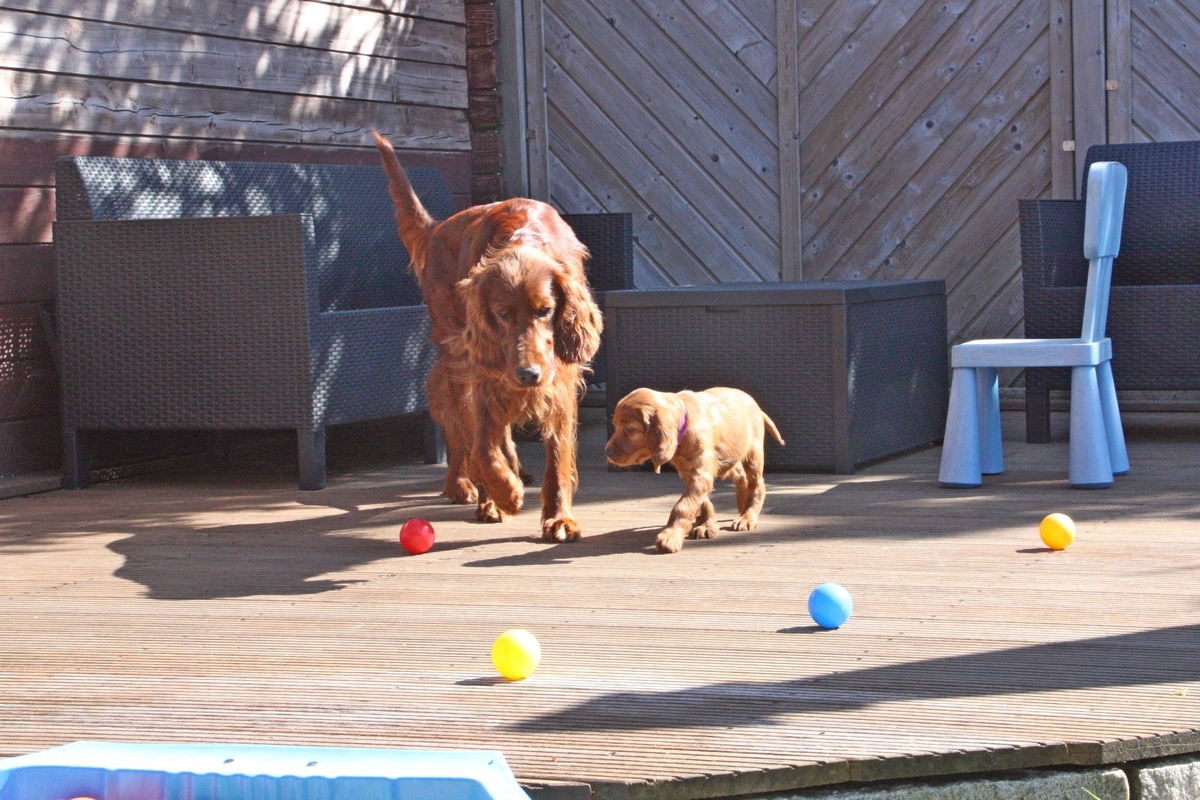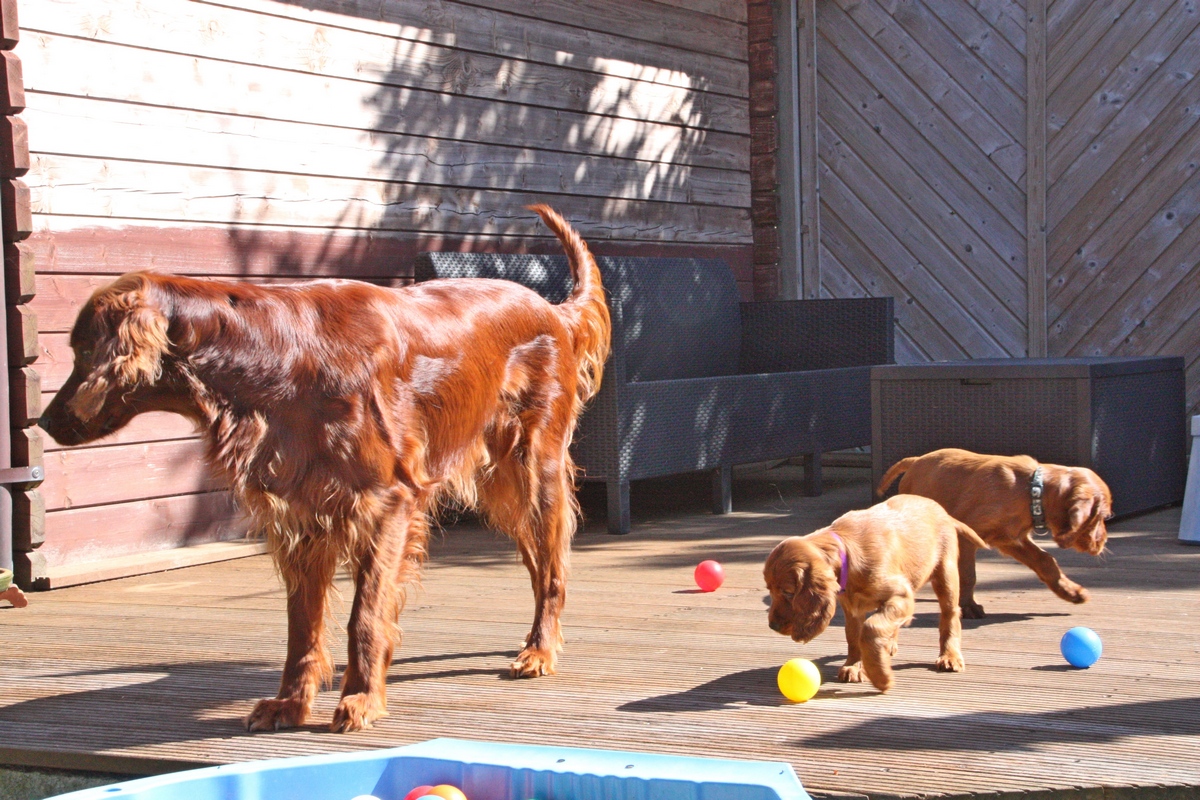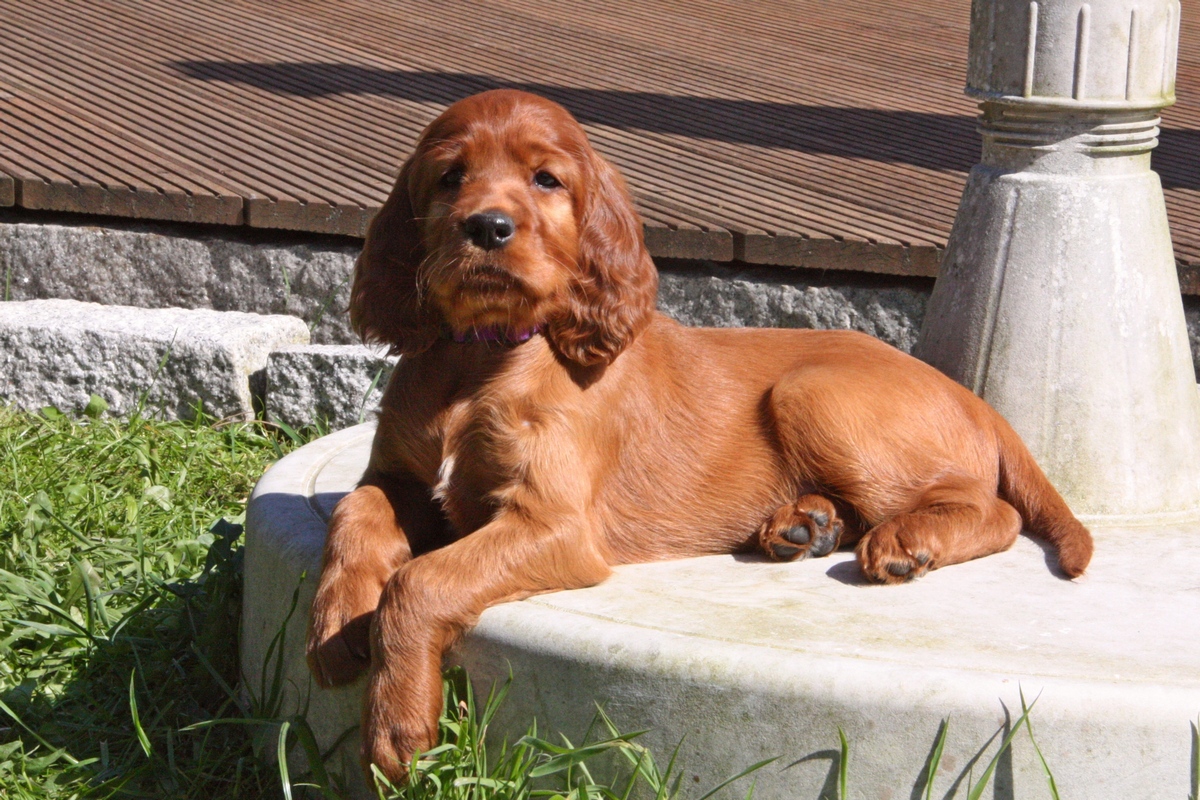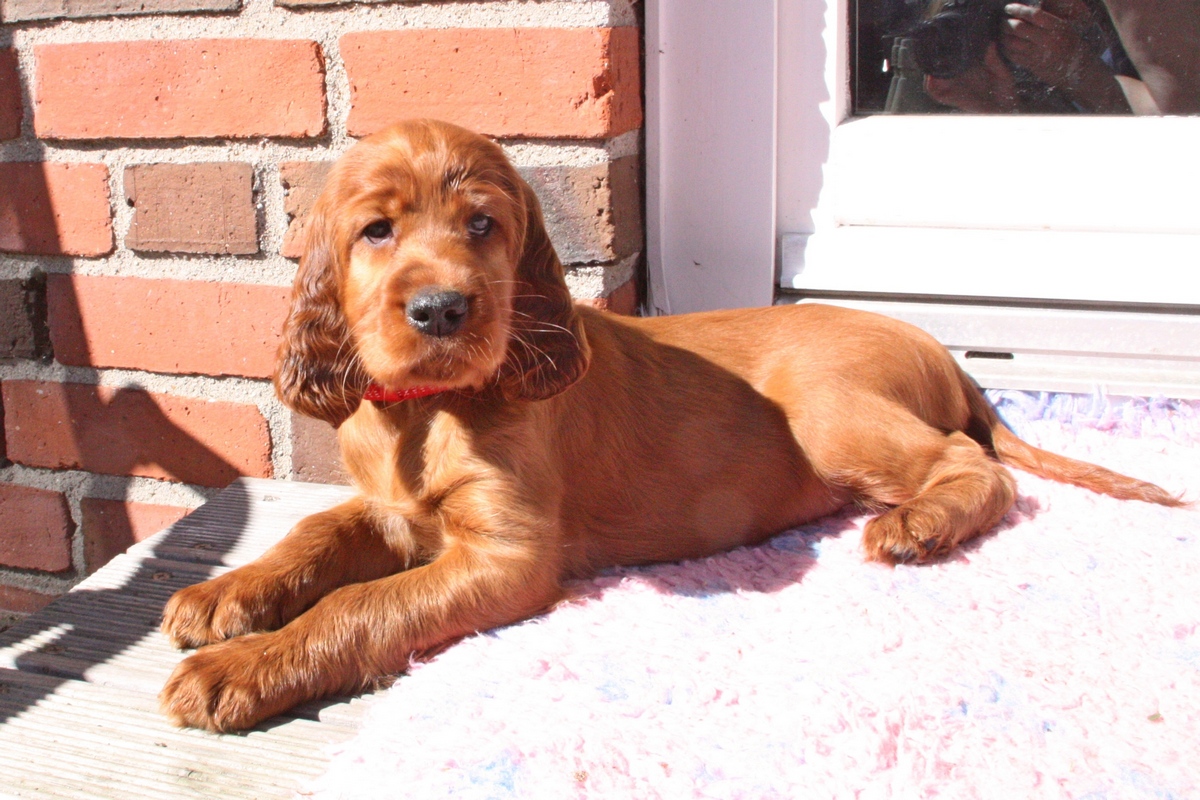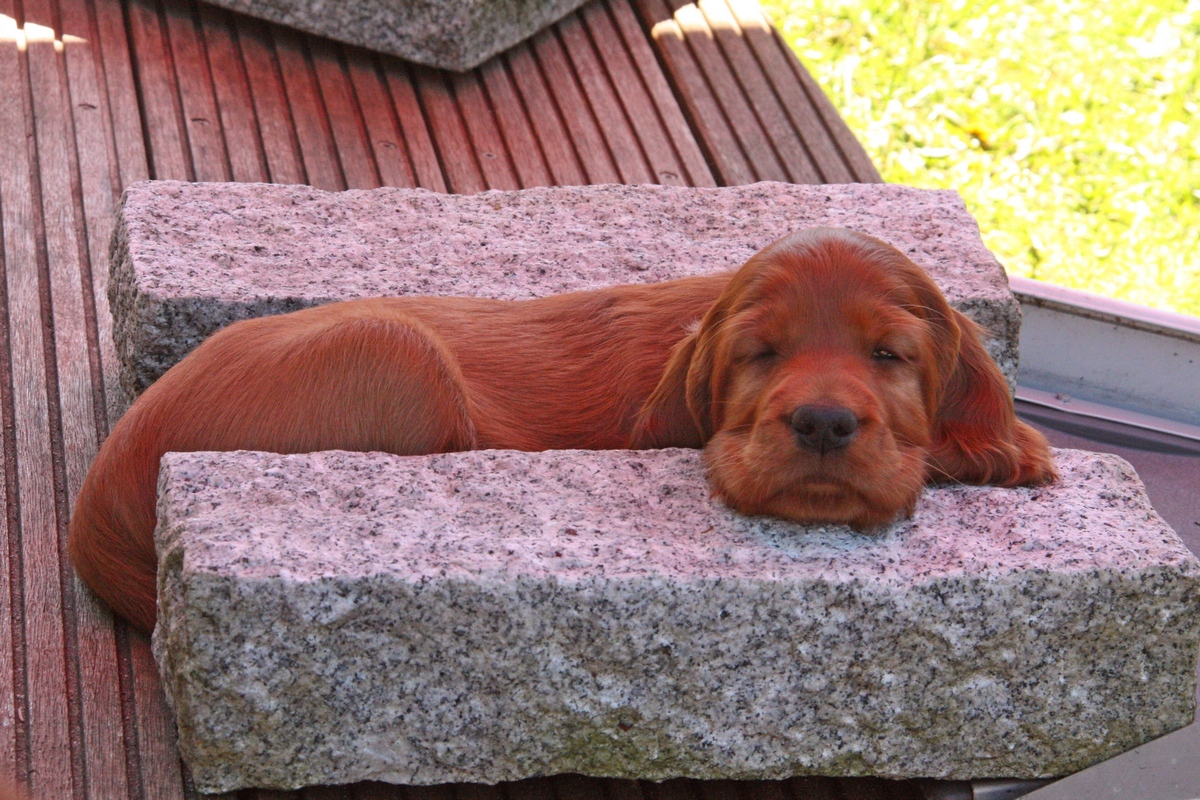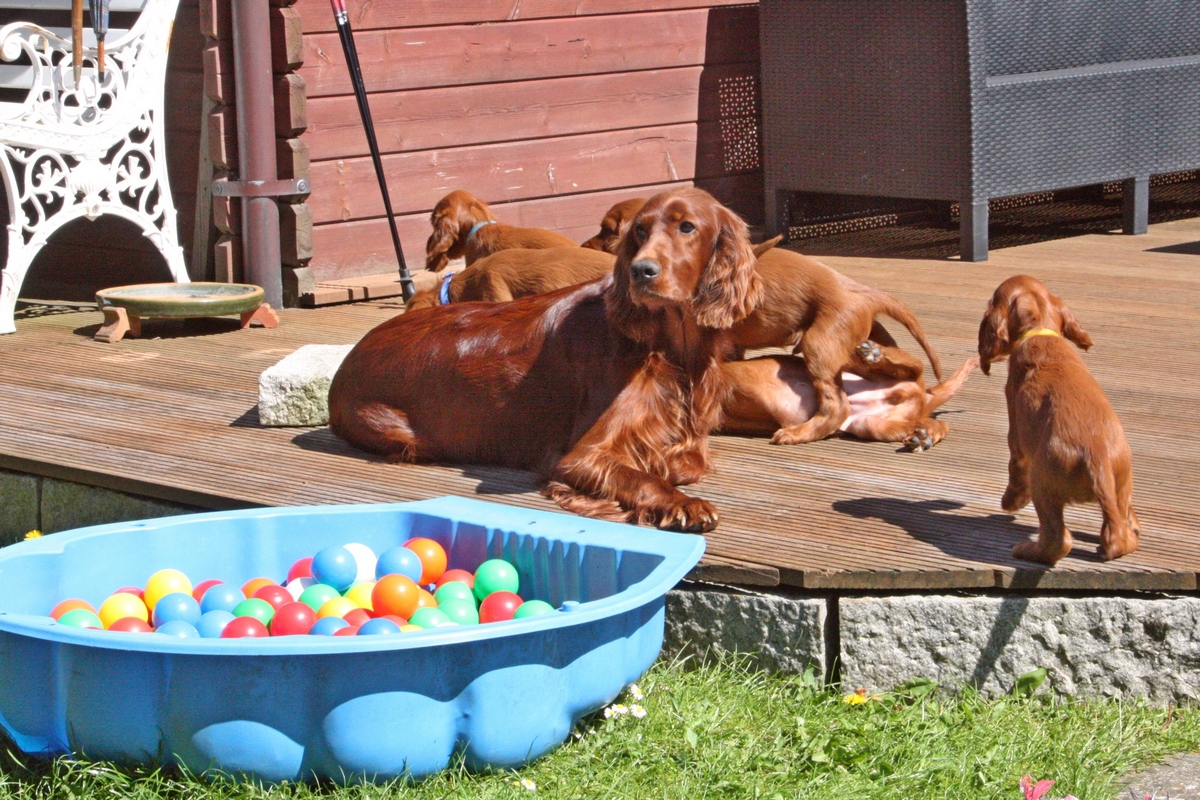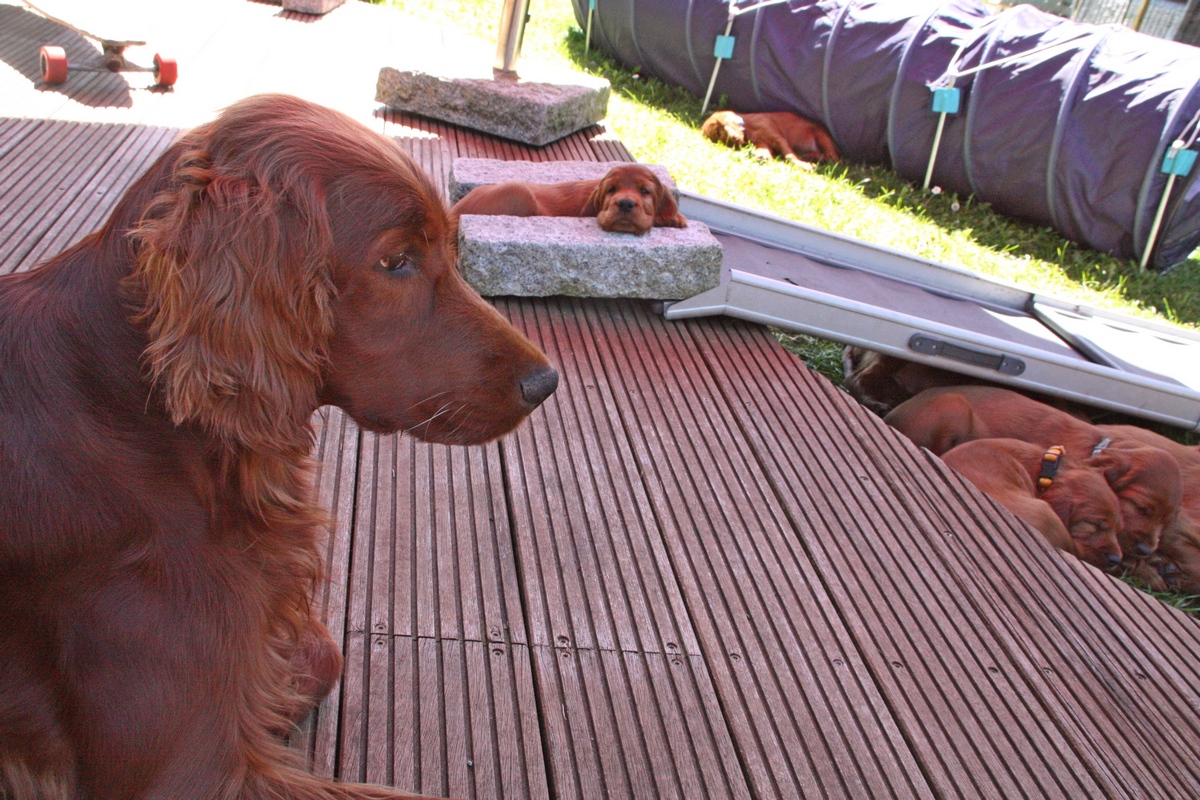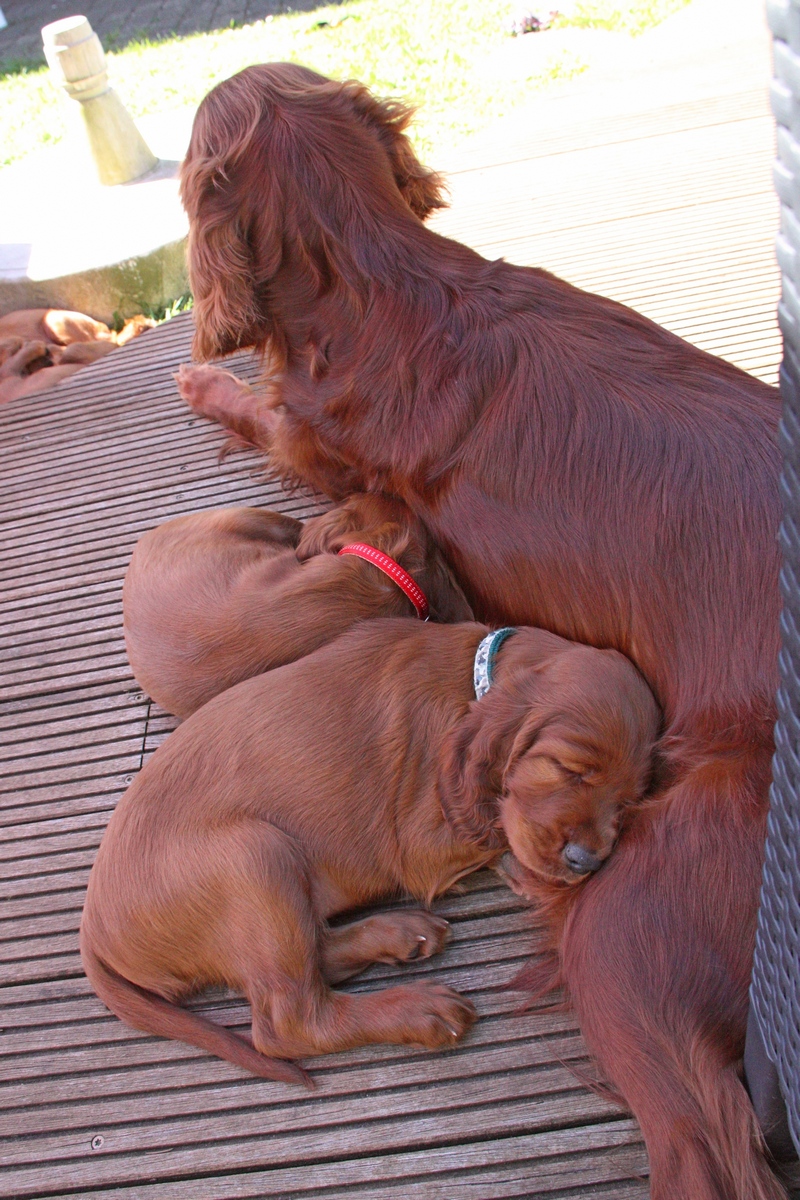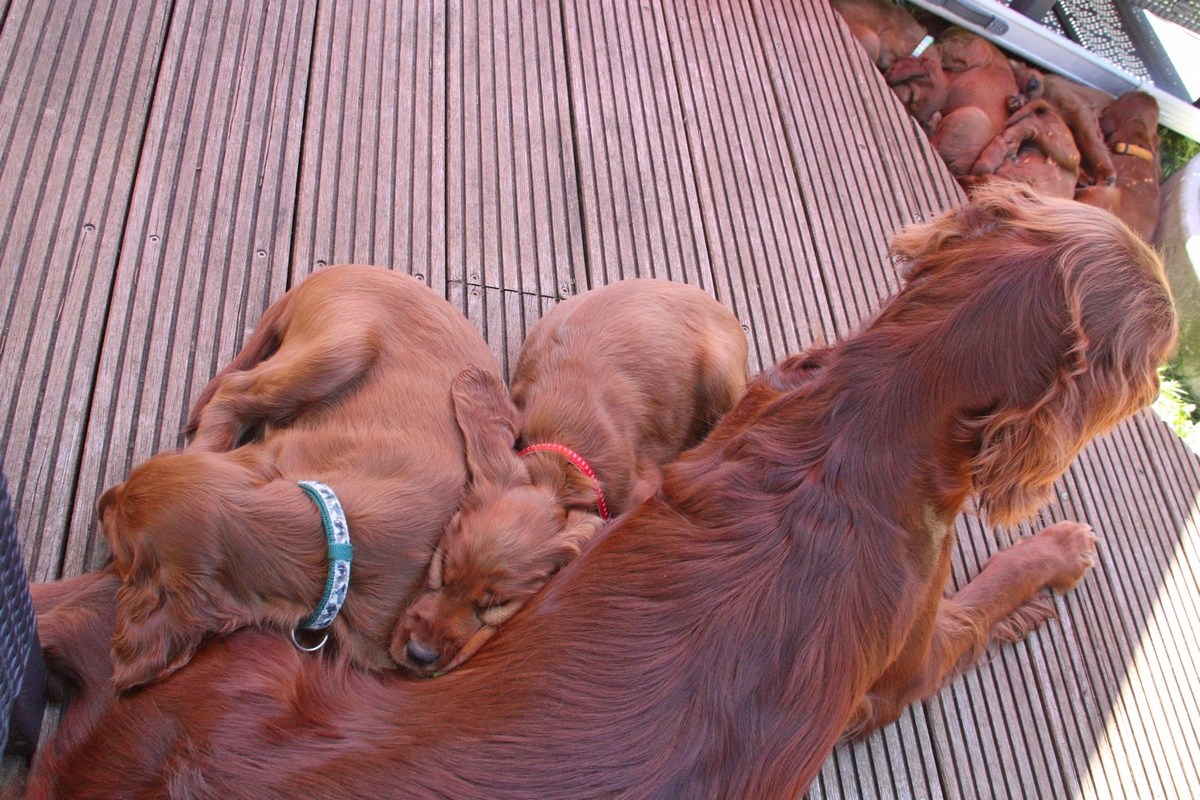 Family Game part 3
The hide and seek game - Where's Gigi?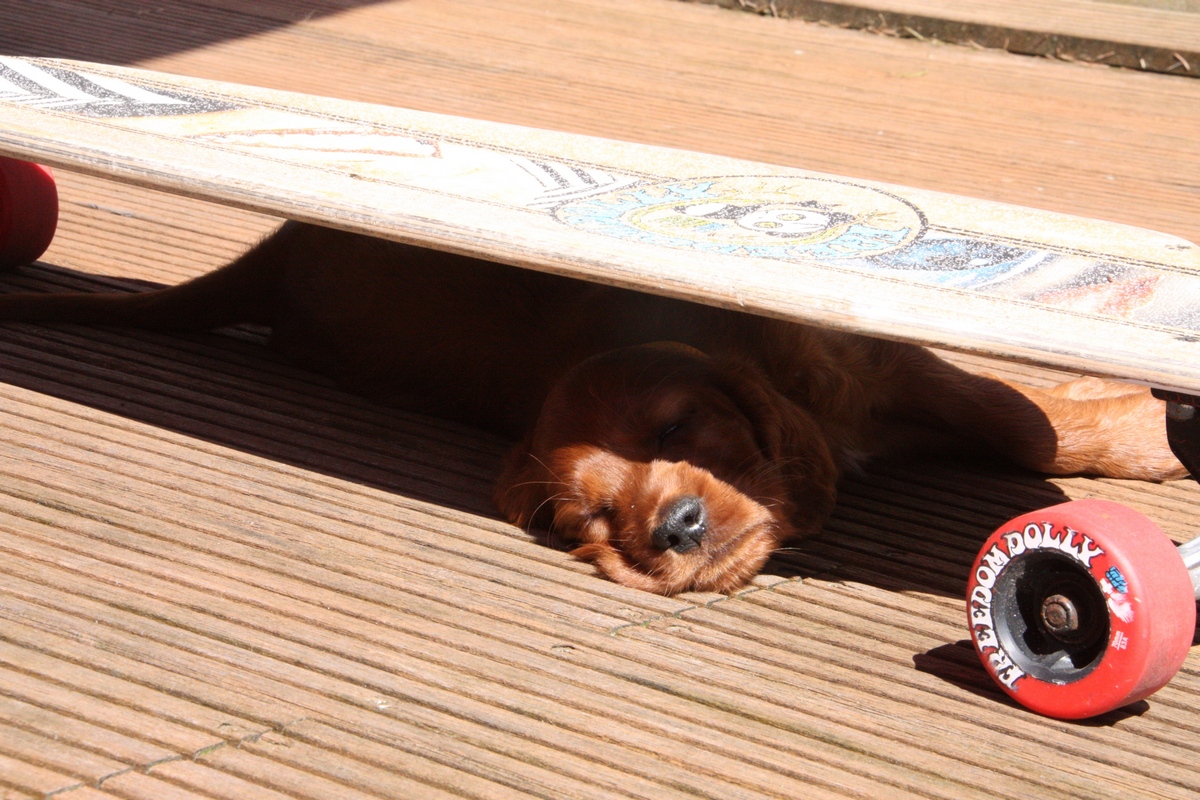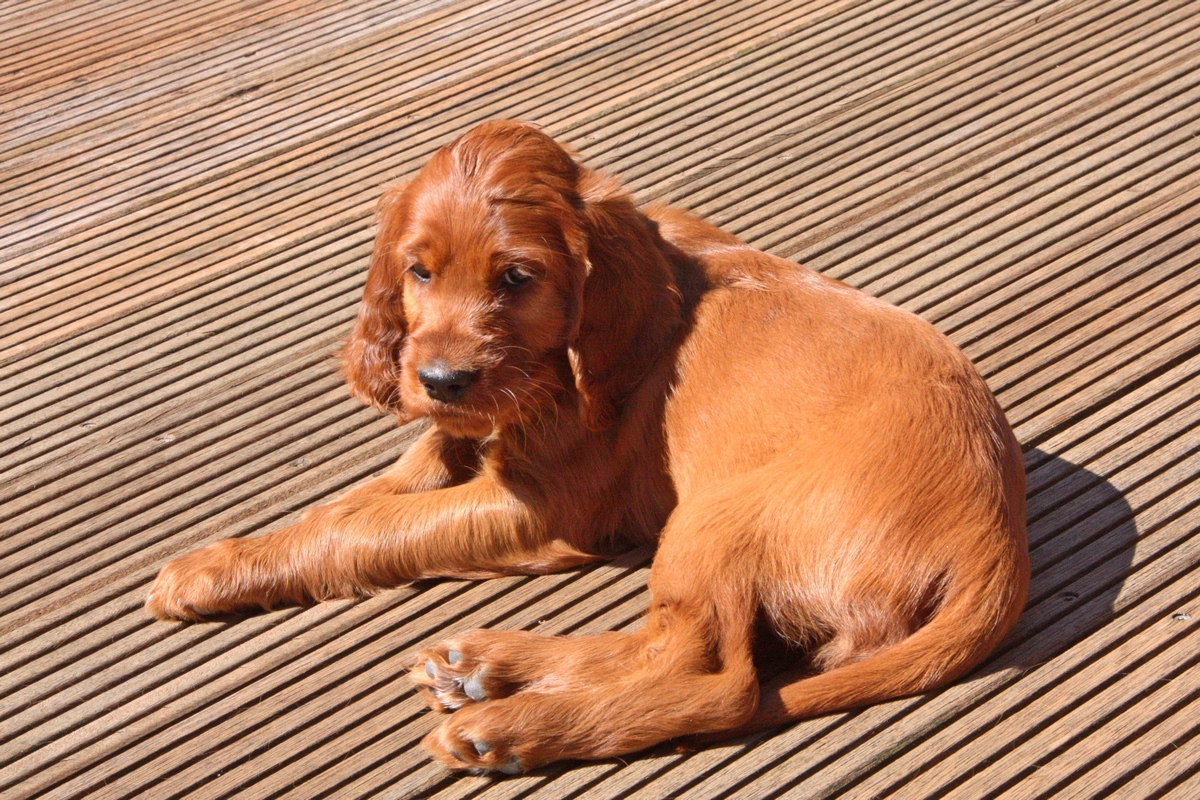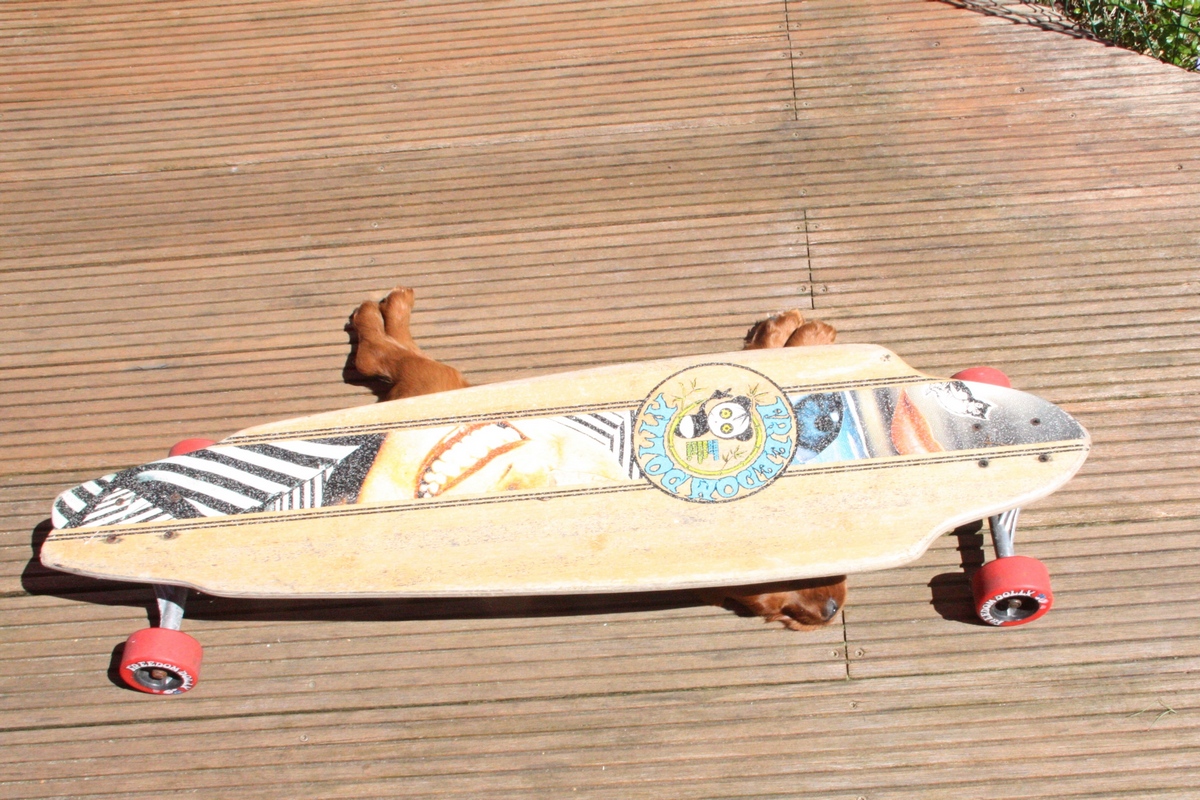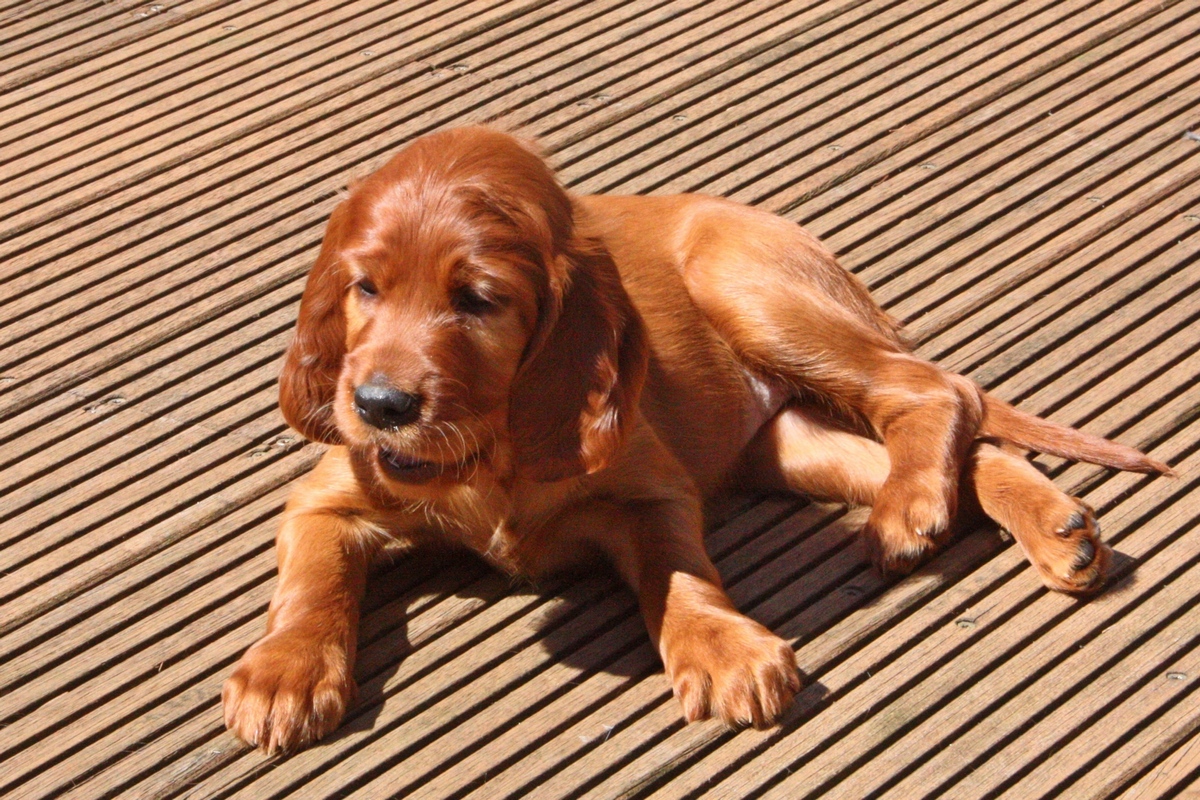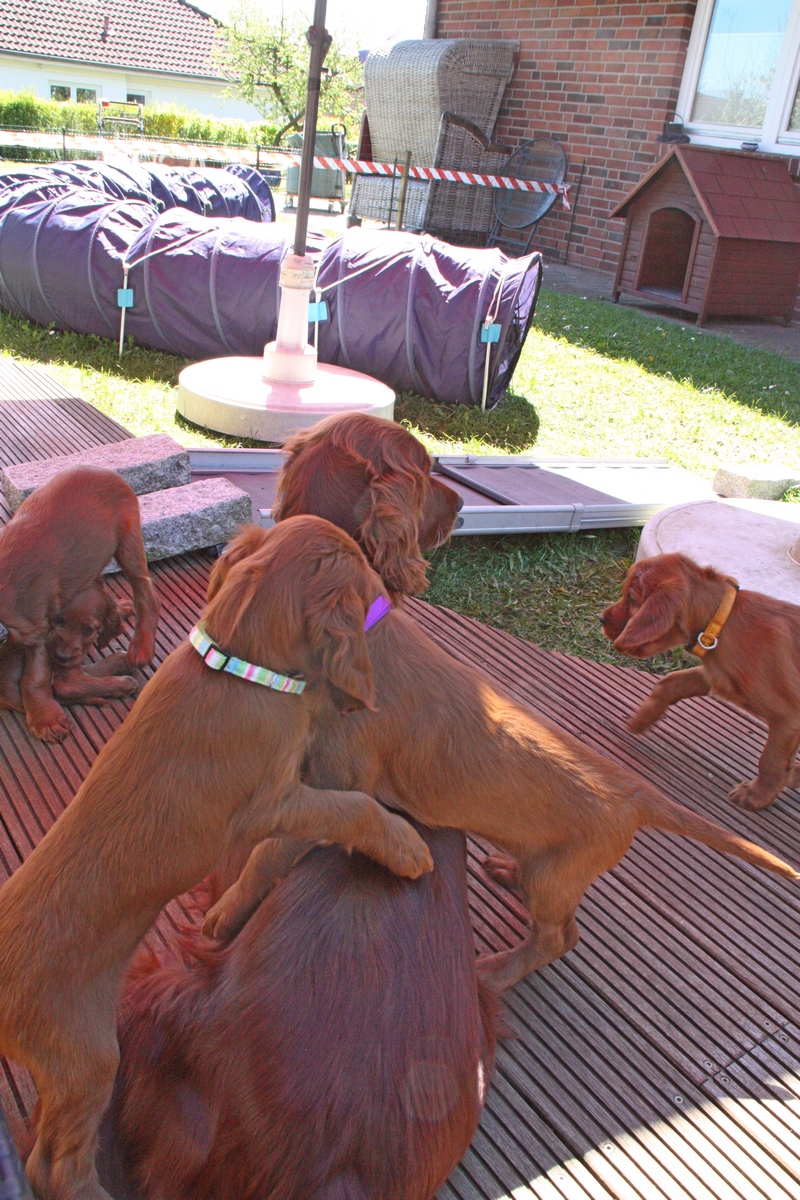 Grace - Gena - Ginger Lily
(Grace wears a different collar in that moment)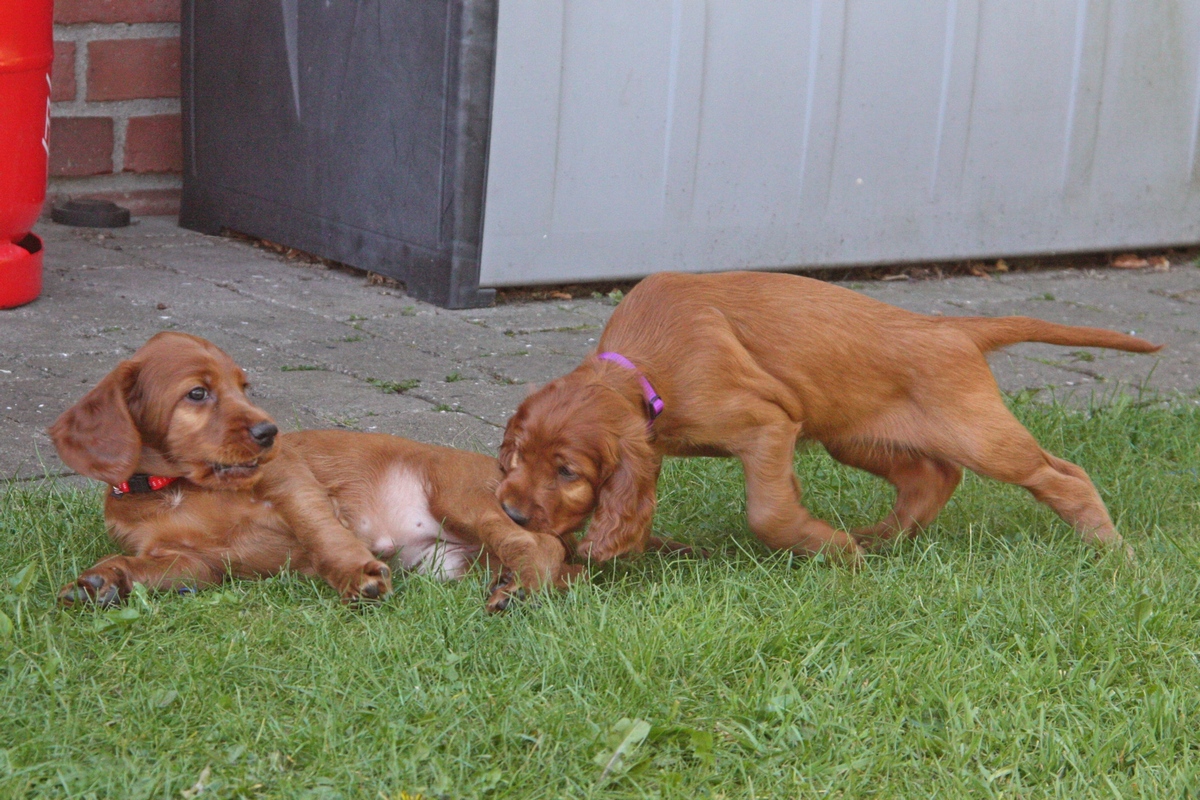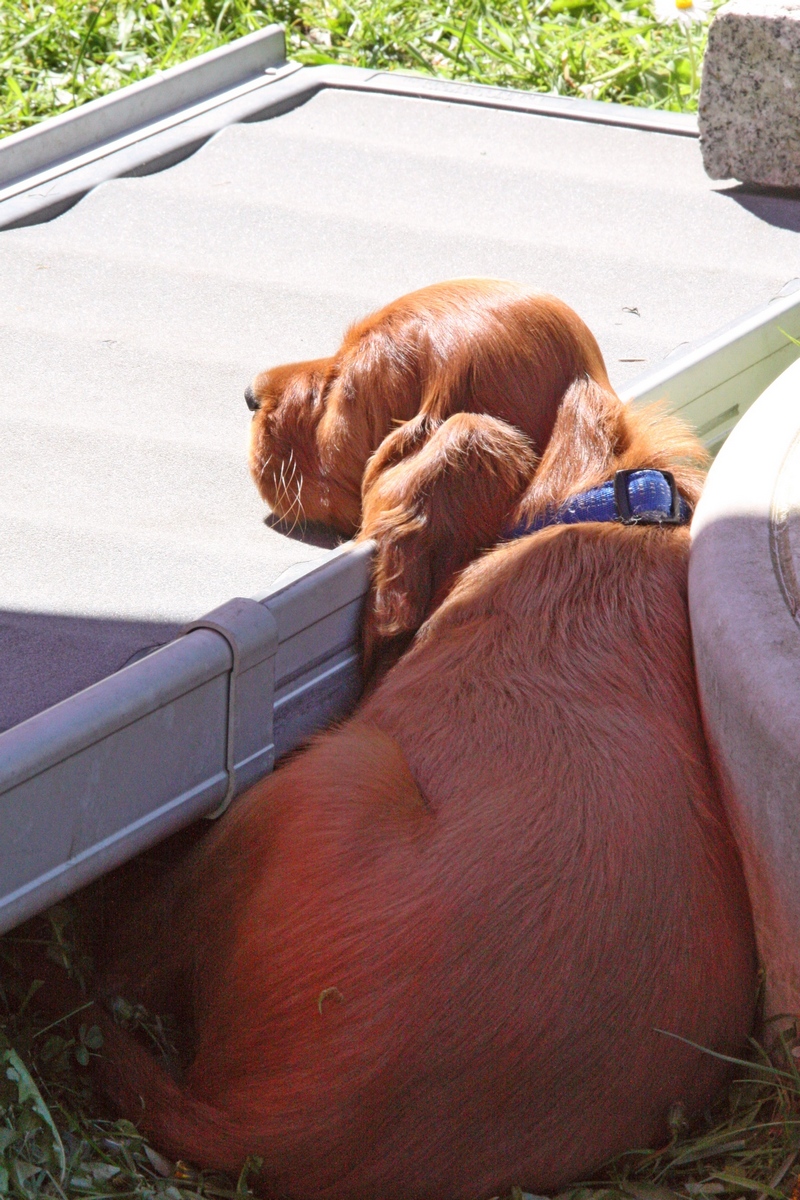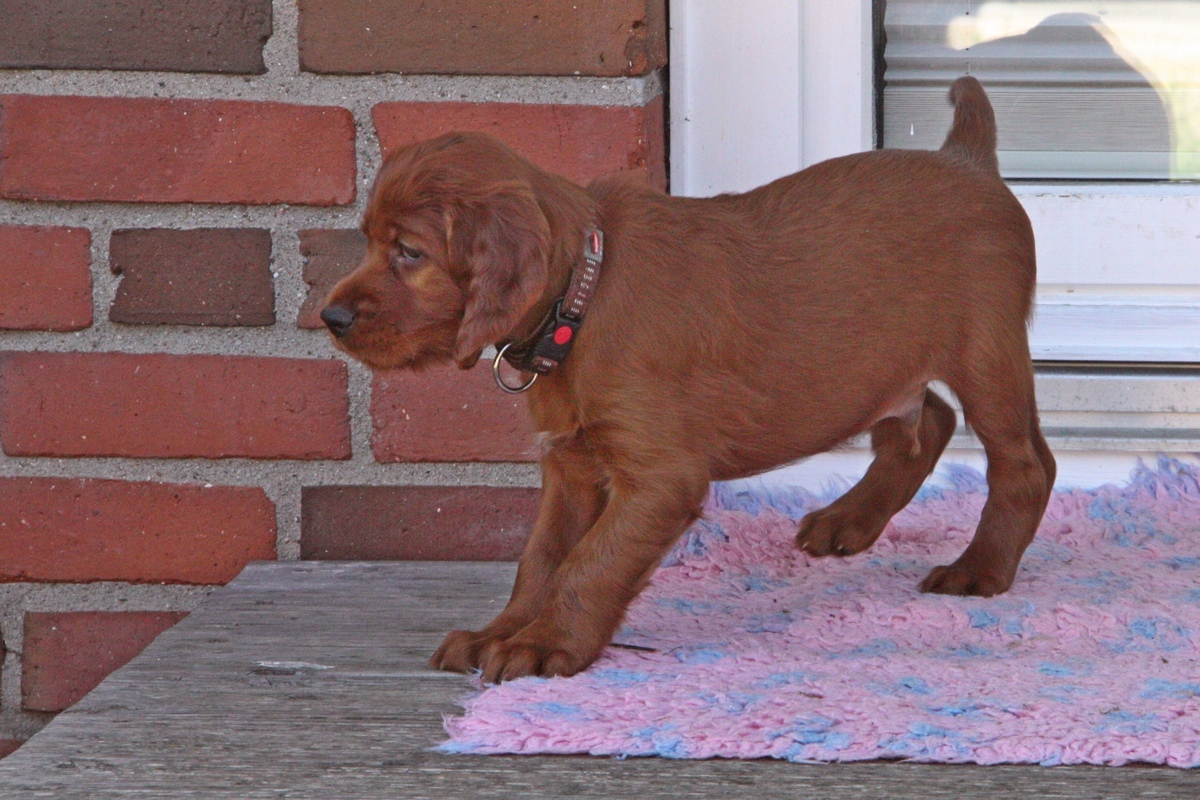 Great Bobby dos not have Siesta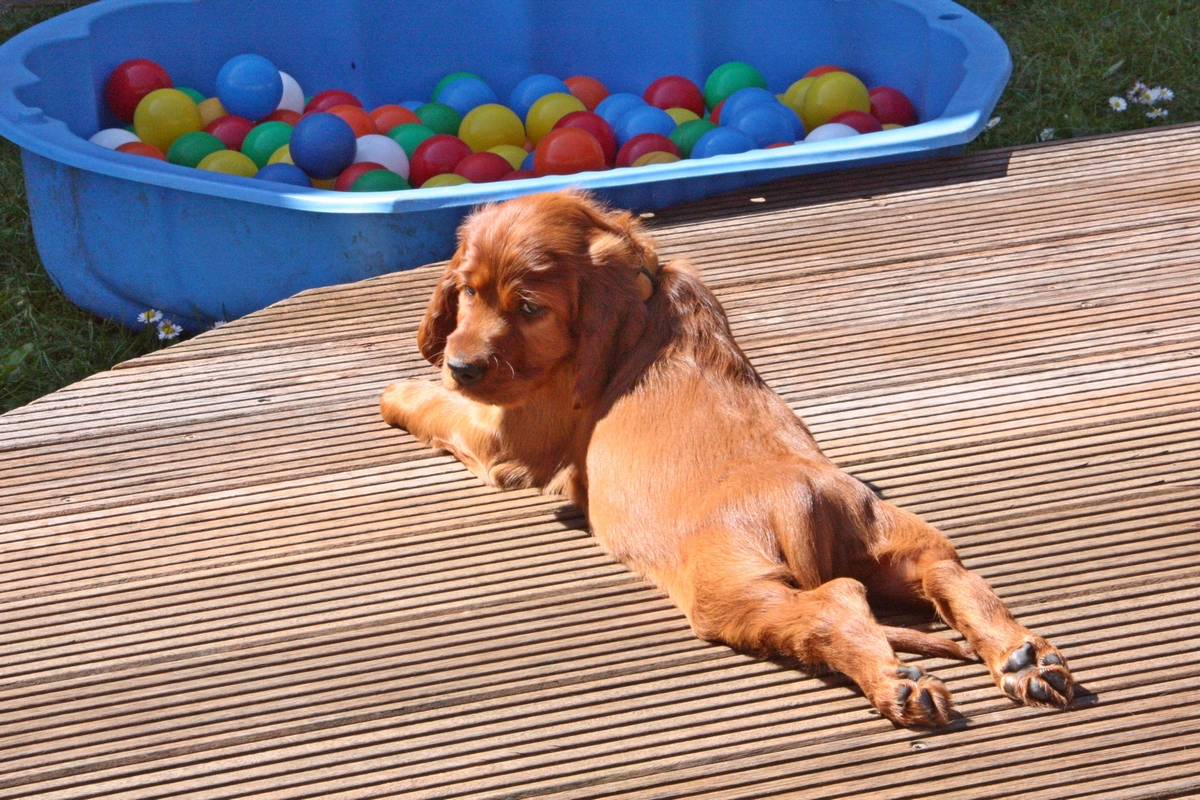 Ginger Lily. It's like the human children:
As you get older, the flexibility decreases!
Gigi - - woke up - back 😊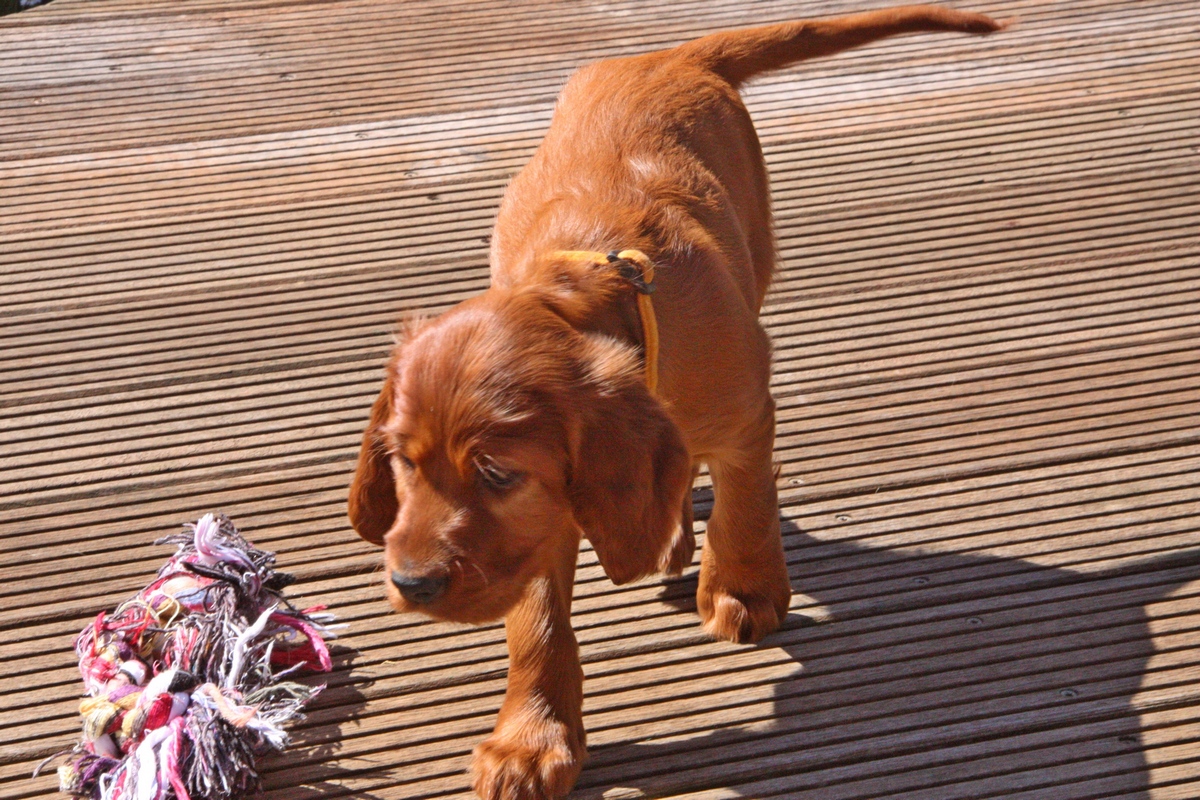 May 10, 2018, 7 weeks and 3 days old
Today is the only one day off in this week: Ascension day and it storms, thunders and raining cats and dogs. We are in the winter garden. The rain patters very, very heavily on the plastic roof, it thundered. The little ones play as if it were all normal. We are really proud about them.
...or directly to the 8th week
<![if !vml]>

<![endif]>
The handling of the puppies among each others becomes "harder". They breath, snarle and it would be violently bitten. It will be tryed how far they can go. Now you can hear more often when its really hurts. Now it's Ginger Lily and Gaius who don't give each other a run for their money.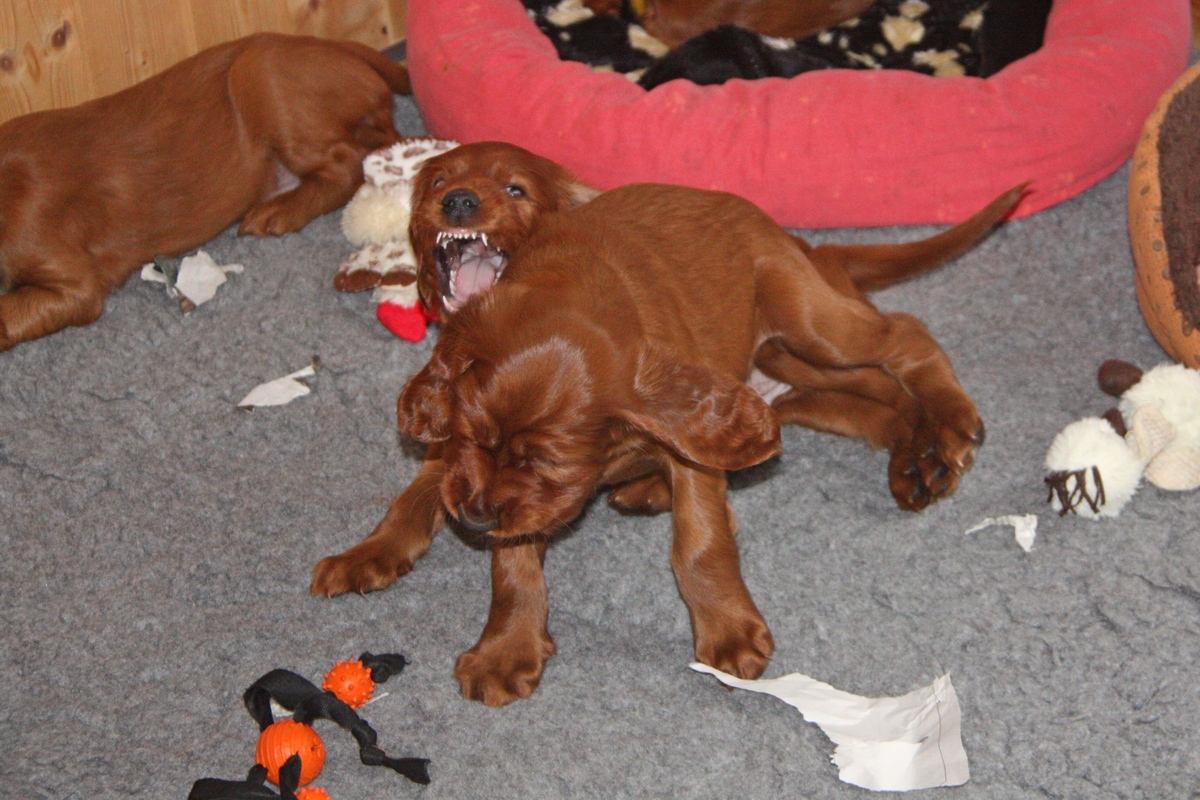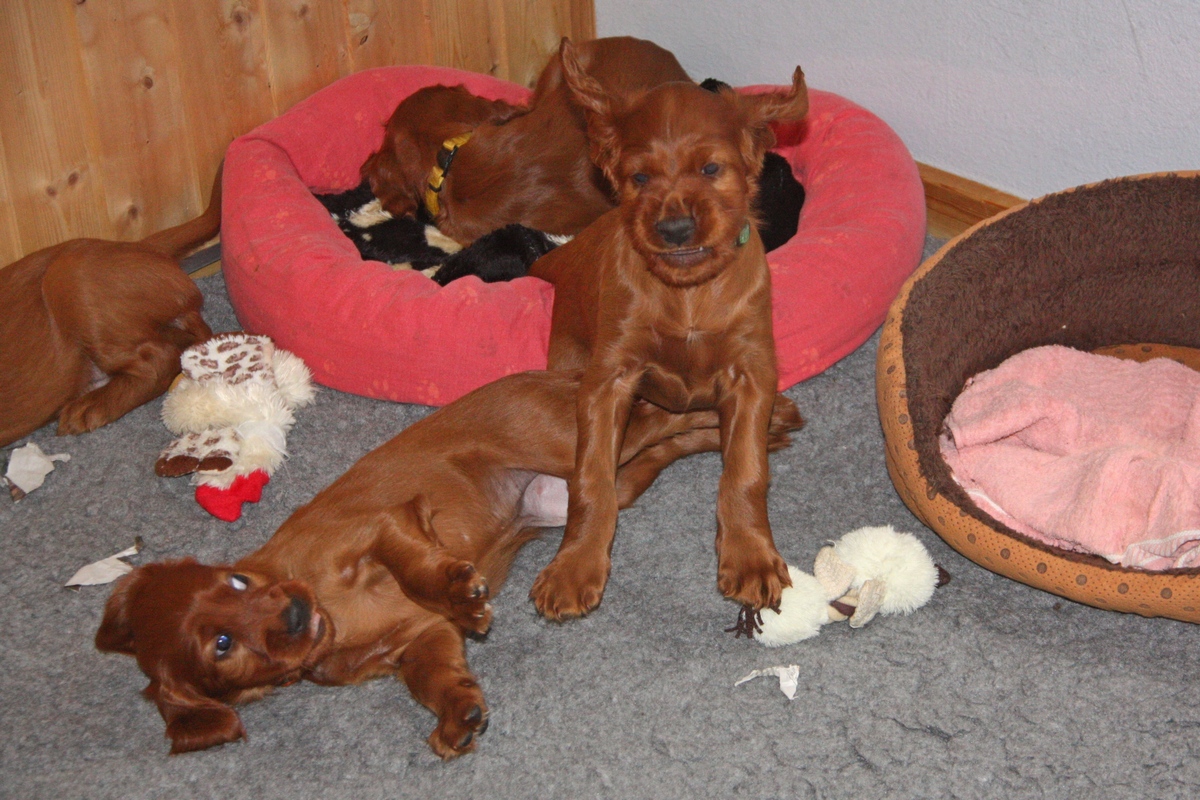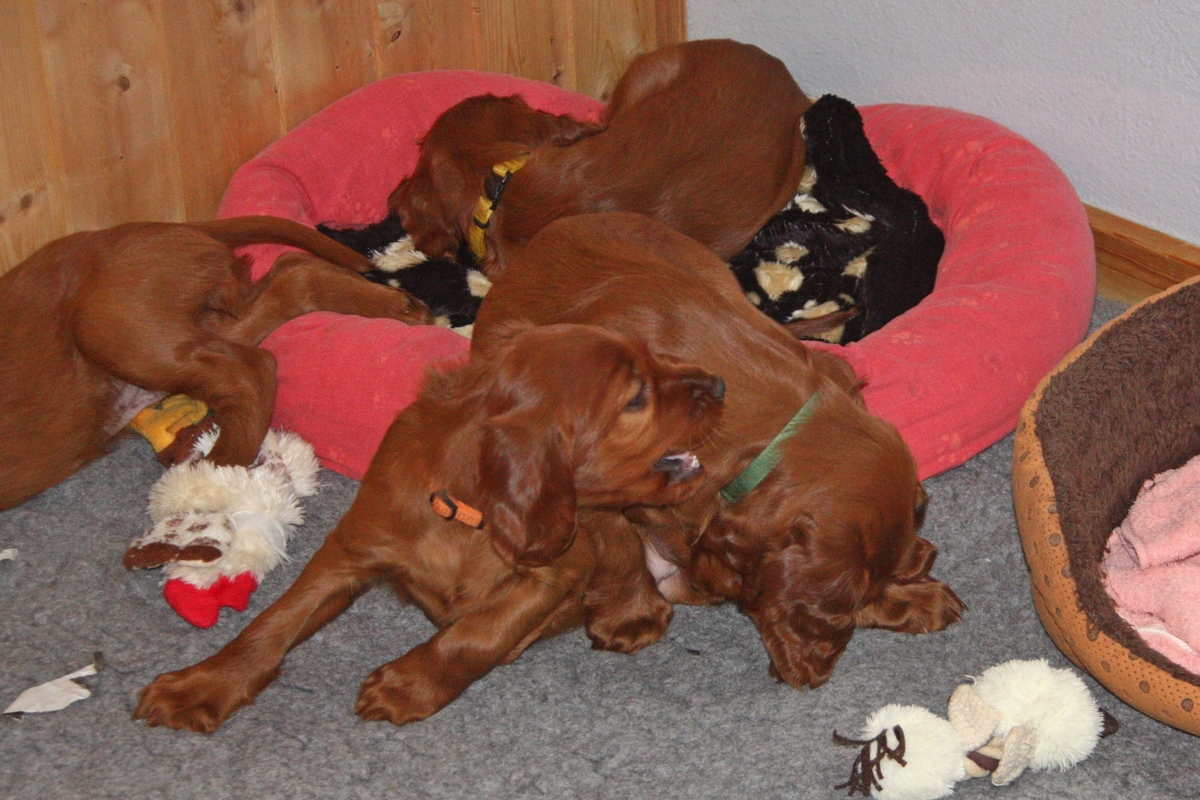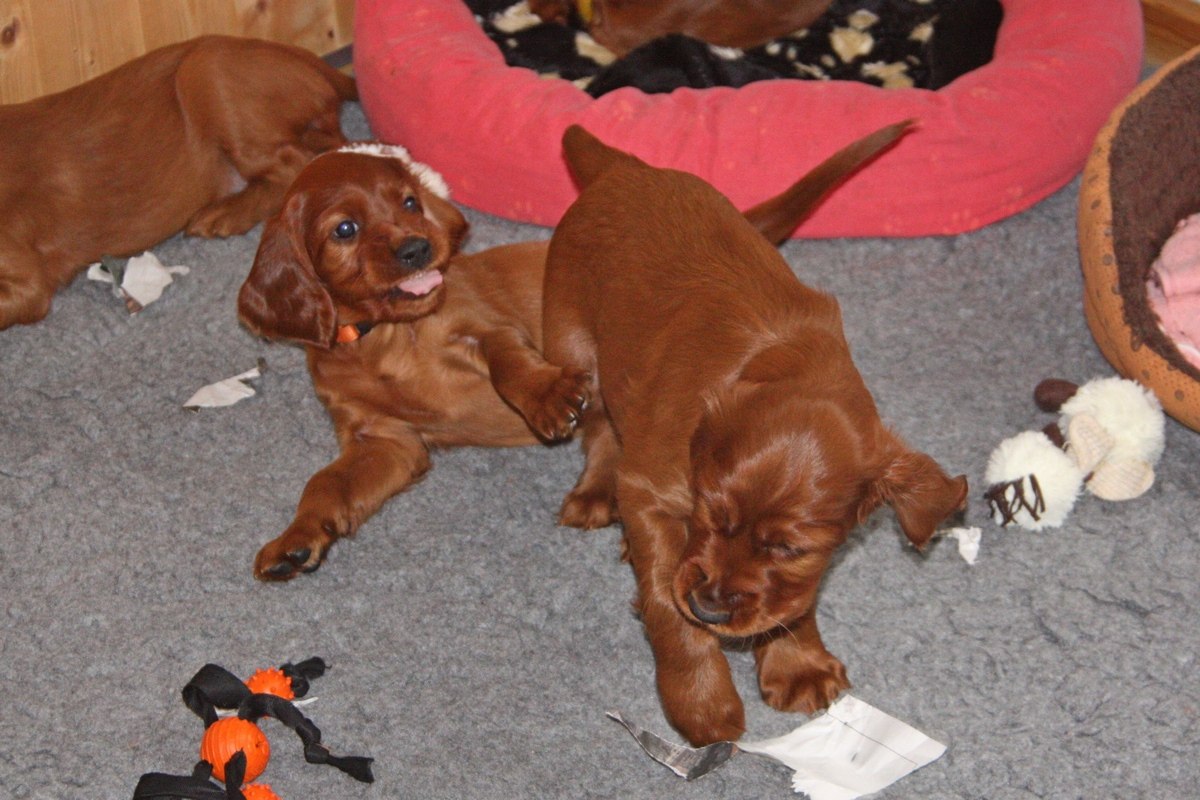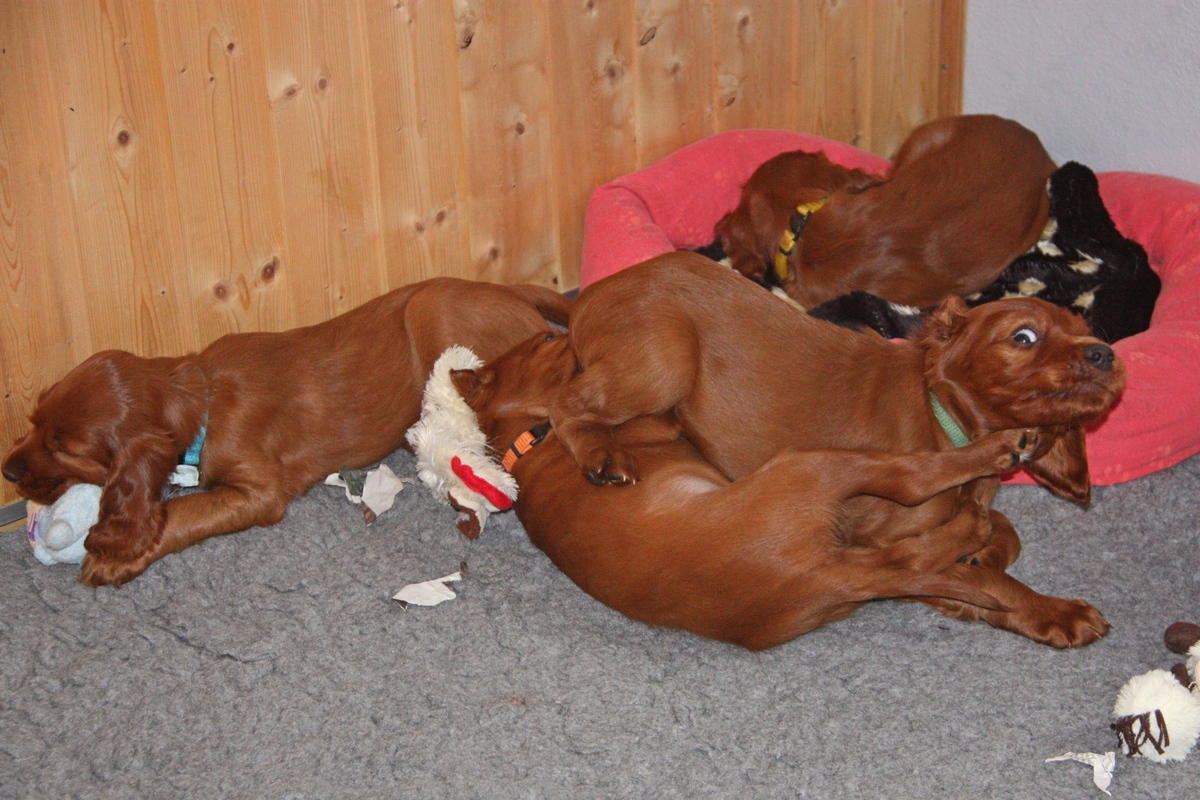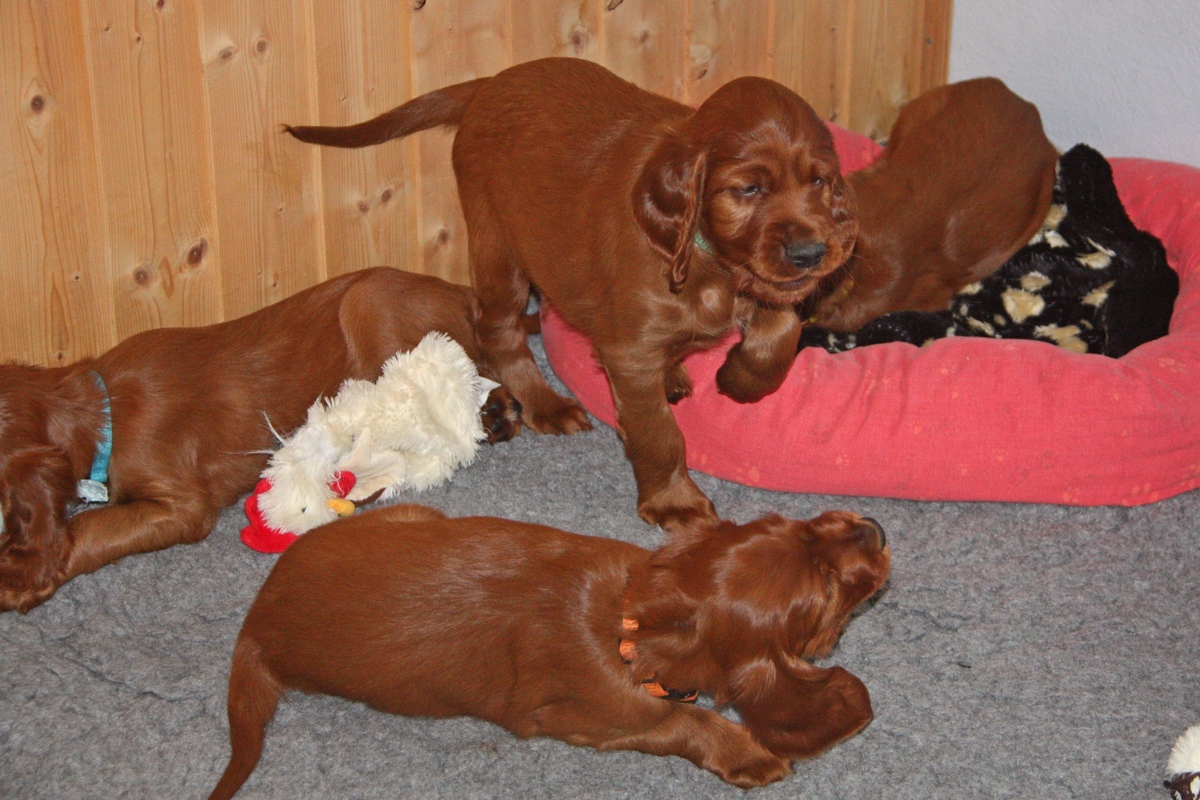 These were just the hair and not the ear!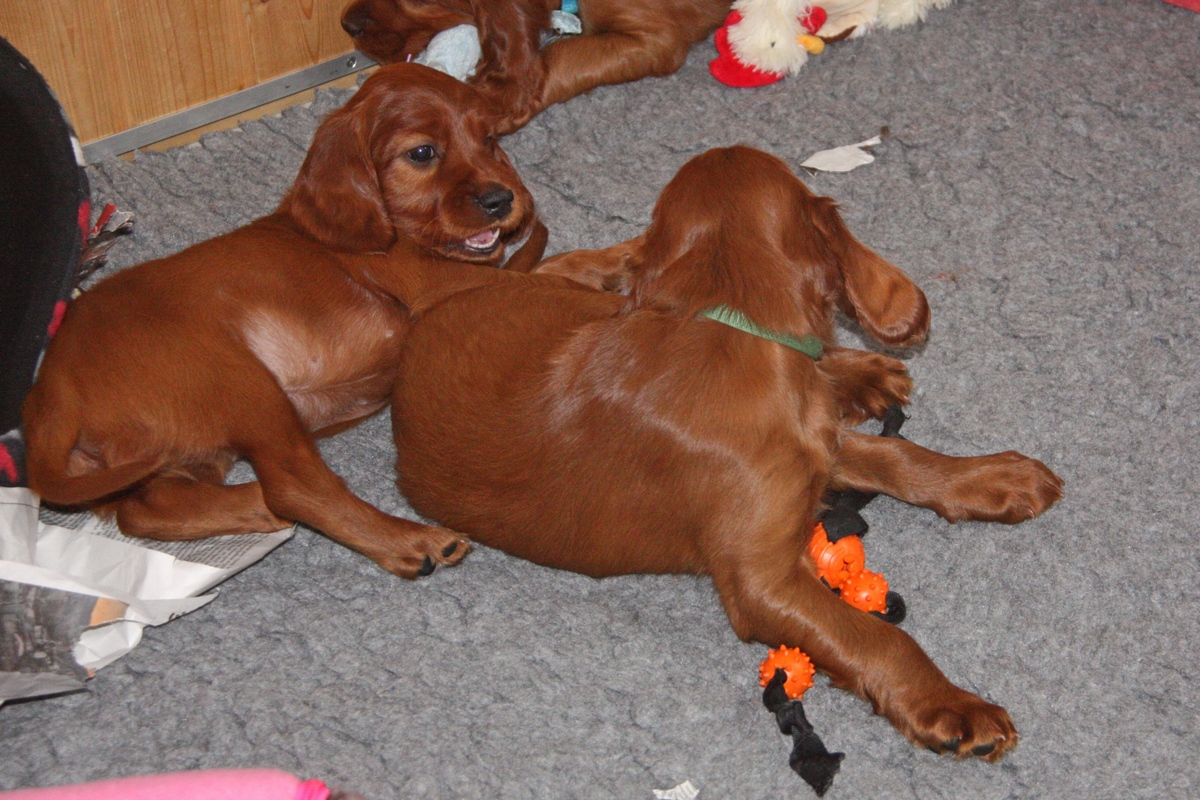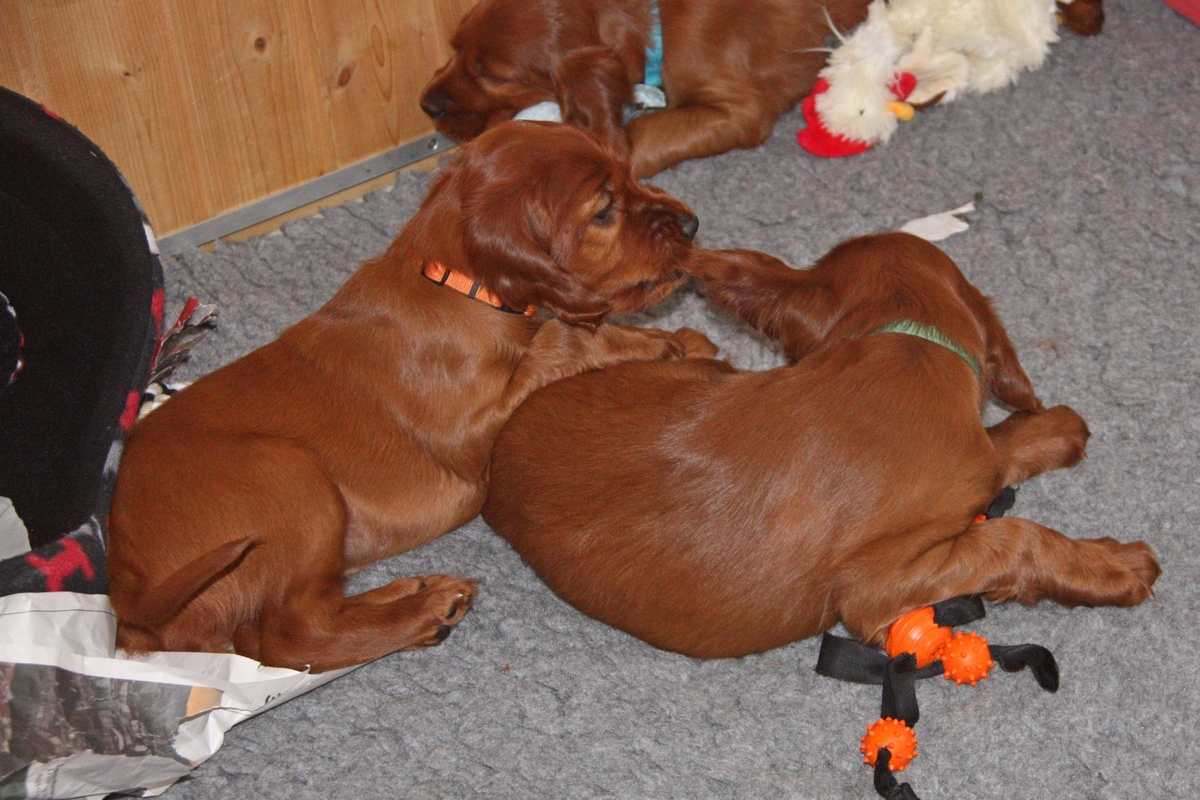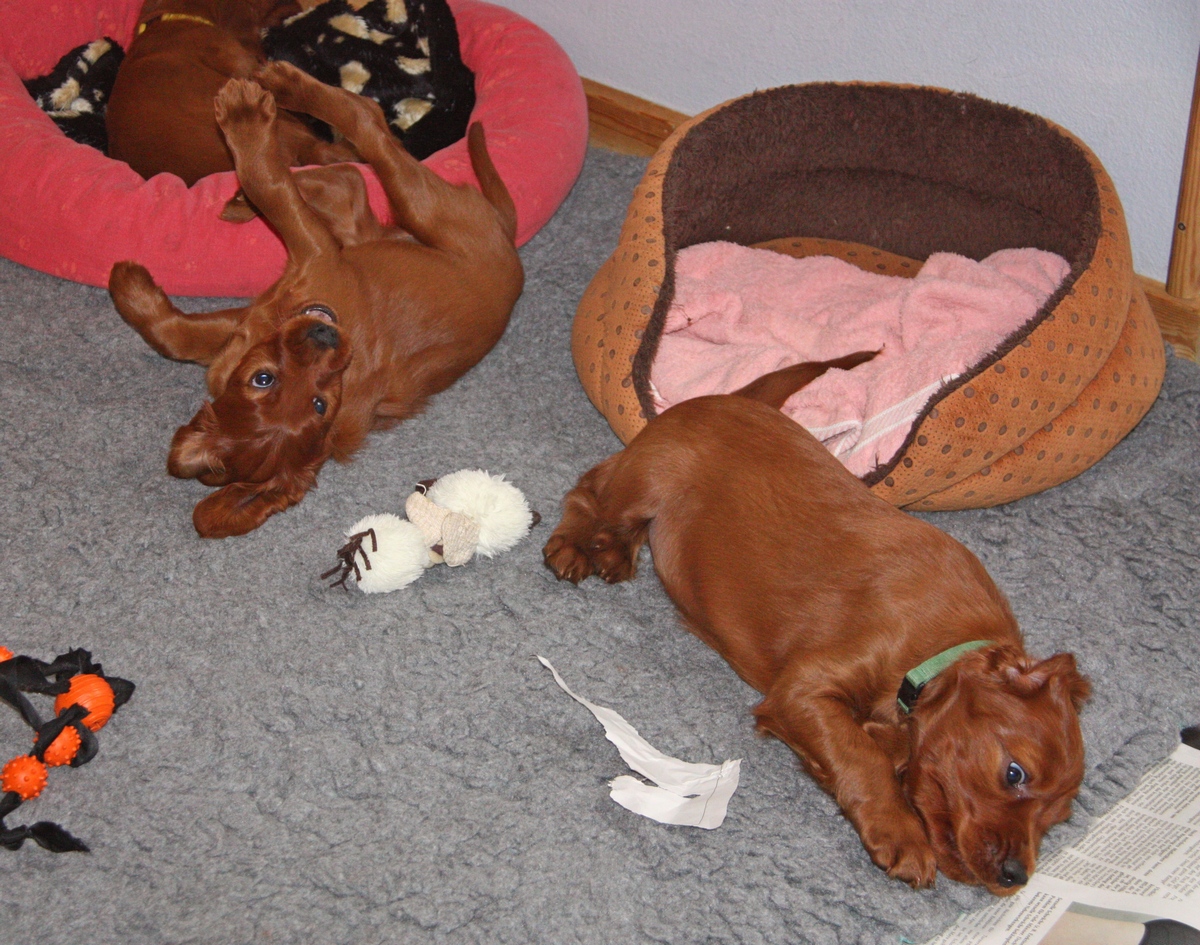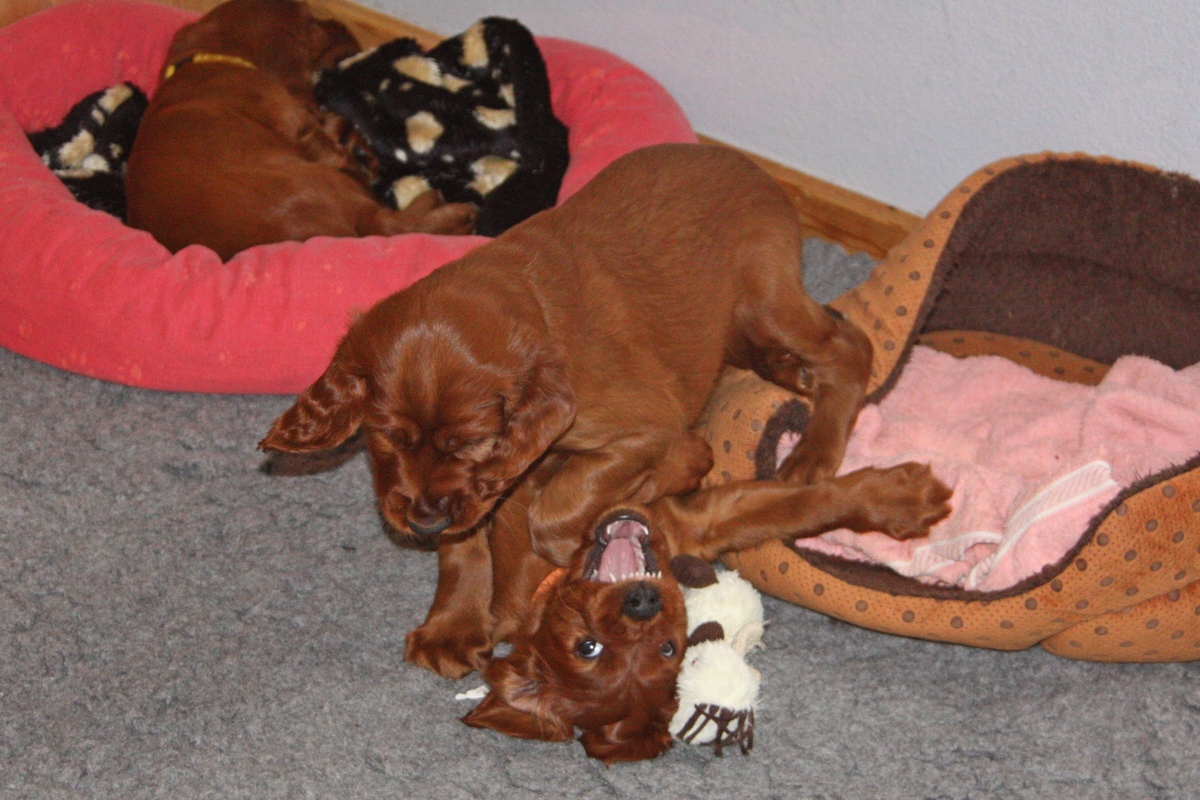 Lily is fed up and stays lying,
Gaius is fed up and flakes off.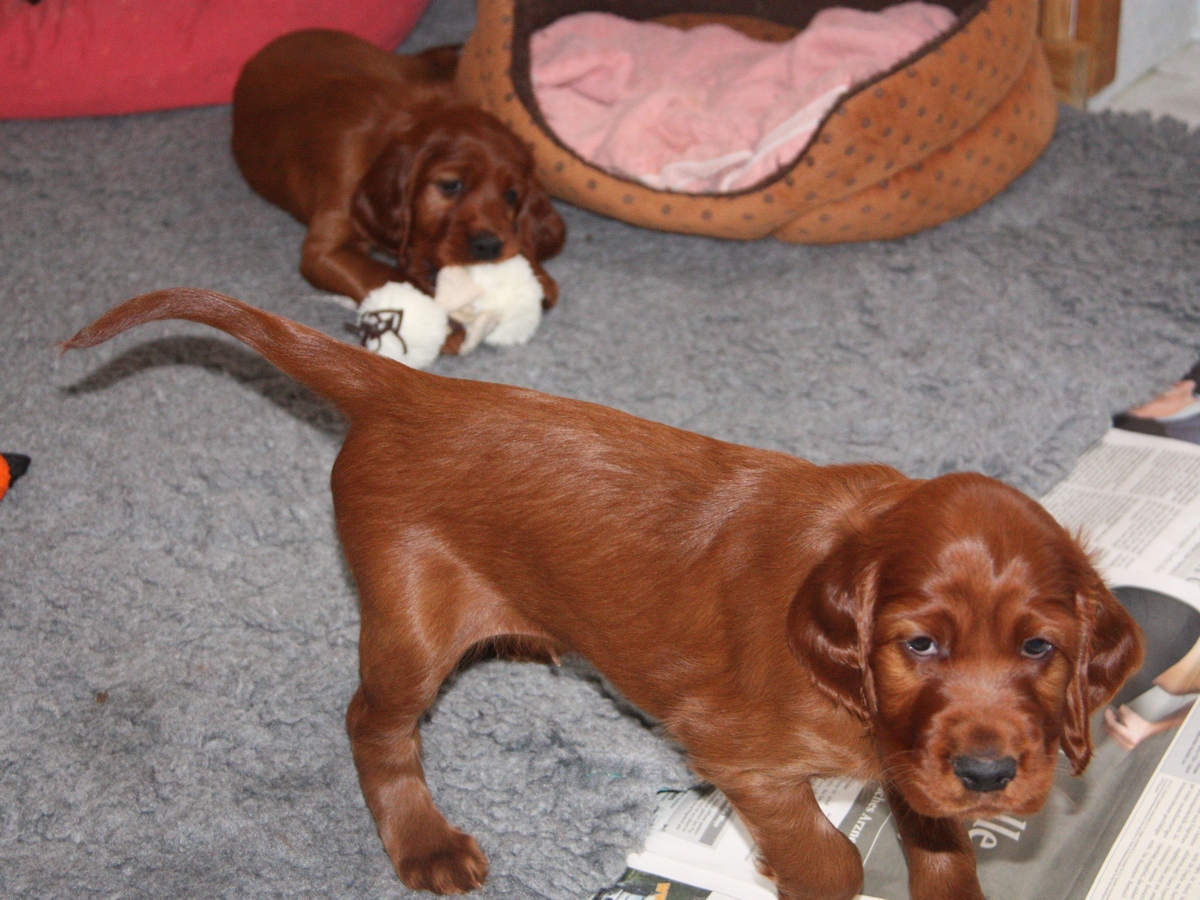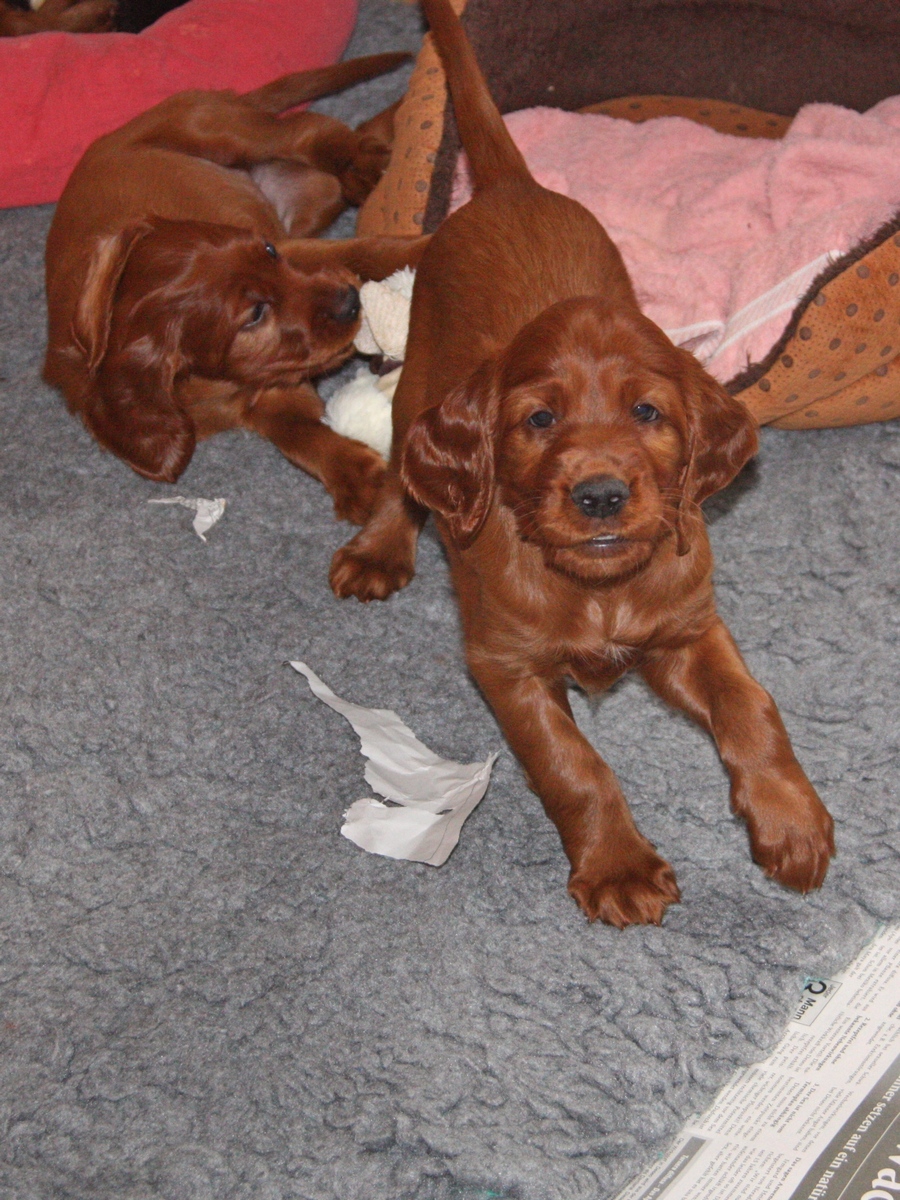 April 30, 2018, 6 weeks old (start into 7. week)
06. Mai 2018, 6 Wochen und 6 Tage alt
For several days, the sun is shining. The day before yesterday the little ones could be outside from noon to evening and yesterday even from 8 to 8. Of course they think that's great.Most of all, they would like to be outside all day, but of course that is not possible, because the nights are very cold (day before yesterday 3 degrees, last night 9 degrees). Accordingly, the lawn is still very wet in the morning and it is very uncomfortable.
Yesterday (05:05 am.) We had an extensive photo-shooting. Accordingly many pictures will follow now .... hang in there .... 😊😊😊😊😊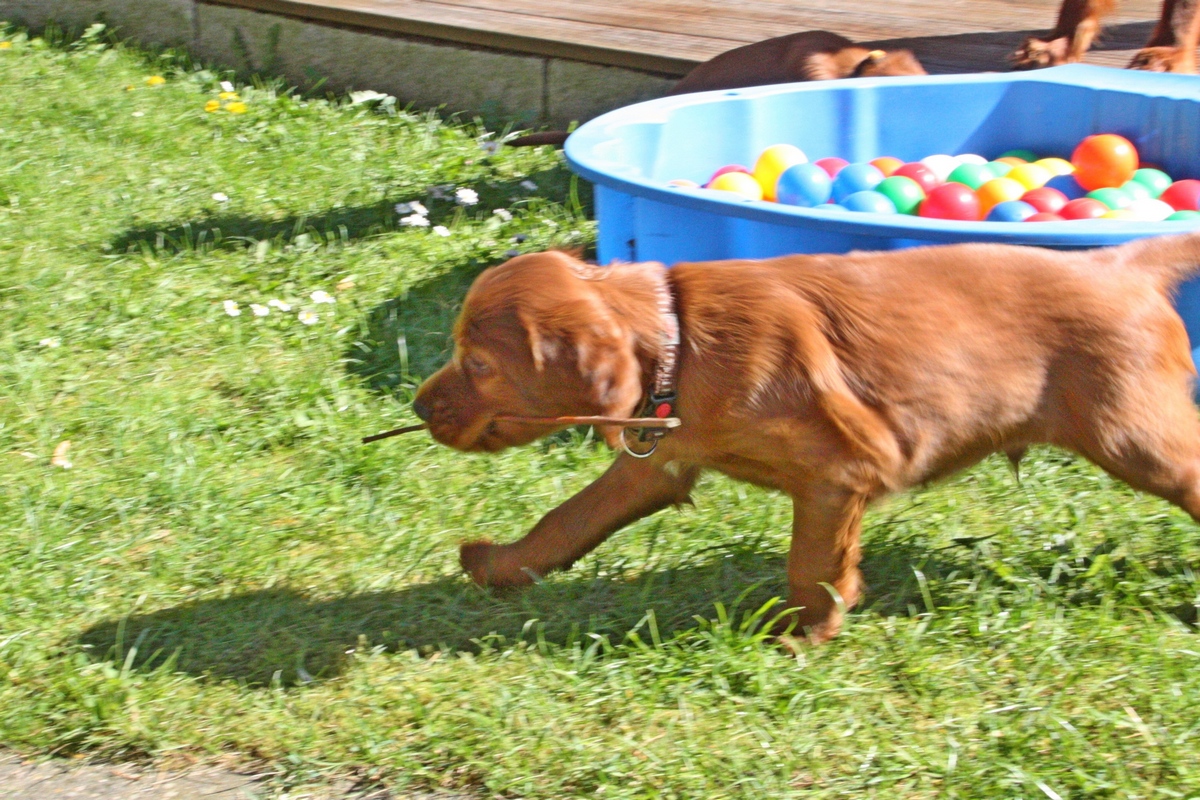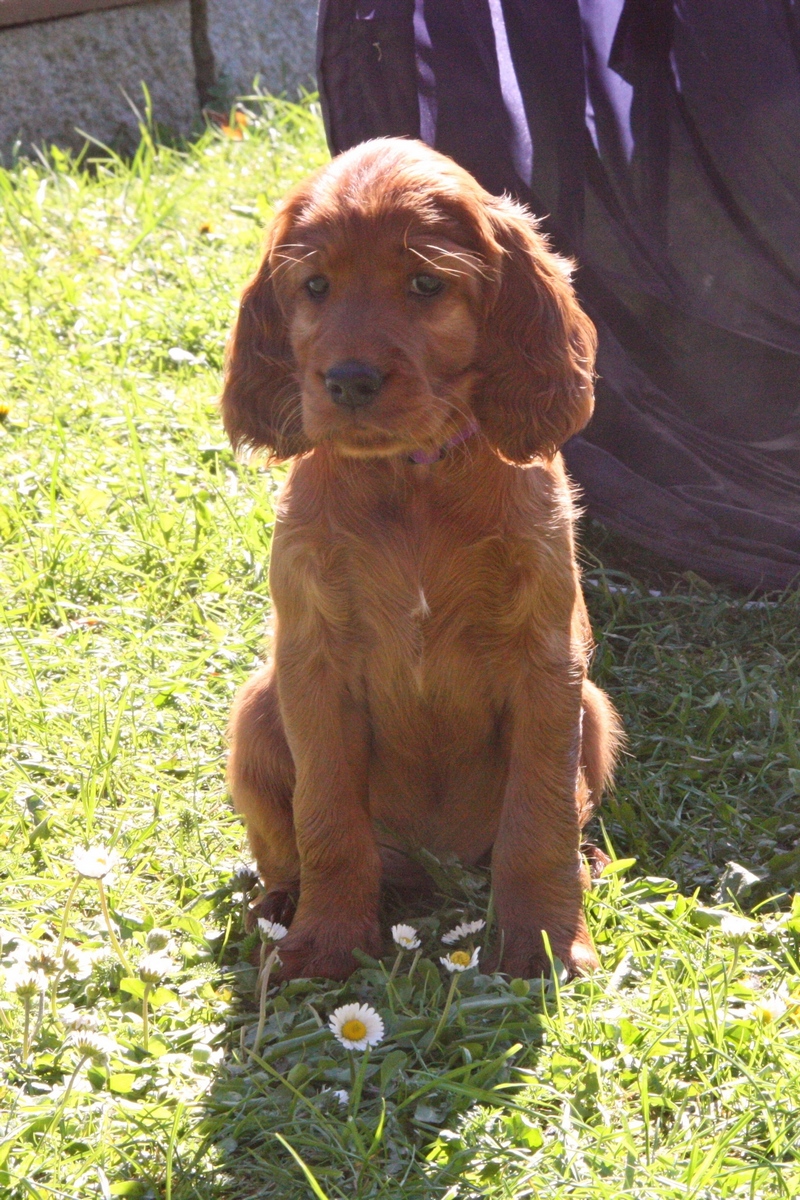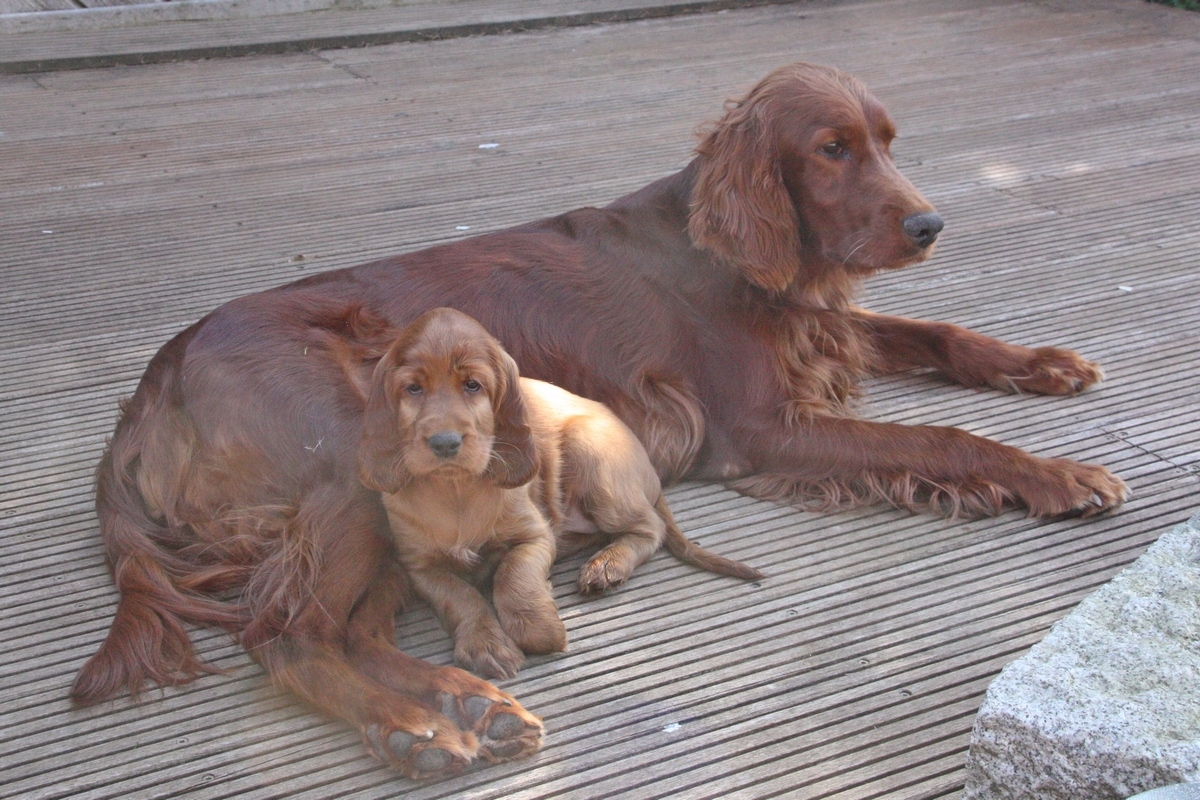 Diva cuddling withGuinness
Family Game
Diva plays so cute with her puppies.
You'd think she really enjoys it, really wants to be a "kid" puppy again. But it is rather genetically predetermined that she is so concerned with her puppy - she is just - not only in this "category" very instinctive.
Mai 08, 2018, 7 weeks and 1 day old
Our first drive 😊. Only one time for 15 minutes around the block. without any "accident"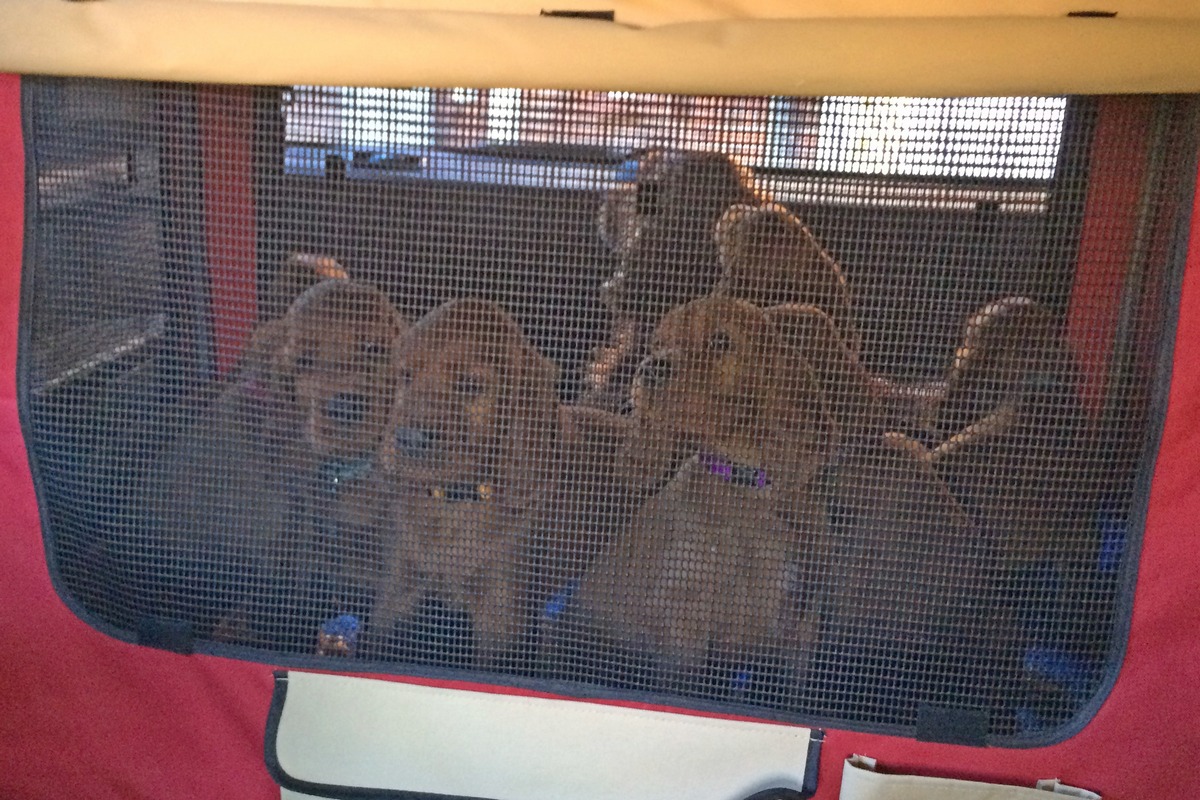 ....and in position. Clear for departure.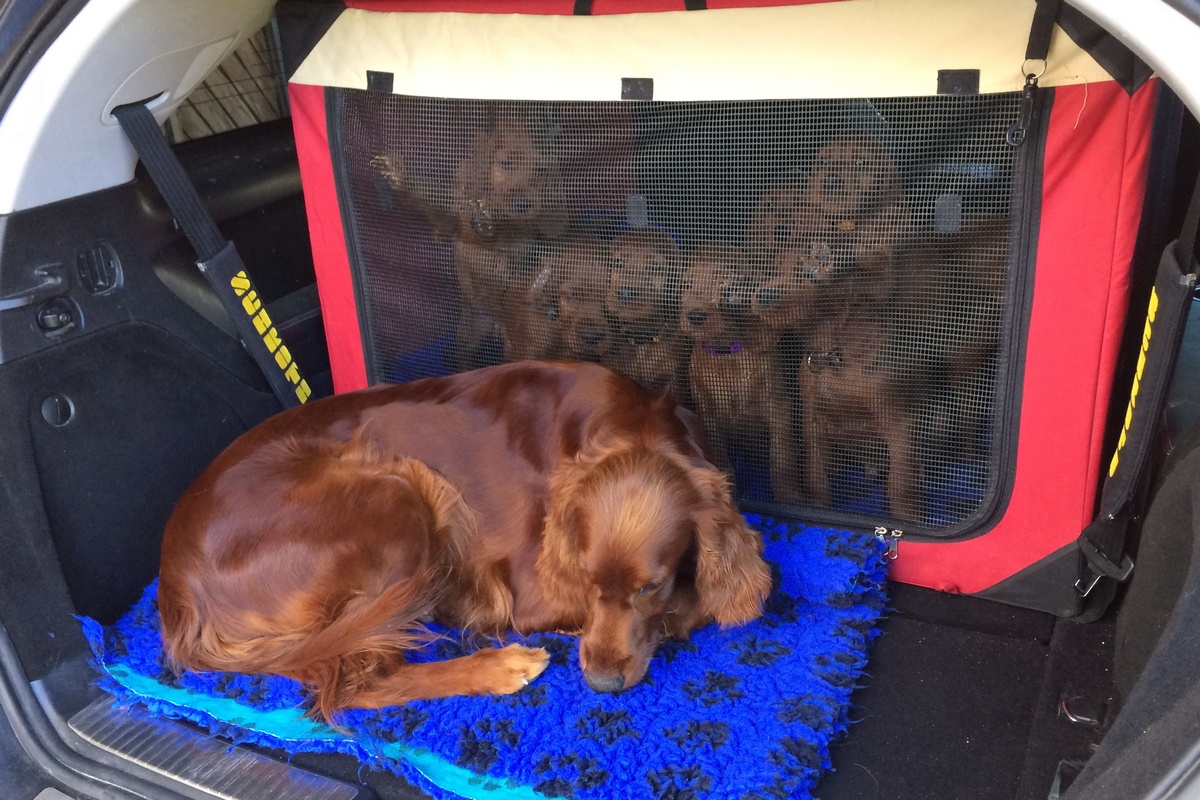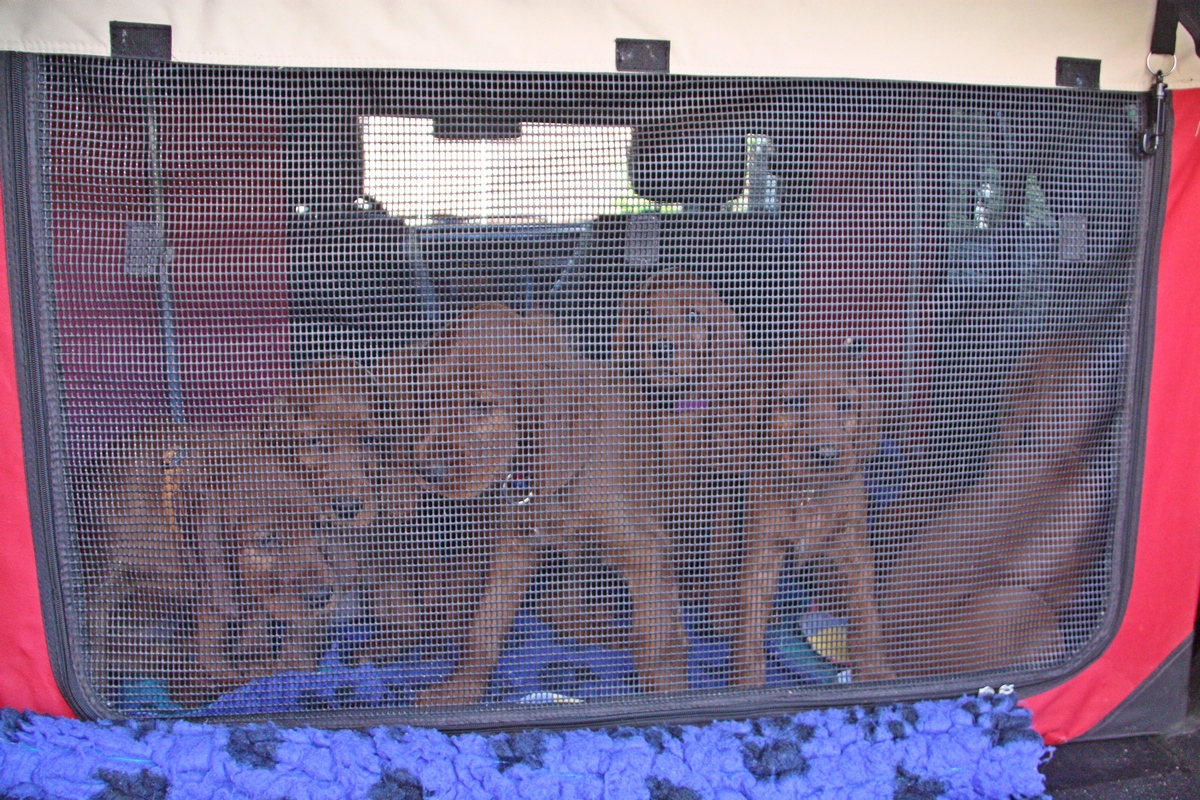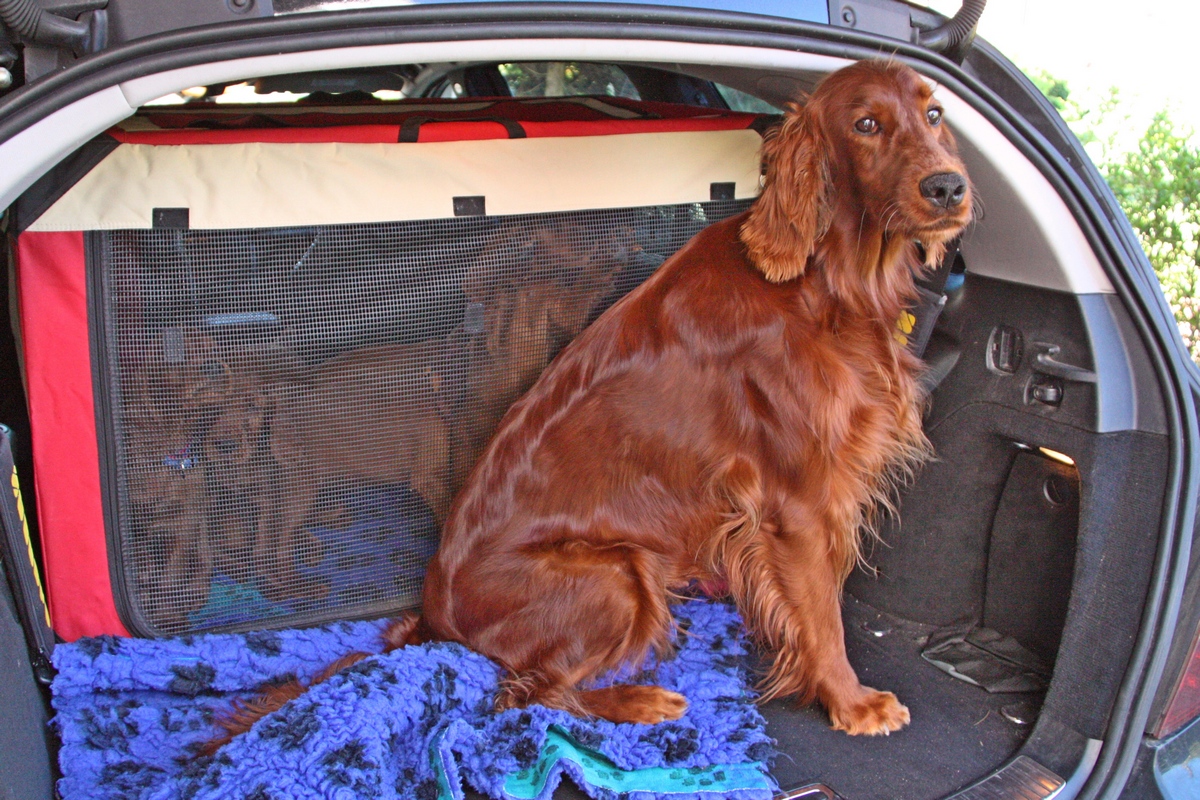 We are back. Exit only on command!!
Get off without a command 😊 We will be picked up individually!!
Addendum to Mai 09, 2018, 7 weeks and 2 days old
Today was the first day we practiced wearing the harness. After initial rubbing and shingling it came into play as usual. Even sleeping with was no problem! Right now Gaius, Great Bobby and Ginger Lily are in the row.