Those who say, that fortune can not be bought, have not realized, that puppies exist.
E-Litter
ex:
Anouk Princess of Lionhill
by:
Scout Red Irish Man of Green Land
Owner Gaby Kleemann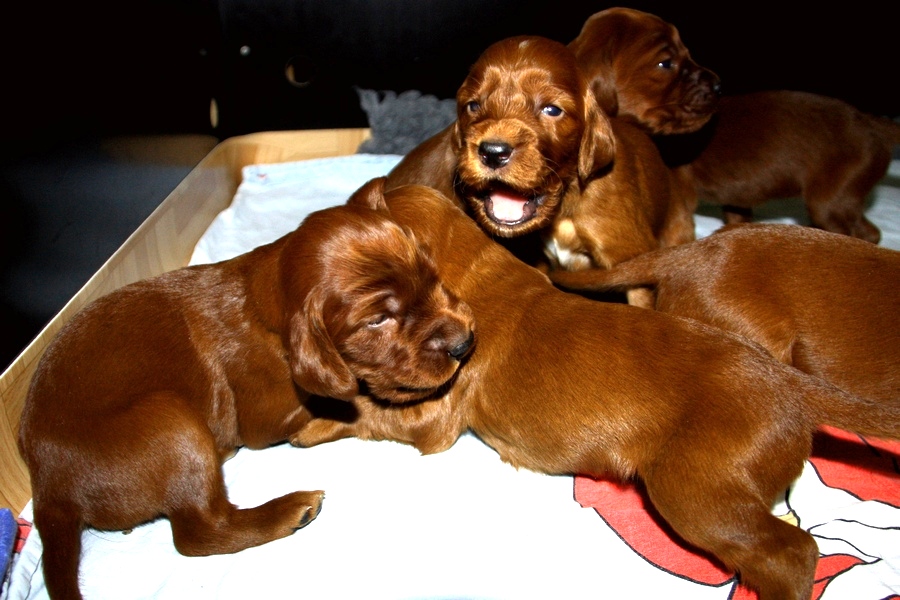 After Mom had been in thre litter box, and all puppies were "topped up" and satisfied, the now "fueled" energy will be processed. All awake now!!!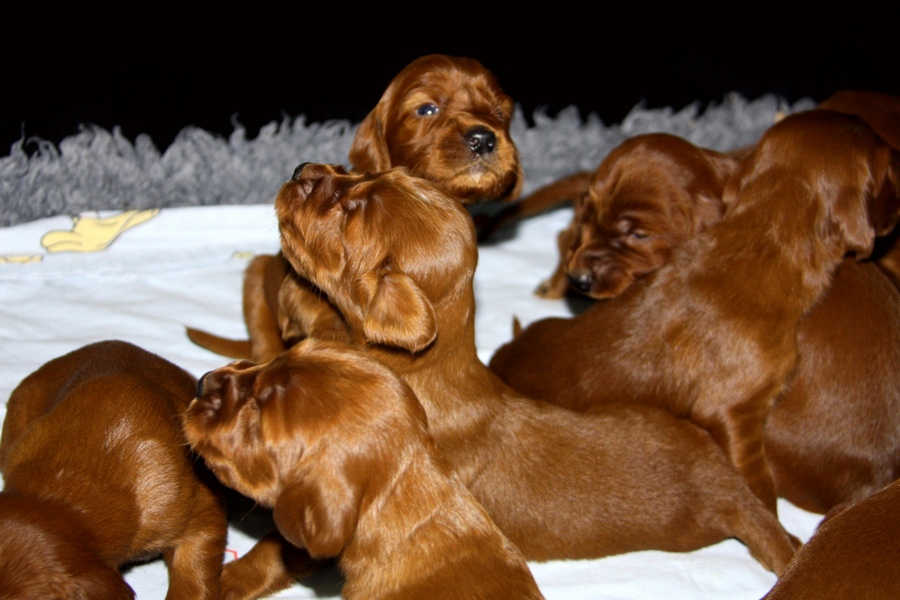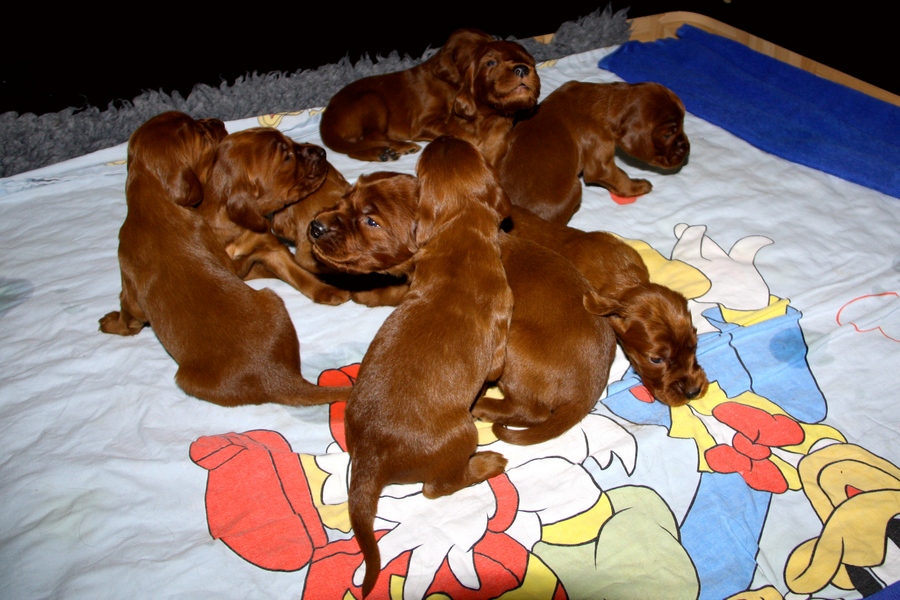 11. February 2014, 2 weeks and 3 days old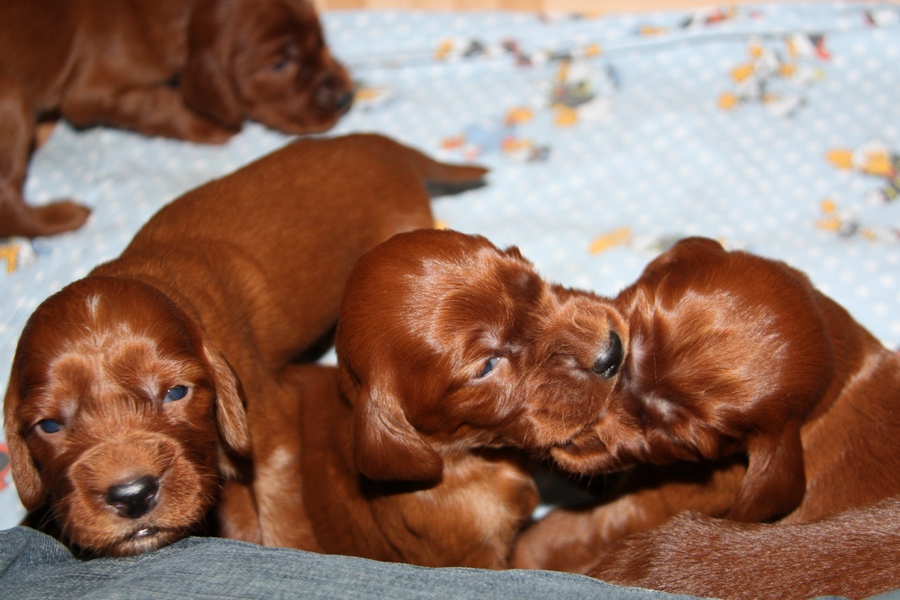 Die Kleinen fangen an, sich gegenseitig zu entdecken und miteinander zu spielen.
Man hat sich zum fressen gern.
10. February 2014, 2 weeks and 2 days old
The very first imprinting of the puppies
The first (still not very successful) attempt to have puppy milk from the bowl ;-(
And here is the video evidence !! :-))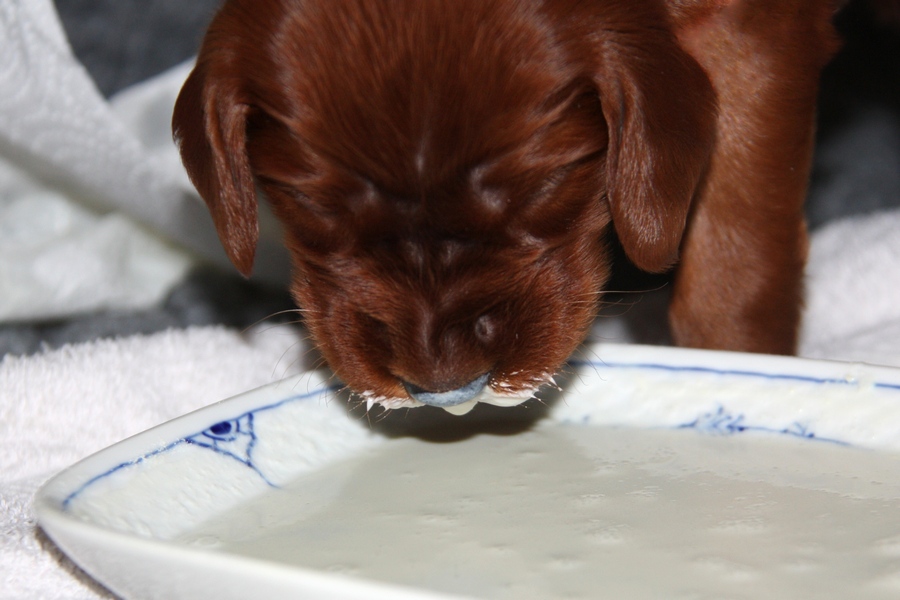 ....the escape attempt follows.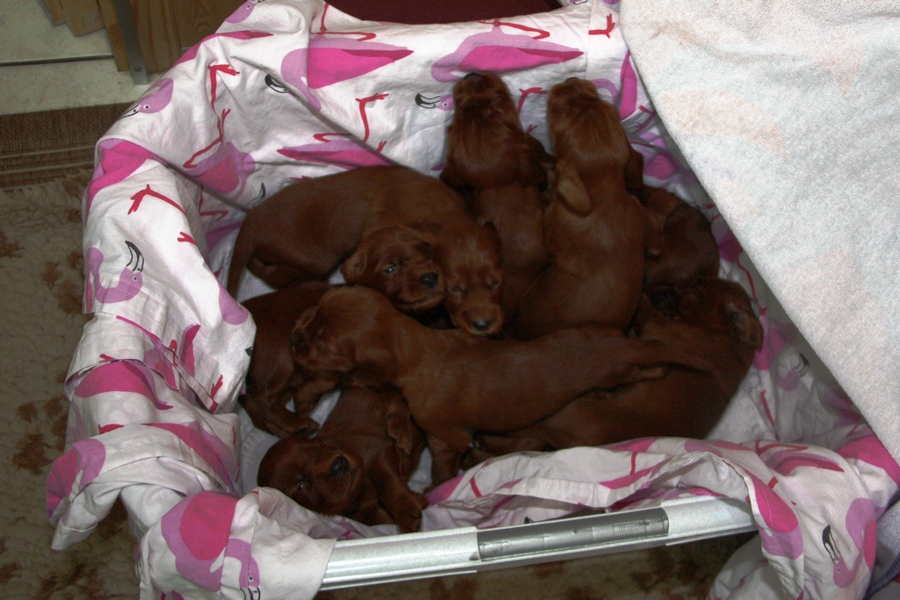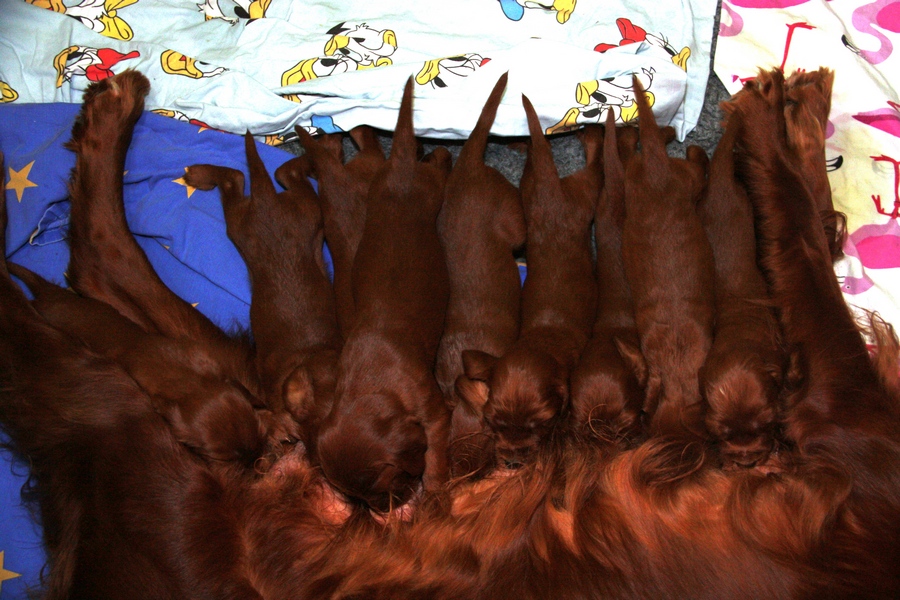 Here we are all very behaved, still ...
...but than....
...
Our temporary quarters during the time when the litter box is cleaned.
As length comparison - we have grown properly! (see January 27)
14. February 2014, 2 weks and 6 days old

...and how it looks afterwards - fallen over!!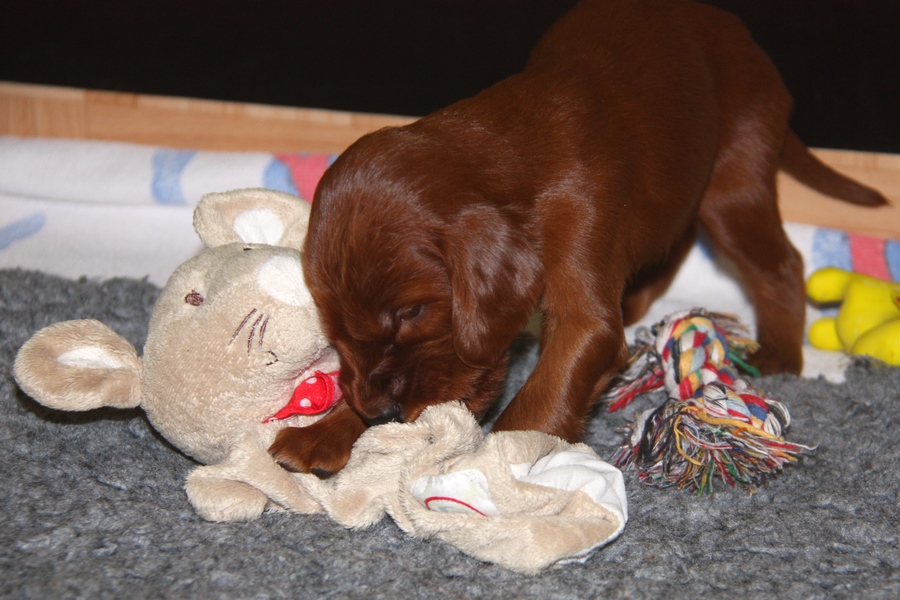 Now the toy is accepted.
(And not only small rabbits)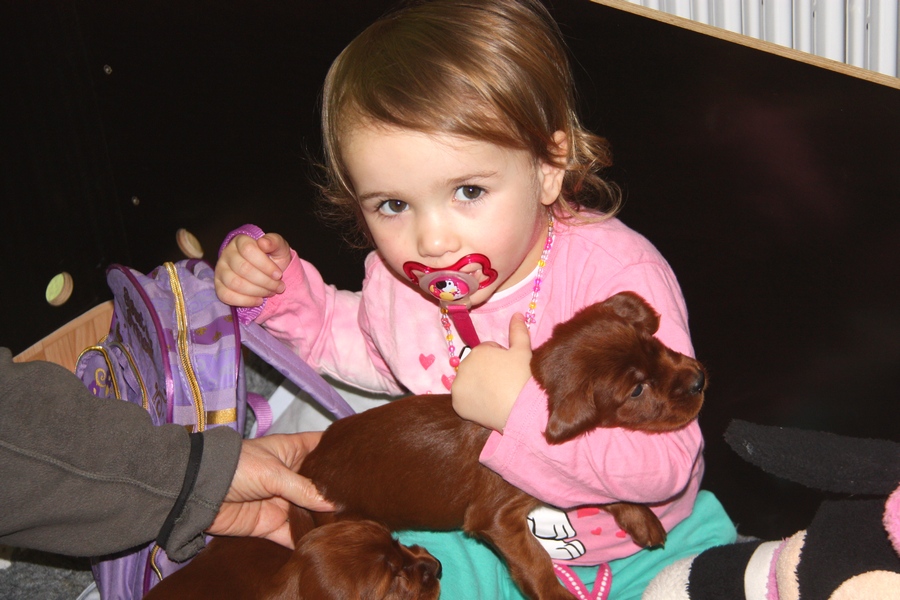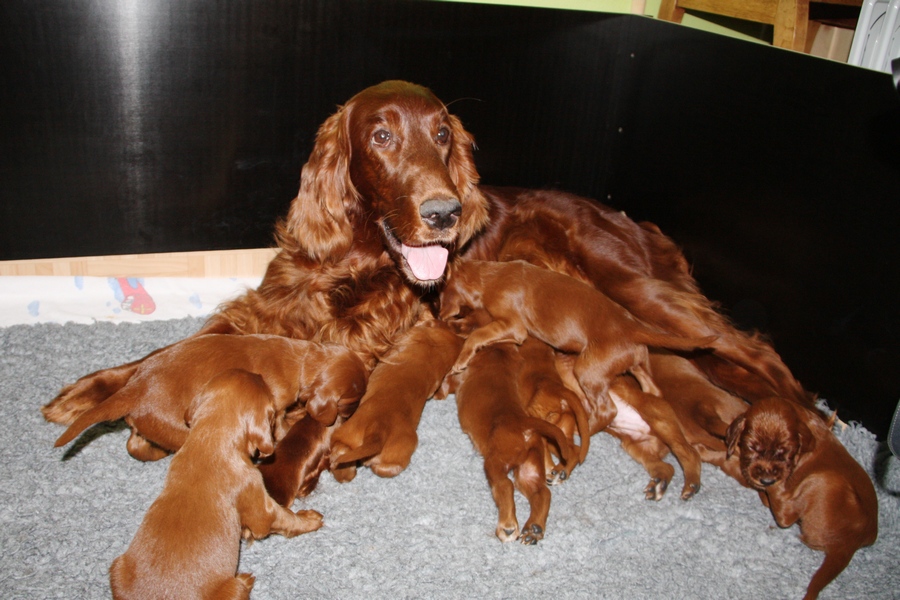 Saphia, our experienced breeders granddaughter.
She was sitting in the previous litter in the puppy crate :-))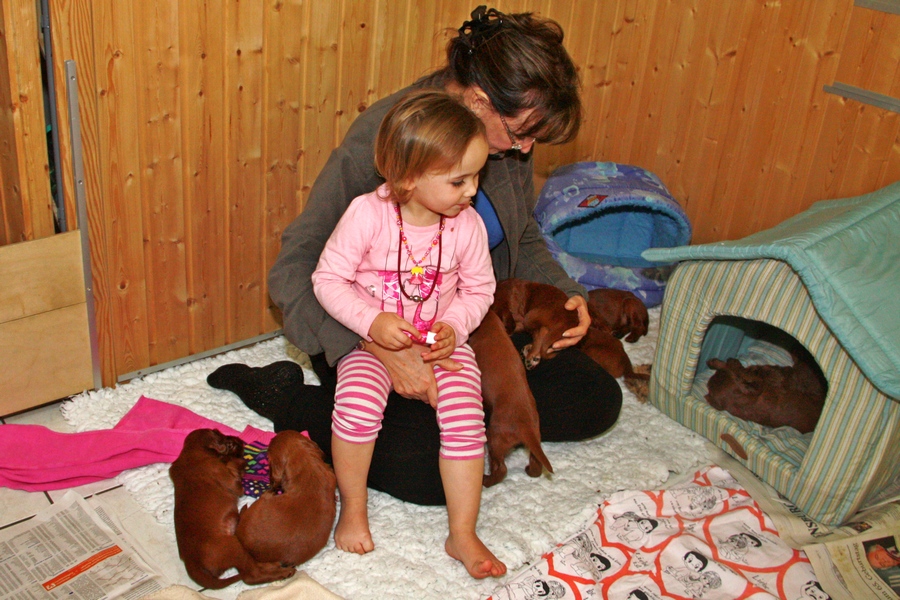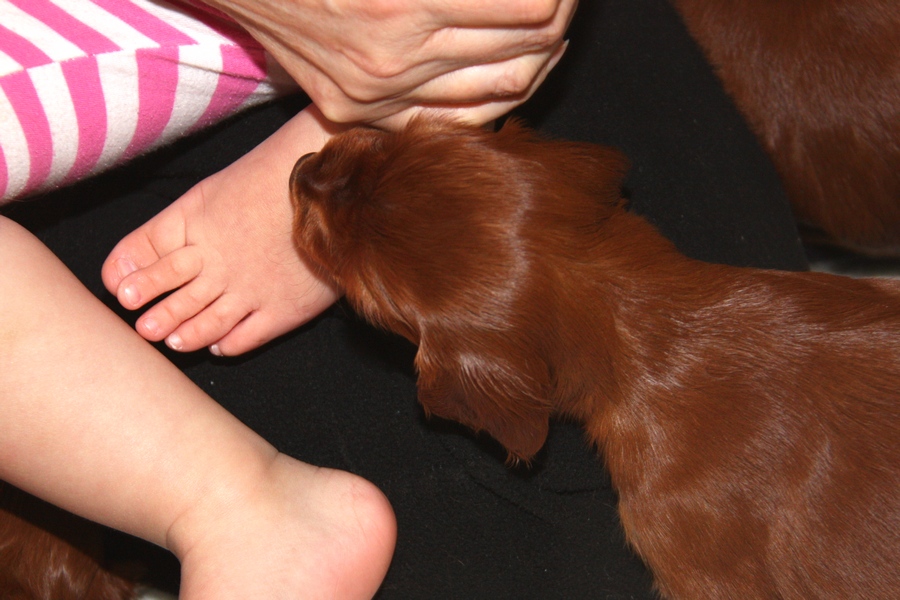 And again our "Puppy" No. 10 is visiting the 9 little ones.
So far the dogs bite is not too tight. But in a few days that will change, the teeth are growing and sharpen fast.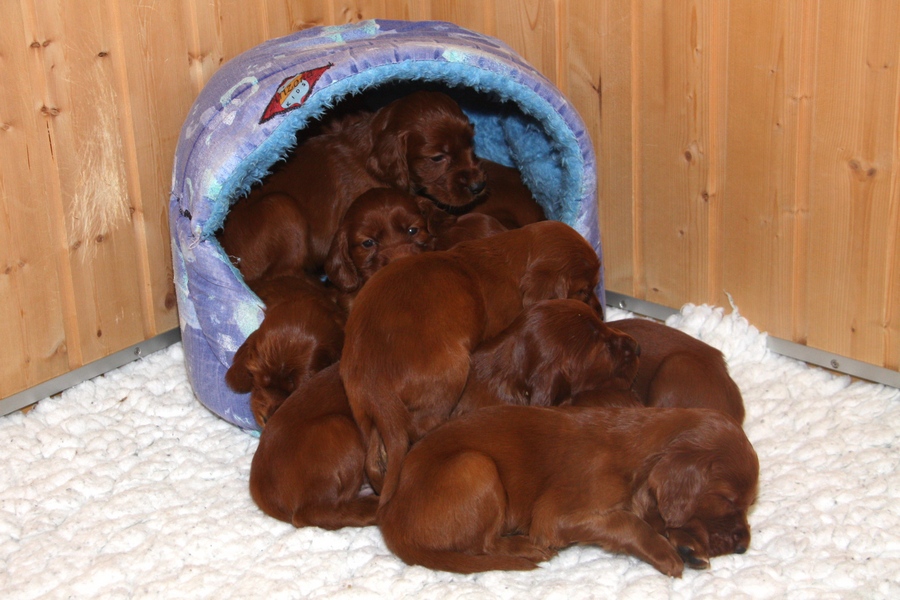 Here is another detail from the "hard" life of a setter puppy.
"heavy work"
This formation is the cat basket-stack pile, 5 in the basket, 4 in front of it.
21. February 2014, 3 weeka and 6 days old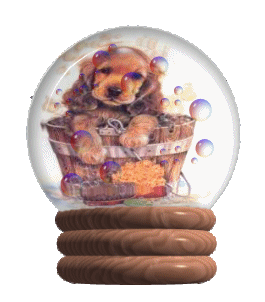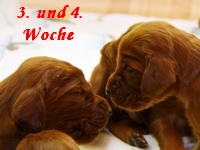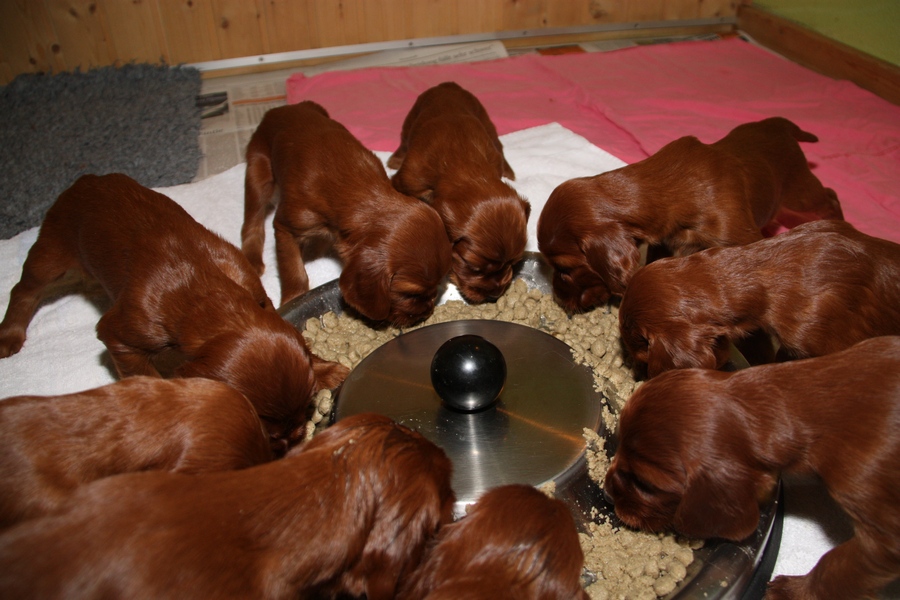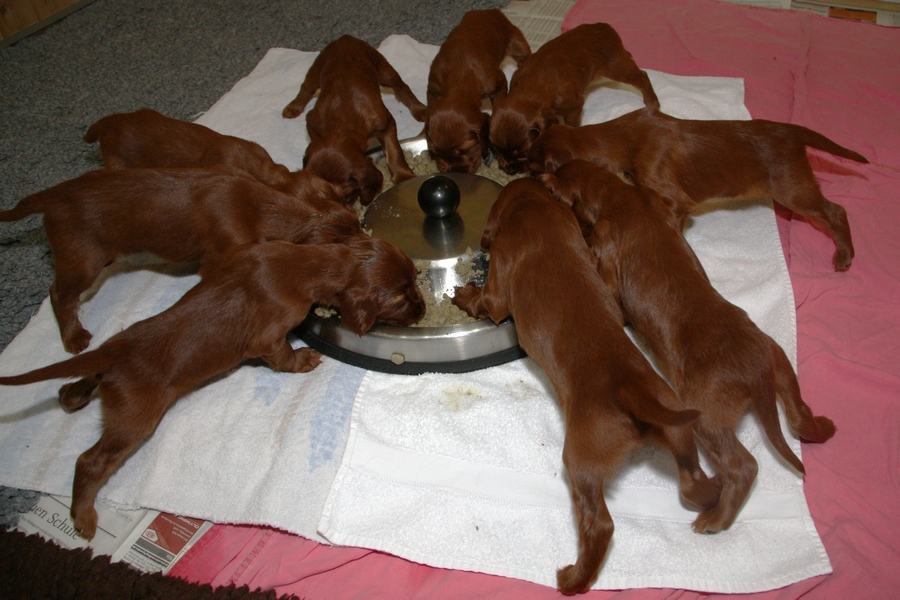 Now we already start with "real" food - puppy food of course.
20. February 2014, 3 weeks and 5 days old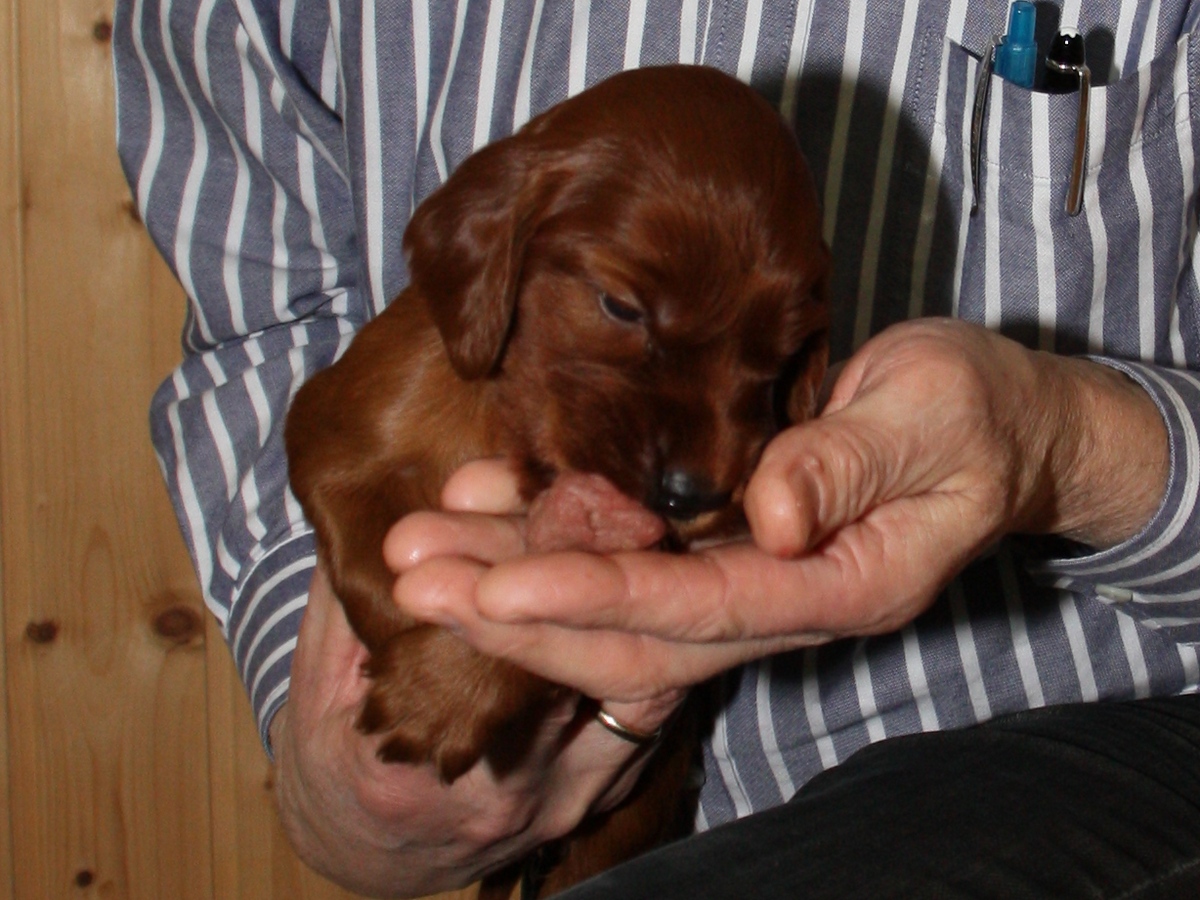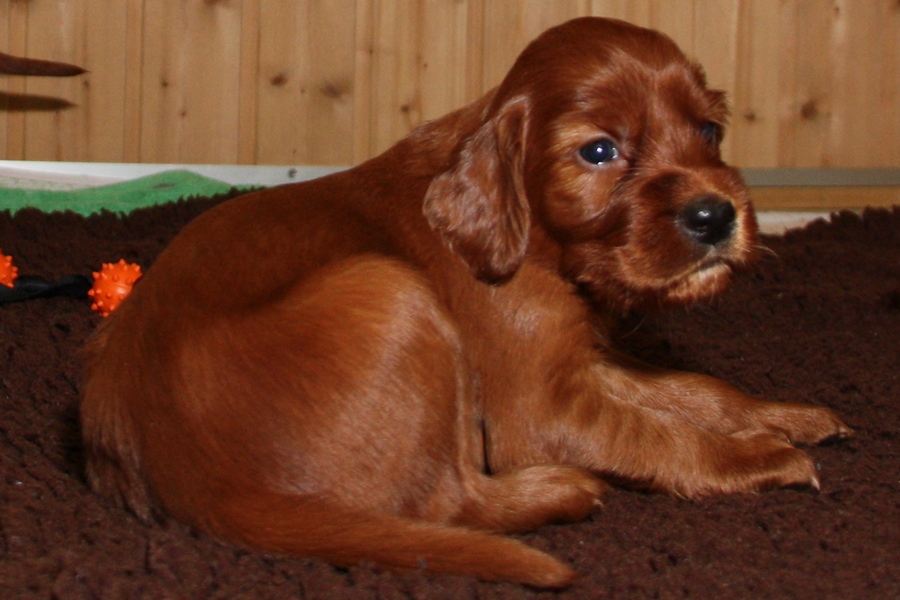 As small as they are, but if there is tartar, then they are really greedy! :-))
Little big man, or woman???
19. February 2014, 3 weeks and 4 days old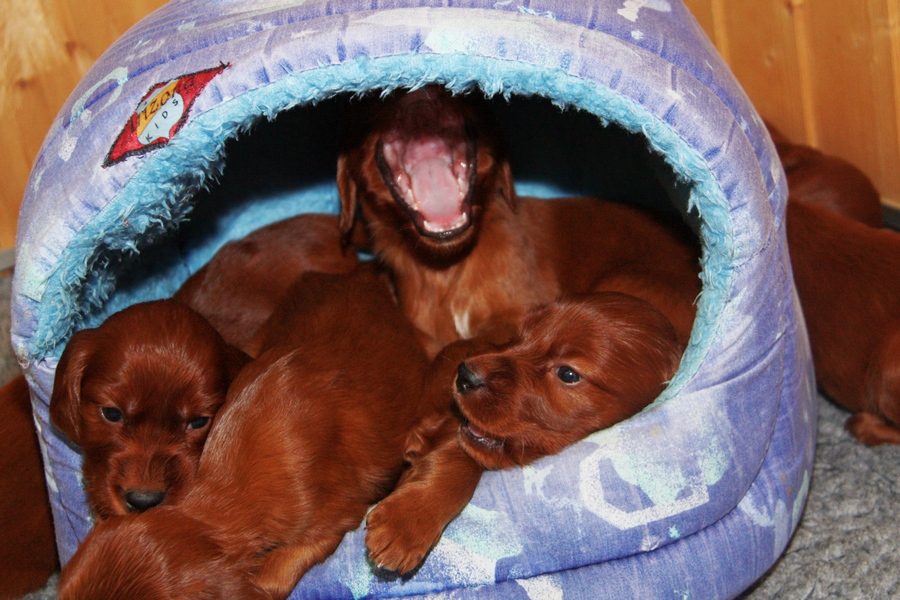 Ohne Katze kann man im Katzenkorb eine große Klappe haben.
22. Februar 2014, 4 Wochen alt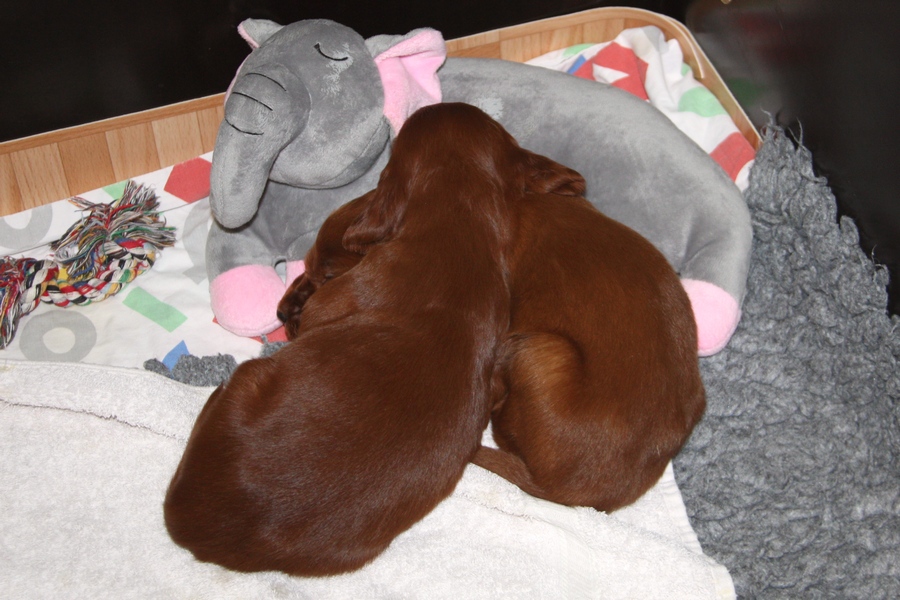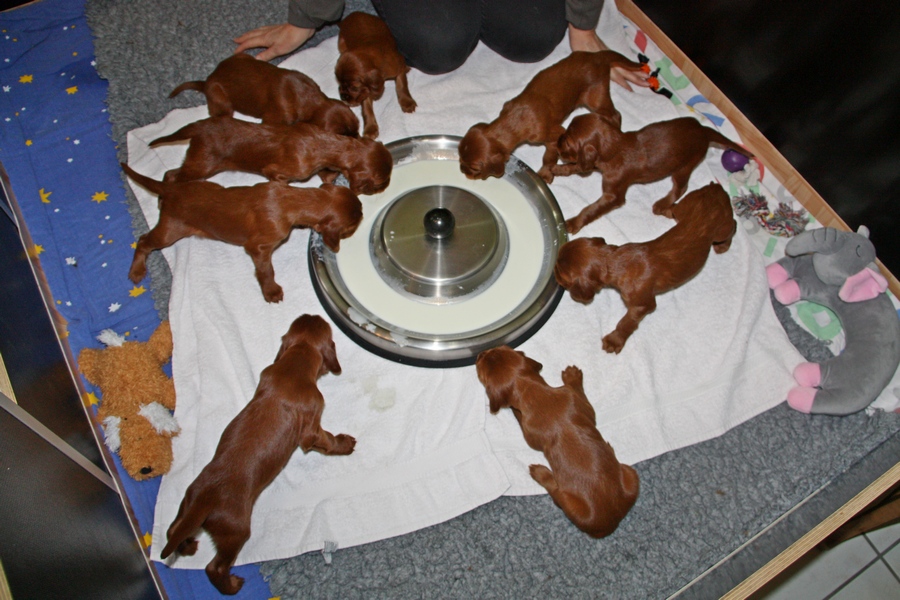 Then there is only one thing to do:
sleep :-))
Since it works with the milk feeding to some acceptable extend, the feeding ring will come into use.
18. February 2014, 3 weeks and 3 days old
13. February 2014, 2 weeks and 5 days old
Puppies are already well on their feet and running in the litter box back and forth faster and faster .
Especially excited they are when they smell their mom or now already start to see her, because then food is approaching! :-))
Oma/Mama Tayla kommt zur Hilfe
09.February 2014, 2 weeks and 1 day old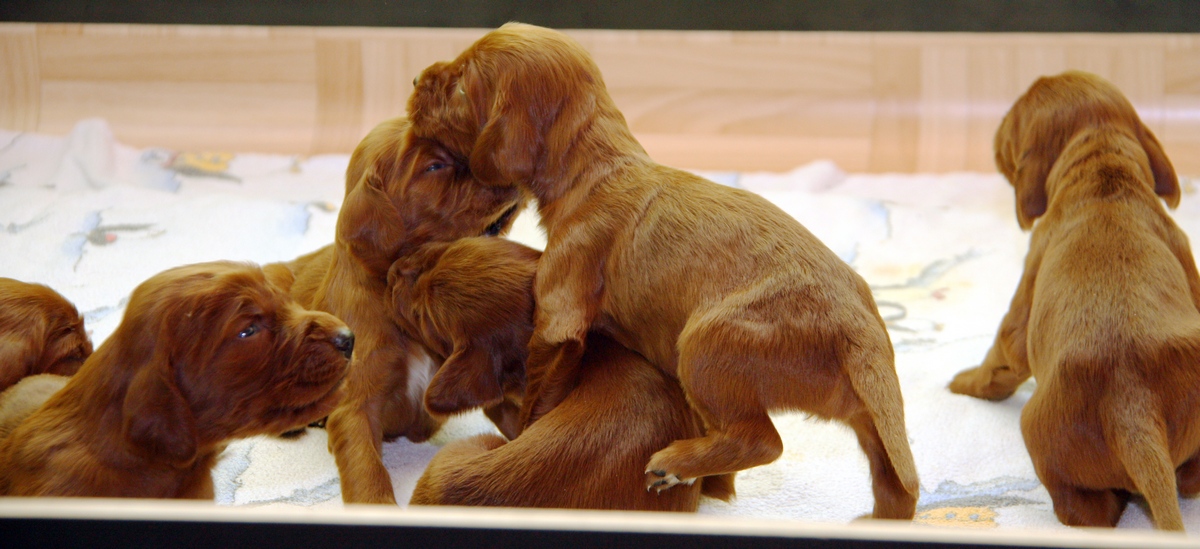 The first games....and struggles
littered:
25. January 2014