Those who say, that fortune can not be bought, have not realized, that puppies exist.
D-Litter
ex:
Anouk Princess of Lionhill
by:
Scout Red Irish Man of Green Land
Owner Gaby Kleemann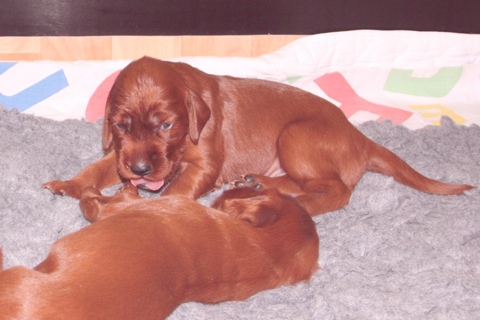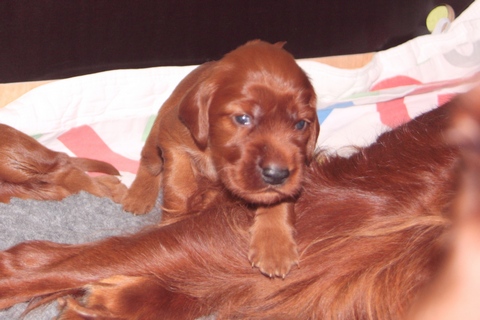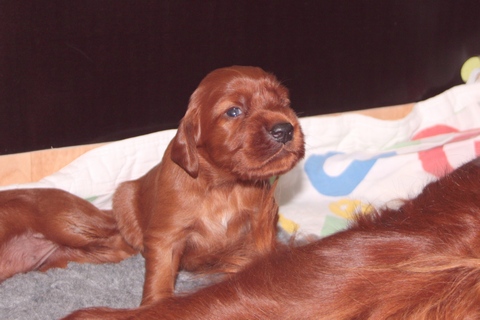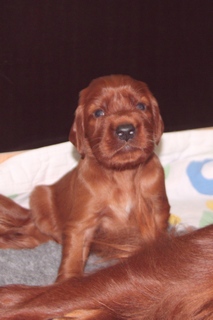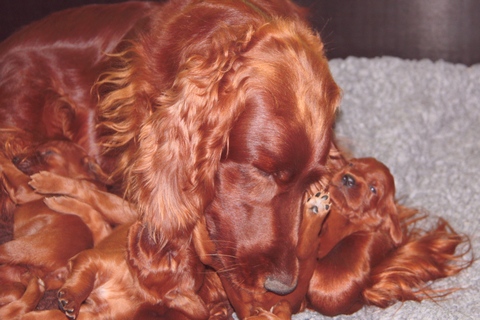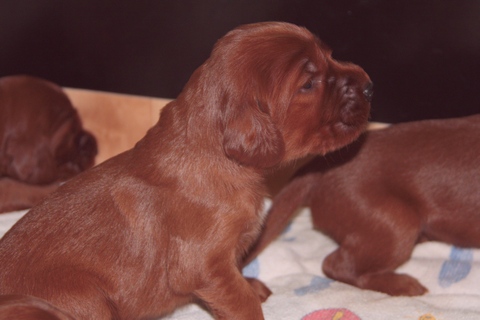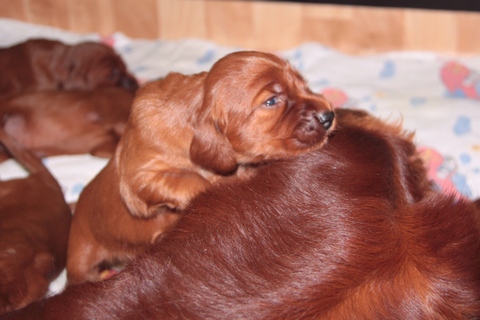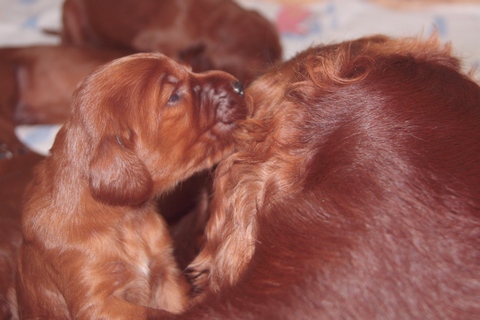 30. Mai 2012, 2 weeks and 1 day old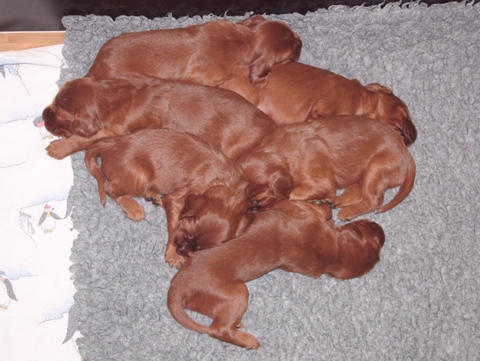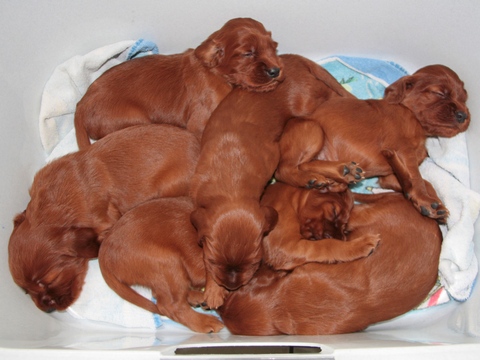 2 X little "dod piles", one moved out during puppy box cleaning, the other in the refreshed puppy box.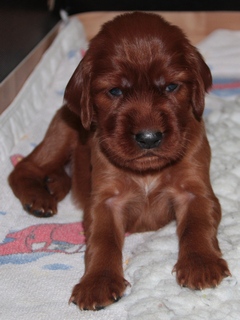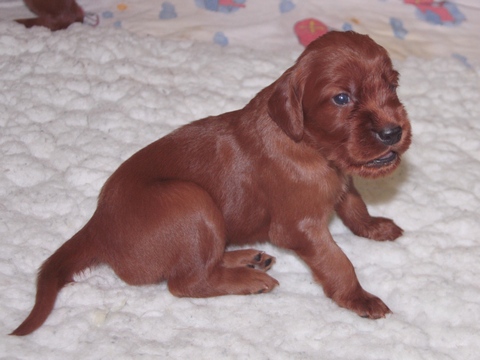 3. June 2012, 2 weeks and 5 days old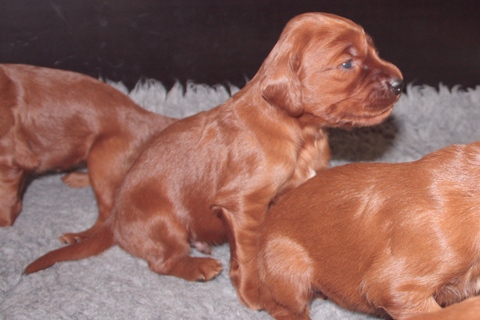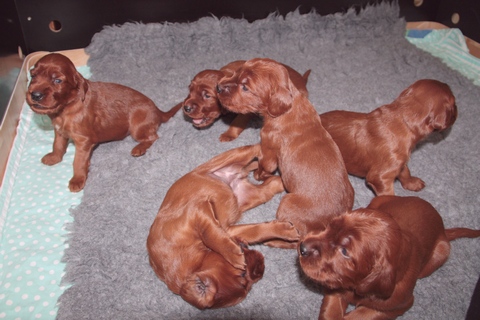 a young profil - i.e. youngster-profil
Flensburger "Tummelum" (for details refer to internet)
2. June 2012, 2 weeks and 4 days old
Again exitement in the puppy box
3. June 2012, 2 weks and 5 days old
At the end of such a challenging day they are really tired.
Now you can recognise, weather they are able to swallow or not, -- similar to children with their first pap.
It has been really exhausing sofar and now we have also to abstain from our milk?
Today is the first time that Grandchild Saphia Emeé visits the puppies. She is very carefull and not less astonished than the puppies.
In any case it is a contribution to both of their imprint.
How shall we reach the milk bar?????
So it works, but it`s hard work!!
Die fourth week starts very challenging.
At first mummy nibbels where unreachable,
as next there is this suspect smelling tiny human being
and at least there will be no real mummy milk for us for drinking...
....but have a look what had happened....
5. June 2012, 3 Wochen alt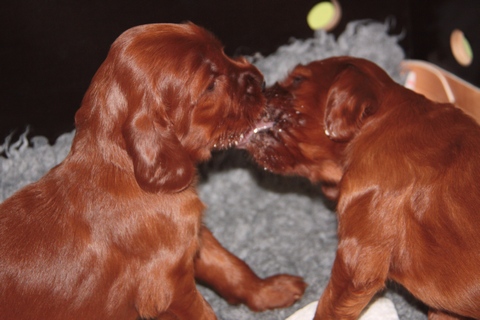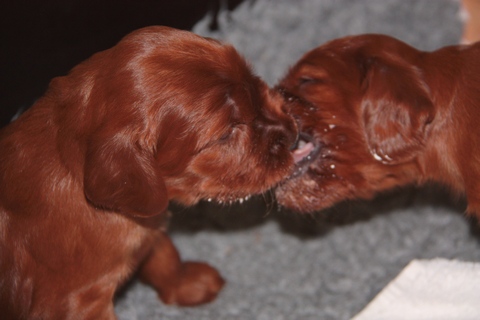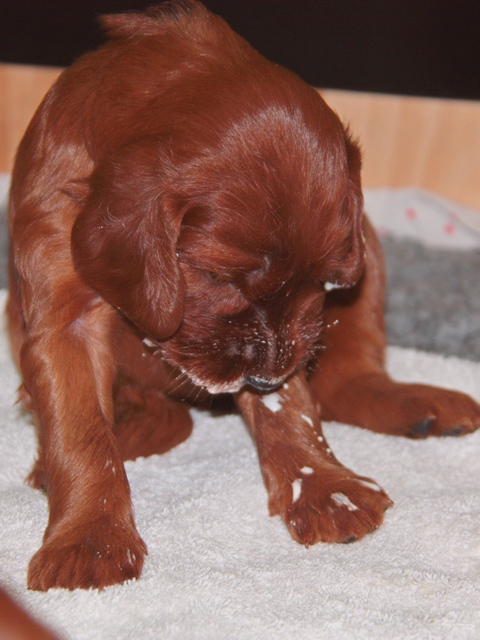 Harte Arbeit und die Kleinen sehen entsprechend aus danach.
Aber sie putzen sich selber und gegenseitig. Die restliche Reinigung besorgt die Mama.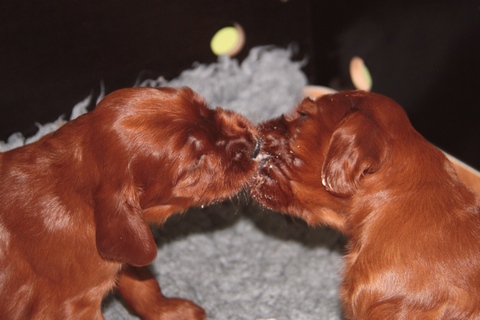 Nach den ersten Fleischbällchen kommt heute die erste Welpenmilch.
6. June 2012, 3 weeks and 1 day old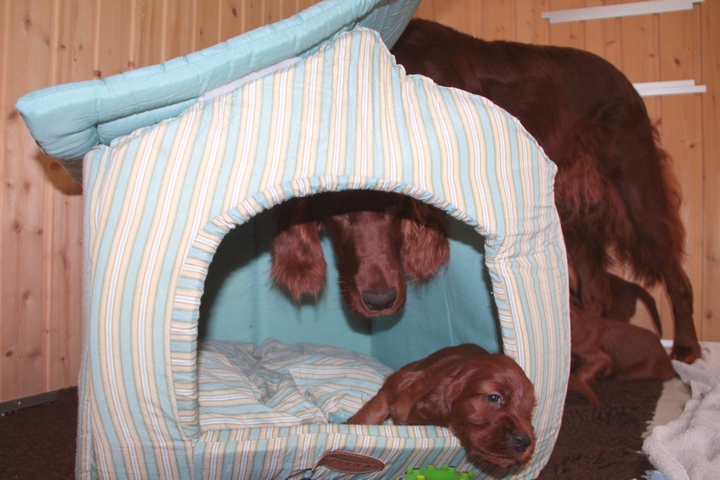 It`s easy....open the cover (roof) - head into!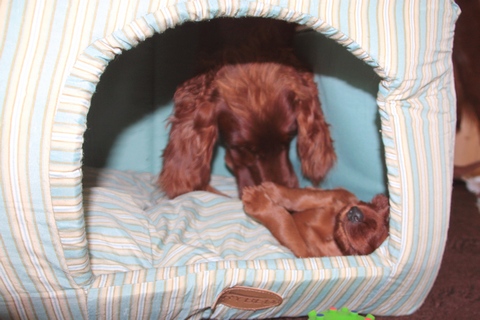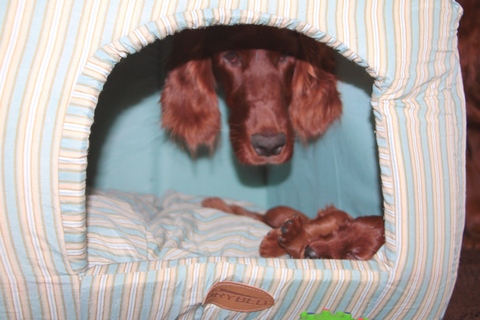 one plays (sleeps) weell-behaved in the puppy house and will be disturbed suddeny.
Whom does this large hat belonge to and he comes from???
It`s Mama Anouk - taking care!!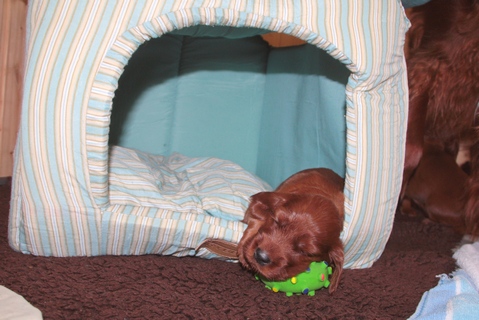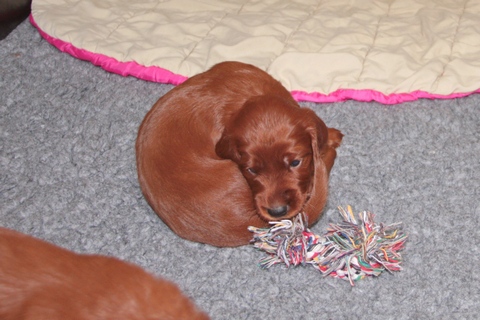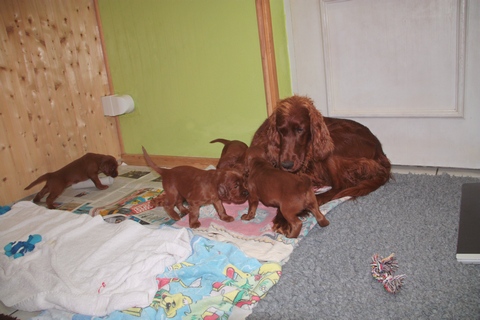 Toys are adopted rapidly. Anouk is still spending a lot of time with the puppies.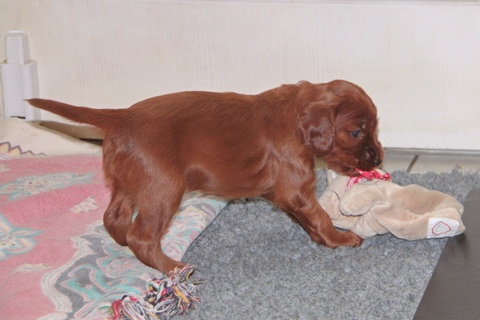 The puppy room will be discovert in a hurry.
10. June 2012, 3 weeks and 5 days old
The daily weigh.
Today we quadrupeled our weight.
"I`m still dreaming!!"
The best point of time for weigh ceremony is just after they awake..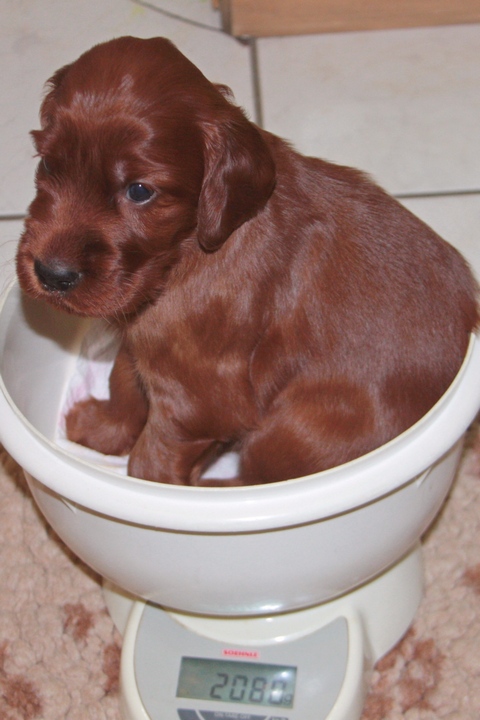 9. June 2012,
3 weeks and
4 days old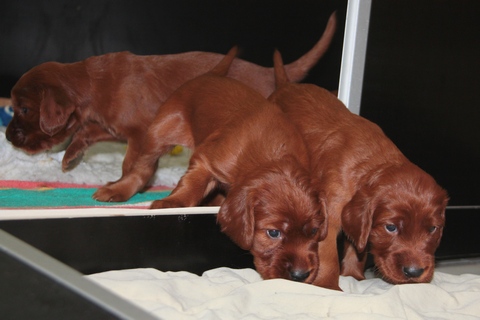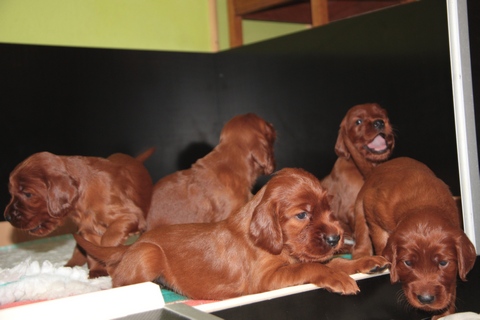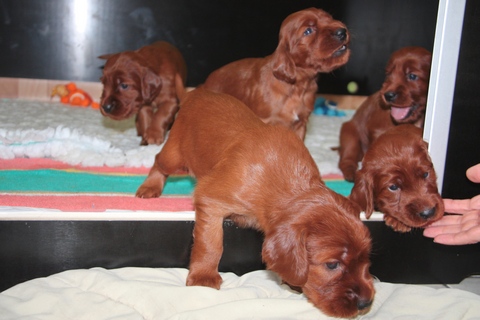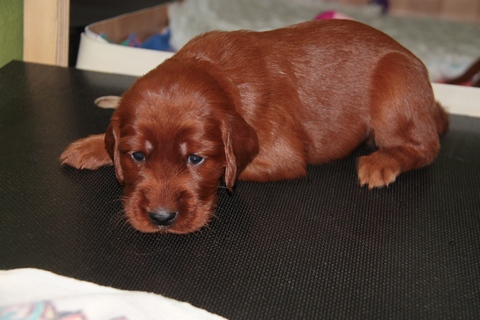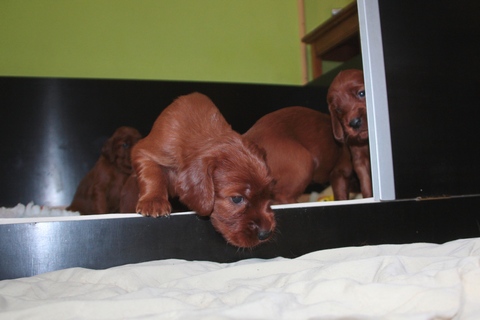 It lasts exiting for the little ones:
Th first excursion into the puppy room.
8. June 2012, 3 weeks and 3 days old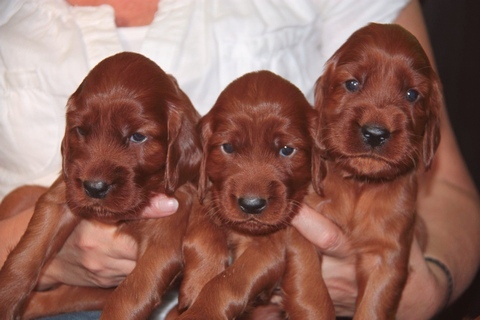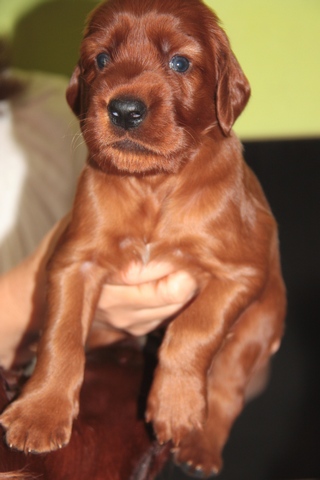 The prince among his sisters.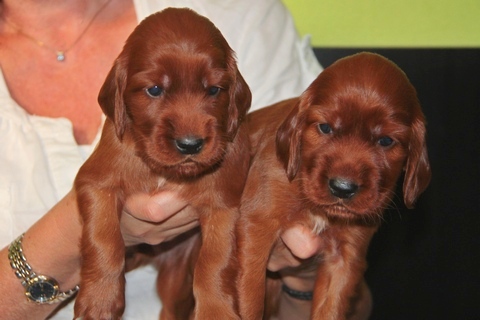 7. June 2012, 3 weeks and 2 days old
Yeah - and we also have little princess.
She is laying there like the grown-ups.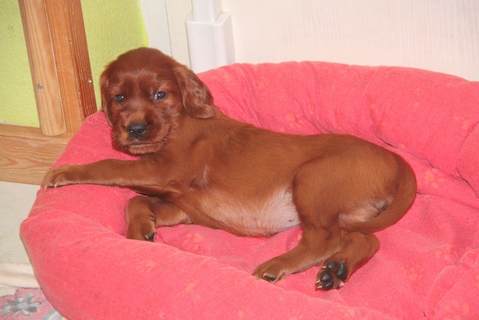 Only one dares to go a step outside, but also withdraws in a sudden.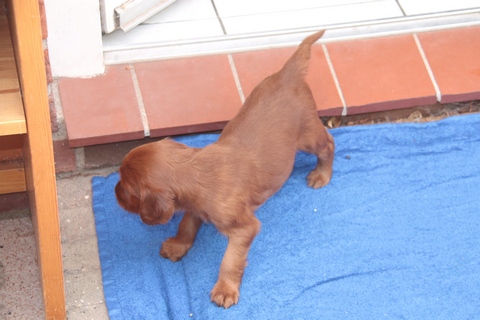 Today the rear door opens the first time. All are very sceptical and worried.
One glance to the left, another to the right and than quickly withdrawal.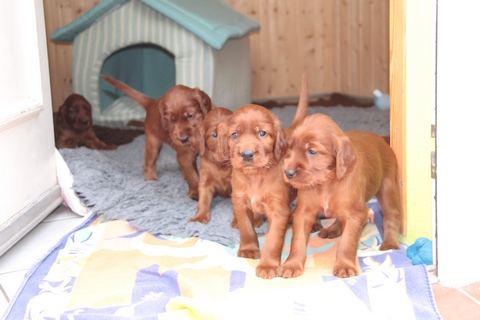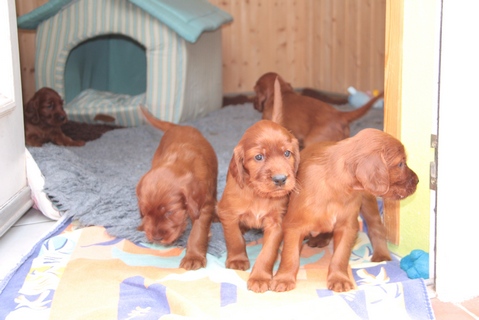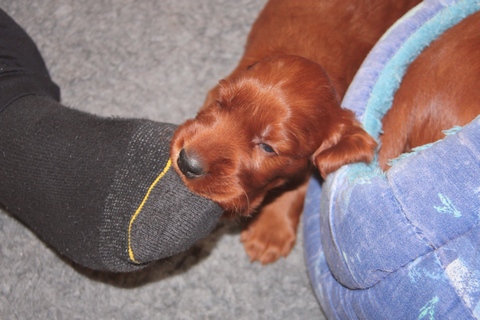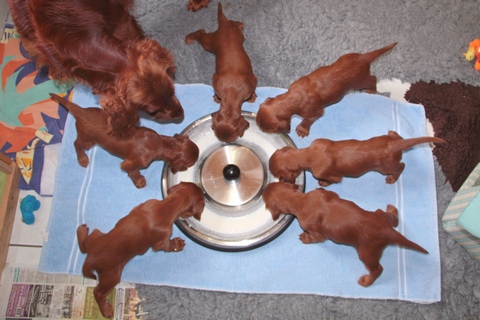 If you are not filled enough, you may taste something real different.
Mama Anouk watching, thall all will well behave "at the table".
They eat hartily, nothing left for Mama.
11. June 2012, 4 weeks old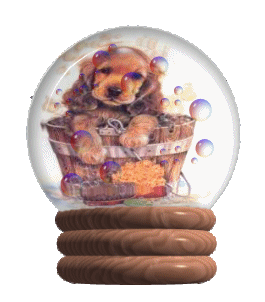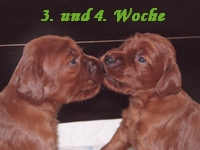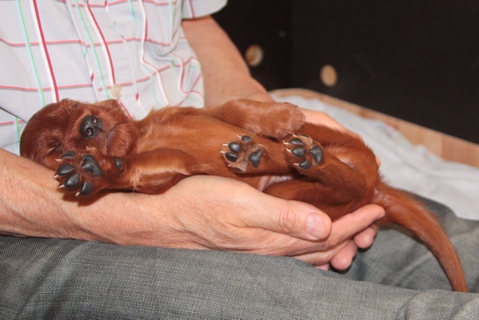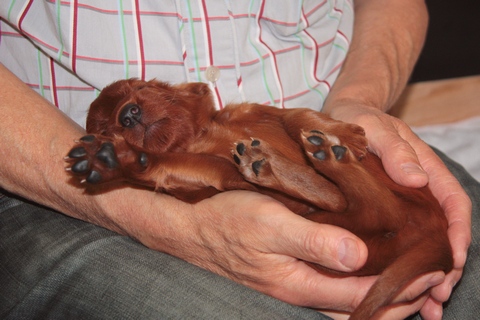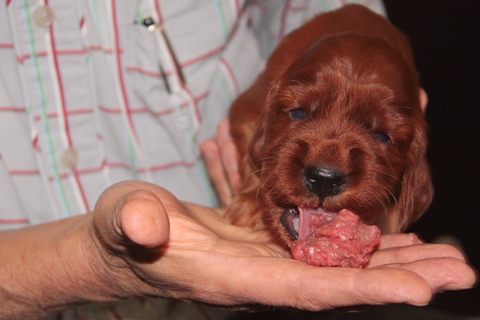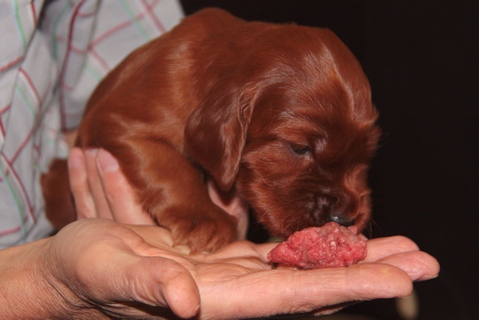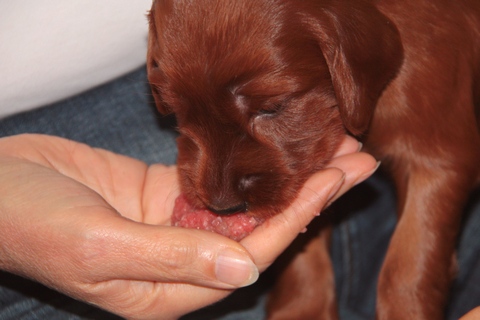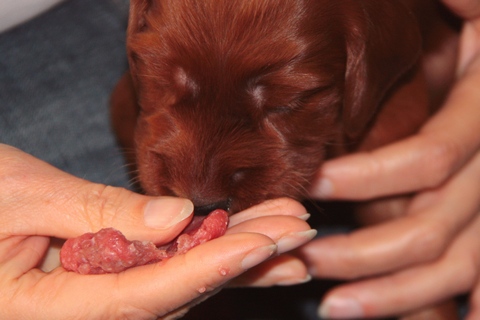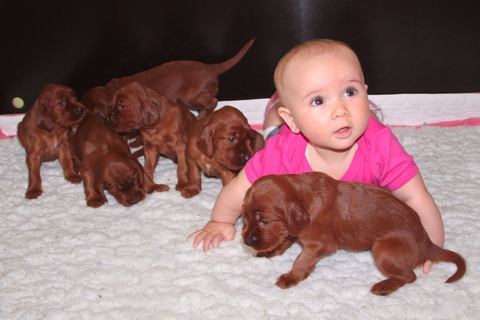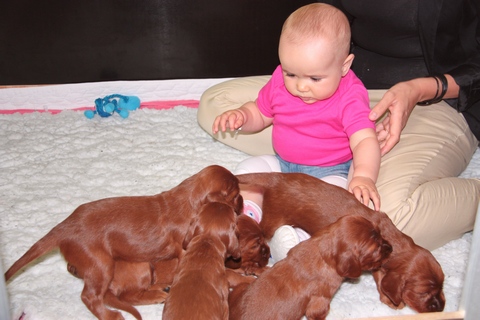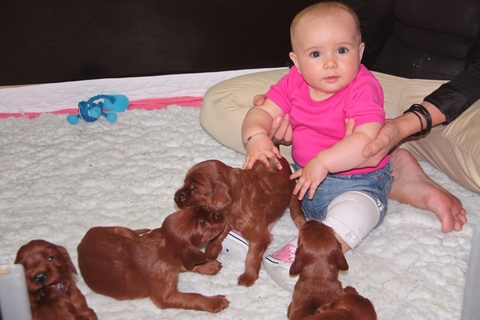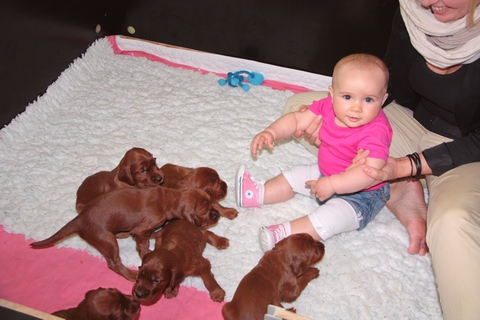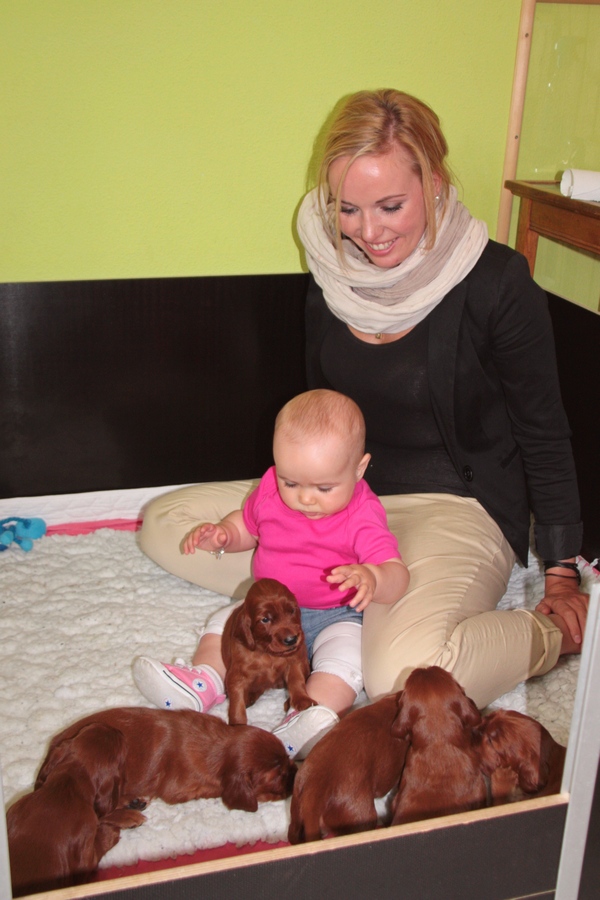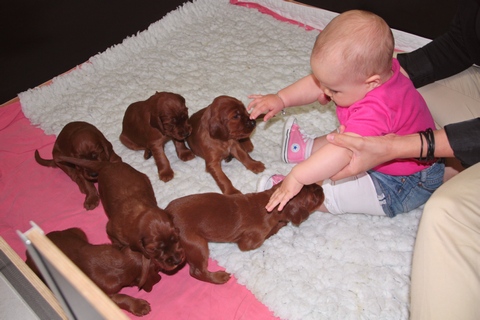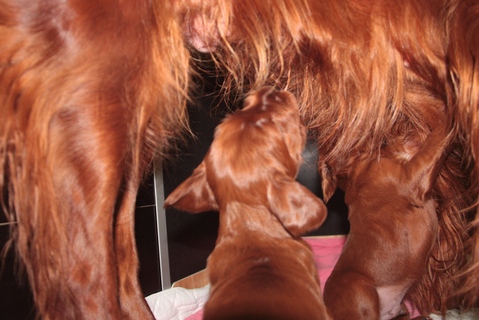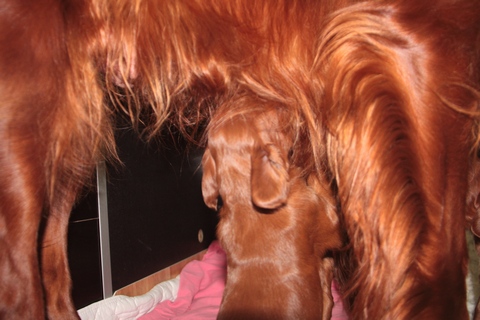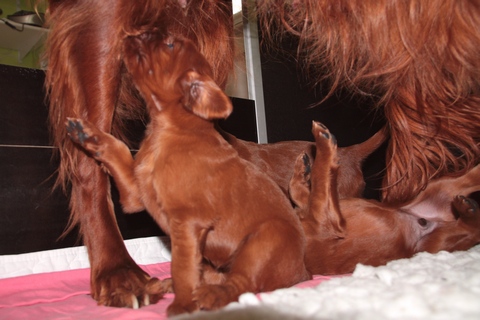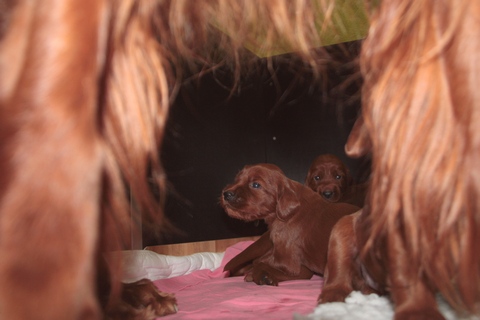 31. May 2012,
2 weeks and 2 days old